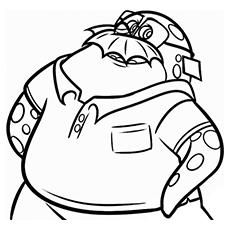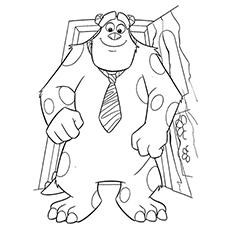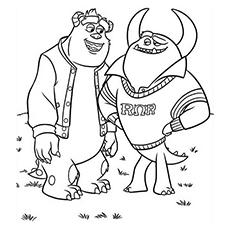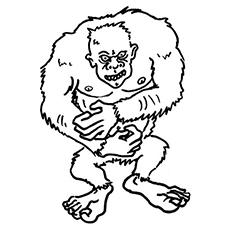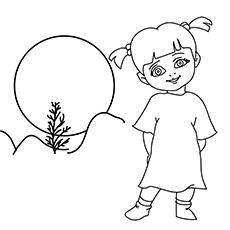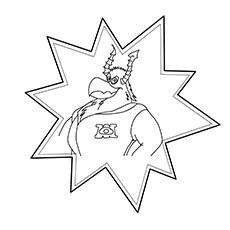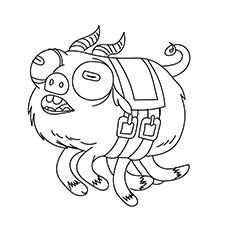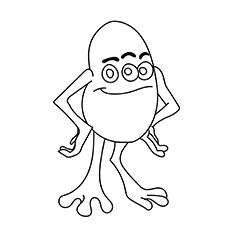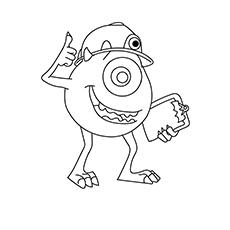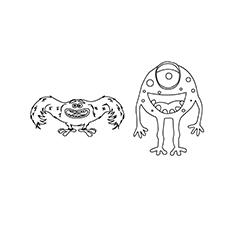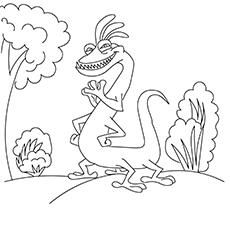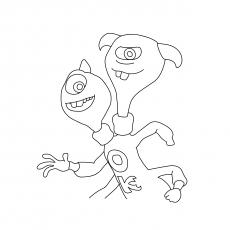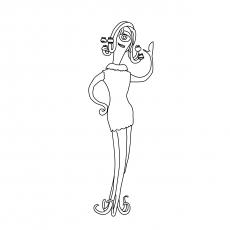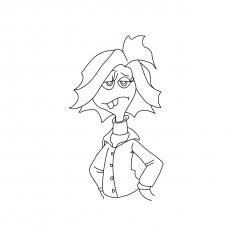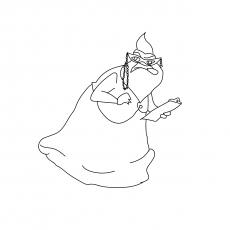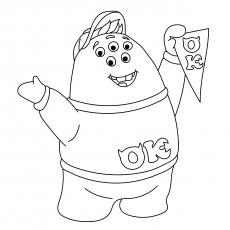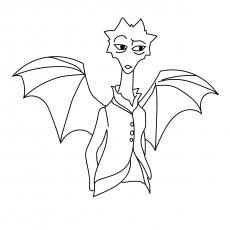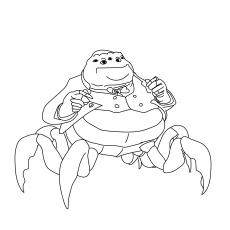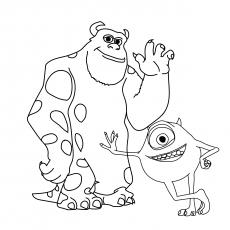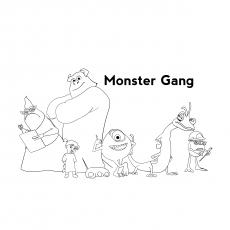 Monster, Inc. is a computer animated adventure film directed by Pete Docter. The film promotes the importance of teamwork and solidarity. The movie centers on two monsters- James Sulley Sullivan and Mike Wazowski, who work for the Monster Inc.
The incorporation thrives on the screams of kids spooked by the monsters to generate power for their city. The adventure begins when Boo, a little child, enters the monster world.
Top 20 Monsters Inc. Coloring Pages:

Here are 20 Monster Inc. printable coloring pages for you to color and have fun. These coloring pages will provide hours of entertainment to your kids. Your kids will have a scary-good time coloring these monsters inc coloring sheets.
1. Gang:
Here is a coloring sheet featuring James P. Sulley Sullivan, Mike Wazowski, Celia Mae, Boo, Roz, Henry and Waternooze
The workers believe that human children have a poisonous touch and are terribly scared of being contaminated by them.
Their world turns upside down when Sulley discovers a human child in Monsterpolis.
The adventure begins when Sulley and Mike try to send Boo back safely to her house.
2. Mike Wazowski:
Mike Wazowski is the one of the main protagonists of Monsters, Inc. He sees children as killing machines and a threat to the monster's wellbeing.
He is a proud and confident monster who works as a Scaring Assistant in Monster, Inc.
He is the best friend and roommate of James Sullivan. Both of them are very devoted to each other.
Mike is a round, one-eyed monster with slender arms, small gray horn, one large, emerald eye and grey claws.
3. James P. Sullivan:
James Phil Sullivan is the main protagonist of the film "Monster Inc." He is responsible for generating the majority of scares in the incorporation.
Shelley is a hard-working, good natured and confident monster who totally loves his job. He is even considered as the "Best Scarer" in the incorporation.
He is a giant, fluffy blue monster with purple spots and periwinkle eyes. He has curved black claws and blue spikes that run down the backside of his tail.
Here is a coloring image of Sully in his cheerful look.
[ Read: Handy Manny Coloring Pages ]
4. Randall Boggs:
Randall Boggs, also known as Randy, is the rival of Mike, Sulley, and is one of the main antagonists in the film.
Randall, just like Mike and Sulley, works as a Scarer for the Monster, Inc. He generates screams by entering into the children's room through a system of closet door.
He is a lizard like monster with purple skin, eight limbs, four arms and three pink antennae.
He also has the ability to change his color just like a chameleon.
5. Henry. J. Waternoose III:
Henry Waternoose is a five-eyed crab monster. He is the CEO of the Monster, Inc., the post that he had inherited from his father at the age of 142.
He is one of the two main antagonists of the film.
Waternoose is a large, gray monster with five eyes. He walks around on his set of six crabs like legs.
He wears a black tuxedo jacket over a red vest.
[ Read: Pumpkin Patch Coloring Pages ]
6. Dean Hardscrabble:
Abigail Hardscrabble is the dean of the School of Scaring faculty at the Monsters University. She is strict and tough and thinks that she is always right.
She is the mentor of Sulley and Mike. She believes that Sulley is scary enough, but lacks discipline, while Mike is very stubborn and studious.
Dean Headscrabble is one of the scariest monsters in the university. She has a giant, insect body with horns, scale and dragon wings that give her a terrifying look.
She resembles an insect called scolopendra gigantean, or an Amazonian giant centipede.
7. Johnny Worthington III:
Johnny Worthington III is one of the two main antagonists of the film.
It is a dark purple monster with two demon-like horns and sharp teeth.
Worthington is a selfish monster who is only interested in having the most elite "Scarers" in his fraternity.
He cares more for the reputation of his fraternity than the students.
[ Read: Easter Basket Coloring Pages ]
8. Yeti:
Yeti is the monster from Monsterpolis, who was exiled to the Himalayas for tampering with the mails. He also warns Mike and Sulley not to mess with the mail as it can lead to their banishment.
Yeti helps Sulley in rescuing Boo and informs him about a Nepalese village whereupon they can gain access to the monster world.
He is a big, white furry monster with large eyes.
However, you can select any color of your choice to paint this giant monster.
9. Roz:
Roz is the key master and administrator for Scare Floor F, that holds the key to children's closet door at the Monster, Inc.
She has the responsibility of getting all the paperwork done by Mike. It was later revealed that Roz is an undercover agent #000001 of the CDA.
She is a grumpy monster, who always wears a frowning expression on her face.
Roz is a grouchy, brown snail like monster with a tuft of gray hair. She is seen wearing a dark red jacket and black, horn, rimmed glasses.
10. Boo:
Boo is a 2-year-old curious and naïve child who sneaks through her door into the Monsters, Inc.
She can speak only gibberish vocabulary. The only words she says in the film are "Boo", "Mike Wazowaki" and "kitty".
Boo is seen wearing a pink nightshirt and purple leggings in the film.
She has brown hair that is always tied in a high ponytail.
[ Read: Sesame Street Coloring Pages ]
11. Celia Mae:
Celia Mae is a one-eyed monster with tentacles for legs and snake-like hair. She is the receptionist at the Monsters, Inc.
She is a kind and lovable monster with intense love for her boyfriend.
Celia is a slender, light magenta colored monster with blue – green eyes.
She is shown wearing a green, sleeveless, scaly dress.
12. Terri And Terry:
Terri and Terry are the two monsters that share the same body. They do not take admission to the Scares program so that they can attend the School of Scares.
Terri is the one with a single horn on its head and Terry is the one with two horns. Both have one eye, four arms and tentacles for the legs.
These yellow skinned monsters are always shown wearing a green jersey.
You can also create new colors for these two brothers.
13. Scott "Squishy" Squibbles:
Scott Squibbles is one of the tritagonists of the film "Monster University".
He is a student at the Monster University and a member of the Oozma Kappa fraternity.
He is a five eyed, dimwitted monster who does not know what he wants to be.
His dream of becoming a Scarer was squashed in the first year at the Monster University, when he was thrown out of the institute by the Dean.
[ Read: Looney Tunes Coloring Pages ]
14. Don Carlton:
Don Carlton is another tritagonist of the "Monsters, Inc". He is the Scarer at the Monsters, Inc. along with his Oozma Kappa brother.
He is a mature student who returns to the Monsters University to follow his dream of studying scaring.
He is a fat, pink monster with two tentacles and balding hair.
He is always seen wearing a green shirt.
15. Archie The Scare Pig:
Archie the scare pig is a character in the Monsters University. He is the mascot of Fear Tech, the rival of Monsters University.
Archie is a six-legged pig with weird eyes and goat horns.
Unlike other characters, Archie is never depicted in a costume, but is rather shown as a real pig.
This monster is covered with orange hair and has a pig snout.
16. Claire Wheeler:
Claire Wheeler is the student of the Monster University. She is the president of the Brotherhood Council.
Claire might look calm and composed with her tired look, but in reality she is a galvanizing force of school spirit.
Clair is the Goth monster with gray skin and purple hair.
This is a black and white coloring sheet of Claire. Fill the sheet in bright colors instead of her regular purple and gray.
[ Read: Tom And Jerry Coloring Pages ]
17. Brock Pearson:
Brock Pearson is the vice president of the Brotherhood Council in Monsters University.
He is a loud and enthusiastic monster who relishes the danger of the Scare Games challenges.
Brock is a huge, birdlike purple monster with antelope like horns.
You can ask your child to color the drawing sheet online or print it and then fill it beautifully.
18. Jeff Fungus:
Jeff Fungus is the tertiary antagonist in the film "Monsters, Inc.".
He is a coward monster who is extremely scared of Randall's wrathful temper. Randall gets annoyed with Fungus antics and abuses him at the slightest pretext.
He does not approve the idea of kidnapping human children, but is too intimidated to confront Randall. In fact, he feels happy when he sees Mike and Sulley trying to sabotage Randall's conspiracy.
Fungus is a small, red monster with tiny legs and three eyes. He always wears three-lensed glasses due to his poor eyesight.
19. Art:
Art is one of the tritagonists of the film Monster University. He is a student at the Monster University and a member of the Oozma Kappa fraternity.
He is the New Age Philosophy major who serves as the comic relief in the film.
Art is skilled at dancing, flexibility and acrobatics.
Art is a furry purple monster with blue stripes on his body. Use some other color to create a more loving form of this monster.
20. Mike And Sulley:
Mike and Sulley, as mentioned earlier, are the protagonists of the Monsters film series.
Mike and Sulley are best friends and working partner at the Monsters, Inc.
Both are completely devoted to each other and never ditch each other in times of difficulty.
Hope you enjoy coloring these free printable monsters inc coloring pages. You can also print these to create your own Monster Inc. coloring book.
DISCLAIMER: All images found here are believed to be in the "public domain". We do not intend to infringe any legitimate intellectual right, artistic rights or copyright. All of the images displayed are of unknown origin. If you are the rightful owner of any of the pictures/wallpapers posted here, and you do not want it to be displayed or if you require a suitable credit, then please contact us and we will immediately do whatever is needed either for the image to be removed or provide credit where it is due. All the content of this site are free of charge and therefore we do not gain any financial benefit from the display or downloads of any images/wallpaper.
The following two tabs change content below.