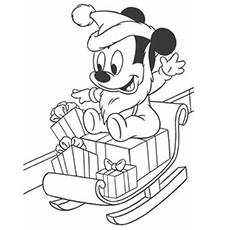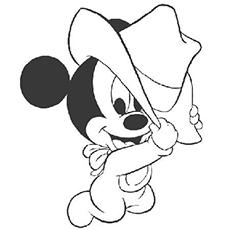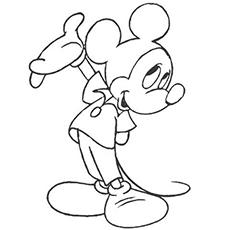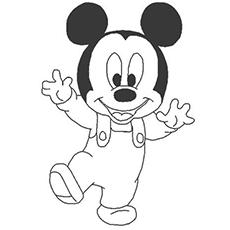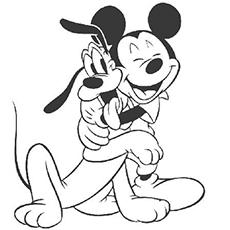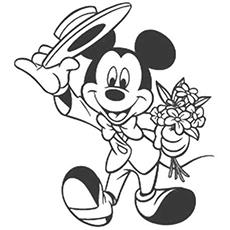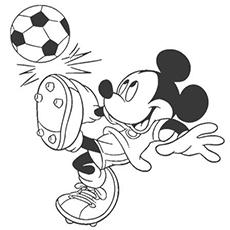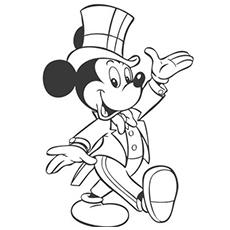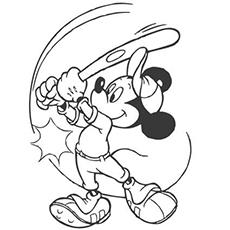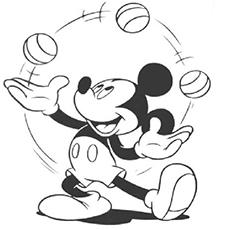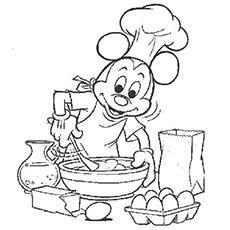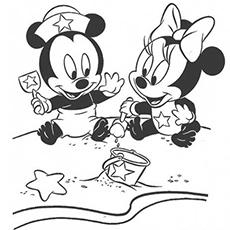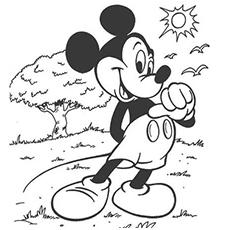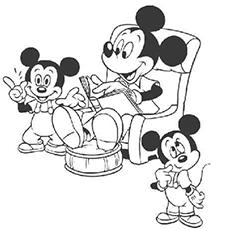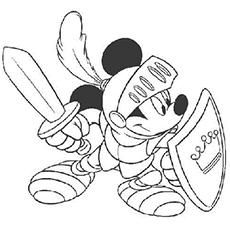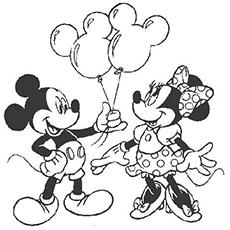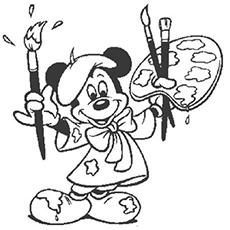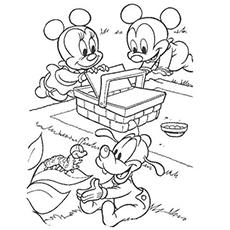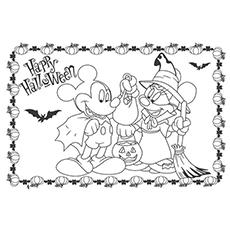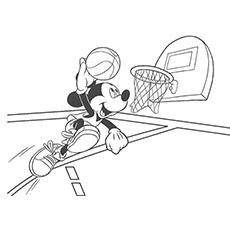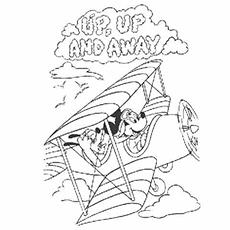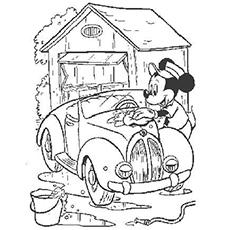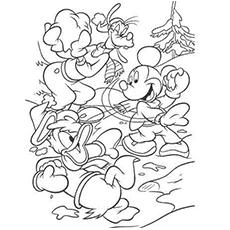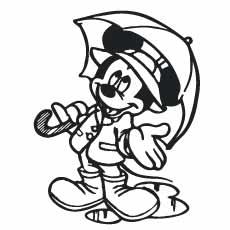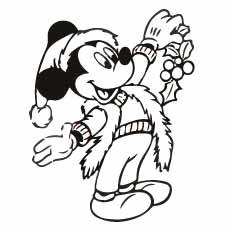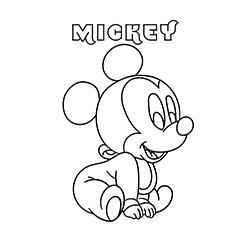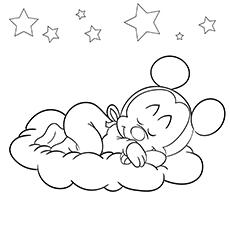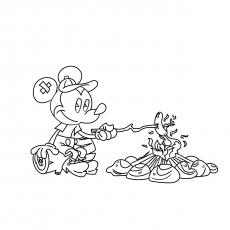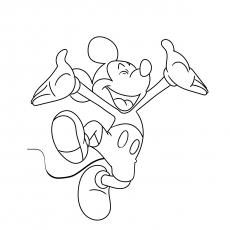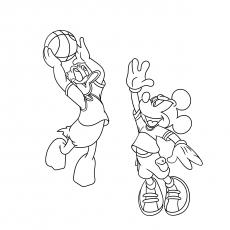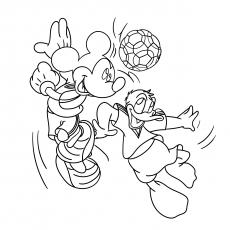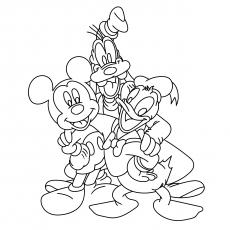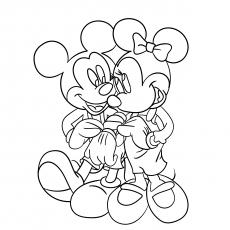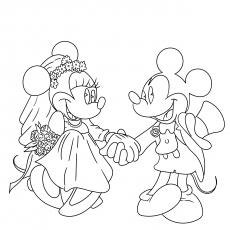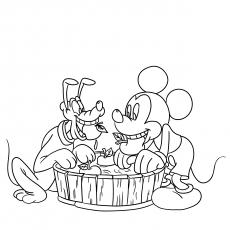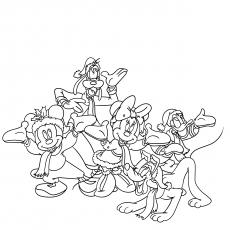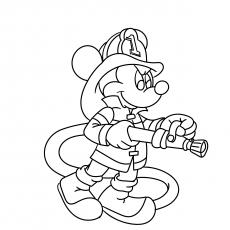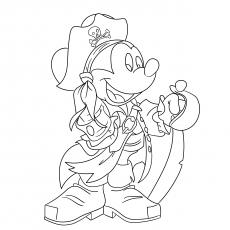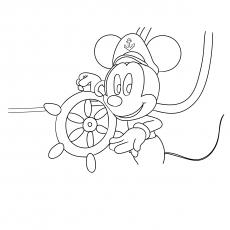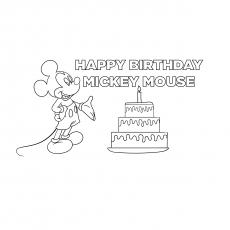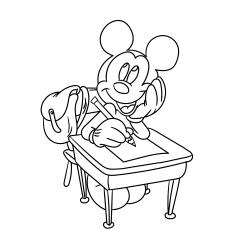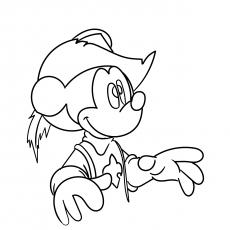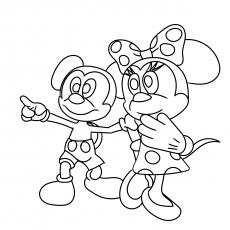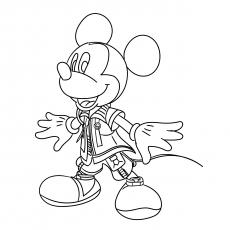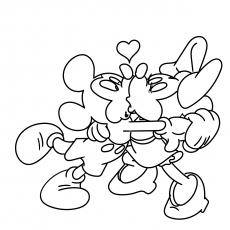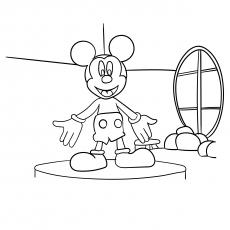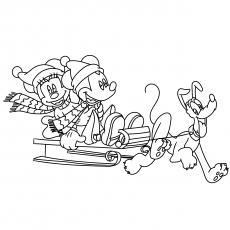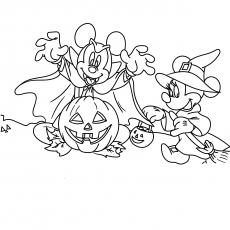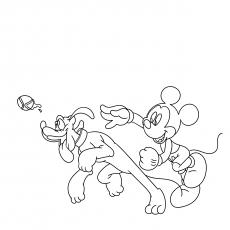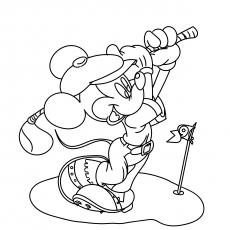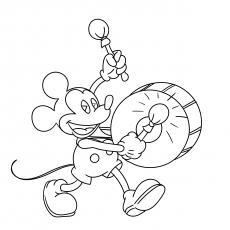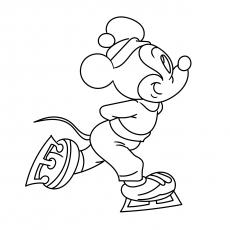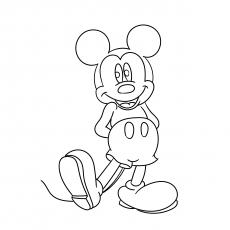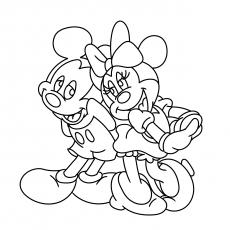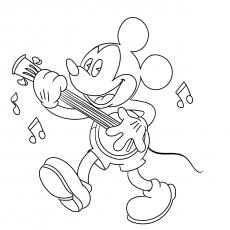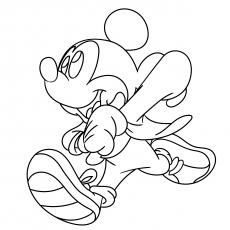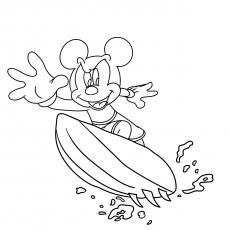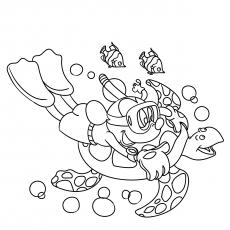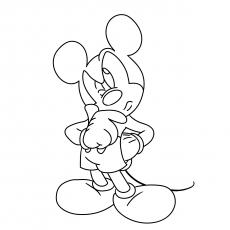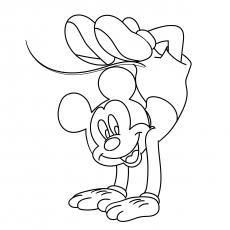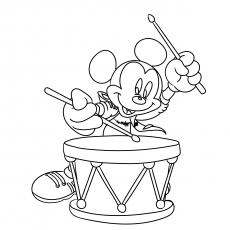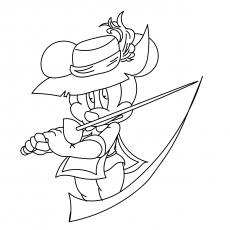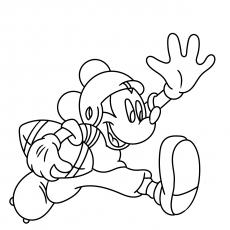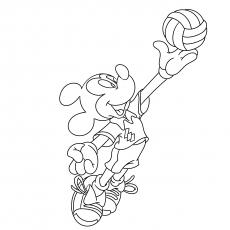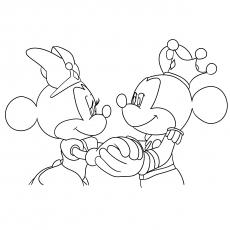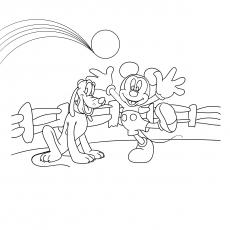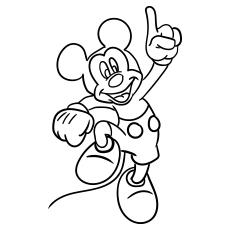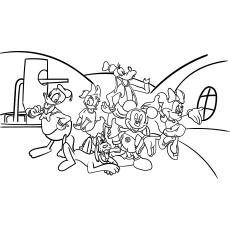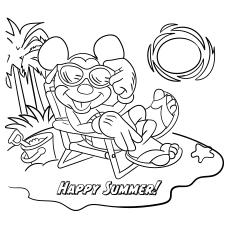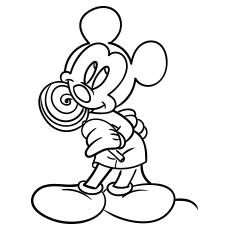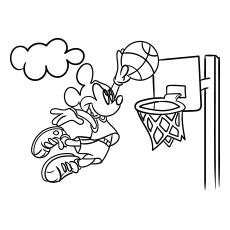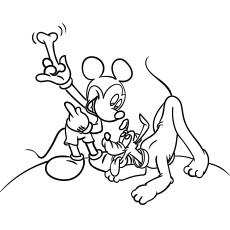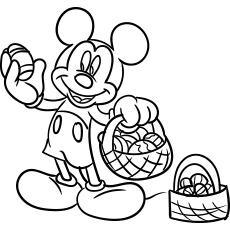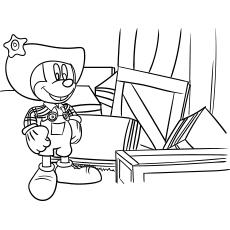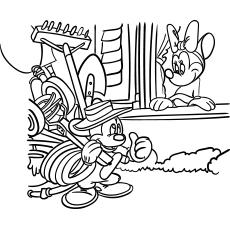 Recommended Articles:
Mickey Mouse! Here is a coloring activity of the fantastic Disney character, the Mickey Mouse coloring pages your child would love to color. The very name invokes a lot of childhood memories in most of us! Isn't it?
Memories full of happiness and loads and tons of fun. This is because cartoon characters often form an integral part of children's lives. Especially Mickey Mouse, which is one Disney character that has got almost every kid fall in love with him?
Coloring Is A Great Activity For Kids
Encourage your kid to color more and more. If you still haven't got your kid interested into this wonderful activity, here are some benefits of coloring for you to know:
Helps recognize colors
Improves motor skills
Helps get a better grip and control
Opens up creativity
Improves focus
Reflects inner expression
Better sense of boundaries
Overcome the scribbling phase
Coloring is treated as a therapy in many instances, often backed by scientific research. It helps both kids and adults relax. It reduces stress in adults and has a therapeutic effect on mind. I am sure that the above list must have made you realize what your kid has been missing out on all this while. So go ahead and get him started!
Why Mickey Mouse Coloring?

As a kid, one of my favourite activities used to be coloring pages. And if I got to color Mickey Mouse, I did not much supervision and my mom could spend hours and hours doing what she wanted. The coloring was something I truly loved and enjoyed. It helped me get into a habit of sitting in a place and color patiently. It also used to be a great way of learning about new things, words, colors and even sports and festivals.
Why Coloring Pages?

If your kid already loves coloring and loves Mickey Mouse too, we have just the right collection of Mickey Mouse printable coloring pages for you. I know, you probably wonder why coloring pages and why not a coloring book instead?
Well, kids have different likes and dislikes. To get them interested in something new, you must attract them into it with the help of something they already like. So it always makes more sense for parents to collect a few coloring pages, with their kids' favourite character. A drawing book, instead, can have a host of different pictures, which your kid may or may not like.
[ Read: Hello Kitty Coloring Pages ]
Top 25 Mickey Mouse Coloring Pages For Kids
So here are the top 25 coloring pages of mickey mouse that your little one would love coloring. All you need to do is download these, get them printed and get your baby started.
1. Classic Mickey Mouse:
This first image is one of my personal favorites. It is that trademark Mickey Mouse picture that almost all kids and even adults must have seen.
It is easy to color and the kids sure would relate to it too.
The backdrop is where your kid can play with his imagination.
2. Mickey Mouse The Magician:
This second shows Mickey Mouse dressed as a magician wearing his robe.
This is a great way of getting your kid to explore his creativity.
The star and moon in the hat make it all the more attractive to kids.
3. The Young Mickey Mouse:
This picture is sweet, simple and easy to color.
This is an ideal picture if your kid has just begun coloring.
Mickey Mouse looks younger in the picture which makes it all the more fun and exciting for the kids to color.
[ Read: Angry Birds Coloring Pages ]
4. Mickey Mouse And Christmas:
This picture of Mickey Mouse with a Christmas tree makes for the best coloring page.
It helps kids know about the festival and associated tradition of gifting too.
Help your kid learn more about the Christmas decor through this picture.
5. Baby Mickey Mouse On Sleigh:
Here is another Christmas special coloring page for your little one. What makes this one special is the cute baby Mickey Mouse sitting on the sleigh with gifts.
You probably think I love Christmas, which I sure do. But the cute baby Mickey Mouse is what would make the kids happy.
Kids get excited when they see their favourite cartoon characters as young as themselves. Unconsciously, they realize they too would grow up someday.
6. Mickey Mouse Suited Up:
Here is another mickey mouse coloring page dressed in a suit with flowers.
Yet another great way of making your kids learn about flowers, their name and colors.
They would also love to see Mickey dressed in a suit – helping them learn about various dressing styles.
[ Read: Ben 10 Coloring Pages ]
7. Mickey Mouse On A Sunny Day:
Now here is a nice picture Mickey Mouse on a bright sunny morning.
Mickey is seen riding his bicycle with his school bag on his shoulders.
This a good way of getting your kid excited about going to school.
8. Mickey Mouse The Footballer:
If your kid loves football, this coloring page is just for him.
Mickey Mouse is seen wearing his football shorts and is happily playing with his football.
While your kid colors this page, teach him more about Football.
9. Mickey Mouse On A Rainy Day:
Here is a beautiful picture of Mickey Mouse on a rainy day.
Make your kid learn more about seasons.
You can make your kid learn words like umbrella, gum boots, rain coat and their uses through this picture.
[ Read: Spiderman Coloring Pages ]
10. Mickey's Coloring Time:
Finally, this last coloring page is sure to get your kid excited about coloring activity.
Seen here is baby Mickey Mouse trying to color a picture himself.
What more would you need to get your baby thrilled about coloring?
11. Mickey Mouse Giving Balloons:
Sharing is always a great habit. This picture shows that Mickey Mouse has brought two balloons with shapes that resemble mickey's face. He gives it to Minnie Mouse; see how delighted she looks after getting the balloons from Mickey!
You must have noticed how delighted your child feels when you give him or her balloons. They love playing with balloons, bursting them and throwing them up in the air and catching them. They can go on for hours tirelessly playing with balloons. They will love this picture and will color the balloons with their favorite colors. Girls will take special care in coloring Mickey and Minnie Mouse's dress.
12. Mickey The Super Pilot:
Mickey Mouse drives this plane and as Goofy looks on. Goofy is really scared perhaps Mickey Mouse is driving the plane recklessly. He is just experimenting whether he can drive the plane after all! The message up, up and away creates a sense of adventure.
This is very old model aircraft, planes were still in the nascent stage of making. You can tell them about the history of airplanes. Some earliest experiments were made with gliders by poet Abbas Ibn Firnas in the 9th century and the monk Eilmer of Malmesbury. Both their experiments failed as it lead to pilot injury. Then artist and scientist Leonardo Da Vinci designed a man powered aircraft after researching the wing design of the birds. This plane is an example of a propeller plane that existed before modern jet aircraft was created.
You can tell your child this interesting trivia, his curiosity will be piqued and he will definitely find out more about airplanes after scouring the internet.
13. Mickey Washes His Car:
In this picture we see Mickey Mouse washing his own car. He simply loves his car and takes good care of it.
You can teach your child how to be responsible like Mickey and take care of his own things. Your child must have seen your husband washing the car every morning, so you can tell your little one to observe how his father washes his car daily. It is a fun way to teach your child to take proper care of things that he always uses.
Your little angel will love coloring this car; he might color it according to the color of car he will buy ones he grows up. After all children have big dreams!
14. Mickey Mouse Celebrates Halloween:
In this picture we see Mickey Mouse celebrating Halloween. He pops out from the pumpkin cutout, the symbol of Halloween celebration.
Halloween is celebrated all over the World on 31st October to mark the All Saints Eve. This festival marks the initiation of Triduum of Hallow tide, the time in the liturgical year dedicated to remembering the dead like saints (hallows), martyrs and departed souls of faithful believers. There are church services and lighting candles on the grave of the dead. This Halloween event is greatly influenced by Celtic Harvest Festival and pagan festival like Gaelic Samhein.
What is most interesting is that, Halloween though a Christian feast has a secular character. Many people attend Halloween costume parties, watch horror films, read out scary stories, go to haunted houses, make cut outs from pumpkins to make Jack O' Lanterns, play pranks, lights bonfires and do apple bobbing.
15. Mickey A Baseball Pro:
Mickey Mouse loves playing Baseball. He wears the baseball cap and shoes and is ready to hit the ball with the club. Mickey loves to play a sport daily!
You can tell your child how important it is to play a sport daily and how it helps to make him tall and strong. It also teaches the child to adjust with others and build leadership and team spirit in him. It really does help in the long run.
Your child will definitely want to know more about baseball. You can give him interesting information about baseball and tell him how it is played. Like cricket, baseball is also a bat and ball game played within two teams of nine players each. The offense tries to score runs by hitting a ball thrown by the pitcher with a bat, then he moves counter clockwise around a series of four bases- the first, second and home plate. A run is cored when the player advances to the bases and returns to the home plate. Players on the batting team take turns hitting against the pitcher of the fielding team and tries to prevent others from scoring runs. This game is very popular among youngsters in school and Universities. Many films have made baseball an International craze.
16. A Picnic With Pals:
Everyone loves a picnic with pals and Mickey Mouse is not an exception.
In this picture we see Mickey Mouse and his dear friends Minnie Mouse and Goofy. They are all tiny like your toddler! Mickey and Minnie are searching for goodies in the big picnic basket, while Goofy is looking at a caterpillar.
Toddlers are always exploring and discovering new things around them. They love to go to outings like picnics and parties with friends and family. Organize a picnic sometime and see how happy your child will be, it is great way to build strong family bonds.
17. Mickey Juggling Balls:
Mickey Mouse is great at almost everything! In this picture we see him juggling balls like a pro. In magic shows or in the circus your child must have seen the magicians or clowns juggling multicolored balls in the air and do funny tricks with them.
Notice the colors your child is adding to the balls and on Mickey's dress.
18. Friends Forever:
Your little one is now making friends and establishing new relationships, he will be to associate with the idea of friendship. Friendship can also be established with not only humans but also animals. Here we see the delighted Mickey enjoying a great camaraderie with Goofy, a little dog. Mickey has another dog friend called Pluto, not shown in this picture.
Instill in your child the values of kindness and generosity. He should learn to love animals as well. If you have a pet at home then he will learn the values even better.
19. Mickey Mouse is Baking A Cake:
Mickey Mouse is the chef of the day! He is probably baking a cake for all of us. In this picture we see him wearing a chef's hat making the cake batter with eggs, milk, flour and butter.
You must be making cakes and pastries at home, so your child will demand more cakes after coloring this picture.
20. Mickey and Minnie Mouse Loves Making Sandcastles:
We all made sandcastles on the beach with a trowel. In this picture we see little Mickey and Minnie Mouse making sandcastles on the beach as well. You can share with your child the kind of sandcastles you used to make on the beach when you were a little kid and what fun you had. You can show him one of your childhood pictures to your kid he or she will simply love to see how his mommy look when she was a little girl. Make the coloring session full of fun and laughter, since it is a great way to bond with your child and make him really happy!
21. Mickey Mouse is the Basket Ball Champion:
In this picture we see Mickey Mouse jumping to throw the ball into the basket. This game is very popular, there are two groups one scores and the other prevents the other from scoring. You need to jump really high to throw the ball into the basket. This game really builds stamina and helps little children to grow tall.
You can share your basketball playing experience with your child. You can purchase a basketball set for your child to play at home. You can also join him in the game and make it more exciting!
22. Cowboy Mickey:
This tiny Mickey Mouse is so photogenic! He poses with a cowboy hat and not camera shy at all. He is wearing a baby bib just like your little toddler, she still drools from the mouth and you need to wipe his saliva with a soft hanky. He is also wearing the similar stocking dress your child wears when he crawls.
Your child will be able to associate with the picture and he will definitely color the bib and dress with same color like the one he is wearing. He might also use his favorite colors.
23. Mickey Will Save The Day:
Your child must have seen this cartoon with Mickey dressed as soldier wearing a steel armor. His is a scene out of that cartoon, where mickey with a dagger in hand looks for a foe. He looks really angry and cautious.
Your child must have dressed up as a soldier or a warrior king in a fancy dress competition or acts like a king in front of the mirror. It is great to watch their amusing antics always!
24. Playing with Ice balls Is Always Fun:
Both adults and children like throwing ice balls at each other given a suitable location and opportunity. It is a great way to bond with friends. It is an ideal time to play pranks and have a good laugh. This exactly what Mickey Mouse and friends are doing in the picture!
Your child will have a great time coloring this picture definitely!
25. Mickey Reading Stories:
Reading is a very good hobby that you should instill in your child from a very young age. You must be reading stories and fairytales to him or her from colorful picture books. You can also teach him to read aloud, this will help him to learn alphabets, proper pronunciation and correct sentence construction. This knowledge will help him to stay ahead in school. You surely want your child to be the best student in the class and be proud of his academic achievements. The best way is to teach them how to read and appreciate different books. This will also broaden the horizon of your child's knowledge and keep them well informed.
In this picture we see Mickey Mouse sitting in a comfortable armchair with his legs propped up on the cushioned tool. We see Mickey Mouse reading, while the others playing pranks at each other. Yes, at first it will be definitely difficult to grab your child's attention for he may not be listening when you are reading stories. Nevertheless, a sincere attempt to get your child to hear your reading will never go futile.
So here are 25 free printable Mickey Mouse coloring pages online that would attract your kids like magnet and make them stay in one place, happily entertained for hours. So go ahead, print these Mickey Mouse coloring sheets and give them to your kid…. and don't forget to tell us how your kid enjoyed coloring these pages.
Till then, happy coloring!
DISCLAIMER: All images found here are believed to be in the "public domain". We do not intend to infringe any legitimate intellectual right, artistic rights or copyright. All of the images displayed are of unknown origin. If you are the rightful owner of any of the pictures/wallpapers posted here, and you do not want it to be displayed or if you require a suitable credit, then please contact us and we will immediately do whatever is needed either for the image to be removed or provide credit where it is due. All the content of this site are free of charge and therefore we do not gain any financial benefit from the display or downloads of any images/wallpaper.
The following two tabs change content below.