Dating is an old term used to find someone new in our lives. It is a chance of finding someone with whom you could share a laugh, a slice of pizza, various emotions, and possibly your entire life. It is notable how an adult's life changes during and after dating, sometimes referred to as "finding the one."
Suddenly, your date becomes your new world. Dating and feelings go hand-in-hand. However, there must be trust, compatibility, love, and affection between you and your partner for the relationship to work. To make your dating experience memorable, we bring you the best dating quotes in this post. You can use them for social media status or share with your date to express your feelings.
101 Quotes About Dating
Quotes On Dating
Dating is not an easy task. Here are a few quotes that precisely summarize the struggle that goes behind them.
"To say that one waits a lifetime for his soulmate to come around is a paradox. People eventually get sick of waiting, take a chance on someone, and by the art of commitment become soulmates, which takes a lifetime to perfect." —Criss Jami
"When a person knows how rare you are, they will stand by you." —Unknown
"Dating is like trying to make a meal out of leftovers. Some leftovers actually get better when they've had a little time to mature. But others should be thrown out right away, No matter how you try to warm them up, they're never as good as when they were new." — Lisa Kleypas
"It is when two people realize the other one's imperfections yet don't give up on each other, a true relationship starts." —Unknown
"I guess me wanting to stay with you all the time is a sure sign that I'm in love with you." —Unknown
"A kiss that is never tasted, is forever and ever wasted." —Billie Holiday
"When the one you date means everything, distance seems nothing." —Unknown
"The joy of intimacy is the reward of commitment." —Joshua Harris
"Dating is different when one gets older. It is more of knowing the other person than them knowing you." —Unknown
"Sometimes it takes a heartbreak to shake us awake & help us see we are worth so much more than we're settling for." — Mandy Hale
"Dating with no intent to marry is like going to the grocery store with no money. You either leave unhappy or take something that isn't yours." —Jefferson Bethke
"You are my fun place. No wonder I want to be with you all the time." —Unknown
"Our relationship may not work out. But the essence of it lies in finding out if we're compatible." —Unknown
"Love is like a virus. It can happen to anybody at any time." —Maya Angelou
"A motivating relationship that helps me see my true self is the relationship I seek." —Unknown
"And, in the end, the love you take is equal to the love you make." —Paul McCartney
"Better to put your heart on the line, risk everything, and walk away with nothing than play it safe. Love is a lot of things, but 'safe' isn't one of them." —Mandy Hale
"Everything he does while you're dating is like a crystal ball predicting what he's going to be like after you're married. If you don't like a habit of his, honey, unless you fix it before the altar, it's there to stay." —Bethany Jett
"Find yourself someone who'd make you laugh even in your saddest times." —Unknown
"Love doesn't make the world go round; love is what makes the ride worthwhile." — Franklin P. Jones
"A date may be just a pleasant coming together; a way of saying thank you for a favor, or it may be a delicate step in a courtship and mating dance." —Rebecca Sharp Colmer
"You need someone whom you can lean on when nothing seems right." —Unknown
"Relationships in general make people a bit nervous. It's about trust. Do I trust you enough to go there?" —Neil LaBute.
"Don't hold on to the one that makes you an option as you may miss the one who would make you their priority." —Unknown
"It's funny how I struggle to smile around others but never stop laughing around you." —Unknown
"Real magic in relationships means an absence of judgment of others." —Wayne Dyer
"Every date is a new beginning to the hope of falling in love." —Unknown
"Though every love story is beautiful, I want ours to be my forever favorite." —Unknown
"Dating is something you do before making binding choices or exclusive commitments." —Rebecca Sharp Colmer
"Every goodbye kiss on a date makes me wonder if it would be our last." —Unknown
"In the end, it is our expectations that lead to our heartbreak." —Unknown
"Practically all the relationships I know are based on a foundation of lies and mutually accepted delusion." —Kim Cattrall
"A relationship has more chances to survive by accepting what's happening at that moment." —Unknown
"Don't settle for a relationship that won't let you be yourself." —Oprah Winfrey
"When you're looking for someone, you're looking for some aspect of yourself, even if you don't know it … What we're searching for is what we lack." —Sam Shepard
"But the one thing that says it all about dating is: it is about communication." —Rebecca Sharp Colmer
"Expecting things to happen without expressing one's needs would lead to bad dates." —Unknown
"Let your date's actions determine their character, not their looks or words." —Unknown
"They may desire you but not love you. It is important to know the difference between the both if you need a healthy relationship." —Unknown
"Nothing defines humans better than their willingness to do irrational things in the pursuit of phenomenally unlikely payoffs. This is the principle behind lotteries, dating, and religion." —Scott Adams
"The bottomline is that dating is supposed to be fun and enjoyable. Maybe a few butterflies will flutter in your tummy but that is part of the thrill of dating." —Rebecca Sharp Colmer
"If you like a person, you'll find a way to reach out to them." —Unknown
"Internet dating is like sticking your hand in a rose bush — you are probably going to get a lot of thorns before you find a rose." —Sam Van Rood
"In my dreams, I could be a Princess, and that's what I was. Like most little girls, I believed nothing less than a Prince could make my dreams come true." —Loretta Young
"Dear, you are all I ever wanted." —Unknown
"Someday you'll find someone who is all you ever wanted and you may not realize this for a while. Sometimes good things take time to show up." —Unknown
"You have two choices: focus on what's pulling you apart or on what's keeping you together." —Unknown
"You know you're in love when you can'' fall asleep because reality is better than your dreams." —Dr. Suess.
"Every broken heart has screamed at one time or another: Why can't you see who I truly am?" —Shannon L. Alder.
Funny Date Quotes
Humor can be found even in the hardest of situations. Go ahead and read these funny quotes about dating that offer a different picture.
"Before you marry a person, you should first make them use a computer with slow Internet service to see who they really are." —Will Ferrell
"My love life is like a piece of Swiss cheese; most of it's missing, and what's there stinks." —Joan Rivers
"I'm dating a woman now who, evidently, is unaware of it." —Garry Shandling
"Online dating is like online shopping except you're looking for people no one wants, and it's $50 a month." —Phil Pivnick
"I've been on so many blind dates, I should get a free dog." —Wendy Liebman
"Everyone knows that dating in your thirties is not the happy-go-lucky free-for-all it was when you were twenty-two." —Helen Fielding
"Dating after 40 is easy. It's like riding a bike. But the bike is on fire. And the ground is on fire. Everything is on fire. Because you are in hell." —Andrea Bain
"My current relationship status: I eat dinner made for two people." —Unknown
"Dating is about finding out who you are and who others are. If you show up in a masquerade outfit, neither is going to happen." —Henry Cloud
"I think the thing to remember when you're looking for true love is just keep your hopes up. 'Cause you never know, you could round a corner and bump into Mr. You Might Do." —Anita Wise
"Opposites attract – and then aggravate." —Joy Browne
"I'm afraid of dating. When the guy shows up at the door, I give him my purse and beg him not to hurt me." —Maria Bamford
"Watching your daughter being collected by her date feels like handing over a million-dollar Stradivarius to a gorilla." —Jim Bishop
"Relationships are easier with thousand people than just one." —Unknown
"Dating is where you pretend you're someone you're not to impress someone you don't know." —Melanie White
"Dating is not a great way to "really get to know someone." Why? Because everyone is on best behavior during a date. If you really want to get to know someone, watch the person at school every day, or both of you get a job together at McDonald's. Eight straight hours over a hot greaser full of fries will tell you the real tale." —Blaine Bartel
"Dating is like pushing your tray along in a cafeteria. Nothing looks good, but you know you have to pick something by the time you get to the cashier." —Caprice Crane.
"I was told that he lived in a date community. Forgot to take jail into the consideration." —Unknown
"You can't blame gravity for falling in love." —Albert Einstein.
"I'm happy with my relationship status: I'm about to get married. I just don't know to who yet." —Kellye Howard
"My biggest problem with dating is that I have no game. Some women can just bat their eyes and men come running. The men just keep popping up one after another. It's like they have a magical man-filled Pez dispenser." —Lori Giarnella
"I went out with a guy once who told me I didn't need to drink to make myself more fun to be around. I told him, I'm drinking so that you're more fun to be around." —Chelsea Handler.
"A date night is a trial pack for marriage." —Unknown
"My father always said, 'Be the kind they marry, not the kind they date.' So on our first date, I'd nag the guy for a new dishwasher." —Kris McGaha
"I asked this one girl out and she said, "You got a friend?" I said yes. She said, "Then go out with him." —Don Irreva
"What does a mistake mean? Just take a peek into my date list." —Unknown
"I want a man who is kind and understanding. Is that too much to ask of a millionaire?" —Zsa Zsa Gabor
"If love is the answer, could you please rephrase the question?" —Lily Tomlin
"I used to think I would never find someone who loved me as much as my ex did. Then I remembered, he hated me." —Jennifer Hall
"Sometimes I wonder if men and women really suit each other. Perhaps they should live next door and just visit now and then." —Katharine Hepburn
"In its purest form, dating is auditioning formatting (and auditioning means we may or may not get the part)." —Joy Browne
"My philosophy of dating is to just fart right away." —Jenny McCarthy
"I dated a hypnotist once. She was the hottest, smartest, skinniest, funniest, kindest, most glamorous and sophisticated woman I've ever met." – Kent Graham
"I hope to find someone with whom I can get annoyed at the other happy couples." —Unknown
"One day, some guy is gonna see me eating a whole rotisserie chicken with my bare hands in my parked car and think "That's her, she's the one." —Eden Dranger
"There may be plenty of fish in the sea. But I'm no good at fishing."
"Dating a man is like flying a kite. You only need to know when to wind up the string or let it out." —Jenna Alatari
"Date nights are cheaper than marriage counseling."
"I miss dating The excitement of meeting someone new, that feeling of butterflies when you see if you can climb out their bathroom window…" —Smooheed
"Dating is like searching for the perfect wine. One date is too fruity, another too dry, and still another too much bouquet cologne overdose. But once you find the perfect variety that suits your taste, get drunk." —Katie Kosko
"Before you enter into the world of online dating, be prepared with what to say in case your date looks less like the pictures you saw online and more like a sunburned walrus." —Alfred Jarry
"I'm dating a homeless woman. It's easier to get her to stay over." —Gary Shandling
"My boyfriend and I broke up. He wanted to get married and I didn't want him to." —Rita Rudner
"The best part about speed dating is having 8-10 new guys to drink with, and none of them are keeping track of how many drinks you've had." —Miss Moneypenny
"I always know when someone's attached to me, only two years later."
"You can't buy love, but you can pay heavily for it." —Henny Youngman
"I finally found my true love. It is me. I'm glad to say that we're getting along very well." —Unknown
"Before marriage, a man declares that he would lay down his life to serve you; after marriage, he won't even lay down his newspaper to talk to you." —Helen Rowland
"A man on a date wonders if he'll get lucky. The woman already knows." —Monica Piper
"Dating is a give and take. If you only see it as taking, you are not getting it." —Henry Cloud
"Honesty is the key to a relationship. If you can fake that, you're in." —Richard Jeni
"Employees make the best dates. You don't have to pick them up and they're always tax-deductible." —Andy Warhol.
If you ever have trouble finding words describing your date, our list of the best dating quotes can help you out. Pick up a humorous or random quote and share it with your date to bring a smile to their face.
The following two tabs change content below.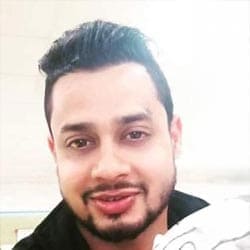 Shivank Joshi
Shivank is an experienced professional with a passion for writing, editing, and research. With a bachelor's degree in Mass Communication, he previously worked as a production editor. Shivank transitioned into a writer/editor, contributing to various publications as a freelancer. He writes literature, including quotes, poems and wishes, for MomJunction. He has a special interest in music and relationships. During his...
more