Jump To Specific Chicken Recipe:
If you follow a non-vegetarian diet, then chicken is one of the things you might want your child to eat. Rich in healthy protein, phosphorous, selenium, and niacin, chicken offers several health benefits to your kid. And, if you want to introduce this meat in your child's diet and are looking for ideas, then you have come to the right place.
MomJunction brings you a list of tasty, healthy, and easy chicken recipes for kids.

Breakfast Recipes With Chicken For Kids
Is your kid tired of eating peanut butter sandwiches, cereal, or oatmeal day after day? Throw in these chicken breakfast recipes once or twice a week for variety. We guarantee there will be less whining at the breakfast table!
1. Asparagus Chicken Crepes
When you want the child to get sufficient protein, fiber, and iron among other essential nutrients first thing in the morning, you should try making the asparagus chicken crepes. Making these delicious crepes can be time-consuming, so we recommend that you try it on a Sunday or a holiday.
You will need:
1 cup cut asparagus, thawed
2 eggs
1/3 cup cooked ham
1 cup chopped chicken, cooked
½ cup condensed cream of chicken soup
3/4 cup milk
1/2 cup flour
1/2 cup parmesan cheese, grated
1/3 cup mayonnaise
1/2 cup whipping cream
3/4 tsp sugar
1 tsp Worcestershire sauce
A pinch of nutmeg
How to:
Beat the eggs and milk in a small bowl. Combine flour and sugar and add it to the milk mixture. Cover the bowl and refrigerate for an hour.
To make the crepes, lightly grease a skillet and heat it.
Put three teaspoons of the batter in the center of the skillet and spread it such that the entire surface is covered.
Cook it until the top is dry and flip it. Cook the other side for one second and take it off the skillet. Repeat with the remaining batter or until you make as many crepes as you want.
In another bowl, combine the Worcestershire sauce, nutmeg, and chicken soup. Mix it well and set aside ¼ cup of this mixture.
Add the chicken, ham, and asparagus to the remaining soup mixture. Mix well and scoop two tablespoons of this mixture on each crepe and roll tightly.
Grease a 9-inch square of baking tray and place the crepe in it, the seam-side down.
Pour the remaining mixture on the crepes and sprinkle ¼ cup of parmesan.
Bake for 20-25 minutes, at 375°F.
Fold the cream into mayonnaise and spread it on top of the crepes and sprinkle the remaining parmesan. Broil the crepes six inches in from the heat, for three to five minutes until it turns golden brown or starts boiling.
Serve warm.
Tip: When stacking the crepes, use grease paper between each crepe to prevent them from sticking.
Preparation time: 40min
Servings: 4
[ Read: Healthy Meals For Kids ]
2. Spinach and chicken quiche
Another holiday breakfast recipe, spinach and chicken quiche have a good amount of protein, iron, and carbohydrates. If you have cooked chicken in the fridge, you could also try making this on weekday mornings.
You will need:
10 oz fresh spinach or frozen spinach (thawed and drained)
1 cup cooked chicken
1 9-inch pie shell/crust (unbaked)
1 ¼ cups shredded cheddar cheese
3 eggs
½ cup chopped onion
¾ cup milk
¾ cup mayonnaise
Salt and pepper to taste
How to:
Sprinkle ¼ cup cheddar cheese on the pie crust and set it aside.
Add the cooked chicken, onion, ½ cup spinach and the remaining cheddar cheese in a bowl, and stir to mix them well.
Spoon the chicken mixture into the pie shell and spread it evenly.
Add milk, eggs, salt, pepper, and mayonnaise in another bowl and whisk. Pour this over the pie mixture.
Bake at 350°F for 45 minutes or until the knife comes out clean.
Let it sit for 15 minutes.
Serve warm.
Preparation time: 1h 15min
Servings: 6
3. Chicken Sausage & Hash Brown Breakfast
This cheesy chicken and hash browns breakfast dish is healthy and tasty too.
You will need:
2 cups frozen hash brown potatoes
4 chicken sausage patties
4 slices rye bread
4 slices Gouda cheese
4 slices cheddar cheese
3 tbsp butter
How to:
Cook the hash browns as per the instructions on the package and set them aside.
On a skillet, cook the sausage patties until they turn brown. Set them aside.
Heat a pan on medium heat. Butter one side each of the bread slices and put two of them in the pan, butter-side down.
Top each bread slice with two cheese slices, sausage patty, hash browns and two slices of cheddar cheese. Cover with the remaining bread slices, butter side up.
Cook each side for three to four minutes or until each side turns light brown and the cheese is melted.
Serve warm.
Preparation time: 25min
Servings: 2
4. Chicken and egg hash
This is a convenient breakfast recipe that combines leftover cooked chicken or ham with potatoes and eggs for a protein-rich meal.
You will need:
1oz bone-in chicken thighs
½ cup low-sodium chicken broth
1 ½ pound potatoes, peeled and diced
½ medium-sized bell pepper, diced
2 scallions, chopped
2 clove garlic
3tbsp vegetable oil
Salt and pepper to taste
½tsp paprika
½tsp thyme
How to:
Warm one tablespoon oil in a skillet. Season the chicken with salt and pepper and cook it in the skillet, turning it every ten minutes, until it is golden brown on both sides.
Drain the fat and add the chicken broth to the skillet and cook it on low flame for 35 minutes.
Remove the chicken and shred the meat. Skim the fat from the remaining liquid and set it aside.
Cook potatoes in a pot of water for five minutes. Bring it to a boil and then drain the salt water.
Heat the remaining oil in the skillet and saute the potatoes, onions, bell pepper, and whites of the scallions for five minutes. Season with thyme and paprika and saute for four more minutes.
Add the chicken and saute for three minutes and then add the reserved liquid, as needed, and cook.
Take it off heat and sprinkle the greens of the scallion on top.
Serve warm.
Preparation time: 30min
Servings: 4
[ Read: Egg Recipes For Kids ]
5. Chicken mayo sandwich
Chicken mayo sandwich is a simple breakfast recipe that can be modified to suit your tastes.
You will need:
750g broiler chicken
1 ½ cup mayonnaise
12 bread slices
50g butter
2tbsp celery, chopped
Salt and pepper to taste
How to:
Clean and wash the chicken and boil it in 2 cups of mildly salted water. Cook till it is tender and shred the meat.
Add mayonnaise, celery, and pepper to the cooked chicken and mix well.
Butter the bread slices, you can trim the sides if you want.
Place the bread slices on a plate, with the butter-side up and top it with a teaspoon or two of the chicken mayo mixture and spread it evenly.
Cover it with another slice of bread, with the butter-side down and press it to make the sandwich.
Cut the bread diagonally and serve.
Preparation time: 30min
Servings: 3
Now that we're done with breakfast, what's for lunch? Keep reading to find out!
[ Read: Sandwich Recipes For Kids ]
Kid-friendly Chicken Recipes For Lunch
Chicken may not be every mom's favorite ingredient for breakfast. But it sure is an appealing choice for healthy and filling lunches.
6. Baked honey mustard chicken
When you are short of time but want to include chicken in the menu, this recipe can come to your rescue.
You will need:
Six boneless, skinless chicken breast halves
½ cup honey
½ cup prepared mustard
1 tsp dried basil
1 tsp paprika
½ tsp dried parsley
Salt and pepper to taste
How to:
Preheat the oven to 350°F.
Grease a baking dish and place the chicken pieces in it. Sprinkle salt and pepper over them.
In a small bowl, combine mustard, basil, parsley, and paprika and mix well. Pour half of this liquid over the chicken and brush it evenly.
Bake the chicken for 30 minutes and flip the chicken pieces to the other side. Pour the remaining liquid over the chicken pieces and bake for another 15 minutes or until the chicken is no longer pink and juicy.
Let it sit for ten minutes after it is cooked.
Serve hot.
Preparation time: 1hr
Servings: 6
7. Baked spaghetti with chicken
Is your kid in the mood for Italian food? Try this healthy and tasty baked chicken dish.
You will need:
3 skinless, boneless chicken breast halves
1 pound processed cheese food, such as Velveeta
1 pack spaghetti
1 can (10.75oz) condensed cream of chicken soup
10oz or 1 can diced tomatoes
1 pinch garlic powder
Salt and pepper to taste
How to:
In a large pot of boiling water, add a little salt and the chicken. Once the chicken is cooked, remove it from the water and let the broth continue to boil.
Shred the chicken and set it aside.
Add the spaghetti to the boiling broth and cook until soft, or for eight to ten minutes. Once done, drain the broth and return the spaghetti pot to the stove.
Add the soup, the shredded chicken, tomatoes, cheese, and chili peppers. Season with garlic powder. Add the salt and pepper to suit your taste and cook for a minute or two or until the cheese is melted.
Serve hot!
Preparation time: 20min
Servings: 9
[ Read: Soup Recipes For Kids ]
8. Caribbean-style chicken salad
Salads are healthier and let you combine the best of vegetables and meat. This is one such recipe that is easy to make for summer luncheons.
You will need:
1 pound skinless, boneless chicken breast halves
1 can black beans, drained, and rinsed
½ head of green lettuce, rinsed and torn
1 ripe mango, peeled and diced
1 red bell pepper, seeded and diced
½ jicama, thinly sliced
¼ cup olive oil
¼ cup lime juice
1 tbsp non-alcoholic red wine vinegar
2 tbsp honey
1 garlic clove, minced
Salt and pepper to taste
How to:
In a small bowl, combine the vinegar, lime juice, honey, garlic, salt, and pepper and whisk until properly blended.
Whisk in the olive oil and mix half of this dressing with the chicken breasts. Cover the chicken and put it in the fridge for one hour.
Put the remaining dressing in the refrigerator for later.
Heat a grill on medium heat and cook the chicken breasts until they are no longer pink and tender. Set them aside and let them cool.
In a large bowl, toss the mango, lettuce, beans bell pepper, and jicama with the reserved dressing.
Slice the chicken into bite-size pieces and add to the mango salad.
Mold a salad bowl with green lettuce leaves put the salad in the middle and serve.
Preparation time: 1h 42min
Servings: 4
9. Chicken burgers
These chicken burgers are easy to make and a great option for lunch at home or school.
You will need:
1 pound ground chicken
1 pack burger buns
½ cup Italian seasoned breadcrumbs
1 egg
2 garlic cloves minced
½ onion, finely grated
2tsp olive oil
Salt and pepper to taste
How to:
Combine the chicken, egg, a quarter cup of bread crumbs, garlic, salt, and pepper and mix well. Take two tablespoons of this mixture into your moistened hands and shape them into flat patties.
Spread the remaining breadcrumbs on a plate or a shallow dish and roll the patties in them.
Heat the olive oil on medium heat and put the patties in it.
Cook them until both sides of the patties turn brown.
Put them between burger buns and serve warm, with ketchup.
Preparation time: 20min
Servings: 4
10. Tango mango chicken with rice
A list of lunch recipes is not complete without a rice dish. When you have access to tangy mangoes and chicken, this recipe is a must try.
You will need:
4 skinless, boneless chicken breast halves
4 cups cooked white rice
1 can mango slices
1 onion, cut into thin slices
1 yellow and red bell pepper each, cut into long strips
1 chili pepper, minced
3 garlic cloves, minced
1 ½ cups plum sauce
How to:
Heat the oil in a skillet and stir in the onions and red and yellow bell pepper strips. Cook for about four minutes, or until they become soft.
Add the chili peppers and stir for another three minutes, or until you get an aroma of cooked chili.
Stir in the chicken and the mango slices with the juice, and let it cook for about ten minutes or until the chicken is no longer tender and pink in the center. Turn the chicken to let it cook evenly on both sides.
Add the plum sauce and cook until the sauce thickens.
Pour this over cooked white rice.
Serve hot!
Preparation time: 40min
Servings: 8
And, it's dinner time, folks! Bon appetite!
Dinner Recipes With Chicken
When you want a hearty meal at the dinner table, adding chicken to the food can be a good idea.
11. Baked chicken nuggets
Chicken nuggets are filling and double up as finger foods too. When you want a mess-free meal at the table or on the sofa, chicken nuggets recipe can be a good idea for kids.
You will need:
3 skinless, boneless chicken breasts
½ cup grated parmesan
1 cup Italian seasoned breadcrumbs
½ cup butter, melted
1tsp dried thyme
1tbsp dried basil
Salt to taste
How to:
Preheat the oven to 400°F. Grease a cookie sheet and set it aside.
Cut the chicken breasts into 1½ inch sized cubes.
Combine the breadcrumbs, cheese, basil, thyme, and salt in a bowl and mix them well.
Keep the melted butter in a separate dish for dipping.
Dip the chicken pieces in the butter and then coat with the breadcrumb mixture and place them on the greased cookie sheet.
Bake for 20 minutes.
Serve hot with ketchup or mint dip.
Preparation time: 40min
Servings: 6
12. Grilled chicken and potato-foil packs
This is a flavorful chicken recipe that can be prepared in less than an hour and allows easy clean-up too.
You will need:
4 skinless, boneless chicken breasts
2 onions, cut into quarter-inch thick slices
4 large potatoes, peeled and cut into ¼-inch cubes
2 cups button mushrooms, sliced
2 large green bell peppers, seeded and diced
½ cup vegetable oil
¼ cup apple cider vinegar
1tbsp garlic powder
½tsp dried basil
½tsp dried thyme
Salt and pepper to taste
How to:
Preheat an outdoor grill on medium heat.
In a bowl, stir in the oil, vinegar, garlic powder, basil, thyme, salt, and pepper and keep it aside.
Cut an aluminum foil into four 12/12 inch squares. Place one chicken breast each in the center of each foil and top it with the veggies and mushrooms. Pour a ¼ ladle of the vinegar mix on top of the chicken and the vegetables and seal the aluminum foil to male packets.
Grill on the preheated grill for 40 to 50 minutes or the temperature inside the foil goes up to 170° F.
Serve immediately.
Preparation time: 50min
Servings: 4
[ Read: Potato Recipes For Kids ]
13. Chicken Chili
This recipe gives your children the sustenance they need on cold nights. And, it tastes best when served with crusty Italian bread.
You will need:
6 skinless, boneless chicken breast halves
1 cup chopped onion
1 ½ cups chicken broth
1 can green chili peppers, chopped
2 cans cannellini beans, drained and rinsed
2 green onions, chopped
¾ cup shredded cheese
1/8tsp red pepper powder
½tsp cilantro
½tsp oregano
1tsp cumin powder
1tsp garlic powder
1tbsp olive oil
How to:
Heat the olive oil in a large pot. Stir in the onion and cook for two minutes. Stir in the chicken and saute for another four minutes.
Stir in the chicken broth, garlic powder, chili peppers, oregano, cumin, red pepper, and cilantro. Mix well and let it cook for 15 minutes on low flame.
Stir in the beans and simmer for ten more minutes.
Top with chopped green onion and shredded cheese.
Serve hot.
Preparation time: 35min
Servings: 6
14. Chicken noodle soup
Chicken soup recipe is an excellent for kids in sick days. When the child needs healthy food that helps him recover quicker, this recipe will come in handy.
You will need:
2 ½ cups egg noodles
12 cups chicken broth
3 cups diced, cooked chicken meat
1 cup chopped onion
1 cup chopped celery
¼ cup water
1/3 cup cornstarch
1 ½ tbsp salt
1tbsp vegetable oil
1tsp poultry seasoning
How to:
Bring salted water to a boil in a large bowl. Add oil and egg noodles and let it boil for another eight minutes. Once the noodles are cooked, drain the water and set it aside.
In a large saucepan, combine the broth, poultry seasoning, and salt. Once it starts boiling, stir in the onion and celery. Cover it with a lid and let it simmer on low heat for 15 minutes.
In another small bowl, mix the cornstarch thoroughly with water, until it fully dissolves. Add it to the soup gradually, while stirring constantly.
Stir in the noodles and heat for a while.
Sprinkle a bit of pepper and seasoning and serve hot.
Preparation time: 45min
Servings: 12
[ Read: Quick Recipes For Kids ]
15. Chicken enchiladas
This is an easy recipe for when you want to make a tasty supper for the kids.
You will need:
4 skinless, boneless chicken breast halves
1 chopped onion
8 10-inch tortillas
1 can tomato sauce
1 and ¾ cups cheddar cheese, shredded
½ pint sour cream
½ cup water
1/3 cup chopped green bell pepper
1 jar taco sauce
1tbsp dried parsley
½tsp dried oregano
1 clove garlic, minced
1tbsp chili powder
Salt and pepper to taste
How to:
Preheat the oven to 350°F.
Heat oil in a medium non-stick skillet and cook the chicken, until it is no longer tender and pink. Once cooked, drain the excess fat from the chicken, cut it into small cubes, and return it to the skillet.
Add the onion, parsley, oregano, sour cream, one cup cheddar cheese, and pepper and heat until the cheese melts.
Stir in the tomato sauce, chili powder, green chili peppers, garlic, and salt. Mix well.
Roll even amounts of the chicken mixture on the tortillas and arrange them in a 9×13 inch baking dish.
Top with the remaining cheddar cheese and taco sauce.
Bake it, uncovered, for 20 minutes. Let it cool for ten minutes.
Serve warm.
Preparation time: 1h 30min
Servings: 8
[ Read: Baking Recipes For Kids ]
You can also try the baked chicken pasta and Indian bread rolls with chicken filling for healthy dinners. You can interchange the lunch and dinner recipes, and add or remove some ingredients to make them simpler. Note that in most cases, you can replace chicken with cottage cheese or tofu and chicken broth with vegetable broth to make the dishes vegetarian or even vegan.
Tried these recipes already? Use our comments section to tell us about your favorite chicken recipes for children.
Recommended Articles:
Comments are moderated by MomJunction editorial team to remove any personal, abusive, promotional, provocative or irrelevant observations. We may also remove the hyperlinks within comments.
The following two tabs change content below.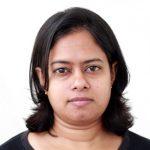 Latest posts by Sagari Gongala (see all)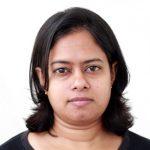 Sagari Gongala
Sagari is a math graduate and studied counseling psychology in postgraduate college, which she uses to understand people better. This skill also helps her write better articles about kids and their behavior. She is meticulous in her research and gives you information that could be the ultimate help you'll need in times of need. An animal lover, vegan, and coffee addict, Sagari puts her mind and soul into whatever she does. During her free time, you'll find her either rescuing a sick/injured animal with a friend, or glued to her couch watching Sons Of Anarchy on Netflix.