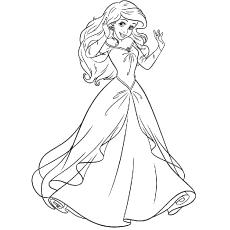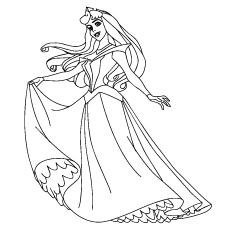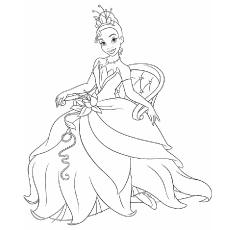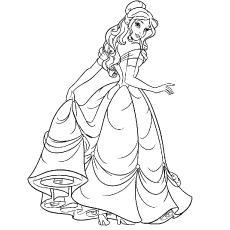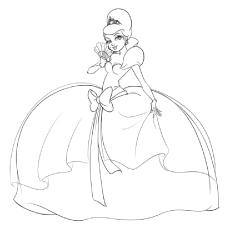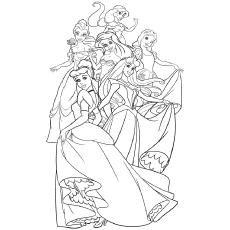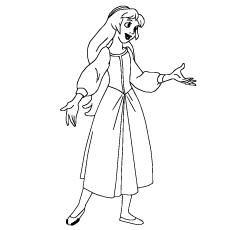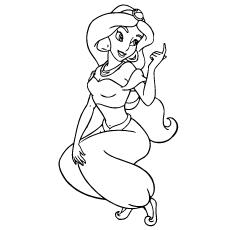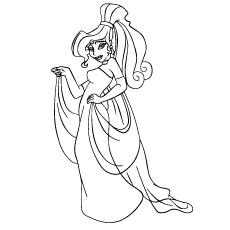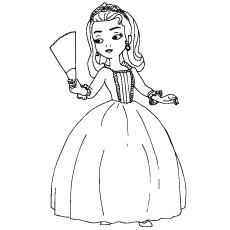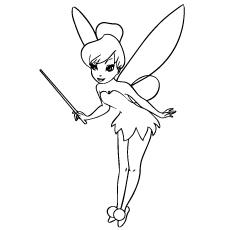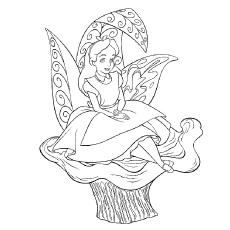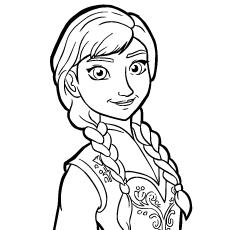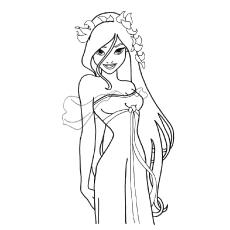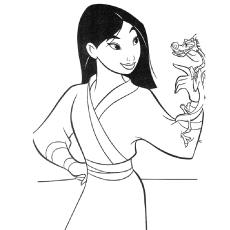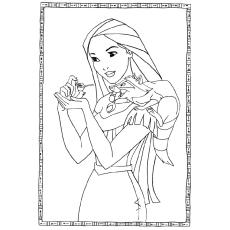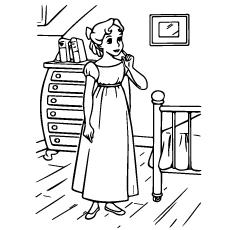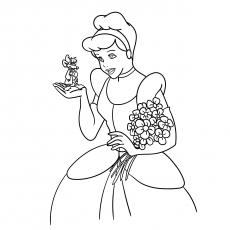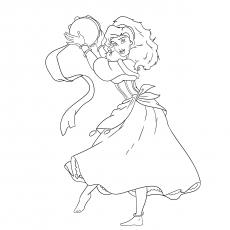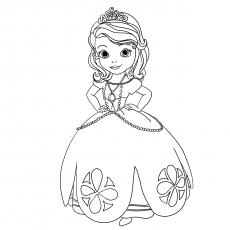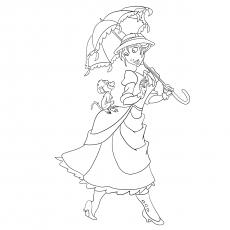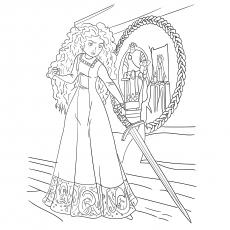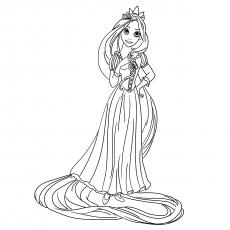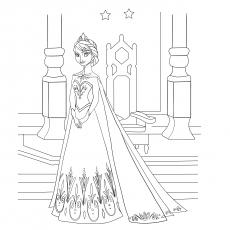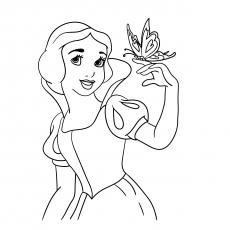 Every little girl loves Disney Princesses and is all ears listening to their tales which involve a handsome prince, beast and a fairy. These princesses are known for their inner and outer beauty and also for their melodious voice. Disney Princesses, a Walt Disney creation, features 11 princesses namely Snow White, Cinderella, Aurora, Jasmine, Merida, Pocahontas, Ariel, Belle, Mulan, Tiana and Rapunzel. There are some unofficial names too like Jane Porter of Tarzon novels and Alice of Alice In Wonderland.
Top 25 Disney Princess Coloring Pages
The extreme popularity of the series has lead to the production of merchandise products like dolls, clothing, home décor, toys, apparel, coloring pages and other stuff. In this article, we will tell you about 25 Disney Princess coloring pages that your little daughter will enjoy.
1. Snow White:

Meet Snow White, the protagonist of the film, 'Snow White and the Seven Dwarves'. She is the first and the youngest of Disney princesses.
Snow white has brown eyes, black hair and porcelain complexion. Your young one will get a regal feeling while coloring this page.
2. Cinderella:

Cinderella is the second eldest of all the Disney princesses. The story begins from when her stepmother turned her into the family's servant after the death of her father.
Either your daughter already knows who Cinderella is or you can narrate the story while she colors the page. Either way, she would love to be part of the fairytale.
3. Aurora:

Aurora is the hero of the animated classic movie Sleeping Beauty.
Fill in your daughter with some facts like how Aurora was cursed at birth to die before the sunset on her 16th birthday. But a good fairy weakens the curse by changing death to a deep slumber that could be awakened by true love's kiss.
4. Ariel:

Ariel is the daughter of King Triton, the ruler of the sea.
This coloring sheet features Ariel in her human form.
Ariel with her red long hair, red pout and blue eyes is considered the most beautiful Disney princess, the type your little girl would want to grow up to be.
5. Belle:

Meet Belle, the fifth princess of the Disney princess line-up. This French commoner is the heroine of the 1991 animated classic Beauty and the Beast. Her name comes from a French word, which means beauty.
Here are some facts you could tell your little one: Belle selflessly trades her freedom for that of her father in a bargain with the Beast. She soon learns about the Beast's virtues behind his hideous appearance and eventually falls in love with him.
She is a 17-year oil woman with hazel eyes and long, brown. Belle marries Prince Adam at the end of the story and becomes a Princess Consort.
6. Jasmine:

Jasmine is the spunky Arabian princess of Agrabah. She is the daughter of the Sultan of Agrabah. She always dreams of seeing what lies beyond her palace.
If your daughter is fond of Aladdin tale, this is the right coloring page. While she is busy coloring Jasmine, you could tell her the story in detail.
Jasmine falls in love with Aladdin, a street urchin whom she eventually marries.
This beautiful princess has a long black hair and brown hair. Jasmine is the first princess to not be in the titular character in her film.
7. Pocahontas:

Pocahontas is the first Disney princess to be based on a real life person.
Pocahontas has luscious long hair and brown eyes. She is the only child of Chief Powhatan and the heiress of the kingdom.
She falls in love with a man named John Smith, who helps prevent a war from commencing between two people. At the end, John is wounded and sent back to London for treatment.
8. Mulan:

This is the coloring sheet of Mulan, a brave Chinese woman who dresses up like a soldier and goes to war in place of her ailing father.
The character is based on a well-known ancient Chinese poem The Ballad of Mulan.
Mulan is not a royal princess. She is called a princess because of the honor achieved from the Emperor himself for saving China.
9. Tiana:

Tiana is the female protagonist of the film The Princess and the Frog.
She is the first princess of an African-American descent.
Tiana dreams of opening her own restaurant through hard work. She kisses Prince Naveen in his frog form and then turns into a frog because she kissed him for material gain.
10. Rapunzel:

Rapunzel is the protagonist of the film Tangled. She is a princess with hair that is said to measure 70 feet in length. Her hair not only has magical healing powers, but can also be used as a weapon.
Mother Gothel kidnaps her as an infant to use her power to keep herself young. 18 years later, she sneaks out of the tower with the help of a thief Flynn Rider to find out about the flying lanterns.
Rapunzel is the only child of King of Corona and the princess of his kingdom. She later marries Eugene Fitzherbert, a commoner.
11. Merida:

Merida is the 16-year-old daughter of Queen Elinor and King Fergus. She is the protagonist of the film Brave.
The expectations and demands of the Queen cause friction between the mother and daughter. Despite her mother's desire to see Merida as a proper royal woman, Merida turns into an impetuous girl with unruly hair.
Merida is well trained in sword fighting and is an expert equestrian. She is one of the most skilled archers in her kingdom.
12. Anna:

Anna is the protagonist of the 2013 Disney animated film Frozen. She is said to be based on Gera, the protagonist from the Danish fairy tale Snedronningen or The Snow Queen.
Anna is the member of a royal family. Despite being a princess, Anna is a free spirited girl and rarely acts before thinking.
Anna is the second and youngest daughter of the King and Queen of Arendelle. She has beautiful long hair, pink lips and blue eyes.
13. Elsa:

Elsa, also known as the Snow Queen is the deuteragonist of the 2013 animated feature film Frozen. She is based on the character Kai, the Snow Queen from the fairy tale Snow Queen.
Elsa is crowned the Queen of Arendelle, until her powers over ice is exposed, causing her to flee the kingdom.
Elsa is an elegant girl who is loved by the town's people. She is the first Disney princess to be considered an anti-heroine.
14. Alice:

Alice is the protagonist in the film Alice in Wonderland. She is the unofficial princess of the Disney princesses' line-up.
She is not considered a princess as she does not belong to a royal family. However, she is a princess in the game Kingdom Hearts. She is also featured in a few Disney Princesses Sing-A- Long.
Alice is a beautiful young girl with blonde, curly hair, blue eyes and rosy cheeks.
15. Eilonwy:

Eilonwy is the deuteragonist in The Black Cauldron, a Disney feature film. Even though she is a princess by birth, she is not considered an official Disney Princess as the film did not do well at the box office.
Eilonwy is a 12-year-old beautiful girl with flowing blonde hair and a delicate figure. She has long and thick blonde hair, slender figure and blue eyes.
Eilonwy is a plucky, cynical and talkative girl who goes off rants at Taran for seemingly trivial reasons. However, she is extremely caring for people close to her.
16. Esmeralda:

Meet Esmeralda, the second lead of the Disney's film The Hunchback of Notre Dame. She was excluded from the Disney's princesses franchise because of her shadowy background.
Esmeralda is a strong woman who is capable of defending herself. She looks beyond a person's physical appearance and befriends a deformed, yet lovable hunchback Quasmido.
She is beautiful and attracts the attention of three men during the course of the film. She has a tanned skin, jet-black hair and emerald green eyes.
17. Giselle:

Giselle is the protagonist of the Disney film Enchanted. She is one of the most beautiful Disney's unofficial princesses.
She is an archetypal Disney princess living in the perfect fantasy world of Andalasia. She has barely felt emotions like frustration and anger that are common on earth.
When she comes to New York City, her experiences in her hometown make her naïve to the complexity of the earth.
18. Jane Porter:

Jane is the female lead in Tarzan. She is an intelligent and beautiful young woman, who has an extreme love for art. She is not even afraid of venturing into the jungle to explore the wildlife.
Jane is a woman in her early twenties with fair skin and brown hair. She wears a long, yellow dress with white gloves, white petticoat and brown boots.
Jane is an extremely affectionate woman with a kind disposition. She is also compassionate about the animals.
19. Megara:

This coloring sheet features Megara, an independent, free spirited and quick-witted woman.
Megara is world-weary and cynical, making her a typical Disney female lead. She has a low opinion of men in general because of her negative experiences with them.
Megara is a slender and beautiful girl with angular features and long auburn hair that is tied in a high ponytail.
20. Sofia:

Sofia is the protagonist in the television series Sofia the First. She is also featured as the protagonist in film Sofia the First: Once Upon a Princess.
Sofia is not an official Disney princess.
She is a young, adorable girl of humble origins. She becomes royalty after her mother's remarriage to King Roland II.
21. Tinker Bell:

Tinker Bell is another unofficial princess from the Disney Princess franchise.
She is a tiny pixie fairy known for her explosive temper.
Tinker Bell had made her first appearance in Peter Pan. She later appeared as the title character in several films.
22. Princess Amber:

Princess Amber is the deuteragonist of the Disney Junior series Sofia the First. She is Sofia's elder stepsister.
Initially, Amber was a cold, spoiled and bratty girl who did not like Sofia. She changed her behavior after she ripped her ball gown.
Amber is a fair-skinned girl with blond hair and amber eyes. She wears a chartreuse gown and a crystal tiara.
23. Charlotte La Bouff:

Charlotte La Bouff is a beautiful and flamboyant southern belle. She is the daughter of wealthy Eli La Bouff.
She is doted on and gets everything she wants ever since her childhood. This makes her self-centered and superficial.
Charlotte La Bouff dreams of marrying a prince and living a storybook life. She is a 19-year-old girl with fair skin, pink lips and blonde hair.
24. Wendy Darling:

Wendy Darling is the female lead in Walt Disney's Peter Pan. She is an adventurous 12-year-old girl who loves to tell stories.
Wendy is a girl with vivid imagination.
She is a slender girl with rosy cheeks, light brown hair, pink lips and blue eyes.
25. Disney Princess:

This coloring sheet features the major princesses from the Disney franchise.
It has Ariel, Cinderella, Bella, Aurora, Belle and Jasmine.
Your child will love filling bright colors in the images of these beautiful princesses.
These coloring sheets will allow your young one to unleash her creativity while listening to her favorite fairy tale fantasy.
Besides, these coloring sheets will also help in the development of her fine motor skills, finger dexterity and hand-eye coordination. The activity encourages the concentration power and mental capacity, while also keeping the child creatively engaged.
DISCLAIMER: All images found here are believed to be in the "public domain". We do not intend to infringe any legitimate intellectual right, artistic rights or copyright. All of the images displayed are of unknown origin. If you are the rightful owner of any of the pictures/wallpapers posted here, and you do not want it to be displayed or if you require a suitable credit, then please contact us and we will immediately do whatever is needed either for the image to be removed or provide credit where it is due. All the content of this site are free of charge and therefore we do not gain any financial benefit from the display or downloads of any images/wallpaper.
The following two tabs change content below.