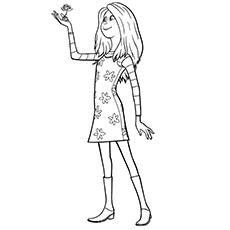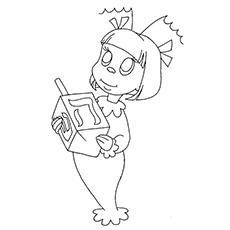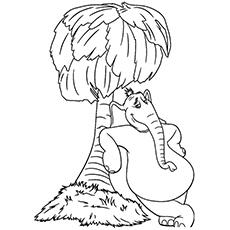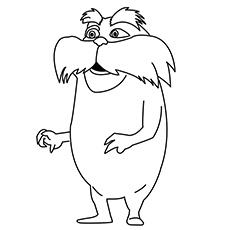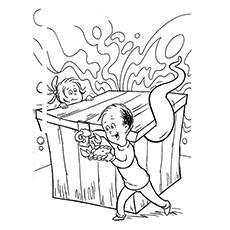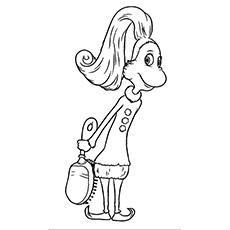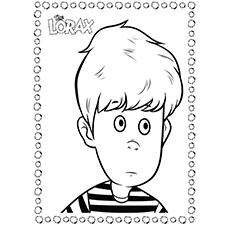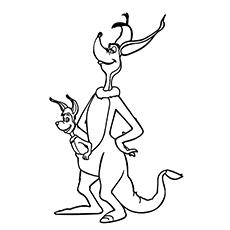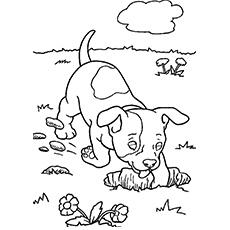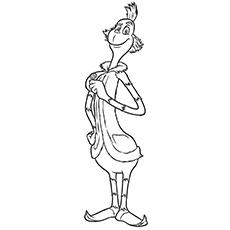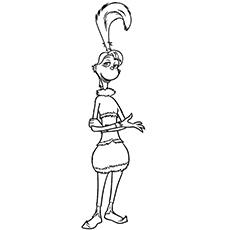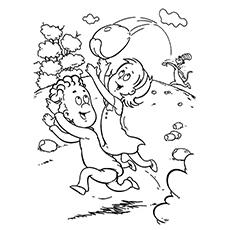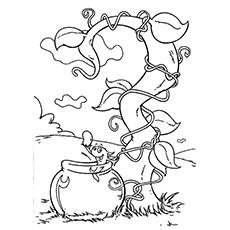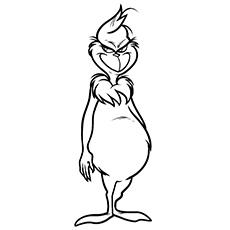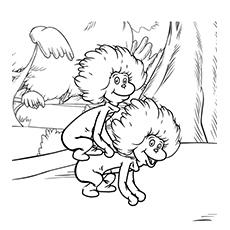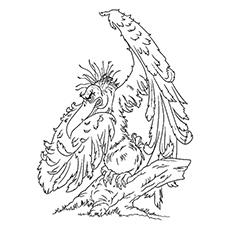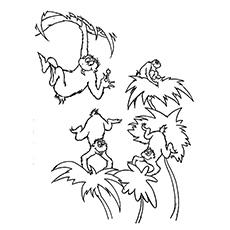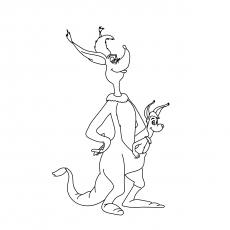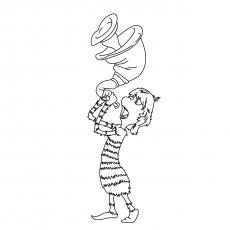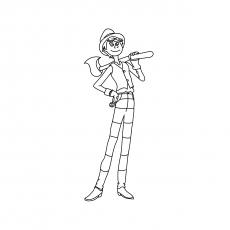 Recommended Articles:
A storyteller in the grandest sense of the word, Theodor Seuss Geisel, better known as Dr. Seuss was an American writer, cartoonist and poet. He is renowned for his amazing collection of children's book. He was a thorough perfectionist and would sometimes spend more than a year on a book.
Dr. Seuss wrote around 46 children's books that had surreal characters and rhyme. He not only narrated the tales of the faraway places, but also conveyed a unique visual language through his stories. This carried his stories to the greater heights of artistic expression. His work was also adapted in television series and films.
Top 20 Dr Seuss Coloring Pages For Preschoolers
Here is a small collection of Dr. Seuss coloring sheets for your children. These free dr seuss coloring pages to print will ensure that your children have a fun, educational activity in their spare time.
1. The Once-Ler:

This coloring sheet features 'The Once-Ler,' an important character from this series. Let your child fill some colors in this sheet while you explain the story to him.
The Once-Ler is a greedy industrialist who cuts down the Truffula trees to make garments known as "thneed".
He is a tall and thin man with black hair and light blue eyes. He is shown wearing a gray fedora, a long sleeved white T-shirt over a gray vest, striped pants and dark gray shoes.
[ Read: Letter D Coloring Pages ]
2. Thing One and Thing Two:

Thing One and Thing Two are characters from Dr. Seuss' book "The Cat in the Hat".
They are released from the box that the cat brings to show Conrad and Sally. They cause mischief in the house by flying kites and knocking down everything that comes in their path.
Thing One and Thing Two are shown wearing jumpsuits with the logo 1 and 2 and an afro.
3. Cindy Lou Who:

Cindy Lou Who is another popular character from Dr. Seuss' book. She appears in the Christmas parable "How the Grinch Stole Christmas!".
She is a cute and gullible girl who believes whatever she sees.
She is shown wearing a cute, little pink dress in the series.
4. The Grinch:

Meet Grinch, the central character of the book and the television series "How the Grinch Stole Christmas!" He is the resident of Whoville and lives above the Whos on Mount Crumpit.
The Grinch is an unpleasant grouch with a sour attitude, depressed judgment who is always out to ruin something.
He has large, bulbous stomach, a pear shaped body covered in green hair, long fingers and feet and yellow teeth.
5. Lorax:

The Lorax is the protagonist of "The Lorax". He is the caretaker of the Truffula Trees Forest. He is said to be based on President Theodore Roosevelt for his pro-environmental policies.
The Lorax is a short and brown man with a thick, long moustache and yellow bushy eyebrows.
He is extremely protective of the Truffula trees and constantly warns everyone about what is happening in the surrounding area.
[ Read: Diego Coloring Pages ]
6. Sam-I-Am:

Sam-I-Am is the most popular character of Dr. Seuss series. He is the protagonist of the story "Green Eggs and Ham." He is also the antagonist of "The Wubbulous World of Dr. Seuss".
He is regarded as a trickster with good intentions. He rarely gets angry in the book and is friendly with everyone.
Sam-I-Am is a short, anthropomorphic white cat with no ears or tail. He wears a yellow shirt and a red hat with no shoes or pants.
7. JoJo McDodd:

Jojo McDodd is the eldest child of Ned McDodd and the likely successor to his father, Mayor of Whoville.
Jojo appears as a silent personality in the book. He has long, black hair, auburn eyes and pale skin. He wears an all blue outfit with a red bow at his neck.
Jojo is very fond of music. He also finds beats in the rhythmic bounce of a basketball.
8. Ted Wiggins:

Ted Wiggins is one of the main characters of the book and television series "The Lorax".
He is a 14-year-old boy who comes to The Once-Ler to know more about the Truffula Tress. There, he falls in love with Audrey and does everything to win her heart.
Ted is a handsome young man with brown hair and brown eyes.
9. Max:

This colouring sheet features, Max, a dog and companion of Grinch. He appeared in the book "How the Grinch Stole Christmas" and is a prominent character in the television series and film adaptations.
Max is an adorable looking spotted dog who is always shown sucking on a bone. He has brown curved ears and tan coloured fur.
The only words he says are "Yippee!" and "Raaaahhh!".
10. Horton the Elephant:

Horton is a kind-hearted elephant who appeared in the book "Horton Hatches the Egg".
He is a gullible and dim-witted elephant who believes in something that no one else does.
He is a gray, Indian elephant with blue eyes. He has ear sprouts like wings, a tuft of black hair on top of his head and a round body.
[ Read: Sesame Street Coloring Pages ]
11. Sally:

The cute, little girl you see here is Sally Walden, a character in Seuss's book "The Cat in the Hat". She mostly appears in the book with her brother Conrad as seen in this colouring sheet.
Sally is a well-behaved girl who loves playing with her brother and friends in the garden.
Sally wears a blue dress with polka dots and a red patch. She accessorizes her dress with a pearl necklace and a pink headband on her orange dress. You can tell your child to use these colours for coloring this sheet.
12. Ned McDodd:

The strange looking person you see here is Ned Mcdoodm, the Mayor of Whoville. He is the father of 96 daughters and one son.
He is a stressed out man with more than 97 mouths to feed and a son with whom he has not spoken in years.
Despite all the stress in his life, the Mayor is a dedicated father, husband and a civil servant in Who-vile.
13. Jane Kangaroo:

Jane Kangaroo, also known as Sour kangaroo, is the creator of jungle laws in the book. He is very sceptical about the existence of the Whos in the Whosville.
Jane is a purple kangaroo with a tuft of fur around her neck and long hair on her head that stands up straight.
Jane serves as the main antagonist in the book. She believes that once people start listening to Horton, they will start coming to her with questions that she will not be able to answer. Hence, she starts making deals with Wickershams and the vulture hit man Vlad Vladikoff to do away with Horton.
14. The Fish:

The colouring sheet shows Fish, a character from Dr. Seuss' book. His real name is believed to be Carlos K. Krinklebein in the series.
The fish was initially sceptical about the presence of 'The Cat' in the house. He later becomes a companion and friend of the cat.
Carlos K. Krinklebein is a pink coloured fish, but your child can use any colour he likes for colouring it.
[ Read: Teacher Coloring Pages ]
15. Vlad Vladikoff:

Vlad Vladikoff is the vulture mercenary in the book "Horton Hears a Who!" He lives in a tree stump in a swamp that is surrounded by thorns.
Vlad Vladikoff is hired by Jane Kangaroo to do away with Horton's clover.
He is a wicked and cunning vulture who agrees to work for Jane in exchange for her son Rudy.
16. Sally O'Malley:

Sally O'Malley is the wife of Ned McDodd and the mother of 97 children.
She is a dedicated and loving wife who is willing to give everything to help her husband save Who-vile.
Your child can use orange or yellow for the striped furs and orange for the eyes. She ties her brown hair in a ponytail style at the top of her head.
17. Conrad:

Conrad is Sally's brother and the narrator in "The Cat in the Hat".
He is a destructive and misbehaved 12-year-old boy who spends most of the time playing with his sister Sally.
Conrad has a tight, wrinkled face, a slick black hair and a lean physique. He usually wears a hat and variety of dark coats.
18. Wickershams:

The Wickershams are one of the antagonists of the series "Horton Hatches the Egg".
They are the monkeys in the Jungle of Nool who are hired by Jane to torment Horton.
Your children will love filling colours in these mischievous animals.
19. Audrey:

The pretty woman you see here is Audrey, Ted's girlfriend.
Audrey has a fascination for the Truffula trees, as you can see on the colouring sheet where she is holding a miniature tree. She is an environmentalist and helps Ted plant the last Truffula seed.
Audrey is a beautiful, young woman with her orange hair reaching her hips. She is shown wearing a yellow dress with green stripes in the series.
[ Read: Astronaut Coloring Pages ]
20. Marie:

Meet Marie Lou Larue, the most promising mind in the Who-vile.
She is an intelligent girl and is adamant about helping her town.
She is a friendly woman and loves helping the town people in her spare time.
Hope your children like these free printable dr seuss coloring pages. Gift some of these books to your children this festive season. They will enjoy reading the books in their holidays.
Print out all the dr seuss pictures to color to create Dr. Seuss coloring book. Share your child's experience in the comment box.
DISCLAIMER: All images found here are believed to be in the "public domain". We do not intend to infringe any legitimate intellectual right, artistic rights or copyright. All of the images displayed are of unknown origin. If you are the rightful owner of any of the pictures/wallpapers posted here, and you do not want it to be displayed or if you require a suitable credit, then please contact us and we will immediately do whatever is needed either for the image to be removed or provide credit where it is due. All the content of this site are free of charge and therefore we do not gain any financial benefit from the display or downloads of any images/wallpaper.
The following two tabs change content below.