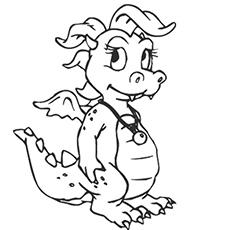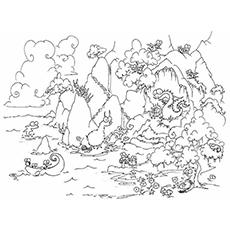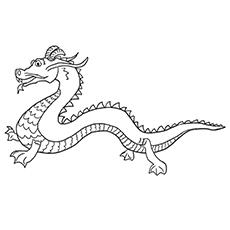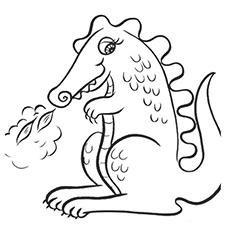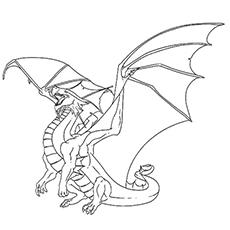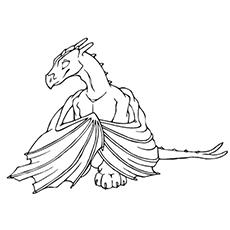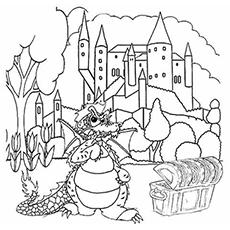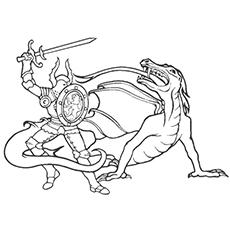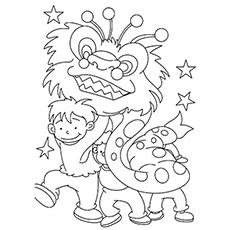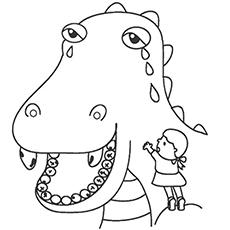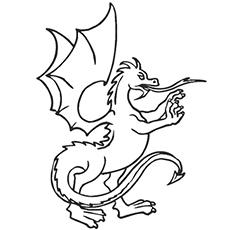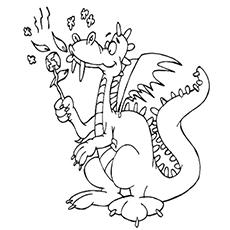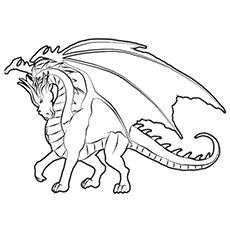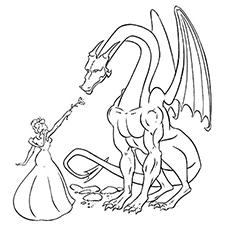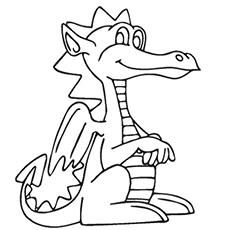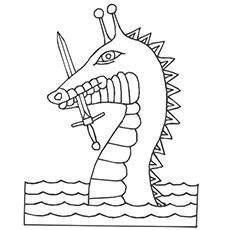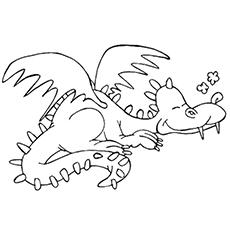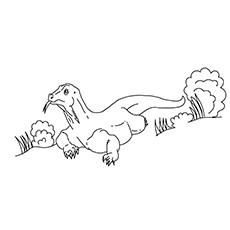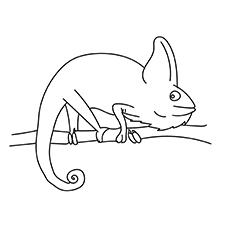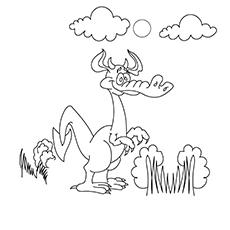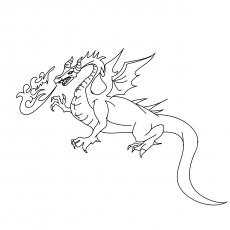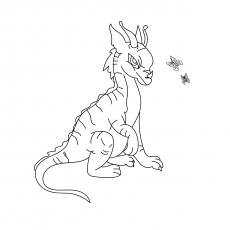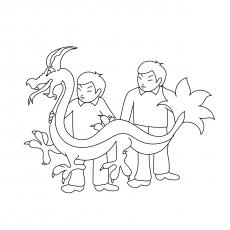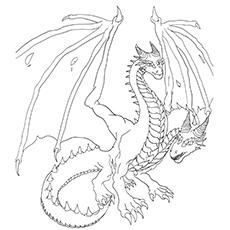 Recommended Articles:
Children have a fascination with all things magical, like pirates, knights in shining armor, fairies and dragons.
Let's talk about dragons, which are legendary creatures from folktales that have reptilian traits. Sometimes they are depicted as evil creatures trying to destroy humans, while in other tales they are pictured as the savior and protector of human kind.
Dragons have two distinguished characteristics – fire production and flight. Within the specie, there are many different breeds, ranging in size, shape and color. Some dragons have different colored scales, while some retain the same color throughout their breed.
Top 25 Dragon Coloring Pages For Preschoolers:
Dragon coloring sheets are a great tool to introduce your kids to this legendary creature. The article features both realistic and cartoon forms of dragons like flying dragons, dragons with knights and fire breathing dragons.
1. Cute Dragon:
Not all dragons are scary to look. Here is a cute looking female dragon in need of some color.
This coloring sheet will allow your child to explore his imagination as he colors the sheet.
This coloring sheet is guaranteed to make your child smile. He will also learn to practice coloring within the lines as he colors the sheet.
It will also help to strengthen your child's motor skills, which will help him in his handwriting skills.
2. Chinese Dragon:
Chinese dragons are mythological creatures in Chinese folklore.
They are considered the most beautiful of all the dragons. They have a majestic presence that appeals to both children and adults.
Ask your child to add a splash of bright colors to make this Chinese dragon appear more beautiful. In Chinese culture, dragon is a symbol of good luck, strength and power.
You can teach your child about the culture and heritage of different places after he is done coloring the sheet.
[ Read: Chinese Dragon Coloring Pages ]
3. Dragon And The Knight:
This coloring sheet displays an exciting fight between a ferocious dragon and a knight.
This exciting coloring sheet will surely keep your child riveted to his seat as he colors.
It looks like the fight is nearing an end as the brave knight has come to the edge of the cliff. Who will win this fight? Ask your child this question and see what he comes up with.
The dragon looks a bit ferocious, but will surely keep your little one entertained.
4. Dapper Dragon:
This Dapper Dragon is heading towards something fancy.
Where do you think is he heading to? Let your kindergarteners decide as they brighten up this silly dragon.
Ask your child to exercise his imagination and come up with a story behind this picture.
5. Dragon With Cavity:
This poor little dragon is suffering from cavity problems. What do you think can be done to relieve him from his pain?
Ask your child to draw the pictures of the precautionary measures that can be taken to protect his teeth from cavities.
This coloring sheet is a great way to teach your child about the importance of dental hygiene.
[ Read: Dragon Ball Z Coloring Pages ]
6. Hungry Dragon:
Even dragons need to satisfy their sweet tooth and hungry stomach every now and then.
This cute dragon is preparing a hearty meal for the Halloween for his forest friends. What do you think he is cooking?
This is a perfect coloring to keep your children busy, while you prepare for the Halloween.
7. Cave Dragon:
Do you have a dragon enthusiast in your house? Then coloring sheet will surely delight him.
This coloring sheet features a dragon in his natural habitat, a forest cave. It also displays several other creatures of the forests.
Share this coloring sheet with your child and ask him to write a short story to describe what is going on in the picture.
8. Sleeping Dragon:
Even the most ferocious dragons need to take naps to refuel themselves for the next duel.
This coloring sheet shows a deadly dragon in a deep slumber.
His cute smile is showing that he is seeing a sweet dream in his sleep.
Give your child this gentle dragon coloring sheet and challenge him to color within the lines.
This will help him with his fine motor skills and hand-eye coordination.
You can also take is as an opportunity to do a little storytelling while he colors.
[ Read: How To Train Your Dragon Coloring Pages ]
9. Flying Dragon:
This is a coloring sheet of Shrek and his family flying on a dragon. The only thing is missing is some color. Can your child help him with it?
The dragon in this coloring sheet is a female dragon that guards the derelict castle, which serves as Princess Fiona's prison.
It is a 40-foot long, magenta colored female dragon with a tanned belly, webbed bat wings and prehensile tail. She wears lipstick and has large eyelashes.
10. Year Of Dragon:
Get ready for the Chinese New Year with this dragon coloring sheet.
According to Chinese astrology, it is believed that people born in the year of dragon are brave and energetic.
This coloring sheet is a great way to introduce your child to the traditional Chinese holiday.
Ask your child to color this looming dragon in bright colors like red, green and gold.
11. Komodo Dragon:
Here is a coloring sheet of Komodo dragon for the budding environmentalists.
Although, its population is considered stable with about 5000 living in the wild, they are considered endangered due to their limited distribution and the fact that there are only 350 breeding females.
As the name suggests, Komodo dragon is native to the Komodo island of Indonesia.
The Komodo dragon is not exactly a dragon. It is a big reptile. Ask your child to color this sheet while you read more about this endangered species as your child colors.
[ Read: Dragon Tales Coloring Pages ]
12. Dragon:
This coloring sheet features a majestic dragon. It looks like this dragon needs some colors, so bring out the crayons and have a blast with your kids.
Ask your child to color this sheet in the brightest shades possible.
Teach your child about the different features and species of the dragon with this coloring sheet.
13. Mini Dragon:
Did you know that dragons also come in small and mini sizes? This dragon may look small, but is very dangerous and ferocious. Ask your child to give it some color and enjoy.
The mini dragons have a keen sense of smell that enables them to track anything.
They are extremely strong and are capable of destroying any dragon trap they encounter by using their tail and jaws.
Mini dragons are also very agile. They do not get tired even after hours of the duel.
14. Baby Dragon:
This baby dragon is small, but looks like it is up to something devilish. What do you think is cooking in his mind?
This baby dragon is the offspring of Black dragon from the Runescape, a popular game. This baby dragon is the strongest in this game.
Unlike their adult form, the baby dragons are too young to breathe flames. Hence, an anti-dragon shield is not required to fight them.
15. Dragon With Butterfly:
This is an adorable coloring sheet of a dragon looking at the butterfly that has landed on his nose.
What do you think will he do this butterfly? Will he it let it go or will he kill it?
Ask your child to give this cute dragon a funny name.
[ Read: Madagascar Coloring Pages ]
16. Mariposa Fairy Riding On A Dragon:
This coloring sheet features Mariposa fairy riding on her pet dragon. We're sure your child will enjoy filling colors in the huge dragon and the beautiful fairy.
Mariposa is a beautiful butterfly fairy who loves exploring the world.
The story begins when Mariposa undertakes a journey with her friends to search for an antidote that can save the ailing queen.
17. 'D' For Dragon:
Have fun with your child coloring this dragon alphabet page with your preschoolers. Dragons are mythical creatures with famous stories surrounding them.
This coloring sheet is ideal for your preschooler.
Ask your child about animal names starting with the letter D. This will help to strengthen his or her vocabulary.
18. Dragon Maleficent:
The terrifying dragon you see here is Maleficent, who appeared in the climax Disney's film Sleeping Beauty.
In the final battle, Maleficent, the evil witch transforms herself into an enormous, fire-breathing dragon to destroy Prince Philip.
The prince, with the help of three fairy godmothers tricks her into biting her own tail with her venomous fangs, thereby killing her.
Narrate the story of "Sleeping Beauty" to your child after he finishes coloring the sheet.
[ Read: Dinosaur Coloring Pages ]
19. Malcho:
This coloring sheet features Malcho, a giant, feathered serpent and an enemy of Aladdin and Iago. She is based on a Mesoamerican deity, The Quetzalcoatl.
Malcho is a sly and deceptive dragon who wants to dominate the world.
She can be arrogant at times, but is patient and vengeful against her enemies.
Malcho is a huge dragon with a great strength.
Besides being clever and sly, she also has the ability to fly and breathe fire.
20. Sea Dragon:
The mysterious creature you see in the picture is a sea dragon, one of the most horrifying sea creatures. However, this sea dragon looks in a jolly and playful mood.
Print several prints of this coloring sheet and let your child have a blast coloring it with his friends.
You can also ask your child to tell a story about the dragon in the picture.
21. The Dark Dragon:
Meet Dark Dragon, the extremely powerful and evil dragon of all time. It is considered the number one threat to the magical community of the "American Dragon: Jake Long", a cartoon series.
The Dark Dragon is the first ever known dragon in history to turn evil. It is a black-colored dragon with red eyes.
He can conjure dragon-like shadow creatures to serve as his minions. Only a few dragons have been able to survive his wrath.
The Dark Dragon is a fire-breathing dragon with a dark blue fire, possibly because of his dark magic.
He is a very powerful and his strength in unmatched with any dragon or magical creature in the magical community.
22. Bearded Dragon:
Introduce your child to wordplay and figurative language with this fun coloring sheet. It features a bearded dragon, one of the endangered species of dragon.
A bearded dragon is not a dragon with a beard. It is a real lizard native to the arid and rocky regions of Australia.
The term beard refers to the underside of the throat that turns black when they see a potential rival. There are more than 10 species of bearded dragon.
We are sure your child will enjoy these fun facts as he colors the sheet.
23. Dragon And The Castle:
Feed your child's interest in dragon with this cool castle and dragon-coloring sheet. The coloring sheet features two grumpy dragons guarding a castle.
This coloring sheet will set your child's imagination ablaze. When he is done coloring, ask him to make a fantasy story about his creation.
Let your child ponder over the setting and muse over the possibilities of dragons, medieval towers and neighboring towers. This will help your children stretch their creativity and practice logical reasoning.
24. Two Headed Dragon:
It looks like this two-headed dragon is not willing to get away from each other.
This two headed dragon will provide double fun for your kid.
You can ask your child to color both the heads in some color or different colors.
25. Dragon Dancer:
The Chinese New Year parade is very popular in China Town. The participants celebrate it by building dragon and lion characters to dance under it.
This coloring sheet features two men parading around a fancy Chinese dragon.
It is a great way to introduce your child to the Chinese New Year.
These free printable dragon coloring pages online are perfect for kids who are interested in these mythological creatures. It will keep the kids busy and entertained whenever they need a fun diversion. They are also ideal for a fantasy themed birthday party. It will please both boys and girls alike.
We hope you like our collection of dragon pictures to color. You can also create your own dragon coloring book. Share your thoughts about them in the section below!
DISCLAIMER: All images found here are believed to be in the "public domain". We do not intend to infringe any legitimate intellectual right, artistic rights or copyright. All of the images displayed are of unknown origin. If you are the rightful owner of any of the pictures/wallpapers posted here, and you do not want it to be displayed or if you require a suitable credit, then please contact us and we will immediately do whatever is needed either for the image to be removed or provide credit where it is due. All the content of this site are free of charge and therefore we do not gain any financial benefit from the display or downloads of any images/wallpaper.