The polar opposite of a utopia is a dystopia, the perfect state. Dystopian fiction is dark and gloomy, futuristic, and about people being oppressed when things go wrong. The best dystopian novels for teens have stories that depict humankind's darkest aspect, with slaughter, brutality, and people living in misery. This post is for you if you have an obsession with grim stories.
We have compiled a list of some of the most popular dystopian novels for teenagers. Whether you think it is a pessimistic viewpoint or a crude depiction of life's harsh reality, you will be drawn in and read to the conclusion.
17 Best Dystopian Novels For Teens
Here is a list of a few teen dystopian novels that we have picked for you. These novels cover almost all the genres of dystopian fiction for the teens.
Author: Suzanne Collins
The nation of Panem in North America conducts the Hunger Games every year and calls for nominations from the 12 districts surrounding it. One boy and one girl in the ages of 12 and 18 are forced to take part in this deadly game, which does not assure that the participants will walk out of it alive.
This time it is sixteen-year-old Katniss Everdeen, who is representing her district and a survivor of death. Will she be able to make it alive in the end? You have to read this book to know. This video will tell you all you need to know about this product.
Author: Orson Scott Card
Andrew Ender Wiggin is a child genius who is sent to a military school where kids like him are groomed through rigorous training to combat the hostile aliens' attack. Growing up in the military school, he feels the isolation, peer pressure, and the fear of alien invaders. But, is he the soldier the Earth needs to shape its destiny? Only reading the book will tell you this. Check out this detailed review video to learn more about the product.
3. Best Novel About Choosing Right: The Selection
Author: Kiera Cass
Selection is a lifetime chance for a set of girls to come out of the caste system and live like princesses in the palace and compete to win the heart of Prince Maxon. However, this doesn't seem like an exciting opportunity to America Singer, who loves Aspen, a guy from a caste below her. Will she embrace a glorious life with the prince, or will she ditch all the fortune that is awaiting her to be with her love Aspen? A good dystopian book for teens as it talks about the importance of choosing right. Here's a video that will help you select the right diaper bag for your needs.
Author: Walter Rhein
The story revolves around a small group of rebels who seek illumination through books, even though reading is forbidden on their land. Those who do not comply with the rule will have to pay the penalty of lifelong slavery. However, the rebels believe in creating a better world under the guidance of their mysterious leader, The Reader Of Acheron.
5. Best New York Times Best Selling Novel: Divergent
Author: Veronica Roth
The story is set in dystopian Chicago, where society is divided into five different factions based on the virtue an individual cultivates: Candor (the honest), Amity (the peaceful), Dauntless (the brave), Abnegation (the selfless), and Erudite (the intelligent).
Every year on an appointed day, all the 16-year-old kids have to choose one of the factions to which they will devote the rest of their life. It's time for Beatrice to make her choice, one that will surprise everyone.
Author: George Orwell
Winston Smith grows hatred towards the Ministry of Truth, as he keeps rewriting the history with lies to satisfy their demands. But, he can't think of anything for himself because he is under the surveillance of his master. The novel focuses on depicting the haunting vision of the future world.
7. Best Survival Novel: Legend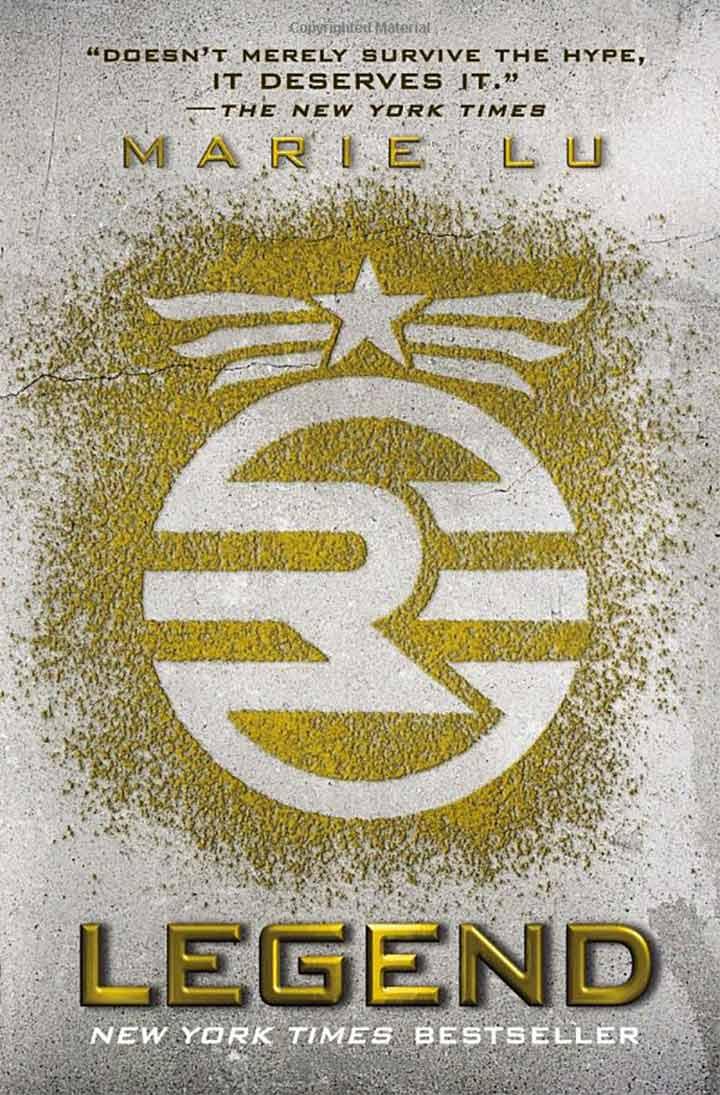 Author: Marie Lu
Fifteen-year-old June is born into an elite family in a wealthy Republic district and is groomed in the military circles. On the other side is fifteen-year-old Day, born in a slum and the most wanted criminal. Though they both are from two different worlds, destiny puts them on the same path. However, they cross paths when June's brother Metias is murdered and Day becomes the prime suspect in the crime.
8. Best Apocalypse Novel: Angelfall
Author: Susan Ee
The story is about a seventeen-year-old girl named Penryn, who is all set to get back her little sister from the warrior angels of the apocalypse. She is ready to deal with the enemies to rescue her sister. Along her journey to San Francisco, Penryn will risk everything to save her sister.
9. Best Near Future Novel: Unwind
Author: Neal Shusterman
A Bill of Life is passed in America after the second civil war, according to which a child remains untouched from the day of conception until the age of thirteen. Once they are between thirteen and eighteen years old, parents can decide to unwind their children, wherein the organs of the child will be transplanted into various recipients. However, three teens named Conor, Risa, and Lev decide to run away from the fate imposed on them by their parents.
Author: Julie Kagawa
Allison Sekemoto hates the vampires that have taken over the city and are using humans as the blood cattle until she herself turns into one. Allison is forced to flee the city and find a legendary place where she believes can find a cure for the disease that has turned the entire civilization into bloodthirsty creatures.
11. Best Novel Adapted Into A Movie: The Maze Runner
Author: James Dashner
Thomas wakes up to find himself surrounded by a few strangers. One thing that is common among all of them is that they have lost their memories and can only remember their names. They are surrounded by stone walls, and the only way out is to pass through the ever-changing maze, from which no one has ever made it out alive.
Author: Lois Lowry
Though the story is set in a Utopian society, it seems to be dystopian as the events progress. The story revolves around twelve-year-old Jonas, who is given a life assignment to take the position as the Receiver of Memory. Jones struggles to understand the new concepts he is introduced to, but will he be able to justify his role for the position?
Author: Alexandra Bracken
Ruby wakes up on her tenth birthday to surprisingly find herself locked up in a garage, after which she is sent to a rehabilitation center. She thinks it must be something to do with the mysterious disease that she survived, but a lot of American children could not. Now, Ruby is sixteen, and she manages to escape the rehabilitation center to find a haven that is safe for kids like her. But, her long journey has many obstacles waiting for her.
Author: David Estes
The life expectancy in the post-apocalyptic period is low due to the toxic air circulating in a desert land. Because of this, young girls are forced to bear a child once they turn fifteen or later. Siena is only fifteen and too young to be a bearer, but she hears rumors of a tribal group of women called the Wild Ones, who kidnap young girls and force them to produce children with any man. Sienna is all set to uncover the truth of the tribal woman and the pretense of her father.
Author: Margaret Peterson Haddix
The story revolves around a girl named Jessie, who lives in the village of Clifton, Indiana, where an outbreak of diphtheria is taking the lives of many children. Jessie's mother sends her on a mission to get the vaccination for the disease, available in the world outside. Jessie, however, is unaware of the dangerous world outside Clifton and the challenges awaiting her. Will she make it back to her village before the children in her village run out of time?
Author: L.J. Smith
New Salem, a small town in New England, is controlled by a coven of witches for hundreds of years. Cassie feels associated with a group of terrifying teens in her school and is unknowingly drawn into the secret circle. She falls for Adam, the mysterious leader of the coven, which puts her life in danger.
Author: Aldous Huxley
The story focuses on the future world of genetically-modified citizens and a society of intellects. The novel showcases how the future world will grow with the technology in the field of fertility, psychological manipulation, sleep-learning, and in bringing drug controlled happiness. It is the vision of the author to make the reader understand how we are progressing to an automated world with artificial humanity. This is one of the best dystopian books for teens.
Why Trust MomJunction?
Wedesto Chirhah is an expert product writer who believes in producing high-quality and understandable content for his readers. Being a postgraduate in English and having a keen interest in reading, he has compiled a list of some Dystopian novels for teens after reviewing and comparing various novels and reading through user experience. He has also included the synopsis of each story to help you pick the right one for your teens.
If you are not sure this genre is for you, borrow one or two from the above list of top teen dystopian books and see if you like them. Although they aren't the most cheerful stories you can read, dystopian novels can be thought-provoking and engaging too, which makes them a good choice to inculcate the reading habit in the teen.
Recommended Articles: