Toddlers are little explorers – they learn by doing things. These non-stop machines can be sweet, rough, destructive, and gentle during the same play session. So, it makes sense that their toys should keep up with their changing needs and moods.
While selecting toys for preschoolers and toddlers may seem easy, one look inside the toy shop can be rather overwhelming. How do you choose the right toy for them? Don't worry! As always, MomJunction is here to help you. We have combed reviews and narrowed down to a list of 22 innovative, educational, and safe toys for preschoolers and toddlers. Check them out below!
22 Fun Learning Toys For Preschoolers And Toddlers
1. Lego Number Train: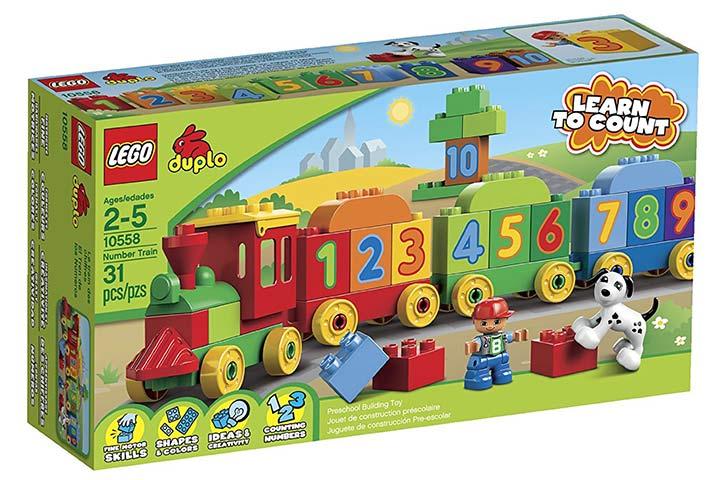 Learning the numbers has never been so much fun before! With numbered Lego bricks, three wagons, your preschooler will learn math while constructing his train. He does not need to stop building just at the train. He can rebuild the Lego bricks into a building, tunnel, doghouse, and many more. The set also includes a cute Lego Duplo mini figure and a pet dog. This number train is an excellent way to promote creative and imaginative play in children. It is safe even for younger toddlers with small hands.
Available here
Price: $20
2. Fisher-Price Laugh & Learn Puppy's Numbers Garage: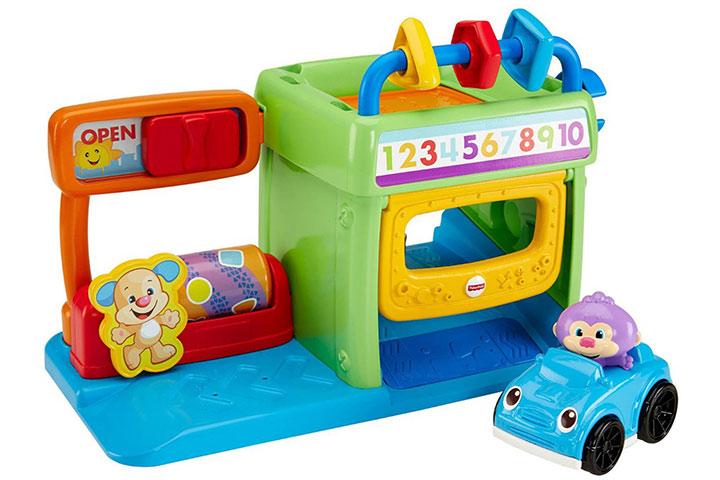 The little puppy is ready to tune up and adjust the monkey's car at the Fisher-Price Laugh & Learn Puppy's Numbers Garage. The toy requires preschoolers to place the monkey's car on the top of the fix-it-bay and then pull to wrench to experience fun music, drop-through actions, and sing-along songs.
And when the car needs washing, the rooftop door opens, the car drops into the garage below and rolls out the peek-a-boo door, all fixed up. Your preschooler can also press the bat or the puppy at the gas station to activate sounds, songs, and phrases that teach shapes, numbers, colors, and counting.
With all these hands-on activities, your preschooler's fine motor skills will get a workout. And the lively songs, bright colors, and fun words will strengthen her auditory and visual senses too.
Available here
Price: $13
3. Kidzlane Color Matching Egg Set: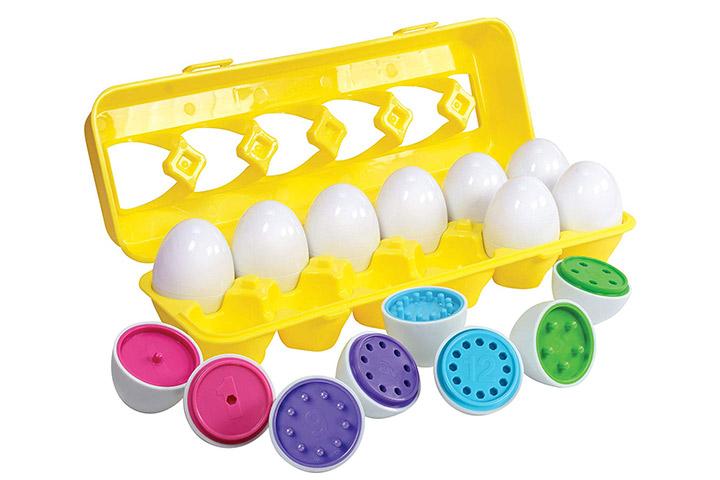 Kidzlane Color Matching Egg Set @ www.amazon.com
An excellent toy to teach toddlers numbers and colors. Each egg-shaped toy breaks into two halves. There are pegs on one half and slots on another. Each egg has a certain number of pegs. The number is also embossed on the inside of the egg. The two halves of the eggs also have the same inner color. With this toy, your preschooler not just learns to match correct colors but also gets acquainted with numbers and can learn to count them too.
[ Read: Best Educational Toys For Toddlers ]
4. Playskool Showcam: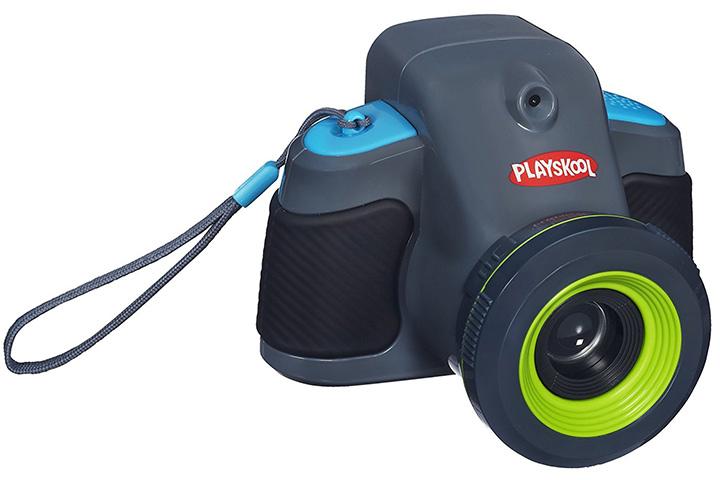 Does your toddler love taking pictures from your camera? Well, now it's time to get him his camera. Playskool Showcam digital camera allows the preschoolers take photos and share with friends and family right away. He can even flip the camera to the projector mode to display their photos anywhere the camera is pointed.
The camera has built-in editing and does not require any software. There are more than 50 effects such as instant short stories, animations, stamps, and sounds to customize the pictures. Children can store up to 1,000 photographs without any memory stick. The toy is also a great way to get the children interested in photography.
Available here
Price: $137.90
5. Lego Young Builders Suitcase: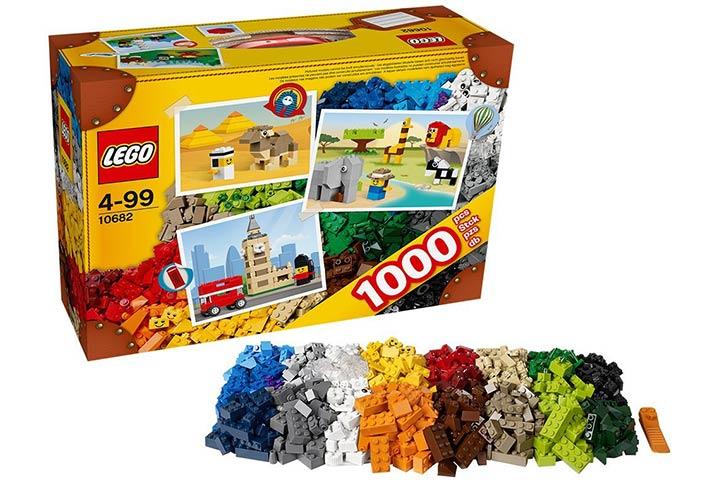 If your preschooler has moved beyond the Duplo stage, then LEGO Young Builders Suitcase would make a perfect starter set for him. The set has 1,000 colorful Lego bricks to create animals, landmarks, or anything your child can imagine. It also includes special elements such as wheels, eyes, and lights, so the little one will never run out of ideas.
Worried where to store the Lego bricks? Lego has taken care of that too with the little suitcase accompanying it. There's also a detailed instruction to help your preschooler build.
Available here
Price: $70
6. Fisher-Price Little People Big Animal Zoo: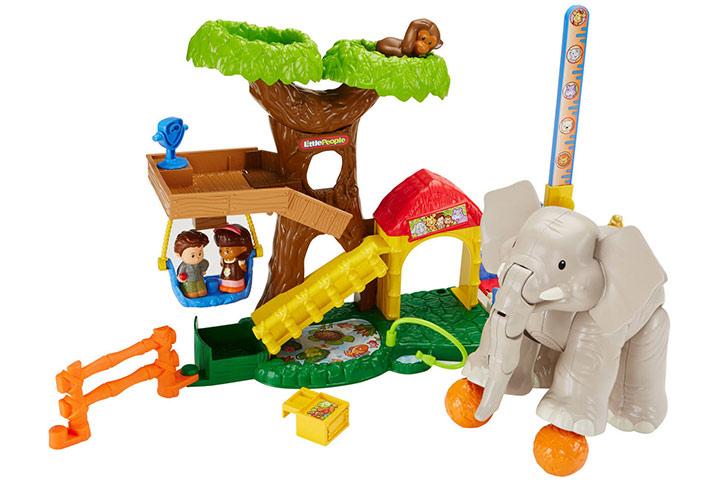 There's a lot to discover for your preschooler at the Fisher-Price Little People Big Animal Zoo. The movable ears, head, and legs of the elephant will allow your child to learn and recreate the natural movement. There's also a teeter-totter treetop at the zoo for the cute monkeys to swing and rock back and forth.
If your child wants to listen to some melodious music, ask him to pull the elephant's tail or press the mouse sitting on top of the elephant's back to activate silly sounds and music.
So the zookeeper is taking too long to bring food to the animals? No worries! Tell the pachyderm to tip the platform so that the food rolls right into the animals' feeding bin.
The playing set also includes a weighing scale and a measuring stick to help the little ones take care of the zoo friends by weighing, measuring, and cleaning them.
Available here
Price: $27.95
7. Melissa & Doug Let's Play House! Vacuum Up Playset: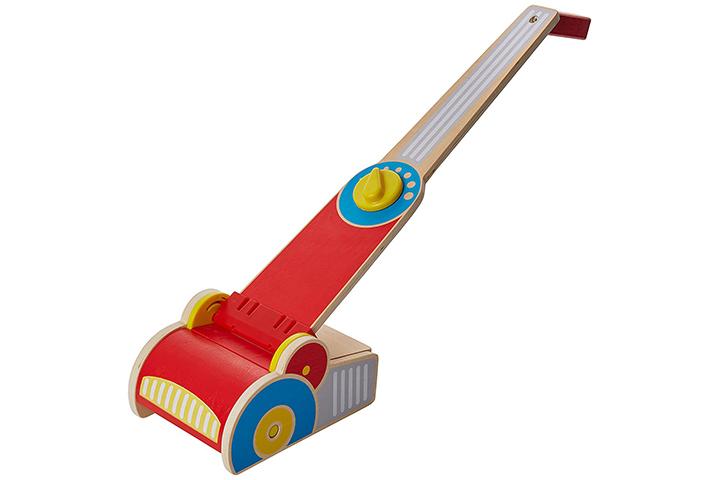 Who left this dirt all over the floor? It's time to clean them up.
Little girls love getting into pretend play and if your child is one such, then she'd love this amazing vacuum cleaner from Melissa and Doug. This Vacuum Up Playset is designed to nurture imagination and creativity in children.
The vacuum cleaner also comes with six wooden pieces, such as a lost diamond ring, coin, bandage, peanut, cereal O's, and pretzel to vacuum up off the floor. And these pieces are much cuter than the everyday mess. Just scatter the pieces in the vast area and start cleaning. You can even ask your preschooler to name the shape, pattern, and color of the pieces.
Available here
Price: $19.32
8. Fisher Price Little People Home: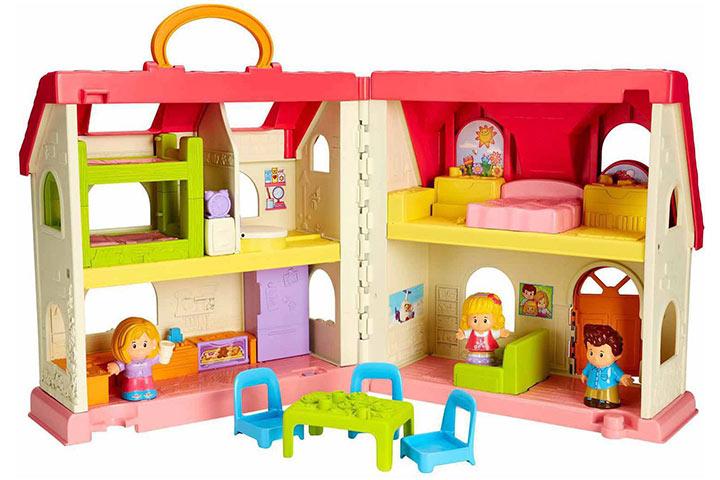 Welcome to the adorable home of the Little People. It's a noisy, busy, and a happy home, just like yours and mine.
The day at this home starts with pressing the alarm clock to bring Emma out of bed. Sounds such as "Time to get out of bed" and "Rrring!" are sure to wake up the sleepy head. She can open the refrigerator and the oven to hear the fun phrases and see the lights. The music button plays three fun songs for kids to dance along. And when it's time to sleep, children have to put Mommy, Daddy, and Emma in their beds, close the dollhouse and say goodnight.
Available here
Price: $45.97
[ Read: Fisher Price Toys For preschoolers ]
9. Learning Resources Spike The Fine Motor Hedgehog: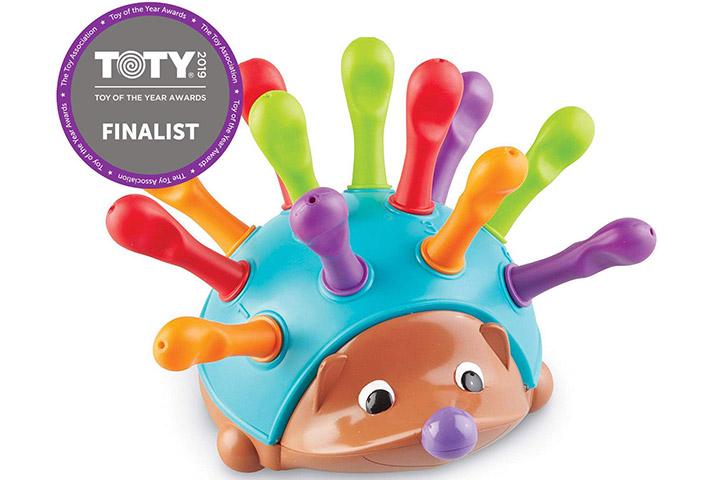 Buy Learning Resources Spike The Fine Motor Hedgehog @ www.amazon.com
An adorable hedgehog with several detachable colorful spikes. There are a total of 12 spikes, with a set of three spikes each of the same color. Each hole on the hedgehog's back is numbered. It means your toddler can group the spikes according to their color and also in a number sequence. It is an excellent educational toy to teach number sequence and colors to toddlers.
If you have a little one that loves airplanes, this P'kolino Cargo Plane Balancer Toy will make a great toy for him. Complete with multi-colored wooden blocks, your kid will learn about weight and balance by putting blocks on the airplane wings. If he puts too many blocks on one wing of the plane, it will topple over.
This wooden toy will improve your child's fine motor skills, fuel his imagination, and increase his understanding of balance and weight distribution.
Available here
Price: £70.99
10. Spelly Straws Reusable Drinking Straws: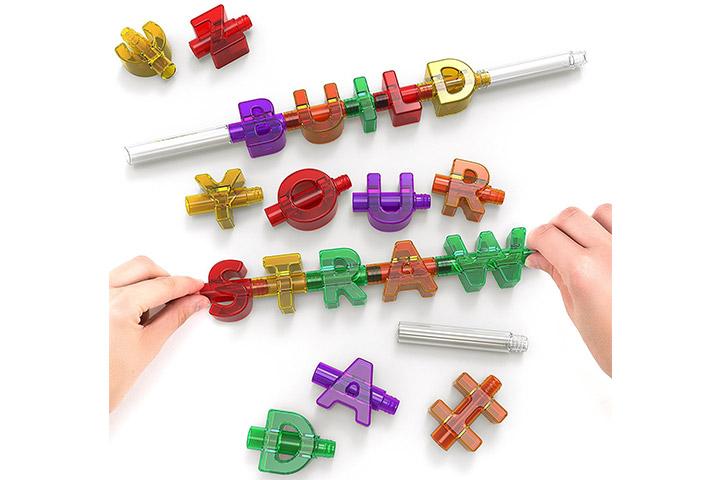 Buy Spelly Straws Reusable Drinking Straws @ www.amazon.com
The straw-making set contains a total of 48 letters, shapes, and extender pieces. A toddler can join the pieces together to create a straw with a name or word of their choice. Each letter has a different color, which makes the straw of colorful. The plastic is BPA-free, food-grade, and easy-to-clean, which means your toddlers can make their own drinking straws and also use them. It is a nice toy to teach the alphabet and basic words to a preschooler.
11. Manhattan Toy Dino Club Croquet Set: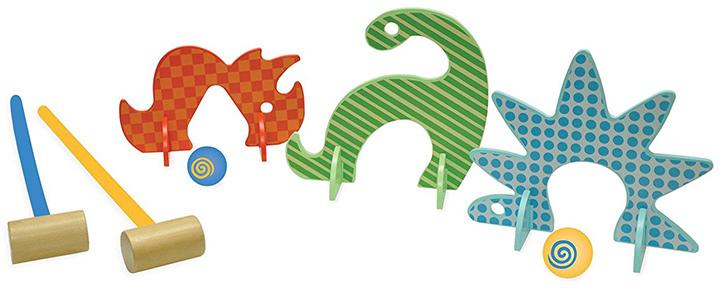 Here's a classic game with a prehistoric twist. The set includes two padded woolen balls, three dinosaur shaped arches, and two wooden mallets. Children have to use their mallet to knock off the ball through the dinosaur arches.
These self-standing dinosaurs are perfect tools to help improve hand-eye coordination in your child while having loads of fun. It will also help your child to practice sportsmanship by taking turns. You can use these dinos to decorate your child's room too! Now that's a toy with multiple purposes.
Available here
Price: $69.42
12. Lego Duplo Creative Cakes: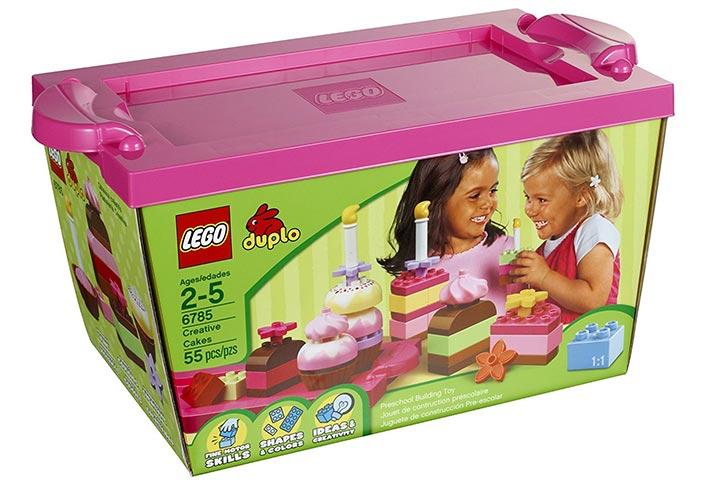 Encourage your daughter to organize her own kitty party with LEGO Duplo Creative Cakes set. The set includes 55 colorful DUPLO bricks including two meringues, three muffin tops, three candles, flowers, and bricks in all shapes and sizes. Your little one has to extend her creativity and build the yummiest cake.
Besides, preschools will get inspirational building recipes to create desserts of all colors. And the storage box lid will double as a serving tray as well.
Available here
Price: $60
13. Fisher-Price Disney Princess Musical Dancing Palace: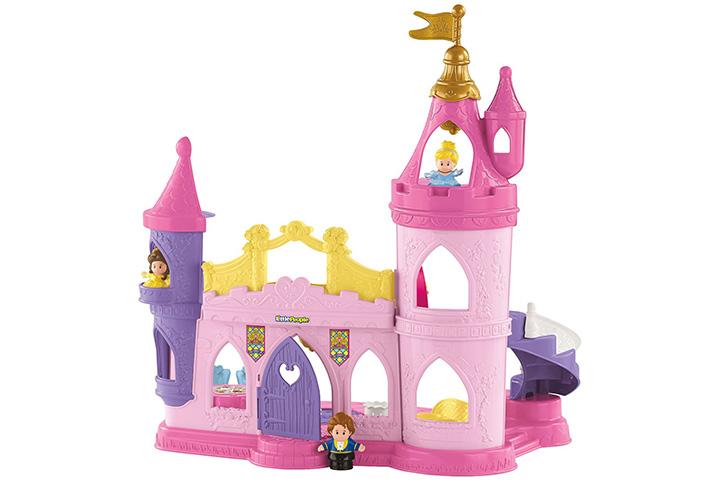 Does your little one wish to experience the life and moments of the Disney princesses? Then Fisher-Price Disney Princess Musical Dancing Palace will definitely appeal to her. Two of Disney's most popular princesses – Bella and Cinderella make a grand entrance through the winding staircase and dance on the double spinning dance floor. Your darling daughter will squeal with delight seeing her favorite princess twirl and spin around the dance floor with the prince. She can even bring over a friend to join the excitement of the little people dancing. Together, they can enact the scenes from the movies or make their unique adventures.
Available here
Price: $44.88
14. NPW Finger Printing Art Set, Classic: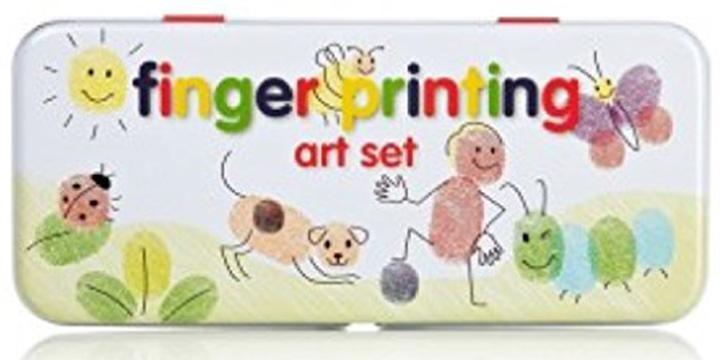 Preschoolers are always up for art projects. They love dipping their fingers in paints and stamping on the paper. If you also have an art lover at home, then NPW Finger Printing Art Set would make a great pick. It includes ten rubber stamps, ten coloring pencils, and three colored ink pads. This set will let the child turn their fingerprints into animals such as giraffes, lions, monkeys, and more. The colored pencils and stamps in the set will help your preschoolers complete his masterpiece.
Available here
Price: $9.47
15. Fisher-Price Roller Blocks Rockin' Wagon: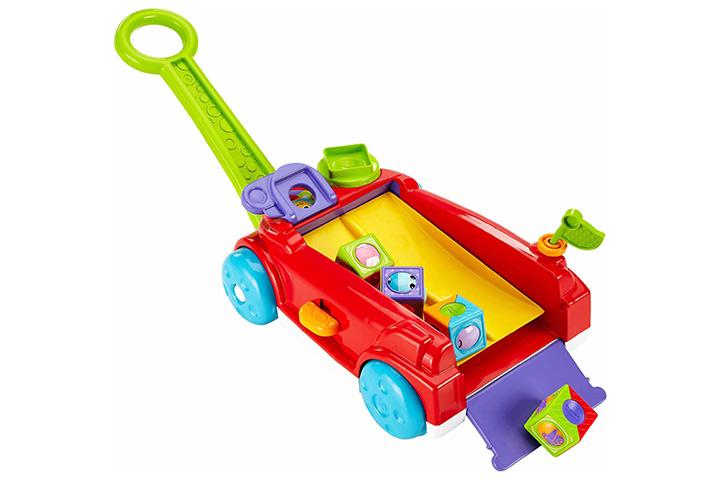 Fisher-Price Roller Blocks Rockin' Wagon is an excellent toy to encourage walking in toddlers and preschoolers. This wagon gives the child two ways to play and enjoy. The first mode is the Sit and Place, where the kids have to stack the roller blocks on to the rocking ramp and flag with noisy clacker bead. You can even keep the tailgate up to play with your little ones.
When your child is on the move, you can flip the tailgate down. The blocks will race out of the back for your preschooler to chase. Tell your child to press the lever to be rewarded with music, silly sounds, and teeter-totter action.
When your child is ready for the Stand and Pull mode, just unfold the handle from underneath. This wagon is sure to offer roller block racing action and non-stop fun for your child.
Available here
Price: $20
[ Read: Best Bath Toys For Toddlers ]
16. ECR4Kids Junior 4-To-Score Oversized Game:
This strategy, ring-dropping is great, not just for children but the entire family. It's quite an entertainer to play at family reunions, birthday parties, and community centers.
ECR4Kids Junior 4-To-Score Oversized Game will teach strategy and problem-solving abilities to your child. It will build teamwork and cooperation skills in your child as he tries to the match four colored rings in a row to win.
Available here
Price: $148
17. Baby Einstein Take Along Tunes Musical Toy: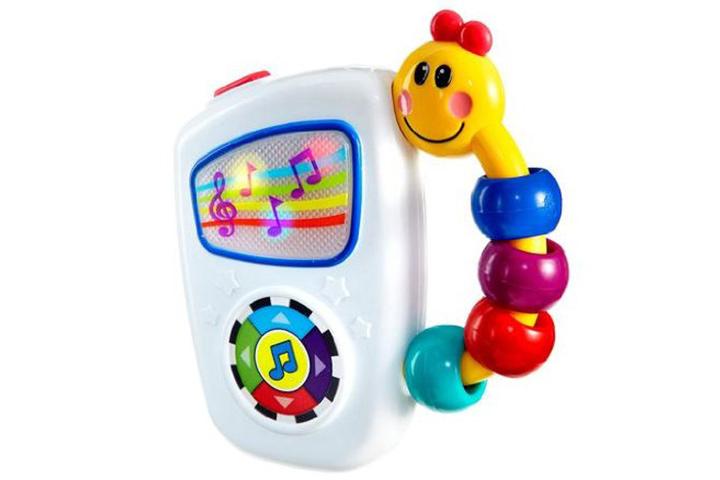 Promote auditory development and music appreciation in your child through the baby-friendly versions of masterpieces by Chopin, Mozart, Vivaldi, and Rossini. Baby Einstein Take Along Tunes Musical Toy is the baby's version of an MP3, with enjoyable melodies. The toy has a large, easy-to-press button that will allow your preschooler to toggle through the seven high-quality melodies. It also has colorful lights that move across the screen, promoting visual perception.
Available here
Price: $7
18. Play-Doh Sweet Shoppe Frosting Fun Bakery Playset: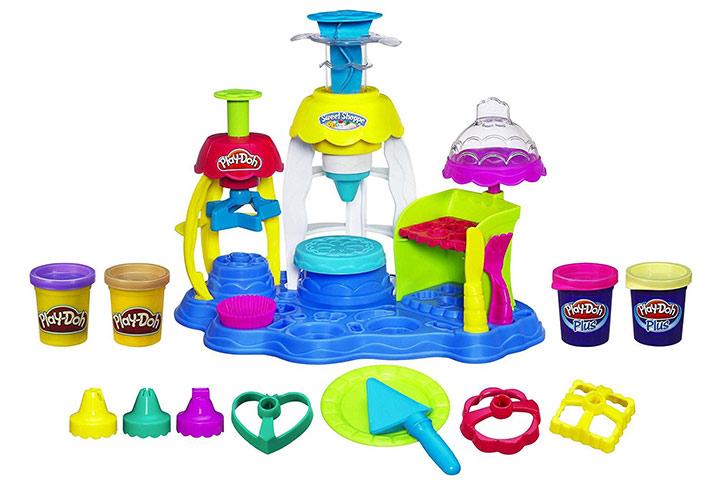 Do you have a budding pastry chef in your family? Then let her practice making sweet treats with Play-Doh Sweet Shoppe Frosting Fun Bakery Playset. The playset lets children make their own pretend frosting to go with the cupcake. It also lets children shape a cake with the Play-Doh compound. Kids can add swirls, stars, and flowers to their creations. When the cake is made, tell your preschooler to set it on a stand so that it looks as if belongs to a real bakery.
Available here
Price: $15
19. Skillofun Capital Alphabet Tray With Pictures With Knobs: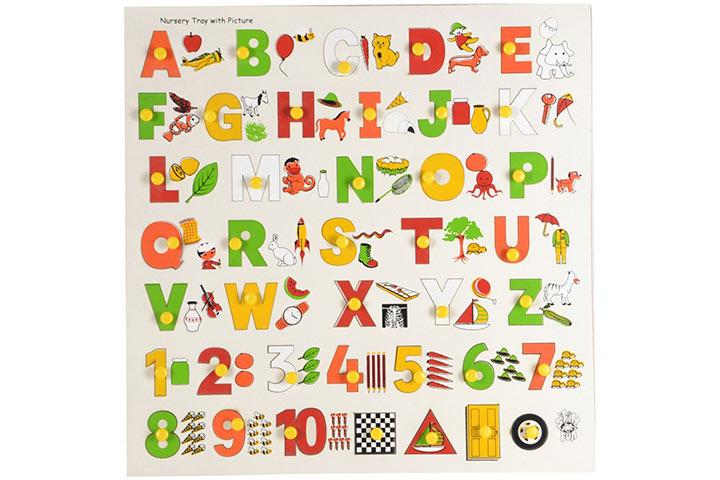 The is one of the best learning toys for toddlers suitable for the age groups of two and above. It is non-toxic and eco-friendly. This toy comes in multiple colors and keeps your toddler occupied for a long time. Your toddler can learn the English alphabet and identify capital letters. Ideal for developing eye-hand coordination and motor skills, this is a perfect toy for your little kiddo.
Available here
Price: $15
20. Fisher Price Yip Yip Lil Snoopy: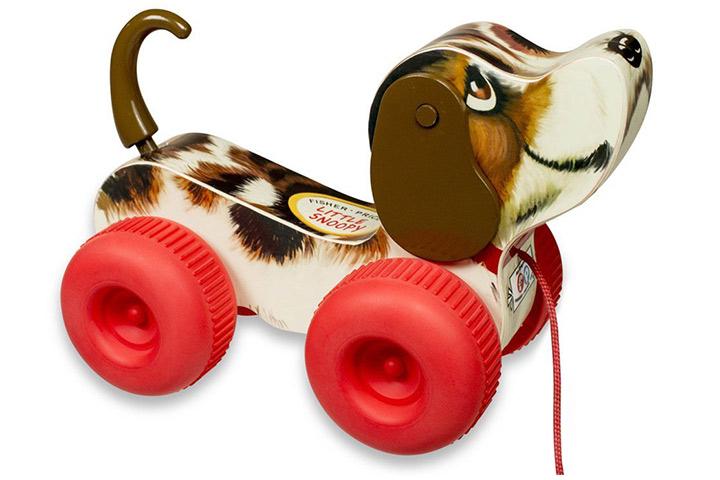 Suitable for age groups of one and above, Snoopy comes with a leash that lets your toddler pull the toy. It helps your toddler take those early steps and learn to balance himself, along with understanding speed. It helps develop motor skills and encourages imaginative play.
Available here
Price: $12.99
[ Read: Shape Activities For Preschoolers ]
21. Learning Journey Match It! What Goes Together By Learning Journey: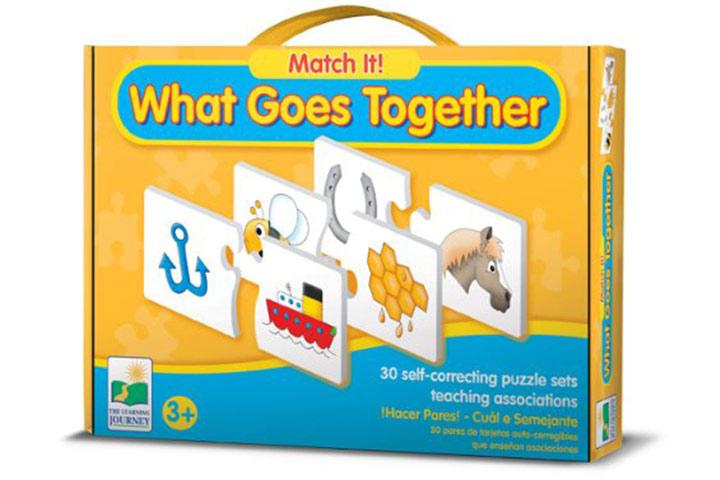 Learning Journey has a number of two-piece puzzles that introduce the concept of association. Suitable for the age groups of two and above, your toddler will learn to identify various objects and learn about what they are used for. The images are big and colorful and will keep your toddler entertained. This toy helps reason easily as it is self-correcting. The puzzle pieces only connect to the right match, which will help your toddler play independently.
Available here
Price: $14.99
22. Learning Journey Match It! Upper & Lower Case Letters: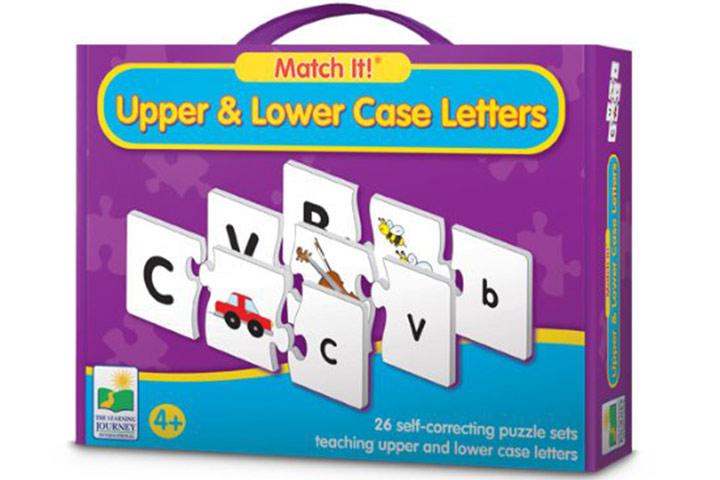 The Learning Journey comes with puzzle cards that teach the concept of upper and lower case letters of the English alphabet.
The cards are self-correcting and will only match with the right card. They are suitable for the age groups of three and above.
Available here
Price: $11.05
These educational toys for toddlers and preschoolers will be a great way to introduce new concepts to your kid in a fun way. Make sure your toddler is always under adult supervision. Do not leave your toddler alone with any toy, no matter how safe it may seem.
With that collection of 22 toys, what did you choose to buy for your tot? Have more ideas on toys? Then tell us in the comments section below.
Recommended Articles:
The following two tabs change content below.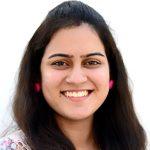 Latest posts by Deeksha Awasthi (see all)