Don't let the fear of bug bites in babies keep you from letting your little one enjoy the outdoors. If you live in a tropical country or a beautifully sunny place with occasional rainfall, then bugs, wasps, mosquitoes, and other insects will be frequent visitors. However, this shouldn't get in the way of your baby playing outside or enjoying nature. Although you may be tempted to keep them inside safely, we have some tips to help your child play outdoors comfortably.
This post tells you about bug bites, including how to recognize them and their treatment and preventive measures for babies.
Recognizing Bug Bites On Babies
To be able to treat a bug bite, first of all you must be able to identify it. If there are lots of bugs around your area or if your baby is spending a lot of time in gardens or parks, then you must definitely keep a watch for these signs (1):
Itchy rashes that may irritate your baby
Swollen bumps that could turn painful
Treating Baby Bug Bites

Regardless of climate, bugs exist in all conditions. If you have been unsuccessful in preventing the bites, there are many ways in which you can reduce the discomfort and treat them:
1. Infections and allergies
In case your child develops an allergic reaction to certain insect bites, you must consult a doctor and ask for the proper remedy.
Allergic reactions can be identified if the swelling and itching do not subside, or if your baby develops wheezing or their lips or tongue swell.
For minor infections following bug bites, you can apply a steroid cream after washing the area well (2).
Quick fact
Bug bites can sometimes cause the surrounding skin to become infected (cellulitis), warranting antibiotic treatment
(2)
.
2. Cooling effect
Since bug bites are more common during summers and cause itching, it is best to first apply cloth dipped in cold water to the affected area. This will not just provide relief to your baby but it will also help to reduce red bug bites on the baby's face and ease swelling (2).
3. Medicines
Here are some medicines that are safe and recommended for bug bites:
Apply calamine lotion, which has antiseptic properties and cooling effect. However, avoid the areas near the eyes, hands, and genitals.
Antihistamine creams can be safely administered to control itching.
Mild pain killers can be used after consulting your doctor if the bites become painful (3).
4. No scratching
Stop your baby from scratching the bite area. This can further aggravate itching and cause infections. Cut your baby's nails short as a precaution.
Quick tip
You may use hand mittens to prevent the baby from scratching the bite area.
5. Home remedies
Try these home remedies for a safe, speedy recovery.
Mix a little baking soda in water and apply it to subside the swelling (4).
Apply a paste of equal amounts of sandalwood and turmeric powder. While sandalwood has a cooling effect, turmeric acts as an antiseptic. Make sure you buy fresh sandalwood and turmeric powder. Do not apply any home-made remedies to open skin (5).
Crush some neem leaves to make a paste (grinding in a blender will also do the trick). Apply it over the bug bites for quick relief (5).
Preventing Bug Bites

Won't it be amazing if you can stop the bugs from biting your cherub? Here are a few things you can do to keep away the menace:
If there is a sudden increase in the number of mosquitoes in and around your house, use a spray or other methods of getting rid of them.
Do not expose the child to open areas for too long. If you take the child out for a stroll, make sure to keep them well covered. However, avoid very bright colors and floral patterns, as they attract insects.
Keep windows closed, especially during the evenings, to prevent bugs from entering.
For children older than 12 months, use mosquito repellent creams. Choose one that is suitable for babies.
Use mosquito nets when your baby is asleep or even over their stroller while taking them out.
Point to consider
You may also use insect repellents with no more than 30% DEET for babies above two months. The repellent must be applied on exposed skin areas and not under clothing
(6)
.
Frequently Asked Questions
1. When should I be concerned about a bug bite on my baby?
You must be concerned and consider visiting a doctor if bug bites on the baby cause pain, swelling, severe itching, or allergic reactions (2).
2. What happens if a baby gets bit by bed bugs?
Bedbug bites usually do not spread any disease; however, the itching and scratching may be uncomfortable and increase the risk of secondary skin infections (7).
Bug bites in babies will irritate them and cause rashes and bumps on their skin, whether the bite is from a mosquito, bee, or flea. In most cases, the rashes can be treated and symptomatically relieved with cold water, lotions and creams, and certain home remedies. However, some bug bites might induce allergic reactions; therefore, be aware of the signs of bug bites and seek medical advice if necessary. You should also aim to prevent bug bites in babies. Dressing the baby in appropriate clothing and using nets on windows could repel bugs, preventing bug bites in babies.
References:
MomJunction's articles are written after analyzing the research works of expert authors and institutions. Our references consist of resources established by authorities in their respective fields. You can learn more about the authenticity of the information we present in our
editorial policy
.
The following two tabs change content below.

Jessica Albert is a passionate writer who seeks to connect with her readers through wit and charm. Her work aims to invoke curiosity and keep the readers engaged through and through. She has prior experience working with magazines and e-commerce establishments as a content marketer and editor. Being a mother herself, she puts all her knowledge into creating content about...
View Profile

›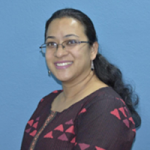 Dr. Neema Shrestha is a pediatrician with a special interest in the field of neonatology. Currently working in Kathmandu, Nepal, she completed her MBBS from Kasturba Medical College, Manipal in 2008, Diploma in Child Health from D.Y. Patil University in 2011, MD from Nepal Medical College in 2015 and Fellowship in Neonatology from Sir Ganga Ram Hospital, New Delhi in...
View Profile

›