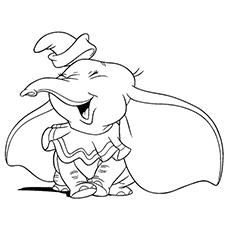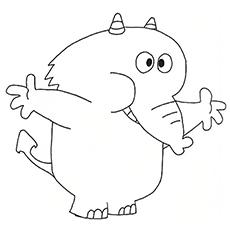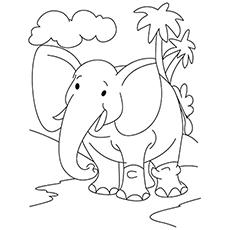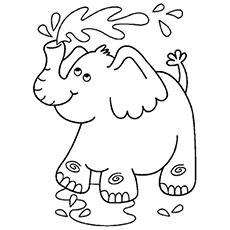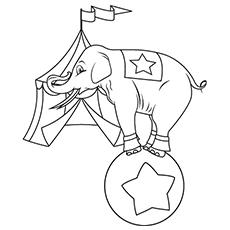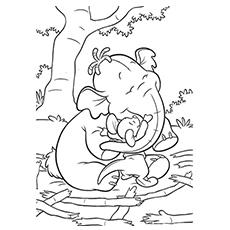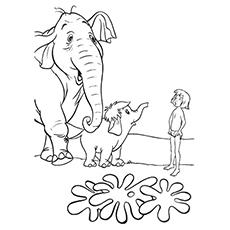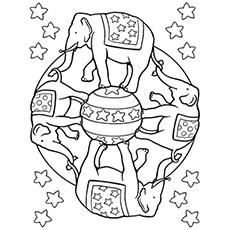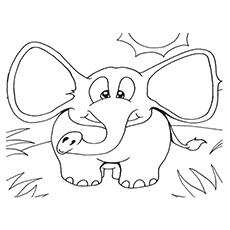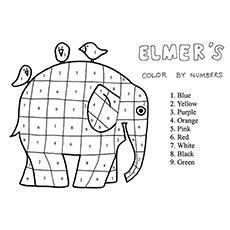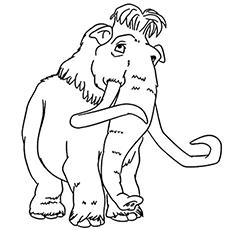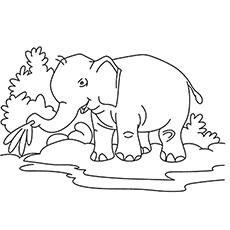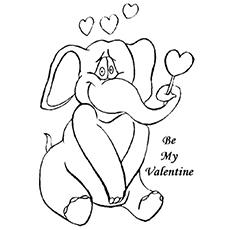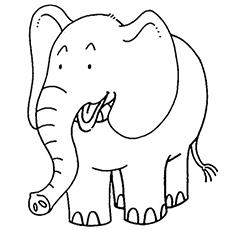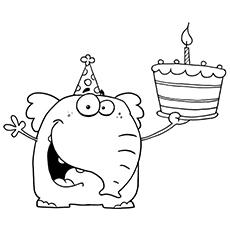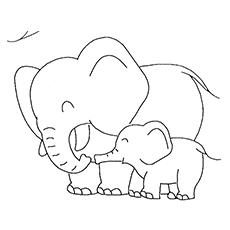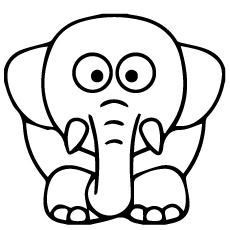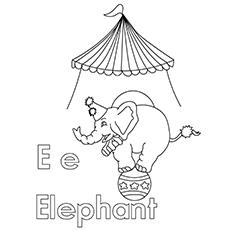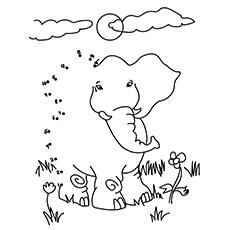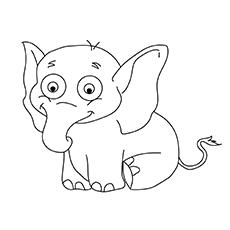 Recommended Articles:
Elephants are large mammals belonging to the Elephantidae family. They are found in different habitats like savannah, forest, marshes and deserts. There are two main species of elephants-African elephant and Asian elephant, although some subspecies like African Bush and African forest elements are also recognized.
Male African elephants are the largest surviving terrestrial animals found on earth. They can reach a height of 4 meters and can weigh around 7 tons! All the elephants have distinct features, but the most notable feature of the long trunk that is used for breathing, drinking water and grasping objects.
Top 20 Elephant Coloring Pages For Toddlers
Elephants are one of the most popular subjects of coloring sheets. These huge mammals are portrayed in the popular media as intelligent and friendly animals.
Kids love spending hours filling some vibrant shades in this huge animal. Here are some printable elephant coloring sheets for your kids with some information on each image. Share these elephant pictures to color with your kids.
1. African Elephant:
Here is a coloring sheet of an African elephant.
This elephant is distinguished by its massive body, large ears and long trunk.
They are usually found in the Savannah desert.
The African elephants are usually larger than their Asian counterparts are.
They weigh as much as 7 tons and are around 12 feet tall.
They can consume up to 600 pounds of food every single day.
The African elephant is further divided into two subspecies- the bush elephant and the forest elephant.
They form close emotional bonds within their herd and family units.
2. Asian Elephant:
Asian elephants are much smaller compared to their African relatives.
They have straight ears, unlike the large, fan shaped ears of an African elephant.
The males develop tusks, while females do not.
Asian elephants are found widely in Sri Lanka, Bangladesh and India. They are also found in some areas of India, China and Nepal.
Asian elephants are believed to be extremely social animals. They take good care of the young ones and express a variety of emotions.
[ Read: Zoo Animals Coloring Pages ]
3. Elmer Elephant:
This sheet features a timid elephant named Elmer.
Elmer is the titular character of the 1936 Silly Symphonies short film.
In the film, the other characters make fun of his trunk and cruelly mock at him. This makes Elmer sad as he experiences how it feels to be treated like an outcast.
A fire breaks out in his friend's house. Just then, Elmer, with the help of his friend giraffe successfully puts out the fire and rescues his friend Tillie.
4. Circus Elephant:
This coloring sheet shows a cheerful circus elephant showing stunts on a ball.
Invite your child to add some vibrant colors in this circus scene.
You can also ask your child to write a creative story that goes with this coloring sheet. This will give him some handwriting practice.
Why don't you spend some quality time with your kids and give this cute performer some bright colors.
5. 'E' For Elephant:
Does your child need help in learning alphabets? Then hand him this "E for elephant" coloring sheet, which features an adorable circus elephant showing some stunts to the onlookers.
The coloring sheet has the letter E in uppercase and lowercase.
Ask them to trace the letters and then proceed to coloring.
This coloring sheet will have your child color this big-eared elephant while learning the shape and sound of the letter E.
6. Majestic Elephant:
Go on an African safari from your room with this cool coloring sheet.
It features a majestic elephant taking a stroll in the forest.
If you have an animal lover in your home, then she will surely love coloring this sheet featuring the largest animal in the world.
Elephants need an extensive land to survive. They roam in herds and consumed hundreds pounds of plant matter in a single day.
7. Playful Elephant:
This playful elephant is having a gala time playing with the water.
Invite your child to bring life to this happy elephant by adding a splash of color.
Did you know that elephants take a break from the midday heat by taking a dip in the watering hole? Share some more fun facts with your kids as he colors the sheet.
You can also remind him about the importance of hygiene while coloring this sheet.
8. Elephant Family:
Spend some quality time with your kids with this elephant family coloring sheet.
It shows a happy elephant family spending some time in the grassland.
Elephants are organized into complex social structures of female elephants and calves.
Male elephants tend to live in isolation, a fact that you can have discussion on, with your child.
[ Read: Jungle Animals Coloring Pages ]
9. Connect The Dots:
Tell your child to find about the largest animal in the world by connecting the dots from 1 to 50. Then she can enjoy coloring the elephant in her favorite colors.
The diagram features a loving elephant pair. It is ideal for the preschool children.
Let your child use a pencil to do this activity, so that she can erase it all later and re-use the sheet!
10. Elmer Patchwork:
Here is a color by number coloring sheet of Elmer, the Patchwork elephant.
Elmer is a colorful elephant with yellow, orange, red, purple, blue, green, pink, black and white arranged in a patchwork.
Elmer is a cheerful personality who loves cracking practical jokes.
The character first featured in a book by Harper Collins.
The story explores the themes and issues related to the concept of diversity.
The character has also been expanded into a children's television series.
11. Be My Valentine:
Here is a coloring sheet to get your child in Valentine Day's spirit.
This sweet elephant is very lovingly asking your child to be its valentine.
Valentine's Day is a holiday celebrated every year on 14 February. Have a discussion about St. Valentine with your child!
Kids often prepare cute greeting cards to present to their parents and friends. The page will surely bring a smile to your kid's face.
[ Read: Letter E Coloring Pages ]
12. Thirsty Elephant:
This elephant has been walking across the savannah all day and is feeling thirsty now.
Ask your child to color this elephant as he quenches his thirst in a pond.
This simple coloring sheet will not only offer an indulgent for your kids, but will develop their motor skills as well.
13. Birthday Card:
Wish your friends and loved ones a happy birthday with this adorable elephant greeting card.
This cute elephant is more than willing to help spread the birthday cheer.
Ask your child to write a heartfelt message on the worksheet with glitter pens and then color the happy elephant.
14. Dumbo:
Here is a coloring sheet of Dumbo, the main protagonist of the Disney film of the same name.
Dumbo is a small elephant famous for his giant, floppy ears.
Dumbo is a playful and innocent animal who loves being around with his mother.
He is kind and never expresses any true anger or resentment towards those who are cruel to him.
[ Read: Alligator Coloring Pages ]
15. Fred Fredburger:
The creepy elephant you see is Fred Fredburger, a character from the Grim Adventures of Billy & Mandy.
Fred is a tubby, green, hyperactive, elephant like monster with stubby horns and green, devil like tail.
He is a kind of elephant demon.
Fred has a childish and innocent personality.
Despite his childlike personality, he is old enough to be called a jury.
He loves eating nachos, chocolate chip cookies and fruit yogurt.
16. Tantor The Elephant:
Here is a coloring sheet of Tantor going berserk in the jungle.
Tantor is Tarzan and Terk's best friend in the animated film "Tarzan".
Tantor is a timid and downright coward who gets easily spooked.
However, he cares greatly for his friends and has even displayed bravery despite being a coward.
Tantor is an African forest elephant with a reddish brown skin. He has a long and sharp tusks and a deep voice.
[ Read: Leopard Coloring Pages ]
17. Colonel Hathi:
Meet Colonel Hathi, the supporting character from "The Jungle Book".
He is the leader of a herd of Indian elephants in the series.
Colonel Hathi runs the herd similarly to a military squadron.
He is portrayed like a pompous and a buffoonish British soldier.
He is a stubborn and short-tempered elephant who can be petty times.
18. Lumpy:
Lumpy is one of the main characters from "Winnie the Pooh" franchise.
He is a heffalupm, but with a playful attitude.
He is a childish, friendly and an innocent elephant who loves to spend time with his forest friends.
Lumpy is an obese elephant with purple-yarned hair, short, trunk, beady eyes and cottontail.
19. Baby Elephant:
He is an appealing coloring sheet of a baby elephant for the younger kids.
This baby elephant with bright and bold eyes will encourage your child to work artistically on this diagram.
The coloring sheet is ideal for both preschoolers and school going children.
20. Elephant Mandala:
Take your child to a virtual circus with this elephant mandala-coloring sheet.
This cute coloring sheet, jam packed with circus elephants is sure to entertain your kids.
As your child colors the sheet, she will be learning a new kind of art- the mandala.
Mandala means "circle" in Sanskrit. It has a spiritual significance in Hindu and Buddhist cultures.
These free printable elephant coloring pages online will provide a fun, educative session to your kids. You can also browse through our large collection of elephant coloring pictures for your kindergarten and grade school children.
Share your experience with us by creating your own elephant coloring book in the comment box.

DISCLAIMER: All images found here are believed to be in the "public domain". We do not intend to infringe any legitimate intellectual right, artistic rights or copyright. All of the images displayed are of unknown origin. If you are the rightful owner of any of the pictures/wallpapers posted here, and you do not want it to be displayed or if you require a suitable credit, then please contact us and we will immediately do whatever is needed either for the image to be removed or provide credit where it is due. All the content of this site are free of charge and therefore we do not gain any financial benefit from the display or downloads of any images/wallpaper.
The following two tabs change content below.