Raspberry leaves are considered a rich source of essential minerals and vitamins. Thus, having raspberry leaf tea during pregnancy might benefit both the mother and the child. In addition, studies have shown that raspberry leaf tea effectively helps in reducing the time of labor during the delivery by strengthening the uterine muscles and improving the blood flow to the uterus. Read on to know more about the benefits of raspberry leaf tea for expecting mothers, its adequate dosage, and the possible risks involved.
Benefits Of Raspberry Leaf Tea During Pregnancy And Birth
Raspberry leaves offer several benefits thanks to their antibacterial, anti-inflammatory, relaxant and diuretic properties. Here is what research says about this tea.
1. Prepares the body for the labor
The raspberry leaf helps relax various muscles, including the uterine muscles. Thus, it eases labor when taken in the later stages of pregnancy. It contains an alkaloid called fragarine that is known to tone pelvic and uterine muscles and make the delivery easy (1).
2. Shortens labor and lowers the risk of pre/post-term gestation
It is known to shorten labor without causing any impact on the mother and the baby. Studies have found that pregnant women who had raspberry tea towards the end of their pregnancy had a shorter second stage of labor when compared to those who did not take. It also reduces the chance of having a preterm or an overdue baby (2).
3. Results in fewer medical interventions during birth
Regular consumption of raspberry leaf tea paves way for labor with fewer complications. Studies show that women who had the raspberry leaf in the later stages of pregnancy had reduced chances of C-section, artificial membrane rupture, and forceps or vacuum births (3).
4. A rich source of nutrients and antioxidants
Raspberry leaves are rich in vitamins A, B, C, E, minerals, calcium, magnesium, iron, potassium, manganese, and phosphorus (4). They also contain antioxidants such as ellagic acid, tannins, and flavonoids (5). These are all available in an absorbable form that makes the tea a good source of nutrients during pregnancy.
5. Other potential benefits
Raspberry leaf has other benefits, like those mentioned below, for women in general. In fact, the leaf is referred to as a woman's herb. However, further research is needed to confirm the benefits.
Reduces morning sickness (6)
Boosts immune system
Strengthens the amniotic sac
Balances postpartum hormones, and promotes breast milk after delivery (7)
Aids in blood circulation
Reduces post-delivery bleeding
Helps shrink the uterus to post pregnancy
Raspberry helps you at various stages of pregnancy. Therefore, you need not wait until the third trimester to start drinking the tea.
When Can You Start Consuming Raspberry Leaf Tea?
Most doctors recommend taking raspberry leaf tea from the second trimester for it to help induce labor when the time comes. However, there are no studies to support this. Some women prefer to take it from the third trimester or wait until the 34th week.
You may also take it earlier as it is known to reduce morning sickness and nausea. However, we advise you to talk to your doctor before adding the tea to your diet. Also, you need to only have it in limited quantity.
How Much Raspberry Leaf Tea Can You Drink?
You can begin with one cup of tea a day during the second trimester. If you do not experience uterine cramps or any other reactions, gradually increase the intake to two cups and three cups by the time you enter the third trimester (8).
You should discontinue it if you experience untimely contractions, spotting, or any other discomfort and try it again just before the due date. Also, make sure you are buying good-quality tea.
How To Choose Raspberry Leaf Tea?
Raspberry leaf tea is available in the form of tea bags and loose leaves. You will find them in food stores, supermarkets and online too. Here is what you need to know about selecting the type of tea.
Go for the organic variety because it is free of pesticide residue.
Understand the difference between red raspberry leaf and raspberry leaf. Red raspberry is 100% raspberry leaf whereas teas labeled as raspberry are a blend of hibiscus, rosehips or raspberry flavor that are not effective.
You will also get the product in the form of tablets or tincture.
How To Brew Raspberry Leaf Tea?
Here we tell you the best way to brew one cup of raspberry leaf tea:
You will need:
Organic red raspberry leaves – 2 cups (dried)
Alfalfa leaf – 1/2 cup (dried)
Nettle leaf – 1/2 cup (dried)
Dandelion leaf – 1/4 cup (dried)
How to make:
Mix all the ingredients and store in an air-tight jar.
Add one tablespoon of tea mixture to eight ounces of boiling water.
Allow it to steep for five minutes, strain the tea and then consume.
The tea mixture is enough to make around two liters of tea.
Total preparation time: 10min
Are There Any Side Effects Of Raspberry Leaf Tea?
Raspberry is considered safe for the mother and the baby. However, some women might have one or more of these side effects if the tea is taken in large quantities:
Nausea
Loose stools
Braxton Hicks' contractions
Increased urination
Decreased response to insulin
If you have any of these side-effects, stop using the tea even though these symptoms are not dangerous in most cases. However, the tea should not be taken in certain situations.
Who Should Not Take Raspberry Leaf Tea?
Do not take this herbal tea if you:
have a breech presentation of the baby
have multiple pregnancies
are taking antidepressants or metformin
are on medications such as aminophylline, atropine, codeine, ephedrine or pseudoephedrine as the tea influences the effects.
Frequently Asked Questions
1. Can red raspberry leaf tea prevent miscarriage?
Studies show that red raspberry leaves have been used by pregnant women for centuries and may help prevent miscarriages (9).
2. Can raspberry leaves induce labor?
Scientific studies do not prove that raspberry leaves induce labor. However, some reports show they may help shorten the second stage of labor (10).
Consuming raspberry leaf tea in pregnancy is recommended since it offers several health benefits. For example, it may help alleviate morning sickness if consumed during the first trimester. Further, if consumed in the second or third trimester, it may help induce labor at the right time. However, only the organic variety should be consumed and in limited quantity. In addition, raspberry leaf tea intake is contraindicated in some situations, such as in cases of high maternal blood pressure or multiple pregnancies. Hence, consult your doctor to understand if raspberry tea consumption is suitable for your pregnancy.
References:
MomJunction's articles are written after analyzing the research works of expert authors and institutions. Our references consist of resources established by authorities in their respective fields. You can learn more about the authenticity of the information we present in our
editorial policy
.
The following two tabs change content below.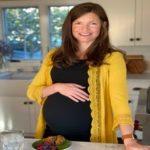 Brianne Thompson
(MS RD CD)
Brianne Thompson is a registered dietitian specializing in prenatal and lactation nutrition and is a mom to two boys. She has extensive experience working with hospitalized patients in critical care, cardiac and gastrointestinal surgery specialties, but became interested in prenatal nutrition when she was trying to conceive. After her own struggles, it became her passion to share accurate nutrition science...
more

Rebecca is a pregnancy writer and editor with a passion for delivering research-based and engaging content in areas of fertility, pregnancy, birth, and post-pregnancy. She has been into health and wellness writing since 2010. She received her graduate degree in Biotechnology and Genetics from Loyola Academy, Osmania University and obtained a certification in 'Nutrition and Lifestyle in Pregnancy' from Ludwig...
more