We all wait for the fashion designers to set the trends and then scurry to the store to buy these brilliant creations. If you are a fashionista, why don't you look to the folks who spruce up your wadrobe every season. You heard that right. Use fashion designer names to solve one of the biggest dilemmas of life- naming your child.
So, if the runway glamor or fashion designers inspires you, or you are looking for baby name options, check out MomJunction's round-up of 51 fashionable baby names below.
Fashionable Girls Names:
1. Adele:
This French name, meaning 'good humor' belongs to the one of the most successful American fashion designers, Adele Simpson.
2. Arden:
Just the thought of the Elizabeth Arden Red Door Spa is relaxing. So would be the thoughts of your daughter with this hip name.
[ Read: Stylish Baby Girl Names ]
3. Allegra:
This name belongs to the daughter of the world famous fashion designer Donatella Versace.
4. Alessandra:
This moniker brings to mind the fabulous and fashionable Alessandra Ambrosia.
5. Anais:
This one refers to Anais Bordier, the London, and Paris-based fashion designer. This exotic name means 'grace'.
6. Anna:
Anna, as in Anna Wintour, the editor-in-chief of Vogue Magazine. This exceedingly demanding woman was also the inspiration for the protagonist of "The Devil Wears Prada".
7. Bronx:
Bronx is the hottest borough to name your child. After all, it's home to the Yankee Stadium and Hip and Hop.
8. Celine:
Celine, one of the first luxury brands was the brainchild of designer couple Celine and Richard Vipiana.
9. Collette:
Collette Dinnigan was the first fashion designer of Australia to launch a ready-to-wear collection.
10. Donatella:
Donatella Versace, the Italian fashion designer, is its most famous fashionable namesake. This stylish and dramatic name means 'given by God'.
11. Elle:
Be it the Australia supermodel Elle Macpherson or the fashion magazine, the name Elle is synonymous with grace, glamor, and style.
12. Elaine:
Elaine is a sweet name with a fashionable and trendy El beginning. It means 'sun.'
13. Elsa:
Apart from the bringing joy to kiddos, the movie "Frozen" also introduced the parents to the super stylish name Elsa.
14. Florence:
Florence, the name of one of the world's fifth fashion capitals, has many parents going for it lately.
15. Harper:
Harper is our way of giving a nod to the renowned fashion magazine.
[ Read: Funky Baby Names ]
16. Heidi:
Most of you would associate this name with Heidi Klum, but do not forget Heidi Middleton, the creative designer behind sass & bride, the Aussie label.
17. Honor:
Jessica Alba's daughter's name is self-explanatory, unique and displays the appreciations parents have for their children.
18. Ines:
Inés de la Fressange began as a fashion model for Chanel, but has now become a successful fashion designer in her own right.
19. Kylie:
Before Kylie Jenner, Kylie Minogue made this name stylish, and of course famous. It means 'beauty'.
20. Lily:
This moniker has been a part of a long list of designer names, from Kit+Lili to Noa Lily. It means 'purity and innocence', just like the fashionista Lily Collins.
21. Mae:
We love how parents have started to spell May differently to make it sound like the spring month, but look unique.
22. Orla:
Famous designer Orla Kiela has featured everywhere, from Fashion Week to shopping malls and even Target.
23. Pippa:
Before being famous as the sister to a princess, this name was a part of a kids' fashion line, Pippa + Julie.
24. Stella:
Stella McCartney isn't just former Beatles' daughter. From being the creative director of Chloe to the launch of her own label, Stella is a fashion force to be reckoned with.
25. Vera:
Vera Wang is an American fashion designer best known for her skating costumes and wedding gowns. This exotic name means 'faith'.
26. Winter:
Is there any better way to remember the polar vortex than by naming your daughter Winter? We think no!
Fashionable Boys Names:
27. Alexander:
Alexander McQueen, the British designer, was not just one of the chief designers at Givenchy, but also headed his own label.
28. Boden:
The name of this British clothing brand fits well with the current trend in boys' name.
29. Brooks:
Donald Brooks may not be very famous, but his name definitely is. His name means 'of the brook'.
30. Calvin:
This name is associated with the global brand Calvin Klein. It means 'bald, hairless'.
31. Carter:
The name of this classic kids' clothing line has been a popular pick for boys since the 90s.
32. Christian:
There are two influential fashion icons associated with this name- the stiletto kind Christian Louboutin and French designer Christian Dior.
33. Dante:
Dante Trussardi is the Milano based fashion designer. His name means 'enduring'.
34. Gus:
There's Suki & Gus, and Gus Gus Designs too.
35. Hardy:
Who's not aware of the quirky fashion brand Ed Hardy? This German name means 'bold or brave'.
36. Helmut:
If you have Austrian blood in you, Helmut, the name of the Austrian designer could make a fine choice.
37. Issey:
Issey would make a stylish pick for a 21st-century boy. Its namesake is Japanese designer Issey Miyake.
38. Joe:
Here, we're referring to the classic denim brand. This good guy name means "Jehovah increases".
39. Karl:
Have your child share his name with the super cool, eccentric and slightly controversial fashion designer Karl Lagerfeld.
[ Read: Stylish Baby Boy Names ]
40. Levi:
This name is inspired by the iconic American jeans brand. It means 'joined'.
41. Marc:
The American powerhouse of fashion wasn't just the creative director of Louis Vuitton, is also the head designer of Marc by Mac and Marc Jacobs.
42. Paul:
Paul as in Jean Paul Gaultier, the French haute couture designer. And you have Paul Frank as well.
43. Petra:
Petra, the name of the historic city of Jordan, just rolls off the tongue. And it's extremely fashionable.
44. Pierre:
This effortlessly stylish name belongs the Pierre Cardin, the Italian designer.
45. Ralph:
Ralph Lauren need no introduction, neither does his name, which has been around for a thousand of years.
46. Sid:
Here's a short, sweet and crisp name for you. It nods to the British brand Lilly+Sid.
47. Mathis:
Mathis is a fashionable name to rework the traditional Hebrew name, Mathew, meaning 'gift of God'.
48. Tom:
Tom Ford, the creative director of Gucci and Yves Saint Laurent, brings so much to this ordinary name.
49. Tommy:
The first name of the famous American brand Tommy Hilfiger has practically never been off the charts in the United States.
[ Read: Rockstar Baby Names ]
50. Wren:
This moniker is inspired by the late designer L'Wren Scott, who had a penchant for making fashionable gowns.
51. Zac:
Just like his designs, even his name Zac is flawless, modern and ticks all the right boxes.
With such a fabulous and chic name, your child is sure to be on top of her style game. Did we miss any of your favorite? Tell us in the comment section below.
Recommended Articles:
200 Most Popular Baby Girl Names With Meanings
200 Most Popular Baby Boy Names With Meanings
Top 200 One, Two, Three, And Five Syllable Baby Girl Names
Top 200 One, Two, Three, And Five Syllable Baby Boy Names
The following two tabs change content below.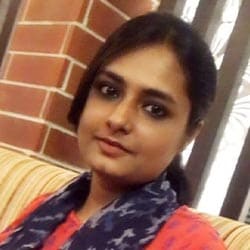 Arshi Ahmed
Arshi Ahmed did her graduation from Shri Shikshayatan College, Kolkata, and post graduation in English from Lovely Professional University. She specializes in writing baby names articles as she loves to help new parents find a name for their child. Arshi understands how important it is for a parent to find the right name because the name gives the baby an...
more