Finger foods include soft, graspable, easy-to-swallow, bite-sized solids that your baby can eat independently. Experts state that introducing finger foods for a baby when they feed on solids is beneficial.
Consuming such foods helps develop their hand-eye coordination and motor skills. It also helps the baby gain autonomy over their feed and helps them control the quantity of their intake. Finger foods are an ideal choice for babies who are ready for self-feeding. Also, finger foods let you understand the do's and don'ts to follow as your baby escalates to eating solid foods.
While the purpose of finger foods is the same, the types of finger food vary with age since it is dependent on their physical development. This post gives you insights into finger foods and discusses the age of introduction, food groups selection, and a few recipes to try.
What Is The Right Age To Give Finger Foods To Babies?
According to the American Academy of Pediatrics (AAP), a baby can have soft finger foods once they can sit straight without support and bring their hands to their mouth (1). Most babies achieve these developmental milestones by the age of eight months(2). Some babies might achieve these milestones before eight months, making them ready for finger foods earlier.
Finger foods play a crucial role in your baby's development. The development of the pincer grasp also plays a significant role since it allows the baby to use their thumb and index finger to pick finger foods (3). Pincer grasp usually develops by seven months and matures by nine months. Since each baby develops differently, a baby could be ready for finger foods at any age between six and 12 months (4).
Tips To Introduce Finger Foods To Babies
Here are some tips to ensure safe finger food feeding for your baby (5) (6).
Introduce only one new food at a time. It will help rule out allergies, sensitivities, and intolerances caused by a particular food.
Chop or slice the food into small, bite-sized pieces, no longer than half-an-inch. The baby can easily hold these pieces to chew/suck and swallow. Cut round or circular foods, such as grapes and carrots, lengthwise into four pieces to prevent choking.
Begin feeding foods with a softer texture, which require minimal chewing, such as banana, avocado, ripe mango, tofu, cheese, small pieces of cooked pasta, and cooked vegetables, such as carrot, sweet potato, and potato. These foods are suitable for babies whose teeth have not erupted.
Feed peeled, cored, and deseeded firmer foods, such as plum, apricot, strawberry, apple, guava, and grapes to older babies between nine and 12 months of age. Peeling these foods is crucial to prevent accidental choking.
Offer more foods with varying textures around the same time. A few options you can consider are pitta bread, sandwiches with soft filling, breadsticks, rice cakes, oatcakes, crackers, muffins, raw vegetable sticks, and soft-cooked meat pieces.
Avoid feeding lumpy and sticky textured foods, such as globs of seed or nut butter and marshmallows. These foods tend to stick to the palate, gums, and tongue, which babies often cannot control, increasing the risk of choking.
Do not serve hard-to-chew foods, such as raw vegetables, chips, hot dogs, whole grapes, popcorn, nuts, and hard candy to babies younger than a year to prevent choking. Avoid round, firm foods like grapes, popcorns, peanuts, raisins as well.
Never leave a baby unattended while they are self-feeding. You need to monitor and guide the baby until they are old enough to eat unsupervised.
Keep a baby seated in a comfortable position. Eating foods while roaming or strolling increases the risk of choking. Besides, it ensures the baby focuses on eating instead of being distracted by other things.
Encourage the baby to self-feed as much as possible. It may be messy and bothersome initially, but letting your baby practice autonomy is vital to develop and hone their feeding skills. This helps the baby to learn to eat when hungry and stop when full.
Expose your baby to foods of different textures, flavors, and colors. Motivate the baby to explore different food items to introduce them to the concept of a balanced diet early.
Best Finger Foods To Feed Babies
Here's a list of some of the best food items from different food groups that you can serve as finger food to your baby.
Vegetable finger foods
Vegetables are nutrient- and fiber-rich foods that can scale-up your baby's nutrient intake. You can add vegetables in the form of puree or mash initially and gradually introduce the baby to vegetable finger food.
Sweet potato and potato: Thin bite-sized chunks or wedges of steamed, baked, and roasted sweet potato and potato are suitable finger foods for babies. You can serve them with yogurt or homemade dip, such as guacamole.
Squash: Peeled acorn, butternut, and pumpkin are some squash types that you can use to make delectable finger foods for your baby. Young babies can be served baked, roasted, or steamed bite-sized pieces of squash as finger food. Older babies can have baked or roasted squash sticks.
Carrot: Peeled and steamed, roasted, or baked two-inch-long carrot strips and sticks are suitable finger food for babies. As the baby grows older, you can serve them lightly steamed diced carrot cubes to chew.
Green beans and peas: Well-cooked green beans chopped into thin bite-sized pieces are suitable for babies to hold and eat. Likewise, well-cooked and slightly smashed green peas are ideal for babies to grab and eat using their fingers.
Zucchini: Steamed, roasted, or baked thin strips of zucchini are ideal for babies. As the baby develops their oral motor skills, you can serve two-inch-thick zucchini slices or wedges.
Broccoli: Steamed and thinly chopped broccoli florets are a healthy finger food choice. You can also serve sliced roasted or baked broccoli florets.
Bell peppers: Core, deseed, and cut bell peppers in two to three-inch-long and one-inch-thick graspable sticks/strips that babies can hold and nibble. Grilled or roasted bell peppers are more suitable for babies than steamed bell peppers.
Fruit finger foods
Fruits are convenient finger foods available in different flavors, textures, and colors. They are a powerhouse of vitamins, minerals, and bioactive compounds that support a baby's long-term health.
Banana: Ripe banana has a soft, mushy pulp, which is easy for babies to consume. Babies can eat thin, bite-sized slices of banana with their hands. You can also serve them a bowl of banana mash.
Mango: You can serve medium-thick slices of mango pulp that babies can hold and eat themselves. If they are too slippery to hold, you can cut the pulp into a bit thicker pieces.
Avocado: Sliced ripe avocados are excellent finger food that babies enjoy eating. You can also cook avocado and mash it to make a delectable finger food dish for babies.
Apple: Raw apple slices are a potential choking hazard. It is best to steam or stew the apple, peel it, and then cut it into slightly thick slices or sticks to serve as finger food.
Papaya: Peeled, ripe papaya slices or sticks are another easy-to-eat finger food for babies. Once the baby gets better with their pincer grasp, you can give diced papaya chunks or cubes.
Melon: Deseeded melons cut into sticks or slices, about the size of your index finger, are appropriate finger foods for babies. You can give bite-sized melon chunks to older babies with better-developed pincer grasp and oral skills.
Orange: For babies younger than ten months, deseed and de-skin the orange before serving. Cut each slice into quarters and slightly squash them before serving. For older babies, deseed the orange and give the slice with the skin to suck and chew.
Grain and cereal finger foods
There is a wide assortment of grain foods that babies can eat for energy and nutrition. Some of these grain and cereals are available as processed baby foods, which can be effectively used as finger foods.
Puffs and dry cereals: Grain-based puffs and dry baby cereals are good finger food choices. You can buy these puff and dry cereals from the store or make some at home.
Bread: Lightly toasted bread with sides removed and cut into small cubes is a right finger food choice for young babies who cannot chew. You can put veggie spreads or homemade fruit jams to these toasts to up their nutritional value.
Pasta: Well-cooked pasta is a suitable finger food that babies can eat from six months of age. Penne, fusilli, orzo, and spaghetti are some pasta types that a baby can comfortably pick, hold, and eat. Cut each piece of pasta into bite-sized pieces before serving them to your baby.
Protein finger foods
Protein foods are essential to support the growth and development of babies. While your baby may still be consuming breast milk or formula, adding some protein-rich finger foods can enhance their nutrient intake.
Eggs: Scrambled, boiled, and omelets are some forms of cooked eggs that can be served as finger food. Cut the boiled egg and omelet into thin wedges or strips before serving it to your baby.
Chicken and fish: Thoroughly cooked chicken and fish can make delicious and healthy finger foods for babies. Grated or finely shredded cooked chicken and fish pieces are appropriate for younger babies. Once the baby begins chewing, you can serve them grilled, roasted, and baked chicken and fish finger foods.
Cheese: Low-sodium, pasteurized full-fat cheese is another finger food that babies across ages can consume with relative ease. Mild cheddar, Colby, parmesan, and ricotta are some mild-tasting varieties you can consider as finger food. Serve cheese in thin bite-sized slices, strips, or pieces to the baby.
Cottage cheese and tofu: Fresh, full-fat cottage cheese and tofu are some other protein-rich foods you can feed your baby. You can serve well-cooked, crumbled cottage cheese or tofu to young babies. Older babies can eat cooked cottage cheese and tofu cut into one-inch-thick sticks or fingers.
Besides feeding these foods as solo finger foods, you can use them to prepare delicious and nutritious finger food dishes for your baby.
Finger Food Recipes For Babies
Here are some age-appropriate finger food recipes that you can try to encourage baby-led weaning.
1. Omelet fingers (6months+)
You will need:
1 small onion (peeled and finely chopped)
½ pepper (cored and finely chopped)
1 medium egg
1tsp fresh parsley (finely chopped)
1tbsp olive oil
How to prepare:
Whisk the egg in a small mixing bowl. Once the egg begins to froth, set the bowl aside.
Heat oil in a frying pan over a low flame. Sauté onion and pepper until they turn soft.
Pour the egg into the frying pan and cook until the egg sets with a golden base.
Transfer the omelet to a plate and let it cool. Cut into finger-sized slices and serve for your baby to self-feed. You can also add cheese to up its flavor and nutrient profile.
2. Crustless mini quiche (6 months+)
You will need:
5 medium eggs
3 spring onions (chopped)
1 small pepper (any color) (deseeded and chopped)
1 small tomato (chopped)
2tbsp full-fat milk
1-2tbsp cold-pressed sesame oil
1tsp dried mixed herbs
Pinch of nutmeg
How to prepare:
Preheat the oven to 400°F (204°C).
Grease a muffin tray with some oil and put all the veggies into it, filling half of each slot. Set the tray aside.
Beat the eggs, milk, herbs, and nutmeg. Ensure everything is well-mixed.
Pour the egg mixture over the vegetables in the muffin tray. Bake for 10 to 15 minutes until their crust puffs and turn light brown and the eggs set.
Remove the muffins from the tray and place them on a plate. Allow them to cool and then cut into quarters before serving to your baby.
3. Baked sweet fingers (6 months+)
You will need:
1 small sweet potato (peeled and cut into one-inch-thick strips or wedges)
1tsp Italian seasoning
1tbsp rice bran oil
How to prepare:
Preheat the oven to 400°F (204°C).
In a small mixing bowl, mix oil with Italian seasoning.
Brush the oil on the sweet potato sticks/wedges and place them on a baking tray.
Bake for 20 to 30 minutes until the sweet potato wedges or sticks turn soft and brown.
Once done, put the baking tray on the wire rack. Allow the wedges/sticks to cool before serving them to your baby.
4. Veggie delight pasta (8 months+)
You will need:
½ cup penne pasta (cooked)
½ cup tomato paste
¼ cup carrot (peeled and grated)
¼ bell peppers (grated)
½tsp dried oregano
2tbsp green peas
1tbsp olive oil
How to prepare:
Heat oil in a skillet and sauté veggies until they turn soft.
Add dried oregano, tomato paste, and pasta. Gently toss a couple of times to coat the pasta well.
Cook on low flame for three to four minutes and then transfer the pasta to a serving plate or bowl.
Allow to cool and serve. You can add different vegetables and a teaspoon of grated parmesan or mozzarella to this recipe for added flavor and protein.
5. Baked fish fingers (8 months+)
You will need:
100g fresh cod fillets (cut into finger-sized strips)
40g plain flour
½ cup breadcrumbs
1 egg (beaten)
½ tsp dried oregano
How to prepare:
Preheat the oven to 400°F (204°C). Grease a baking tray and set it aside.
Put plain flour and fish strips in a bowl. Coat the strips evenly with the flour and then dip it into beaten egg and breadcrumbs.
Place all the strips on the baking tray. Sprinkle oregano and bake the fish for 15 to 20 minutes until they turn golden and crisp.
Transfer the baked fish fingers into a serving bowl. Allow to cool, and then serve it with homemade tomato dip.
6. Pan-fried tofu cubes (10 months+)
You will need:
½ cup firm tofu (cubed)
½ cup green beans and broccoli (boiled and thinly sliced)
1tbsp herbs mix
2tbsp cold-pressed sesame oil
How to prepare:
Heat oil in a frying pan. As the oil bubbles, add boiled veggies and stir fry until they turn slightly wilted.
Add herbs mixture and tofu cubes. Don't disturb to get that crispy coating on. Gently toss to mix everything well.
Cook tofu for seven to eight minutes until each side turns light golden.
Transfer the cubes with veggies to a feeding bowl or plate. Allow them to cool for five minutes before serving to your baby with homemade yogurt dip or guacamole.
7. Potato, carrot, and courgette rosti (10 months+)
You will need:
½ cup carrot (boiled and grated)
½ cup courgette (boiled and grated)
1 potato (boiled and grated)
1tbsp herbs mix
¼ tsp black pepper powder
4tbsp olive oil or butter
How to prepare:
Mix all the grated veggies in a mixing bowl. Place the mixture into a clean tea towel and squeeze out the moisture. Keep the tea towel aside and let the remaining water drip off.
Heat oil or butter in a frying pan over a low flame. As the oil warms, add grated veggies and cook for five minutes until they begin wilting.
Turn off the heat and set the pan aside to cool. Once the mixture is cool, make small, round, and thin rosti by pressing the veggies between your palms.
Place the rostis back in the pan and cook gently until both sides turn light golden.
Once done, transfer the rosti to a plate and serve with homemade cheese or veggie dip.
8. French toast (12 months+)
You will need:
2 small slices of multigrain bread
1 ripe banana (mashed)
1 egg (beaten)
20ml whole milk
2tbsp unsalted butter
How to prepare:
Mix mashed banana, egg, and milk in a bowl. Mix thoroughly until all the ingredients are well combined.
Melt butter in a frying pan over low flame.
Meanwhile, cut the bread into two-inch-thick fingers and dip them one-by-one into the banana mixture.
Put the bread fingers on the pan and fry each side for two to three minutes until they turn golden brown.
Transfer the bread fingers to a serving plate, garnish with thinly sliced fruit of your choice, and serve.
9. Broccoli and cheese frittata fingers (12 months+)
You will need:
1 cup zucchini (grated)
1 cup broccoli (finely chopped)
½ cup cheddar cheese (grated)
3 medium eggs (beaten)
½ tsp dried mixed herbs
1tbsp plain flour
1tbsp olive oil
How to prepare:
Preheat to oven 356°F (180°C). Grease and line a baking dish with oil.
Heat oil in a frying pan and sauté zucchini and broccoli. Fry lightly for three to four minutes until the vegetables turn soft.
Meanwhile, mix beaten eggs, grated cheese, plain flour, and herbs in a mixing bowl.
Add the cooked vegetables into the egg mixture and mix until all the ingredients are well combined.
Pour this mixture into the baking dish and bake for about 15 minutes.
Once done, put the baking dish on a wire rack to let the frittata cool. Cut frittata into thick slices and serve it to your baby with homemade tomato sauce or hummus.
10. Oatcake with guacamole (12 months+)
You will need:
½ cup steel cut oats
½ cup rolled oats
¼ cup hot water
¼ tsp salt
2tbsp unsalted butter
Cooking spray
How to prepare:
Preheat the oven to 375°F (190°C). Grease a baking tray with a cooking spray.
Grind the rolled and steel-cut oats into a coarse flour or blend using a food processor. The steel cut oats might take longer than rolled oats to blend.
In a large bowl, mix oat blend and salt. Add melted butter and mix everything well using a fork.
Gradually add hot water and knead the mixture into dough. Continue kneading until the dough no longer feels sticky.
Make golf ball-sized dough balls by rolling the dough between your palms. Sprinkle the work surface with some oats flour and roll out the dough balls into a thin sheet about three millimeters thick.
Use a round cookie cutter to cut the dough into round, or into your desired shape of thin cakes. Place these cakes onto the baking tray and bake for 25 to 30 minutes, until dry and they turn golden brown from each side.
Once done, transfer the baking tray to a wire rack and allow to cool. Store the mini cakes in an airtight container and serve one or two oatcakes with guacamole or veggie dip of your choice.
Frequently Asked Questions
1. Why are finger foods suitable for babies?
Finger foods teach babies to consume their foods independently. Holding and picking up finger foods develops motor skills. These foods also promote chewing and biting skills in babies (7).
2. What finger foods should babies avoid?
Avoid foods that are hard in texture. Also, refrain from giving infants processed foods with high salt and saturated fats. It is also safe to avoid raw ingredients, whole nuts, dry fruits, and jelly cubes as they pose a choking hazard (8).
Finger foods for babies should be soft and bite-sized to make your baby eat independently. You can start giving your baby finger foods when they can sit upright without assistance and bring hands to their mouth. This may happen around eight months of age. Introducing one food at a time helps learn about allergies and other issues. Babies can be given small portions of ripe mango, banana, tofu, cheese, cooked veggies like carrots or potatoes, and also pasta. To avoid choking hazards, stay away from anything circular in shape.
Key Pointers
Finger foods may be introduced to babies aged six to 12 months when they can sit straight and grasp using their thumb and index finger.
Offer one new food at a time to rule out allergies and intolerances. Use easy-to-chew foods cut to bite-size pieces.
Potatoes, squash, carrots, bananas, mangoes, eggs, fish, and many others can be used to prepare finger foods for babies.
Scroll down for some yummy finger food recipes such as omelet fingers, veggie delight pasta, baked fish fingers, etc.
References:
MomJunction's articles are written after analyzing the research works of expert authors and institutions. Our references consist of resources established by authorities in their respective fields. You can learn more about the authenticity of the information we present in our
editorial policy
.
The following two tabs change content below.

Swati Patwal is a clinical nutritionist, a Certified Diabetes Educator (CDE) and a toddler mom with over eight years of experience in diverse fields of nutrition. She started her career as a CSR project coordinator for a healthy eating and active lifestyle project catering to school children. Then she worked as a nutrition faculty and clinical nutrition coach in different...
more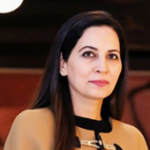 Seeemaa Budhraja
(DDHE & DNHE)
Seeemaa Budhraja is a Delhi-based dietitian and nutritionist. She specializes in weight and lifestyle management. She is a healthy recipe designer, works as a health motivator and wellness coach as well. She has worked as a slimming head with one of the top organizations in India. She excels in therapeutic diets for various lifestyle-related diseases. This renowned nutritionist is a...
more