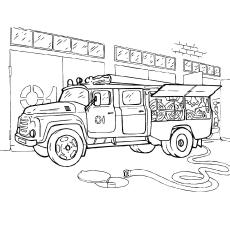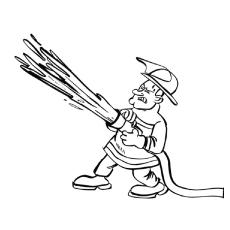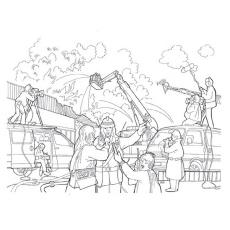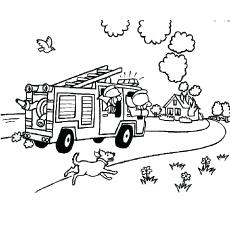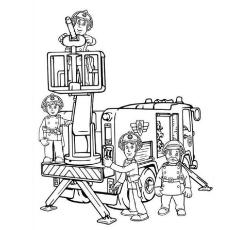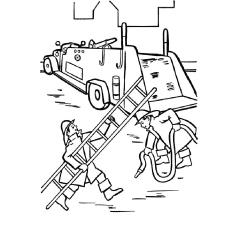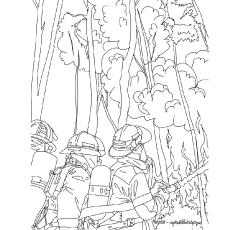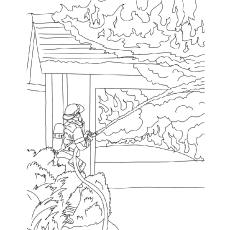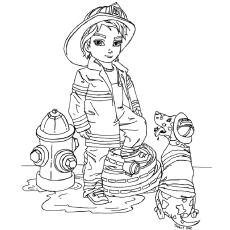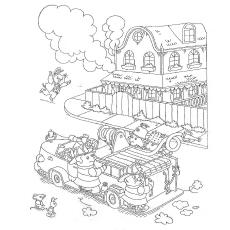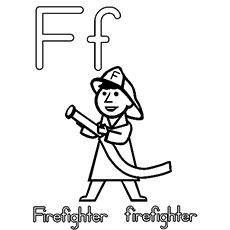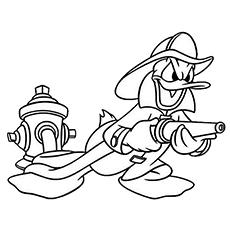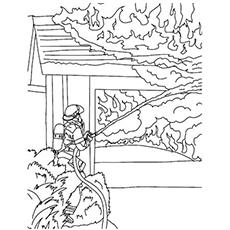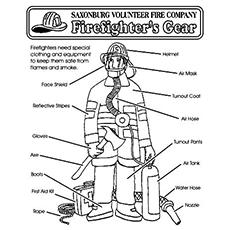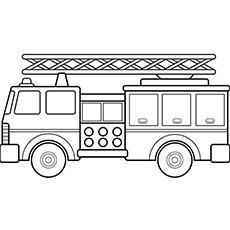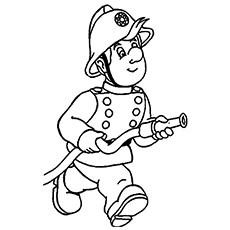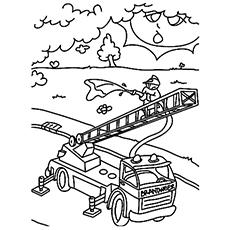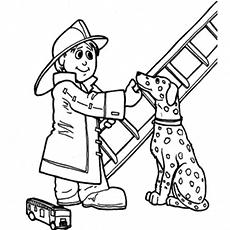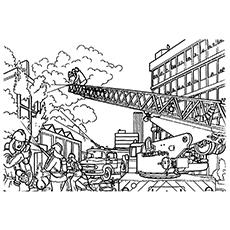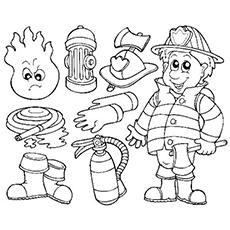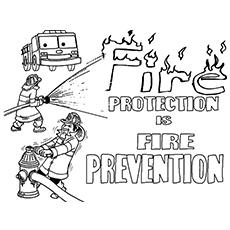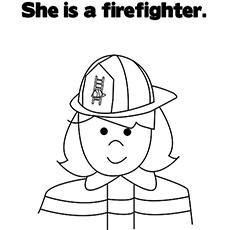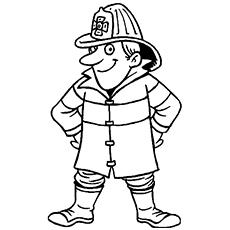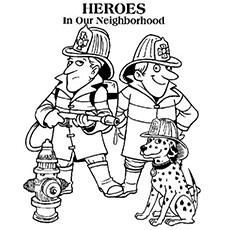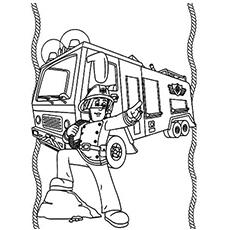 Recommended Articles:
Kids see fire as an element that emits warmth and light. They are not aware of the scary side of the fire. Hence, it is very important to educate them about the benefits and dangers of fire. This can be done by introducing them to one of the most courageous people on earth – a firefighter.
A firefighter, also known as fireman is a rescuer trained in firefighting. Their job is to rescue people from dangerous situations like burning building and vehicles.
Top 15Â Firefighter Coloring Pages For Preschoolers
Kids, especially boys, love fire fighters. What's great is that they risk everything to save the lives of people they do not even know. They also provide emergency medical service. Here is a collection of some of the best firefighter coloring pictures. These firefighter coloring sheets are ideal for both home and classrooms.
1. Fire Man Fighting Fire:
This coloring sheet features a fearless firefighter with his hose, ready to extinguish the fire. The firefighter hooks up his hose to a hydrant to get water, so that he can control the fire.
This coloring sheet will surely please the thrill-seeking coloring enthusiasts.
It might also inspire the little children to become firefighters when they grow up.
[ Read: Ninja Coloring Pages ]
2. Firefighter Truck:
The truck you see in this coloring sheet is no ordinary truck. It is called fire-engine. A fire-truck helps the firefighters in their rescue operation.
This sheet is ideal for getting the young artists explore the world of firefighters.
Fire engine or fire truck comes in all kinds of shapes and sizes.
Kids will have fun coloring this sheet while practicing their hand and eye co-ordination.
3. Firewoman:
Who said that only men could become firefighters? Show your little daughter than she can become anything she wants to with this inspirational coloring sheet.
This is an image of a firewoman; after all, women can be as brave as men, and let your kid know that!
If your daughter dreams of being a brave soul, then she will surely love this sheet.
[ Read: Police & Police Car Coloring Pages ]
4. Friendly Fireman:
The man you see in this coloring page is William Smith, also known as Firefighter Bill by children.
He is an animated firefighter serving the city of Roseville, California.
William, when not fighting fire, spends his time training Dalmatians or competing in triathlons.
Color his uniform in brightest color possible to make a poster for your room.
[ Read: Batman Coloring Pages ]
5. Fireman With Dalmatian:
This coloring image features a cute little firefighter accompanied by his adorable Dalmatian dog.
Even though the Dalmatian dog's spots are black, your children can color them in any shade they like.
Dalmatian dogs are also known as firehouse mascots.
They were used traditionally to clear the path of the horse drawn fire carriages, long before the fire truck was invented.
6. 'F' For Firefighter:
Coloring sheets are an excellent medium to introduce the preschoolers to letters, numbers and alphabets. Here is an F is for firefighter coloring sheet for your toddler.
Encourage your child to trace the letter F in upper and lower case with a crayon or pencil color of their choice.
This will help to improve their hand and eye co-ordination and motor skills.
Then let your child fill the coloring sheet will the shades of his choice.
[ Read: Spiderman Coloring Pages ]
7. Fire Safety:
This coloring sheet will help to spread awareness about fire safety among children at a young age.
Fire safety is about how to make your home safe, how to be safe and knowing what to do when the fire starts in the house.
It is very important to teach children at an early age that fire should not be used for playing.
Tell your kids about all things they can do to be safe, like never playing with matchsticks, never going near gas stoves and never putting clothes near the lamps.
8. Donald Duck, The Firefighter:
This is a cute coloring image of Donald Duck.
He is laced in this coloring sheet with all the things necessary for firefighting- the firefighter helmet to protect from all the rubble, the water hose and hydrant to extinguish the fire.
Donald Duck looks very confident and cheerful in this sheet! Ask your kid to fill this coloring image with bright colors to produce a vivid picture.
[ Read: Superman Coloring Pages ]
9. Firemen At Work:
Firefighters, besides extinguishing the fires, are also responsible for rescuing people trapped in buildings and vehicles.
This coloring sheet is perfect to start a conversation about how firefighters save us from the mishaps.
You can lead your children to pray for the safety of people in their life after coloring this sheet.
This sheet will also give your child an opportunity to explore his artistic talent.
[ Read: Power Rangers Coloring Pages ]
10. Fireman In Service:
This is a coloring image of a firefighter rushing to rescue people from a house on fire.
Whenever a fire is reported at a house or forest, the firefighters attend there as fast as possible to save the people trapped in the fire.
This coloring sheet will allow the children to experiment with different colors while trying to find suitable shades to fill in the picture.
11. The Firefighter's Gear:
This labeled picture of the fireman wearing his firefighting gear will help your child to become familiar with different types of firefighting equipment and their uniforms. Since extinguishing fire is a risky, the fireman needs protection from the fumes and heat. This coloring page can be used as an effective learning tool. While your kid enjoys coloring the picture, tell him how the equipment helps the fireman to control the fire and at the same time protect himself from any mishaps.
Did you tell your child why a fireman carries a fire axe? Here is the answer. A fire axe is a type of axe which is specifically designed for firefighters. The several features of the fire axe make it suitable for emergency cases. It has to be ordered directly from the manufacturers. A typical fire axe is mounted on a long haft which is treated to become fire resistant. The haft is attached to the head firmly. The axe helps the firemen to cut long cables and use it as a support sometimes. The head of the axe is colored with bright colors which helps the fireman to locate it during conditions of low visibility. Sometimes, the pick and the head are painted with different colors so the firefighters can be sure whether they are working with the right end.
Similarly tell your child the significance of each fire equipment. You can also visit the nearest firefighting center with your kid. So the coloring page coupled with the educational tour will help your child to know more about firefighting.
12. There is a Fire:
This firefighter is standing in front of the firefighting truck and is pointing out at the spot which is on fire. On his shoulders he is carrying some rope, maybe he needs to climb the building damaged by fire.
The firefighters have to plan a strategy before they enter the building on fire. They communicate on walkie talkies and divide the rescue work among themselves. Firefighting requires a strong team who has the knowledge to extinguish fire that is caused due to different reason. Since, extinguishing industrial fire requires a different approach than a domestic fire.
Your child will definitely enjoy coloring this picture. Guide him to use the right colors to make the picture look realistic. You can also watch some movies like '15 Minutes' and 'The 119' with your kid, so that he understands the risks involved in firefighting. 'Curious George and the Firefighters', is a film your child will enjoy, so definitely watch it with your child when he is done coloring.
13. The Fireman's Objects:
This picture shows all the objects associated with a firefighter. The cute looking firefighter is also there in the picture wearing a helmet and is seen carrying a fire axe. Other equipment like a water hose, a water pump, gloves, boots and a fire extinguisher can be seen too.
There are many elements in the picture that will keep your child engaged for hours. This coloring page is fun and informative. Let your little one use his or her imagination to color this page.
14. The Heroes:
Firefighters take huge risks while saving others from mishaps and extinguishing fires caused due to various reasons. They have to think on their feet when they are conducting a rescue operation. Since, firefighters have to face unforeseen circumstances, but they have to keep calm in face of danger. That's why firefighters are considered heroes. It takes lot of courage to be a firefighter and save lives by putting one's life at danger.
15. Extinguishing the Fire:
In this picture we see a firefighter at work. He is using a water hose to bring down the fire that is damaging the house. We see the fire fighter wearing a mask to protect himself from the toxic fumes and on his back we see the fire extinguisher. He also wears a helmet to protect his head from getting hurt and the excessive heat of the fire.
Guide your child to color these Firefighter coloring pages. A combination of yellow, orange and red colors can be used to make the fire look really menacing. Guide your child to use colors correctly to bring out the story behind this picture.
DISCLAIMER: All images found here are believed to be in the "public domain". We do not intend to infringe any legitimate intellectual right, artistic rights or copyright. All of the images displayed are of unknown origin. If you are the rightful owner of any of the pictures/wallpapers posted here, and you do not want it to be displayed or if you require a suitable credit, then please contact us and we will immediately do whatever is needed either for the image to be removed or provide credit where it is due. All the content of this site are free of charge and therefore we do not gain any financial benefit from the display or downloads of any images/wallpaper.
The following two tabs change content below.