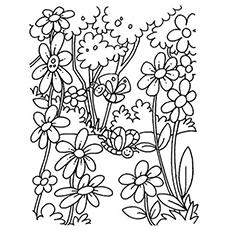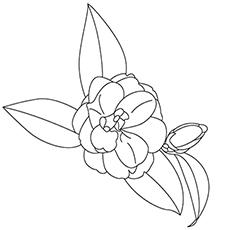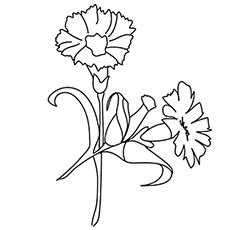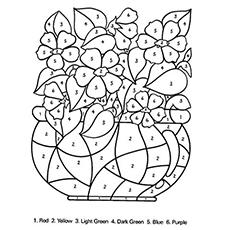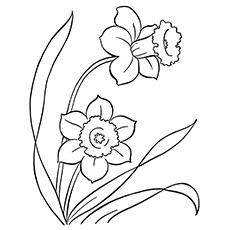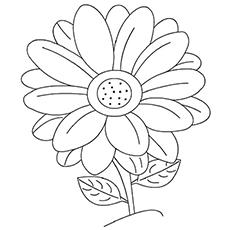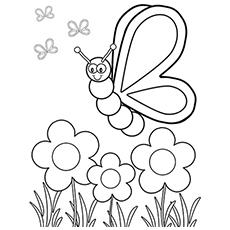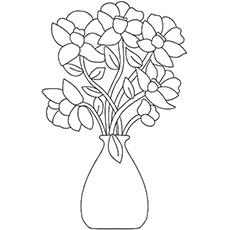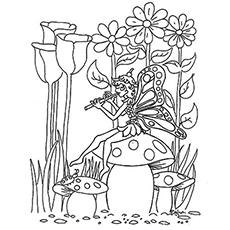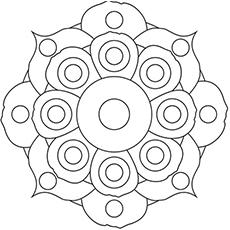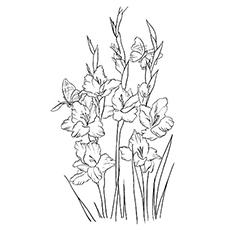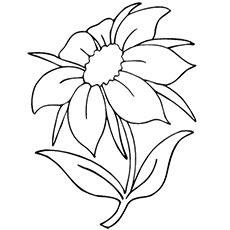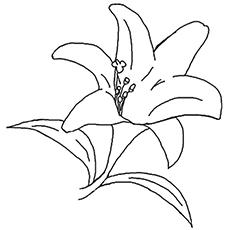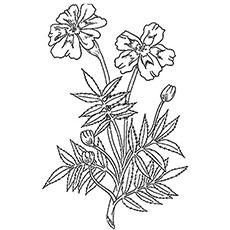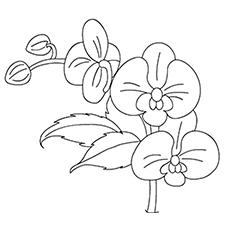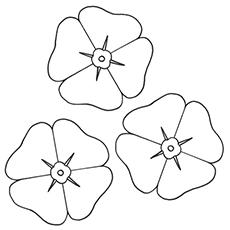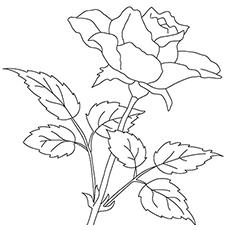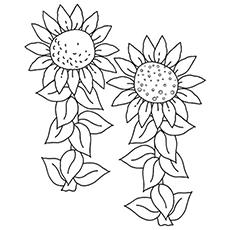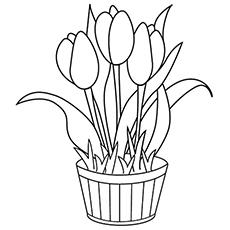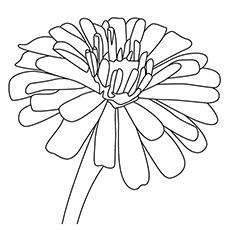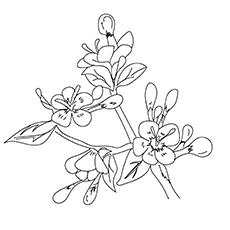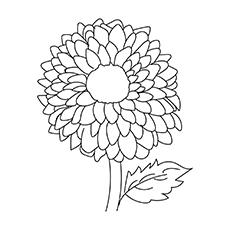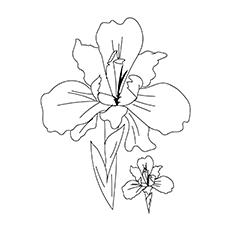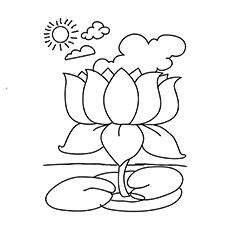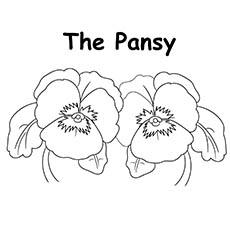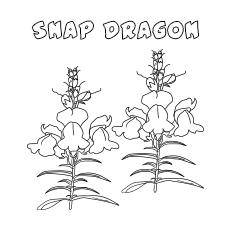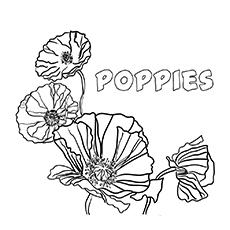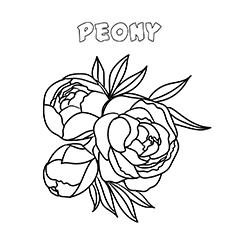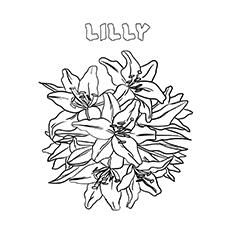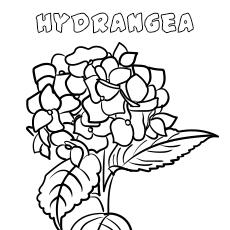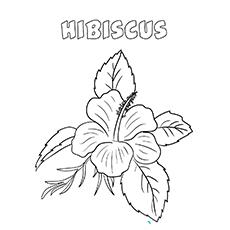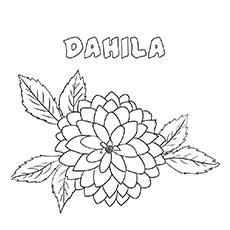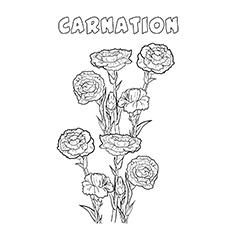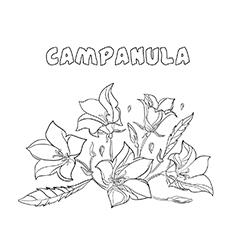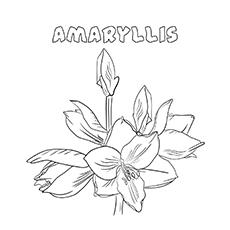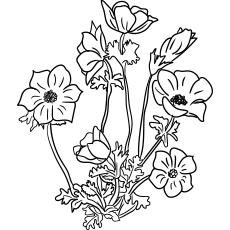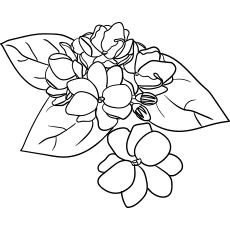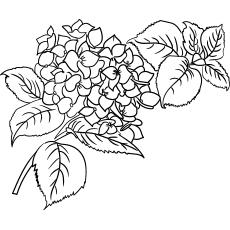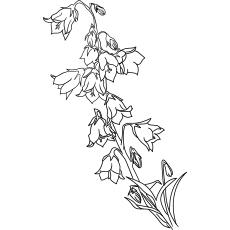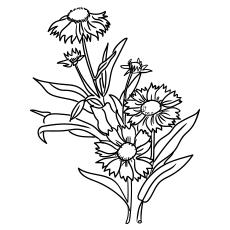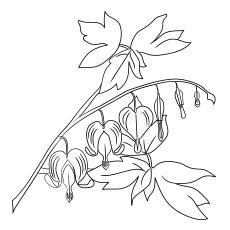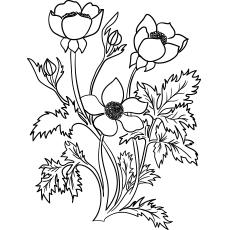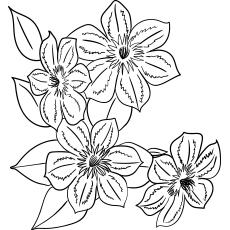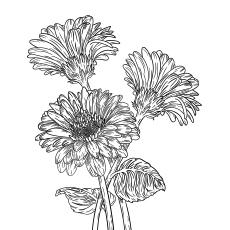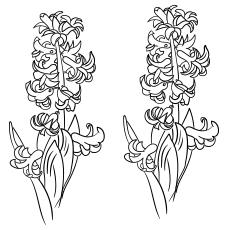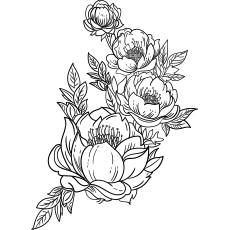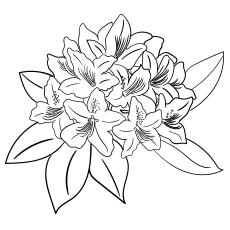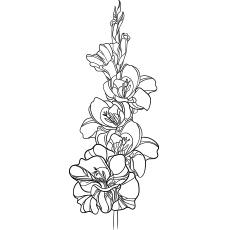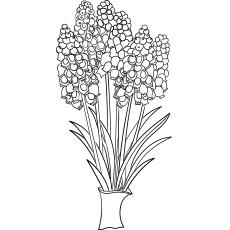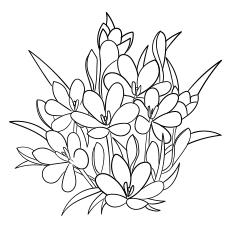 Recommended Articles:
Flowers are often seen as objects to decorate your home and garden, but they hold more significance than that. They are part of many important occasions in your life. There are specific flowers befitting specific occasions like birthdays, funerals, wedding, and graduation ceremonies. Some flowers have religious significance as well.
Did you know that flowers have a language of their own? Yes, special meanings and symbols are attached to flowers, that help people express feelings that cannot be spoken. Flowers are also a source of food for many birds, mammals and insects.
Top 25 Flowers Coloring Pages For Preschoolers
Here is a collection of flowers coloring pages to print out for your kids. The article includes the most popular flowers found across the world with some factual information. These flowers coloring pages printables will give your child a feeling of spring all year round.
1. Carnation:
This diagram features carnation, Ohio's state flower. Ask your child to fill colors in this black and white flower.
The carnation flower is native to the Mediterranean region.
It is originally a bright pinkish and purple flower produced in a cyme. The leaves are grayish green to blue-green in color. They are also found in a wide range of other colors like red, white, purple, yellow and pink.
Carnation is a symbol of socialism and the labor movement. It is also often used in demonstrations on International Workers' Day.
2. Rose:
The coloring sheet features a beautiful rose. Ask your child to take out the red crayons for coloring this rose diagram.
Your child can use any shade he or she likes to color this lovely flower.
This sheet is a perfect way to start teaching about different types of rose and their identifying features.
Rose is the most popular flower in the world. It is a woody perennial belonging to the Rosaceae family.
There are more than 100 species of rose. The flower is found in a wide range of colors like white, yellow, orange and even black.
3. Daffodil:
Celebrate spring with this daffodil coloring sheet.
The daffodil is an attractive, trumpet shaped perennial flower. It is considered the most popular flower of the spring season.
The daffodil flower is the first visible sign of spring. It symbolizes rebirth, new beginnings and friendship. It is used widely in bouquets and flower arrangements.
The daffodil flower is native to the Mediterranean region in Europe. It is found widely in Spain, Portugal and Germany.
4. Flower And Insect:
This bee has stumbled upon his favorite treat, a blooming flower. Print out this sheet to get your child ready for spring.
The coloring page features a cute bee sucking some nectar from a flower.
While your child colors the sheet, talk to him about the symbiotic relation of flowers and bees and how they help each other survive.
[ Read: Fairy Coloring Pages ]
5. Flower Mandala:
Here is a detailed coloring sheet of a flower mandala.
Kids who love flowers will enjoy filling colors in the in this pretty mandala.
The image, with so many small spaces to color in, will help your child develop his fine motor skills. It is ideal for older children.
After your child has colored the flower mandala, ask him to name all the flowers that he is aware of.
6. Flower Fairy:
Here is a coloring sheet of a beautiful fairy hanging out among the flowers, grass and insects.
Coloring sheet can prove a perfect indoor activity for a sunny afternoon.
Ask your child to use bright colors for the flowers and stick to green for the grasses. Ensure he or she does not forget to color the background.
It will give a boost to your child's imaginative skills.
7. Blooming Flowers:
Here the sheet features a bunch of blooming flowers.
The gorgeous flowers in the image are missing just one thing – some pretty colors. Can your child pull out his crayons and give some color to this serene scene?
Ask your child to name the flowers he sees in the page.
[ Read: Rose Coloring Pages ]
8. Cherry Blossoms:
Break out those pink crayons to color this cherry blossom flower. This is perfect to celebrate the spring season.
This beautiful tree blooms in the early spring. The full bloom does not last for more than a week. However, with this sheet, you can hold on to the cherry blossom flowers for as long as you want.
Cherry blossom flowers mean industrious, brave and wild in the Asian culture.
It is also considered a symbol of hope, happiness and love.
9. Flower Bouquet:
This flower bouquet shows a bunch of blooming flowers tied with a ribbon. This will inspire your child to take an interest in learning about plants and nature.
It is perfect for Valentine's Day celebration. It will allow your child to celebrate love and friendship.
You can also print out this coloring sheet on a cardboard to prepare a greeting card.
10. Color By Number:
A vase full of beautiful flowers is featured on this page, but they need some color to bloom properly. Can your child take out his watercolors to brighten them up?
Color by number is a fun activity for the kids. It helps them with both color and number recognition.
Your child can also learn color mixing with this sheet.
11. Dahlia:
This page features dahlia, a genus of herbaceous flower native to Mexico. There are around 42 species of dahlia found all across the world. It is the national flower of Mexico.
Dahlia belongs to the Aster family along with sunflowers and daisies.
It is a brightly colored flower and is found in a plethora of colors, except blue.
The flower consists of numerous petals that encircle a yellow core called floral head.
They are mostly used for decorative purposes on cakes, tarts and pastries.
12. Tulip:
This tulip coloring sheet will inspire your little artist about nature.
Tulips grow in almost any color that you imagine, so ask your child to get creative as he colors this flower.
Tulip is one of the most beautiful flowers you can lay your eyes on. It is a large, bulbous plant with showy flowers.
The flower is native to Greece and North Africa.
These brightly colored flowers may be in single or double bloom. They come in various forms like simple cups, bowls and goblets.
13. Sunflower:
Brighten your child's day with this sunflower coloring sheet.
This is a great way to improve your child's color recognition. Ask him to color both the sunflowers in different shades.
The sunflower is an annual plant that belongs to the Asteraceae family. The flower head is made of thousands of tiny flowers called florets. The petals can be yellow, red or orange in color.
The sunflower is the state flower of Kansas. The seeds of sunflowers are processed into butter and oil.
[ Read: Ladybug Coloring Pages ]
14. Gladiolus:
Here is a gladiolus coloring sheet for your child to print and color.
Gladiolus, also known as sword lily is a genus of perennial bulbous flowering plant belonging to the iris family.
The plant produces tall flower spikes that are adorned with large, showy flowers. They are mainly used as a cut flower.
The flower contains around 260 species, out of which 250 are native to Africa.
They are found in a wide range of colors like blue, apricot, pink, gold, red and even multicolored varieties.
15. Iris:
Encourage your child to get creative with this iris flower coloring sheet.
The name iris comes from the Greek word "rainbow" as the flower is found in a wide variety of colors.
Iris flower is native to the North Temperate regions of the world. Some species are also found in deserts and swamps.
This flower is considered the symbol of eloquence.
The purple iris is a symbol of wisdom while the blue iris symbolizes faith and hope.
16. Lily:
Here is a coloring sheet of lily pad for your kids.
This beautiful flower is known to bring peace to the receiver's mind.
Lily symbolizes innocence and sympathy. It is also associated with majesty and purity.
This sheet will provide a fun coloring exercise for your child while helping him learn some scientific facts.
17. Poppy:
Give your child a coloring sheet full of fun flower facts.
This one is about poppies, a flowering plant in the Papaveraceae family.
Ask your child to add some colors to this page to make this poppy pop!
The poppy flower is an international symbol for those who died in war.
The flower has 4 to 6 petals, with the stamens forming a whorl in the center. The petals are showy and have some markings.
[ Read: Abstract Coloring Pages ]
18. Daisy:
The adorable daisy on this coloring sheet is guaranteed to make your little one smile as he adds some bright color to it.
Teach him about how flowers need the help of the sun to grow beautiful and strong.
This white and yellow flower may look simple, but is quite intricate.
The flower is composed of white petals and a yellow center.
These flowers retract their petals at night and then open up again in the morning.
Daisy symbolizes innocence, purity, loyalty and new beginnings.
19. Orchids:
Introduce your child to the tropical flowers with this coloring sheet. It features orchid, a beautiful and unusual flower.
This colorful flower is named for the slipper shaped pouch in the center.
The delicate and exotic orchids represent love, beauty, luxury and strength. It is the 14th wedding anniversary flower.
20. Marigold:
There could be no flower as cheerful as marigold.
There are around 50 species of marigold. The flower's popularity derives from its ability to bloom brightly all summer long.
The marigold flowers have double flower heads and are produced singly or in clusters.
They come in different colors, but yellow and orange are the most common colors found.
21. Lotus:
This coloring sheet features a beautiful lotus flower.
Lotus flower carries symbolic significance in several cultures across the world.
It is a symbol of the sun as it closes at night and goes beneath the water and reopens again at dawn.
Its floral meaning is rebirth and divinity. It is viewed as a sign of purity of speech and mind in Buddhism.
22. Jasmine:
Here is a coloring sheet of jasmine, a highly fragrant tropical flower.
The name Jasmine is derived from the Persian word "Yasmin'", which means a gift from God.
Jasmine is found mainly in the tropical and warm temperate regions of Asia, Europe and Africa.
It is a white or yellow colored flower borne in cluster. Each flower has about four to nine petals.
This flower is widely cultivated for its fragrance.
23. Camellia:
Camellia is a gorgeous flower with soft petals and gentle curves.
It comes in a variety of colors like red, pink, yellow and white.
Camellia is considered a symbol of desire and passion. It also signifies perfection and refinement.
This flower is native to the Himalayas and Southern and East Asia.
24. Zinnia:
The beautiful flower you see here is zinnia, a bright daisy like flower that grows on a single, erect stem.
The flower comes in a variety of bright colors like red, blue, pink, orange and purple.
This beautiful flower makes a massive burst of color in the garden.
25. Pansy:
Introduce your child to pansy with this coloring sheet.
Pansy is a group of large-flowered plants native to Amsterdam.
It is named after a French word (pensee) which means thought.
It is found in deep and intense colors like pink, fuchsia, red and orange.
It has overlapping, upper petals and a single bottom petal.
Pansy is a symbol of loyalty and memory.
Print out these flowers coloring sheets and use them for your children's craft works.
We hope that you liked our collection of pictures of flowers to color. Do share your experiences and moments spent with your kid with other readers in the comment section below.
DISCLAIMER: All images found here are believed to be in the "public domain". We do not intend to infringe any legitimate intellectual right, artistic rights or copyright. All of the images displayed are of unknown origin. If you are the rightful owner of any of the pictures/wallpapers posted here, and you do not want it to be displayed or if you require a suitable credit, then please contact us and we will immediately do whatever is needed either for the image to be removed or provide credit where it is due. All the content of this site are free of charge and therefore we do not gain any financial benefit from the display or downloads of any images/wallpaper.
The following two tabs change content below.