Did your eight-month-old just pounce on your plate? Found that cute, right? This is an indication that the little one is ready to feast on foods. Moreover, the naughty little one now needs more energy than before because she has too many things to do such as crawling and exploring things around.
Then why delay, offer her a yummy bowl of porridge! You would be surprised to see your darling gulping it down. What else could figure in the list of best foods for 8-month-old baby? MomJunction comes up with top food ideas.

Best Foods For 8-Month-Old Baby
You may have read up a lot about the foods to give your baby in this month. We know, there is so much information out there that it overwhelms you and leaves you confused. This is precisely why we have compiled the most suitable foods that you can feed your baby in the eighth month.
1. Breast milk or formula
Breast milk: Continue offering breast milk to your baby as she is still growing. Breast milk should be her prime source of nutrition. You can attempt to wean her by giving solid foods, and feeding pumped breast milk.
You baby needs more breast milk in the first six months. But after that his requirement for breast milk comes down as you begin giving him solid foods (1). The standard range of milk intake by a breastfed baby is 19-30 oz per day (570-900ml).
How much expressed milk is needed for an eight-month-old?
Estimate the number of times your baby drinks milk each day, for instance five times. Divide 25oz by the number (25/5 = 5oz). In this case, you need to express 5oz for each feed. However, do not force the little one to finish the bottle as she may not have the appetite after eating some solids.
Infant Formula: Infant formula or baby milk powder is designed to provide the same advantages as that of breast milk. You can either bottle feed the formula or mix it up in a cup and feed it to your baby as a meal.
What if my eight-month-old drinks more than required milk?
Ideally, you need to reduce the amount of milk to accommodate solid foods. However, if she is drinking more than the average quantity of milk, try to find the reasons behind it:
Fast flow bottles can make the baby drink more than the required amount of milk. Use low-flow bottles. Make sure that you are measuring the amount of milk that you are giving her for each feed.
The strong urge to suck while breastfeeding, can make you baby drink more. Prevent this by giving him a pacifier.
Note: At this age, your baby needs 750 and 900 calories a day. Breast milk or formula should contribute to at least 400 to 500 calories.
2. Pulses, wheat and rice
Feed your eight-month baby with cooked, non-spicy lentils. Offer freshly baked and soft chapathi (wheat bread). Avoid multi-grain bread.
3. Cereal
Feed cereals rich in iron content such as oats, ragi, barley, etc. Nutrients present in fortified cereals are not present in usual baby foods such as bread and veggies
[ Read : High Calorie Foods For Babies ]
4. Fruits
Mash them well, without lumps, and feed them to your eight-month-old. Choose from bananas, apples, avocados, pears, strawberries, cherries, peaches, and more.
5. Vegetables
Offer well-cooked and steamed foods to your baby. Cut them into small pieces to avoid choking hazard and for easy chewing. Best veggies at this age are potatoes, cauliflower, beans, peas, and sweet potatoes. They serve as great finger foods for 8-month-olds.
6. Eggs
Egg is loaded with proteins, nutrients, and is easily digestible. Begin with egg yolk and as your little one gets used to it, offer egg white. You may feed her a boiled eggs or omelet, but cut them into small pieces.
7. Fish and meat
You may offer small pieces of well-cooked meat to your eight-month-old but do not add any spice. Bites of organic, lean meat and completely de-boned and well-cooked fish are good.
8. Pasta
You may give well-cooked soft wheat or rice pasta. They make a great finger food. Do not add artificial flavors. You may add a little salt if desired. The best types are penne pasta, spiral pasta, and macaroni. Avoid maida pasta.
More finger food ideas for an eight-month baby include O-shaped cereal, well-cooked pieces of potato, teething crackers, small pieces of bagel, and bits of scrambled eggs.
9. Cheese
Cottage cheese or pasteurized cheese bits, in limited quantity, is good for your eight-month-old. Too much of anything could result in a stomach-upset or worse.
Note: Your eight-month-old may already have some teeth. Even if she does not have, jaws would be strong enough to deal with small chunks. So, serve lightly mashed, soft, and well-cooked foods.
[ Read: Baby Food Chart ]
Feeding Schedule For An 8-Month-Old
Your baby needs three meals a day with a snack or two in between. Keep a watch on her hunger cues and set a routine. The amount of food your baby eats may be smaller but that should be sufficient for her due to finger foods and thicker foods.
Also, remember that your little one is still adjusting to solid foods, so do not panic even if she is eating just one meal a day.
Offer her a range of foods with adequate nutrition. Try to offer the right amount of nutrients each day. For instance:
1/4 to 1/3 cup dairy (or 1/2 ounce cheese)
1/4 to 1/2 cup iron-fortified cereal
3/4 to 1 cup fruit
3/4 to 1 cup vegetables
3 to 4 tablespoons protein-rich food
Breakfast (early morning)
breast milk or formula – around 120ml
Mid morning (10am)
Snack or fruit such as mashed banana or porridge
Lunch (around 12:30pm)
Cereals, meat, cheese, and veggies
Mid afternoon (3pm)
Breast milk or formula milk – around 120ml
Dinner (6 to 7pm)
Bedtime (8pm)
Breast milk or formula milk – around 120ml
[ Read: Top 30 Healthy Baby Foods ]
Simple Homemade Baby Food Recipes For 8-Month-Old
Breakfast Ideas
1. Suji (semolina) upma
Preparation time: 15min
You will need:
1/2 cup semolina or suji
1/4tsp ghee
1 cup water
pinch of turmeric
pinch of salt
1/4 cup vegetables (chopped)
1/2tsp mustard seeds or cumin seeds
How to:
Take a pan and dry-roast suji while stirring. Once done, keep aside.
Pour ghee into a pan and add cumin or mustard seeds.
Add veggies, turmeric, and salt. Saute and add suji.
Add water while stirring, to avoid lumps.
Switch off the flame once it comes to a desired consistency.
2. Sweet potato porridge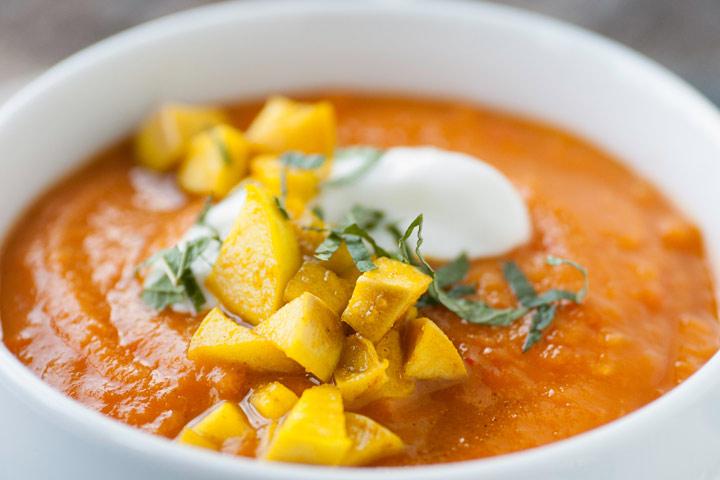 Preparation time: 20min
You will need:
2 sweet potatoes (cut, boiled)
1tsp grated jaggery
1 cup milk/ almond milk
1/4tsp cinnamon powder
How to:
Mash boiled sweet potatoes. Take off the thread-like fiber from the boiled sweet potatoes, if any.
Heat milk in a separate pan and add the mashed sweet potato and cinnamon powder. Keep stirring, continuously.
Add jaggery. Switch off the stove. Allow the porridge to cool down.
Meal Ideas
4. Vegetable khichdi
Preparation time: 15min
You will need:
1tbsp split green gram (moong dal, pre-soaked for an hour)
pinch of turmeric
1/2 cup rice (pre-soaked for an hour)
1 cup water
How to:
Add all the ingredients in a pressure cooker and cook for three whistles.
Mash well and serve warm.
[ Read: Oats Recipes For Babies ]
Snack Ideas
Wondering what snacks to give for your 8 month old baby? See the following healthy options:
6. Potato beans and pea puree (evening time)
Preparation time: 45min
You will need:
1 sweet potato
3-4 cups water
1/4 cup rice
How to:
Peel and dice sweet potato. Wash well.
Transfer sweet potato pieces to a saucepan with water and rice. Bring it to boil.
Cook for 40 minutes. Blend after cooking and serve warm.
Dinner Ideas
8. Carrot and apple soup with potatoes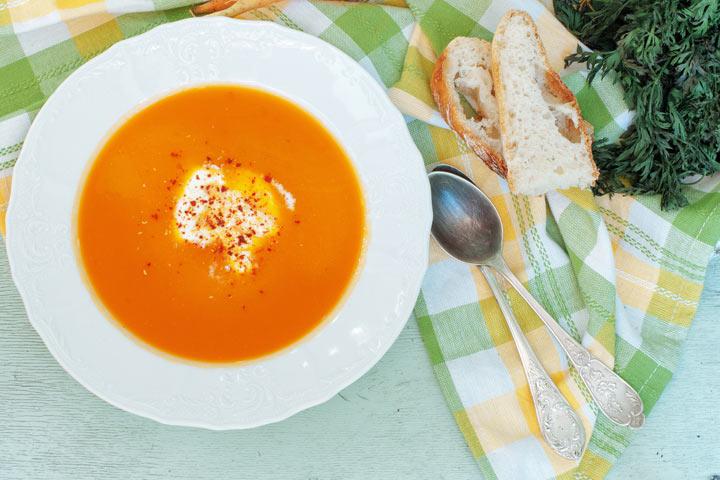 Preparation time: 25min
You will need:
1/2 cup apples (chopped)
2 tbsp carrot (peeled, diced)
1/4 cup potatoes (chopped)
1 tsp oil
1 tbsp onions (finely chopped)
1 cup water
How to:
Pour oil in a pressure cooker, add onions and saute for half a minute.
Add the remaining ingredients and cook for three whistles.
After it is cooked, blend well and serve lukewarm.
[ Read: Fruit And Vegetable Juices For Babies]
8 Feeding Tips For Your Eight-Month-Old
Feeding an 8 month old could be tiring. But, these tips will help in making the mealtime a joy for you and your little one.
Feed small portions of food through the day.
Do not feed more than half cup of food each time.
Do not introduce more than one food at a time. After making sure that the baby is not allergic or non-reactive to a new food, go for another new one. This would help you identify your baby's food allergies.
Say no to processed foods, which tend to hamper the baby's development.
Interact with your baby as much as possible during meal time.
Pick foods that boost gray cells of the brain and offer energy.
Avoid sugar or salt in homemade recipes.
Be patient. Do not worry even if your little one is a fussy eater.
Foods to introduce at 8 months are plenty, and this is the time to experiment with your baby's food. We say experiment because you do not know your baby's tastes and preferences yet. Also, you do not know what foods could trigger an allergy in her. Try various varieties, but keep an eye on any allergic reactions. If you find something amiss, then consult a pediatrician immediately.
Recommended Articles:
The following two tabs change content below.
Latest posts by Sumana Maheswari (see all)