You are more likely to gain weight to support the developing fetus during pregnancy. The growing womb, fetus, and hormonal changes can cause balance issues and foot pain during pregnancy. It may occur in relatively mild intensity in most women (1). Since taking over-the-counter pain relief medication may not be safe during pregnancy, you may have to find alternative ways to get relief from foot pain and other common foot problems in pregnancy.
Read about the causes and ways to manage foot pain in pregnancy.
How Prevalent Is Foot Pain During Pregnancy?
Women are 1.3X more prone to foot pain than men (2). Moreover, there is an increased risk of musculoskeletal (bone and muscle) disorders during pregnancy. Lower back pain is commonly seen during pregnancy, along with foot pain.
The condition may occur during the second or third trimesters and postpartum (3). The foot pain is also accompanied by deformation of foot arches and pes planus (loss of the arch of the feet or flat feet).
What Are The Common Foot Issues During Pregnancy?
The bodily and hormonal changes in pregnancy lead to changes in the lower extremities. Some common foot problems include (4) (5):
Faster growth of toenail
Roughened toenail
Swelling of the lower extremities
Unsteady gait
Widening of foot width
What Causes Foot Pain During Pregnancy?
Foot pain is likely to increase during pregnancy. Some possible causes include (6):
Forefoot pressure increases towards the third trimester.
The relaxin hormone is known to relax muscles and ligaments. It could therefore lead to inflammation and pain in the feet.
Restricted movements and lack of exercise towards the end of the pregnancy may influence the blood flow in the feet, resulting in edema (swollen feet) and pain. Also, the blood flow may be hampered to and from the lower parts of the leg due to the growing fetus, causing foot pain.
How To Relieve Foot Pain During Pregnancy?
Some measures that could help relieve foot pain during pregnancy are (7) (8):
Take a short break in between work and relax your feet.
Massage your legs to ease swelling.
Keep your feet elevated for a while to relieve pain and ease swelling.
Having plenty of water during pregnancy is a good way to remain relaxed. According to the American College of Obstetricians and Gynecologists (ACOG), you should have at least eight cups or 64 ounces of water daily.
Wear comfortable shoes and socks for walking and physical activities. It should not be too tight to disrupt blood circulation.
Perform pre- and post-warm-up sessions before practicing strenuous exercises.
Practice gentle physical activities to strengthen muscles and stay healthy during pregnancy. Walking, swimming or squatting are beneficial during pregnancy.
Avoid crossing your legs while sitting.
You may use arch support (shoe inserts) to relieve foot pain during pregnancy.
Frequently Asked Questions
1. Can I put my feet in hot water during pregnancy?
Having an at-home spa for your feet with lukewarm water will give a soothing experience during pregnancy (9). It is a good idea to add half a cup of Epsom salt into lukewarm water and keep your feet soaked for some time to help reduce swelling in the feet. The water should not be too hot, and warm water is preferable.
2. Is foot pain a sign of early pregnancy?
Foot pain is common during pregnancy, and it may be considered a sign of pregnancy (10). However, it is best to rely on a reliable method of detecting pregnancy or consider a pregnancy test.
Pregnancy in a later stage is associated with foot pain and discomfort. Although foot pain is common, pregnant women usually take the discomfort due to negligence and avoidance of medications. Adding a regular exercise regime to your daily routine and maintaining a healthy lifestyle may help you remain active and strengthen your muscles.
References:
MomJunction's articles are written after analyzing the research works of expert authors and institutions. Our references consist of resources established by authorities in their respective fields. You can learn more about the authenticity of the information we present in our
editorial policy
.
The following two tabs change content below.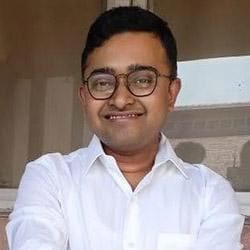 Anshuman Mohapatra
Anshuman Mohapatra is a biotechnology scientist with more than six years of research experience in analytical chemistry and biotechnology. He has submitted his Ph.D thesis at the Indian Institute of Technology Guwahati (IIT Guwahati) and served as a research fellow (JRF/SRF) during his Ph.D tenure. His research interest includes analytical chemistry, neurobiology and lipid disorder diseases. Three of his research...
more