During pregnancy, your feet swell, your heels ache and walking becomes difficult. In such circumstances a pair of comfortable shoes can do wonders. You require the right kind of pregnancy footwear to not only give you comfort but also keep your baby safe.
MomJunction is here to tell you how to choose the best footwear keeping in mind many criteria. So make your pick now!

Why Is It Essential To Wear The Right Shoes During Pregnancy?
Your body goes through many changes that impact your feet along with the rest of the body. The increasing weight, changing body shape, alters the center of gravity and affects the way you walk (1). This, in turn, puts pressure on your back, feet, and ankles, which require you to wear the right maternity footwear.
During the later stages of pregnancy you may suffer from some feet problems. Let us understand these and see how the right footwear can prevent them.
1. Swollen legs and feet:
The growing uterus puts a lot of pressure on the veins of the pelvic region, and slows down the flow of blood from your legs back to the heart. This forces the fluid from the veins into the surrounding tissues of your feet and ankles leading to swelling (2).
As the feet now increase in size, you will require a bigger sized shoe.
2. Arch and heel pain:
Due to the increasing weight, the arch height of the feet reduces. The arch flattens out and touches the ground causing your footsteps to roll inwards. This places an unusual strain on the plantar fascia ligament (tissue that connects the heel bone to the toes) leading to pain in the heels and ball of the feet (3).
You may have to wear shoes which support your arches, cushion heels, and offer room for the toes. They help prevent falls and maintain balance.
3. Varicose veins:
The blood circulation in the lower body slows down during pregnancy and the blood pools in your veins. It bulges and widens the walls of the blood vessels near the skin surface. This leads to blue or purple swollen veins called varicose veins that are visible under the skin. You may feel that your legs are heavy and painful, and the skin may itch or burn (4).
You should wear flat or low heel shoes as they work great on your calf muscles and foster healthy circulation.
4. Ligament sprain and trauma:
During pregnancy, the levels of relaxin hormone increase, thus improving the flexibility of the collagen. The collagen loosens the ligaments so that your pelvis is flexible during delivery. These changes affect the ligaments in and around the pelvis and increase the chances of sprains and trauma (5).
You may have to wear supportive footwear to limit the risk of sprains in the ankle and lower limb injuries.
Preventing your feet from injury is easier when you choose the right kind of footwear. Keeping that in mind, we give you a list of qualities that you should consider before buying pregnancy footwear.
Buy shoes with toe spaces and ones which grow as your feet swell up during pregnancy.

3 Qualities Of Perfect Pregnancy Shoes:
The footwear you are buying should not only be comfortable but also help you balance your centre of gravity. Here are a few things to consider to have happy feet during pregnancy:
Choose footwear that is easy to put on without the need to bend. Starting seventh month, it would be difficult to wear shoes that require you to bend over, thanks to the big, baby bump. Therefore, slip-ons without any laces are most suitable.
Choose shoes which support your arch and ankle. Your ankles and feet become sore and the condition worsens if you are not wearing the right shoes. Shoes with good support and comfort will reduce the joint pains you experience when walking.
Consider buying footwear that is a half or one size bigger than your actual size. This extra room is needed for your feet as they would swell at some point in pregnancy (6).
Besides the above qualities, you might need a few tips on preventing fatigue and exhaustion from standing for long periods.
Tips to choose best maternity shoes:
Choose flat-soled footwear during pregnancy. If you do not want complete flats, you can choose heels, but which are low and wide.
Wide heels will help distribute your weight over your soles as well as prevent or reduce foot pain. Low heels will reduce your chances of falling or tripping.
Make sure that the heel size is not more than two inches. The heel should not be pointy.
In case you do not find the right kind of footwear to support the arch, you can choose inserts that can fit into to your regular footwear.
Choose footwear that is breathable so that it will not trap any sweat. Canvas shoes are the best as they do not trap any moisture.
If you are planning to buy flats, choose the ones that have a wider base and are not pinched at the toe area.
Lofers are a great choice as they look stylish, are comfortable, and low-heeled. They do not hurt your feet even if you have to do some walking.
Sandals make a great choice when you want to keep it casual, as they are flat and will also let your feet breathe easily.
Sport shoes or sneakers will be perfect if you have to do a lot of walking during pregnancy.
Now that you know what to look out for in pregnancy shoes, let's take a look at the types of pregnancy shoes.

What Is The Best Footwear To Wear During Pregnancy?
There are two types of footwear that are most suitable during pregnancy to help keep your feet comfortable and your body safe.
Flats: As mentioned above, flats are an excellent choice as they won't hurt you. They are easy to slip in and require no bending to tie unlike fancy shoe laces. In flats too, you can choose the ones which offer good ankle support.
Sandals or flip-flops: These can be easily slipped in without bending. You can also wear them with socks during winter. Sandals or flip-flops can also be worn at home or indoors for comfort.
Besides the above, there are different types of footwear that you can wear for different occasions.

Types Of Maternity Footwear:
Irrespective of the trimester you are in, you can pamper your feet and reduce the discomfort with the footwear you love.
Casual shoes are perfect to wear at home and outside. They offer a proper grip while walking around and are comfortable. Thanks to the variety in the category, you pick shoes to match your maternity outfit. Here are a few casual shoes you can choose from:
If you are a working woman, you should choose work shoes as you would be spending more time on your feet. They will provide you the required support without torturing your feet (7).
Pregnancy demands light exercises, and you could buy supportive athletic shoes. They will keep your feet, soles, ankles, and arches comfortable while you engage in moderate physical activities such as walking, light aerobics, etc. You could try the
Boots can also be comfortable, especially in fall and winter seasons. Choose boots which have a proper heel support, and have a wider calf or a little stretch. The below are some best boots you can wear during pregnancy.
Summer sandals can be more satisfying to wear than any other footwear, especially during summers. They are airy and do not trap moisture in your feet. They let them breathe easy. They also provide additional support against aches and pains when you walk. All of the below summer sandals will make your feet happy.
You may consider crocs during summers. They are easy to slip in, lightweight, waterproof, and have a comfortable sole which is suitable even for beaches. The below crocs options will pamper your aching feet:
Besides the above list, we have a few more footwear that can be considered during pregnancy.

Top 10 Pregnancy Footwear:
Here is a selection of some beautiful and best maternity shoes that you can choose.
1. Pregna Belly Maternity Belly Shoes: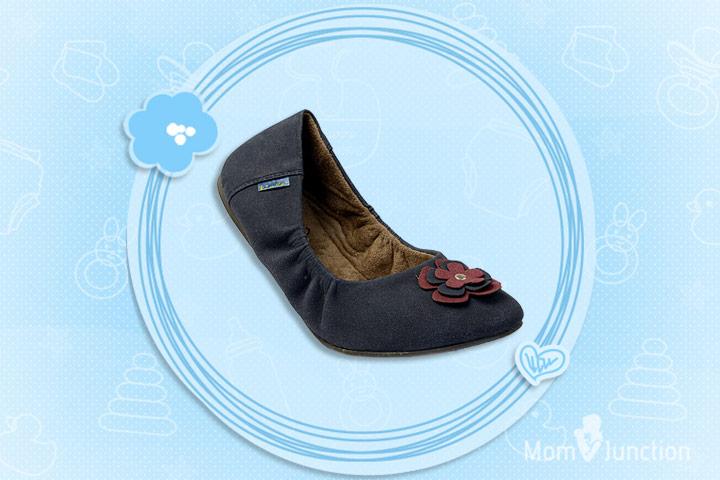 The Pregna Belly shoes by Elevato will expand and contract up to one size on their own, as your pregnancy progresses. It is one of the best choices out there.
It has an anti-skid TPR sole.
The belly shoe comes with a Dutch flat base and has a power cushioning for extra support.
It also comes with a breathable concept that will keep your feet airy and prevent any sweat buildup, preventing itching or odor.
The belly shoe is made of comfortable material – Lycra flexi-leather.
It also comes with added aloe vera protection to manage any sweat on the feet.
The soft, fleece-lining and careful construction of the shoe will prevent any shoe bites.
2. Crocs Maternity Walu Canvas Loafer Shoes Slip On: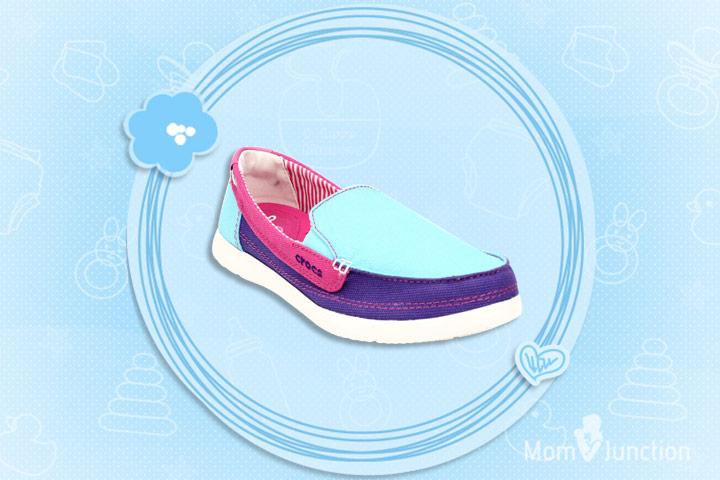 The stylish, refined, and comfortable loafers from Crocs Walu Canvas are your perfect blend of style and comfort.
The loafers have a canvas upper body and suede accents.
The shoe has microfiber inserts that are removable and will add extra comfort and cushioning to your feet.
The shoes are easy to wear, and you can easily slip them on, without the need of bending down or spending time tying laces.
The loafers also come with adequate side ports that will increase the breathing capacity of your feet.
The heels are flat, which means that you do not have the risk tripping or falling.
3. Crocs Maternity Clog Shoes Slip On: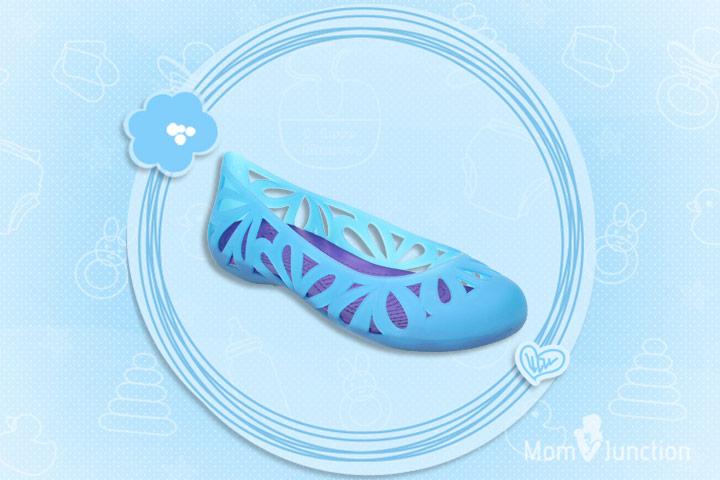 The Crocs maternity clog shoes are the best pregnancy shoes. They are great during your pregnancy as well as your new mommy phase.
These Crocs are easy slip-ons. They come with a perforated design that will allow your feet to breathe easily and not let any sweat or dirt accumulate, preventing itching or feet odor as well.
The clogs come with footbed nubs that will give your feet a massage-like feeling.
The clogs from Crocs also have the Crosslite material on the upper portion, the sole as well as in the lining. It makes the footwear lightweight and easy to clean too.
The outer material is made of eco-friendly footwear materials, and the heel is completely flat.
4. Crocs Maternity Wear Flip Flops Slip On: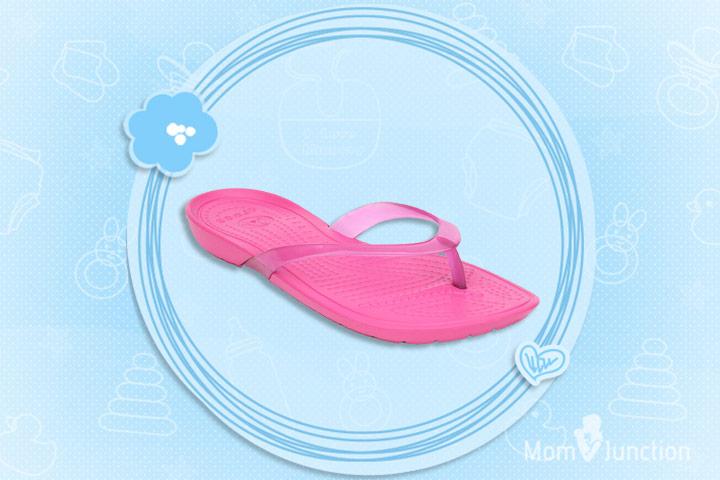 These comfortable flip flops from Crocs will add an extra cushion to your feet while adding that dash of color.
The flip flops from Croc will be perfect during your pregnancy months as well as once you have your baby.
The upper portion of the flip flops is made of synthetic material while the soles are made of Croslite.
The footwear is lightweight and very easy to clean, and lasts long.
The open design will give your feet easy breathability and will prevent any sweat buildup that may have otherwise lead to itching and feet odor.
5. Elegant Leather Summer Sandals Casual Flats Slippers Maternity: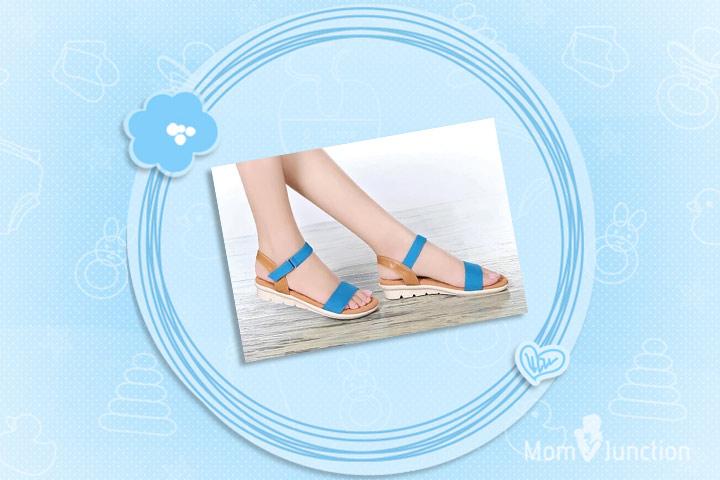 These extremely stylish and elegant summer slippers from Rigoal will be a glamorous addition to your comfortable footwear during pregnancy.
The sandals come with a wide base platform heel.
The side vamps are open and will provide easy air flow to your feet that will prevent any sweat buildup and will prevent any itching or feet odor.
The upper material used in the sandals is PU while the insole material is made of rubber.
It comes with a buckle as well as an ankle strap and the style of the leather used in the sandals is soft.
The heel is styled as a wedge, and the toe cap style is open.
6. Leopard Print Moccasins Comfortable Maternity Flat Shoes In Casual Ballet Flats Style: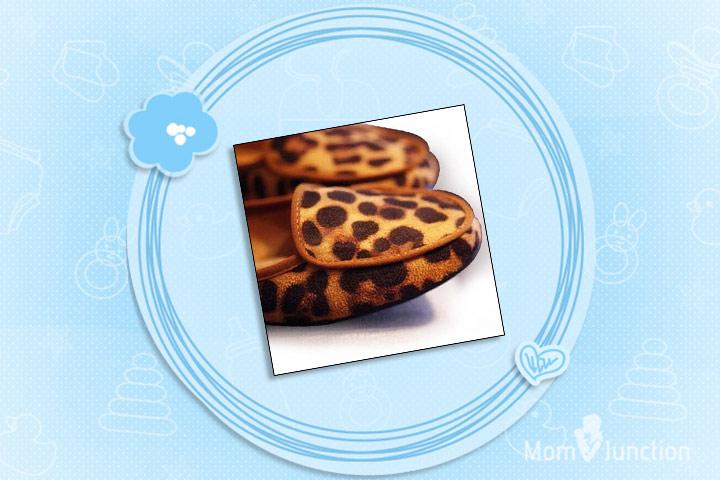 Animal prints are always in style and leopard prints are the style statement to go to.
The gorgeous moccasins in a casual ballet flat style make very stylish and comfortable shoes for pregnancy.
The width of the shoe is medium, and the height of the platform is between zero and three cm.
It is a slip on style of shoe which does not require you to bend for tying.
The toe shape is round, which will give extra space to your toes even when your feet swell or grow as your pregnancy progresses.
The insole material is made of rubber while the upper material of the shoe is made of PU.
The decorations on the shoe are plain, and the design is printed.
The style of leather is soft leather, which will sit comfortable on your feet and will not cause any friction.
The outsole material is also made of rubber and the material used in the lining is PU.
The casual ballet flat style shoes can be worn during different seasons, and whether you are pregnant during the summers, winters, spring, or autumn, you can still wear it with ease.
7. Women's Single Bow Flat Casual Maternity Footwear: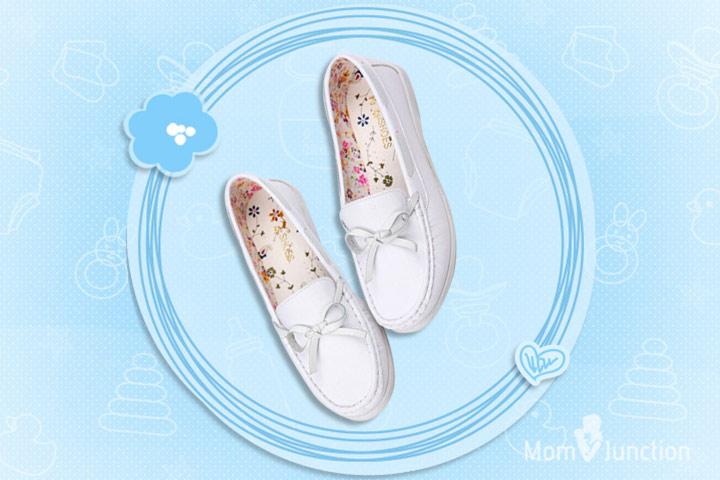 The gorgeous single bow flat casual shoes from the brand Zugang are beautiful in their classic floral pattern and super comfortable in their flat style.
The width of the heels is medium, and the height of the platform is between zero and three cm.
The closure type is a slip on, which will make it extremely easy for you to wear without having to bend down to tie any shoe laces and without having to spend too much time.
The toe shape is round and will provide you with a lot of leg room as your feet grow during pregnancy.
The insole material used in the shoe is rubber while the upper material is synthetic.
The style of the leather is soft, which means that the shoe will not cause any friction with your feet and will not result in any shoe bites either.
You can wear the beautiful flats as a pair of casual footwear or also team them up with a free flowing maxi dress and some beautiful accessories to give it a dressy look.
The opening depth has a shallow mouth that will provide ample leg and foot space as your pregnancy advances.
8. Flat Styled Knee Length Boots: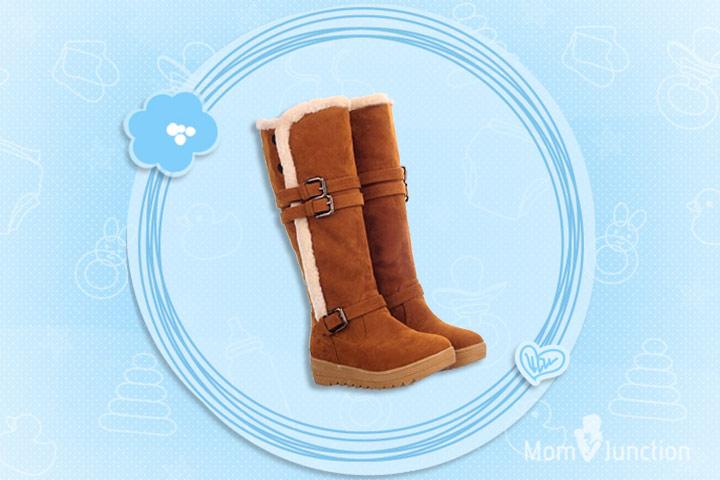 Who said you cannot wear super stylish boots while you are pregnant? If you had any doubts, check out this awesome pair by
The boots are knee-length, giving it a higher level of style and glamor.
The width of the shoe is medium, and it is ideal to be worn during the winter months.
The height of the platform is between three and five cm. It comes with a buckle strap to be closed.
The height of the boot reaches up to mid-calf.
It comes with a round shaped toe area that will give your toes enough room to move around and feel comfortable, even as your pregnancy progress.
The material used on the insole is PU and the style of leather used for the boot are nubuck leather.The material used in the lining is plush, which means that it will remove any chances of friction between the
boots and your legs, giving you immense comfort.
The shoe has a flat heel, and the boots can be worn in snow as they do not skid.
9. Creepers Platform Shoes: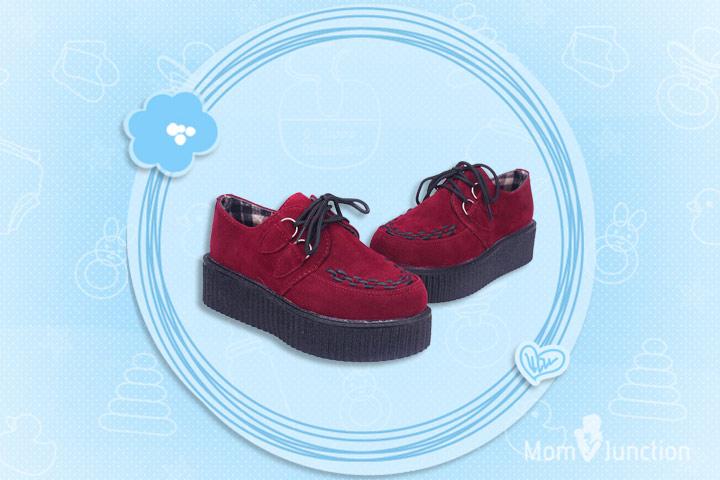 The beautiful platform shoes from the brand Creepers will add funk and glamor to your pregnancy outfits while keeping your feet comfortable.
The shoe soles are flat, and the width of the shoe is medium.
The height of the platform is between three and five cm.
The shoes can be closed with an elastic band closure that will make it easier for you to wear them.
The shape of the toe is rounded, which will add extra space to your toe region, even when your feet swell as your pregnancy progresses.
The material used in the insole is rubber while the material used in the upper part of the shoe is canvas.
The type of pattern used for the shoe is solid, and the style of leather is nubuck leather.
The material used for the lining is cotton fabric, which will make it comfortable for you to wear, without causing any friction or shoe bite.
10. Flat Shoes In Casual Ballet Style: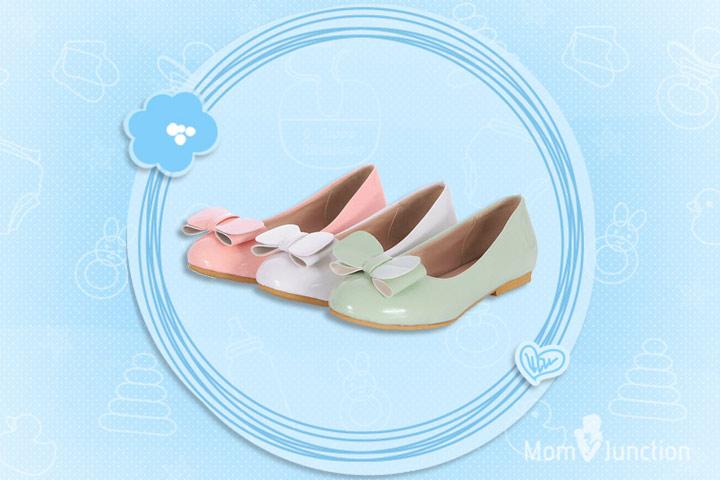 The beautiful ballet style shoes will make your casual wear, as well as your maternity dresses stand out. It is one of the most comfortable shoes for pregnant women.
The upper material of the ballet shoes is made of poly synthetic leather while the outsole is made of rubber.
The width of the shoe is medium, and the closure is a slip on, which will help you wear them easily.
The decoration on the casual ballet style shoe is bowtie, with a rounded toe shape, which means that even as your feet swell or grow during the months of pregnancy, you will not feel any discomfort.
The height of the platform is between zero and three cm.
And this is not all! We have handpicked some celebrity footwear just for you.
Celeb Moms In Maternity Shoes:
Here are a few celebrity mommas who show you how to strut your maternity footwear in style:
1. Hilary Duff: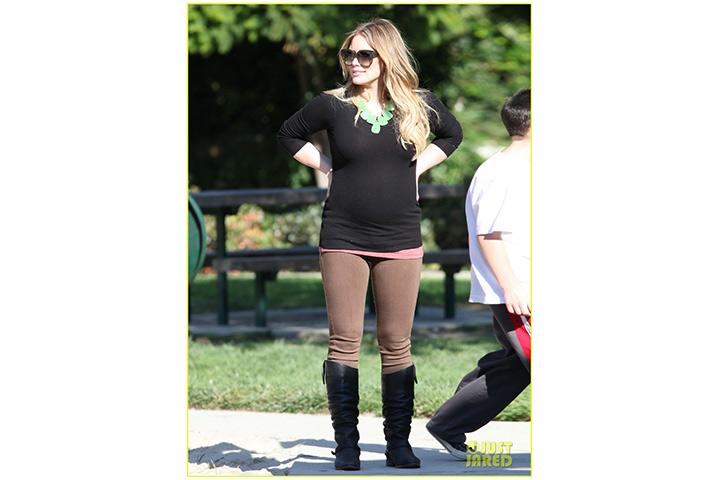 Hilary Duff wears her gorgeous calf-length boots that are flat and are perfect for her pregnancy months. Here, she is wearing a pair of jeggings and looks as comfortable as ever.
2. Jessica Alba: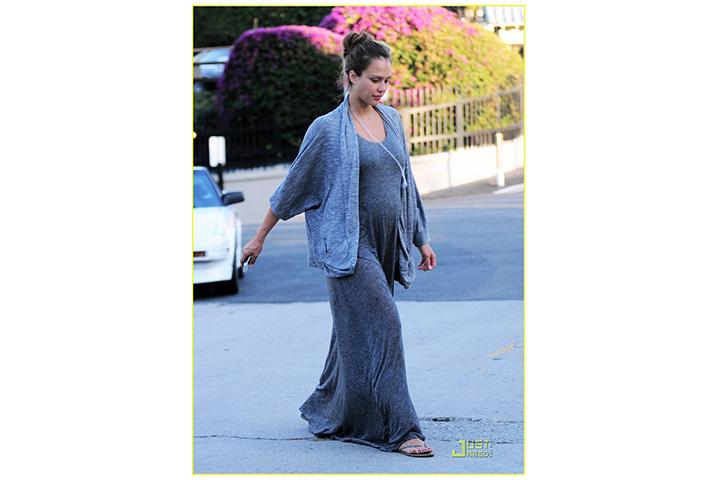 Jessica Alba is heavily pregnant in this image, and her boho, chic style is absolutely gorgeous as well as extremely comfortable. For this look, the actress is wearing a pair of flats that she has paired with a free-flowing and long maxi dress, complete with a shrug.
3. Gwen Stefani: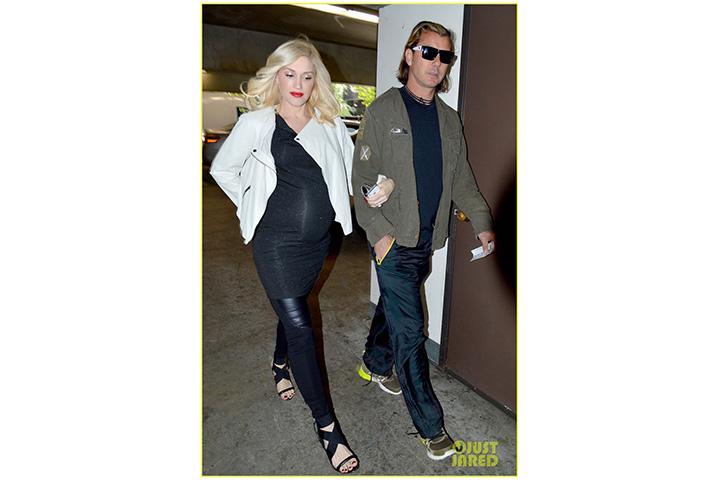 The stylish musician is wearing a pair of oh-so-comfortable, yet stylish flats. She has paired the same with a pair of comfortable black jeans and a color-coordinated black and white, flowy top.
4. Drew Barrymore: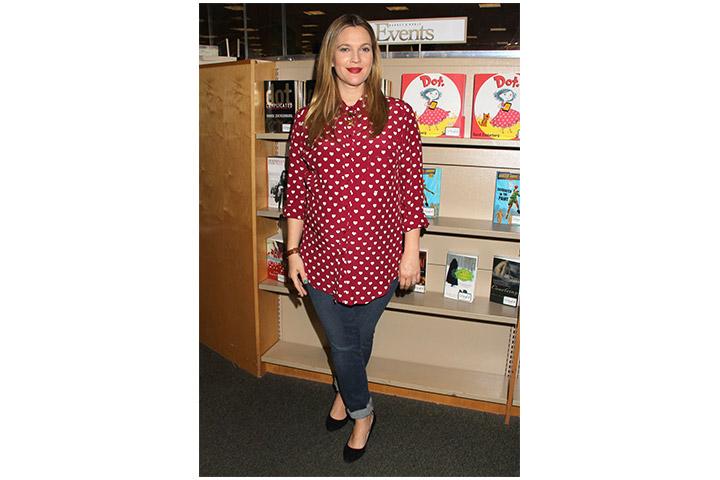 In this image, the cute and talented actress Drew Barrymore is wearing a pair of heavy-duty boots with a flat base. She has paired them with a pair of faded ripped jeans, plain white tee shirt, and a loose shirt on the top.
5. Reese Witherspoon: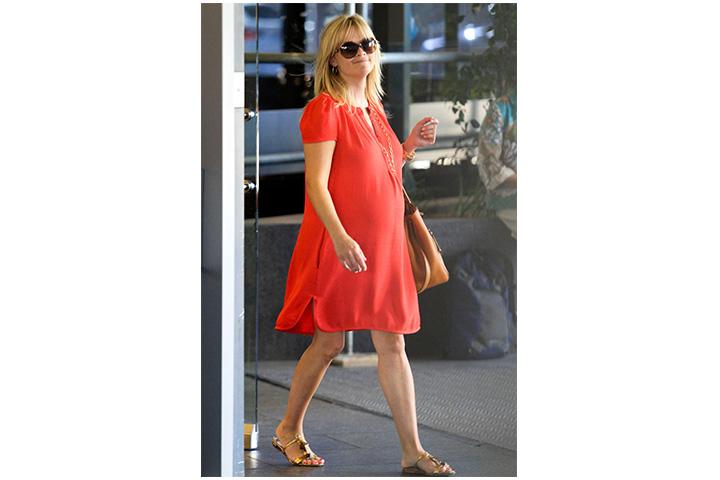 The image shows actress Reese Witherspoon out on a grocery shopping trip. She is wearing a pair of comfortable yet dressy sandals in a golden hue and has matched it with a bright, red shirt dress. The only accessories she seems to have are her tan handbag and a watch.
6. Alyson Hannigan: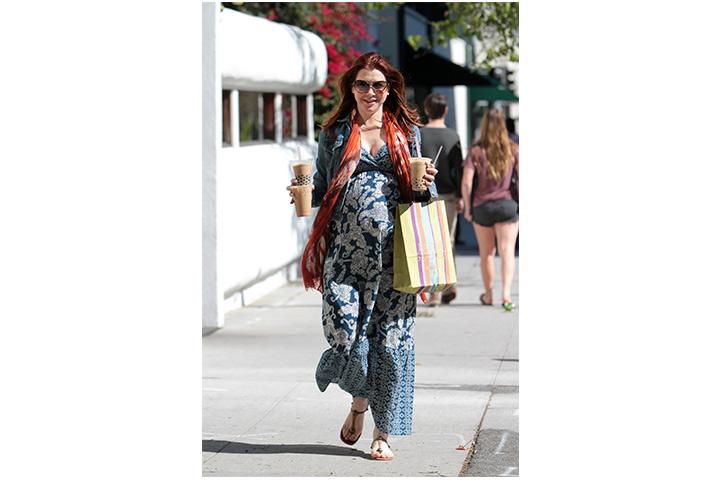 The cute actress Alyson Hannigan is seen in this picture wearing a pair of bright pink, candy flats that she has paired with a neutral, toned black dress.
7. Genelia D'Souza Deshmukh: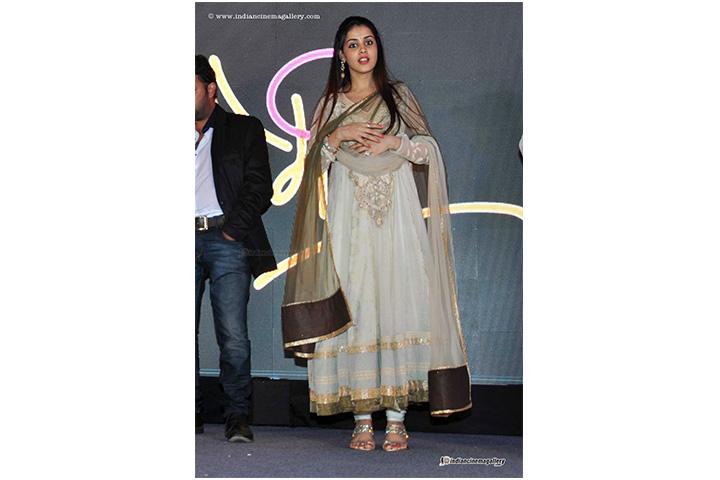 Actress Genelia D'Souza Deshmukh is wearing a pair of very dressy and comfortable golden sandals paired with a bright gold and cream free flowing Anarkali suit.
The above-mentioned tips can help you pick the best footwear for your pregnancy. Just make sure the shoe you choose is comfortable, breathable, and has enough room for your growing feet.
When your feet are happy, you would be too!
Do you have any more ideas on maternity footwear? Share your thoughts in the comments section below.
Recommended Articles:
The following two tabs change content below.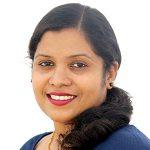 Latest posts by Rebecca Malachi (see all)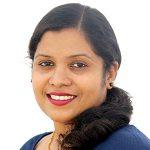 Rebecca Malachi
She is a Biotechnologist with a proficiency in areas of genetics, immunology, microbiology, bio-engineering, chemical engineering, medicine, pharmaceuticals to name a few. Her expertise in these fields has greatly assisted her in writing medical and life science articles. With 8+ years of work experience in writing for health and wellness, she is now a full-time contributor for Momjunction.com. She is passionate about giving research-based information to readers in need. Apart from writing, she is a foodie, loves travel, fond of gospel music and enjoys observing nature in silence. Know more about her at: linkedin.com/in/kothapalli-rebecca-35881628