As a toddler, your little one will is probably curious about the many animals and birds he sees around him. From images in books to objects and creatures around him, everything is a treasure house of learning and education for your little one.
One animal that has captivated many a toddler's attention is the frog. The frog has been a part of popular culture ever since the Brother's Grimm decided to pen 'The Frog Prince.' So, if you would love to learn interesting frog activities for toddlers, do scroll down and peruse our list of ideas:
1. F For Frog:
Write capital F on a piece of paper.
Let your toddler write on the outlines of 'F' while you tell them that F is for 'frog.' Once your toddler has done the outlining a few times, ask them to color the F with a color of their choice. You can also ask them to color it with the color green. Tell them that as a frog is green, they can also use the same color to color the letter it starts with.
Now draw the image of a frog next to the letter 'F' and ask your toddler to color it in as well. This is one of the interesting frog themed activities for toddlers which helps them to learn more about frogs.
[ Read: Ladybug Crafts For Preschoolers ]
2. Frog Mask:
Cut out a big oval shape from a white sheet of paper.
Cut out one side of the oval shape in such a way that it helps to create the ears of the frog.
Hand out paints and decorative items to your toddler so that they can help to complete the look of the mask.
Let your toddler paint the frog in green and glue on googly eyes at the front.
To make it funny, you can also help your toddler cut out a piece of red or pink paper and stick it on, this is the frog's tongue.
Once the mask is colored and decorated, help to make two holes on each side. Loop a ribbon or string through the same so that your toddler can wear it.
3. Paper Plate Frog:
Help your toddler trace their hand on a piece of paper plate.
Next, help them cut the same along the outlines.
Give your toddler some green paint to paint the hand outline with. Set it aside and let it dry completely.
Once it is completely dry, your toddler can attach a pair of googly eyes on the base of the palm to make the eyes. Let them draw on the fingers with some black markers to make some funny hands and feet.
You can loop it with a string and hang it up in your toddler's room. Explore this activity as it is one of the best frog activities for children.
[ Read: Dinosaur Activities For Preschoolers ]
4. Rainy Day Frog:
Tell your toddler that frogs are most often seen when it rains and that they love to hop around when it rains.
Draw a simple frog shape on a white piece of paper and let your toddler color it with the color green. Let them also draw the eyes with white and black color.
Once the frog drawing is complete, ask your toddler to make some fun rain images. You can help them by telling them about clouds and rain drops that are a part of the rainy season.
Let your toddler draw the same around the frog to build up a rainy day frog image.
[ Read: Dolphin Crafts For Preschoolers ]
5. Lily Pad Jumping:
Tell your toddler that frogs love to jump in the lily ponds from one green frond to the other.
If you have green cushions at home, you can place them on the floor and make lily pads where your toddler can jump.
Alternatively, you can cut out big leaf shapes from green paper and place them on the floor for your toddler to play on.
Frogs are rather interesting creatures that will surely arouse your toddler's curiosity. Help your little one learn more about frogs with these easy and interesting activities.
Recommended Articles:
Comments are moderated by MomJunction editorial team to remove any personal, abusive, promotional, provocative or irrelevant observations. We may also remove the hyperlinks within comments.
The following two tabs change content below.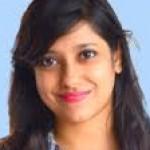 Latest posts by Debolina Raja (see all)