Are you breastfeeding? Do you find yourself browsing health charts and diet plans to ensure that your little one gets all the necessary nutrients? Do you wonder what fruits you should consume during this special phase? If you nodded along to these questions, read this post.
Fruits are a good source of essential vitamins and minerals and help prevent deficiency of vitamin A and C. Fruits can be a healthy addition to a nursing mother's diet as they are rich in vital nutrients such as potassium, folate, and antioxidants (1). Read on to know about the best fruits to eat when breastfeeding.
1. Green Papaya:
Green papaya is the green, unripe variety of the golden yellow papaya. Green papaya is one of the best galactagogues, which means that it is an agent that helps mothers to make more breast milk. The enzymes in green papaya enhance milk production and also provide you with essential vitamins like Vitamins A, B, C, and E.
2. Apricots:
If you are a lactating mom, you should include some apricots in your diet. Apricots are rich dietary sources of vitamin C, A, calcium, and potassium. Apricots boost levels of important chemicals called phytoestrogens, which mimic the activity of estrogen. These chemicals help regulate milk-producing hormones in females and increase milk supply.
3. Avocados:
Avocados are rich sources of essential fatty acids like omega-3 fatty acids, omega-6 fatty acids, and omega-9 fatty acids. These amino acids are essential for many body functions and help you produce rich breast-milk. Avocados are wonderful for maintaining your blood sugar and cholesterol levels. Consider including a couple of avocados in your salad or eat them as a quick snack.
4. Strawberries:
Strawberries are lip-smacking. As a nursing mom, you should include these amazing fruits in your diet. They are full of iron and boast of an array of vitamins like Vitamin C, calcium, potassium, and magnesium. If you are allergic to strawberries or someone in the family has a history of strawberry allergy, consult your doctor before you eat them. This is because allergens can also affect your little one through your breast milk.
5. Banana:
If you are looking to increase your folic acid levels, include bananas in your diet. Bananas are rich in other vitamins and minerals as well. Bananas also help you replenish calories that you lose while breastfeeding your little darling.
6. Sapodilla (Chikoo):
Breastfeeding is a tiring activity, and you will need the energy to feed your baby. Thus, you need to supplement your diet with energy-rich foods to prevent any nausea, vomiting, or faintness. Sapodilla or chikoo is a tropical fruit and one of the best fruits for your body. Chikoo provides your body with the strength and energy to nurse your baby.
7. Blueberries:
This is one of the best fruits to eat during breastfeeding. Blueberries are veritable storehouses of essential nutrients. Their natural antioxidant properties also help protect you from infections. Blueberries are especially rich in vitamins and minerals like vitamins A and K, calcium, potassium, and carbohydrates.
8. Cantaloupe:
When you are pregnant or nursing, your body will need a steady flow of vitamins and essential minerals. To fulfill your nutrient requirement, consider consuming some cantaloupes or sweet melons. You can snack on these fruits or add them to your dessert in a fruit salad.
Frequently Asked Questions
1. Which fruits should I avoid while breastfeeding?
Fruits, or any food items, do not affect the quality of breastmilk (2). It is generally advised that lactating mothers avoid strong-flavored and acidic fruits as they might affect the quality and taste of breastmilk. But research has suggested otherwise. Lactating mothers are advised to continue eating all types of food and only refrain from them if the baby reacts adversely to it.
2. Which fruits can cause gas in breastfed babies?
In the case of breastfed babies, gassiness is mainly caused due to swallowing too much air while eating fast. Most babies can condone the majority of food that their mothers consume. However, keeping an eye on your baby's tolerance patterns is also advised. If some food you had makes them uncomfortable or gassy, it is better to avoid it for the time being (3).
Certain fruits to eat while breastfeeding can help you gain back strength. As breastfeeding is a special moment in a woman's life, you may not want to avoid it or deprive your baby of nourishment. However, it is tiring and requires patience and practice to do it the right way. Therefore, it is vital to nourish yourself by binging on highly nutritious fruits. Remember, breastfeeding is a deep bonding experience with your baby, and it should make you feel special and keep the baby healthy.
References:
MomJunction's articles are written after analyzing the research works of expert authors and institutions. Our references consist of resources established by authorities in their respective fields. You can learn more about the authenticity of the information we present in our
editorial policy
.
The following two tabs change content below.

Jessica Albert is a passionate writer who seeks to connect with her readers through wit and charm. Her work aims to invoke curiosity and keep the readers engaged through and through. She has prior experience working with magazines and e-commerce establishments as a content marketer and editor. Being a mother herself, she puts all her knowledge into creating content about...
more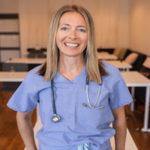 Dr. Jessica Madden
(MD, FAAP, IBCLC)
Jessica Madden is a pediatrician, neonatologist, lactation consultant, and mother of four, who has been taking care of newborns since 2001. She works as a neonatologist in the NICU at Rainbow Babies and Children's Hospital in Cleveland, Ohio, and founded Primrose Newborn Care, a newborn medicine and "4th trimester" home-visiting and telemedicine practice, in 2018.  Dr. Madden is a Fellow...
more