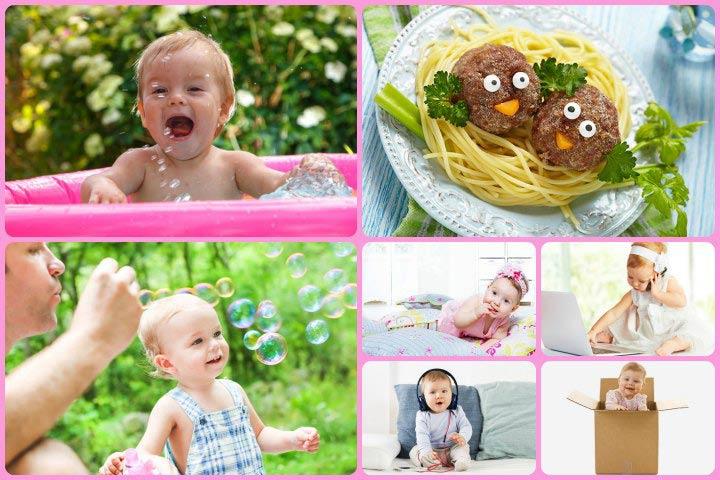 While pregnancy may be one of the life-changing experiences you may come across, motherhood is something that you will never forget, especially if you're a new mom!!
The joy of watching your little baby grow, laugh and respond to your talks, trying to crawl and sleep beside you cannot be expressed in words.
Every month you baby grows and it's upon you as a parent to engage your darling in interesting activities. Make sure the activities you choose should be fun, and on the other hand helps in developing cognitive senses of your infant. To aid you on that we have compiled a finest set of activities, have a look.
Top 10 Activities For 8 Month Old Baby:

By now, babies become an expert in sitting and probably crawling too. They remain active and energetic; always moving around and exploring. It is now the right time to introduce certain activities and keep them busy.
Here we bring you a list of some really good 8 months baby activities to try out that will help them achieve a new milestone of development.
1. Water Play:

It's time to make bathing time more memorable for your little kid. Get him to the bathroom and place a container filled with water beside him.
Allow your baby to splash, grab and pat at the water… most babies love the mess this creates!
You can also add some bathroom toys and ask your baby to try and grab them as they float over the water; this is a great way to improve hand-eye co-ordination and motor skills.
Talk to your kid while he plays in the bath – introduce simple words like water, tap, mug etc.
[ Read: 8 Month Old Baby Development ]
2. Sticky Ball:

Use a simple plastic ball (a medium sized to make sure that your baby doesn't try to swallow it) and wrap it with sticky tape.
But wait! Here's the catch; you have to make sure that the sticky side of the tape is out!
Once you've covered the ball firmly, hand it over to your kid. Watch him explore and try to separate the ball stuck to his hand
Through this activity, your child is actually accomplishing and learning as he moves the ball back and forth between hands.
3. Have Conversations:

If you haven't done that already, now's the time to introduce the art of conversation to your kid. Take out a few minutes from the day, get him on your lap, and talk to him about his experiences.
Did he play with the ball today? Talk to him about it… how he chased the ball from the living room to the bedroom.
It's also a great idea to introduce him to his day to day activities. As you take him for a bath, explain him how the water will clean his body.
Colors, shapes and places play great importance now. Using a picture book, introduce him to animals, simple objects and food items.
[ Read: 8 Month Baby Food ]
4. Climb The Mountain:

Using pillows and cushions create a mountain on the bed or on a mattress and ask your kid to climb on it. This is one of the interesting 8 months old baby activities.
You may have to help him out occasionally, but allow him to do majority of the climbing himself.
This exercise will help your kid develop more balance, co-ordination and strength.
It will also give him an exposure to new challenges.
[ Read: 8 Month Old Baby Sleep ]
5. What's Inside?
Pick up a cardboard box that has an opening on the top. It should be large enough for you to place his toys inside and remove them.
Now carefully carve out a small opening on top of the box for your kid to insert his hand inside and pull his toys out and ask him: what's inside?
Your kid will enjoy the mystery of pulling out unknown objects.
Trying these simple activities will help your baby develop and grow into an active and smart kid.
[ Read: Baby Boy Growth Chart ]
6. Into Mom's Closet:
Little kids love exploring new stuff, and there's nothing better than getting him engrossed and entertained while you clean up your closet.
Pile up all your clothes, shoes and accessories on the floor.
While you sort out the ones you'd like to discard or keep, your little one can check out all the stuff.
Little kids particularly love exploring something that's glittery, shiny or embellished… so make sure you hand over some of these.
7. Dance & Sing:

Your kid is on his way to development, and you've got to support him through that, and there can be nothing better than trying some singing and dancing.
This will encourage physical activity and improve your child's motor skills.
Also, singing some nursery rhymes will encourage your kid to speak and learn new words.
You could make it more entertaining by mimicking the sounds of different animals or using a hand puppet or similar props.
8. Crawling Through The Tunnel:

The first few months of your kid mark a tremendous growth in his social and personal skills. He will now be learning to crawl and draw your attention towards him.
To keep such a child busy can be quite a task, but setting up a cute little tunnel right in the comfort of your home may just do the trick.
Pick up a few cardboard boxes and open them from opposite ends. Place some props (toys, balls, etc) inside and get your child to crawl through, exploring everything that comes his way.
Make sure you place kid-safe materials inside!
[ Read: 9 Months Baby Activities ]
9. Bubbles Everywhere!

There's some practically magical about bubbles… just the sight of them is enough to draw attention to them!
If your kid is a making a fuss and is really bored, you could easily get him busy by blowing some soap bubbles.
This also works if your kid is one of those who don't really enjoy bath time.
You can easily pick up the bubble soap liquid at local stores or even make one yourself!
[ Read: 7 Months Baby Activities ]
10. Investigating The Spaghetti:
Kids love spaghetti! So why not combine food with an activity and enthrall your child for some time?
A cool trick to get your kid interested is to get some colourful spaghetti from the market (alphabetical and star shaped ones work well too).
Boil the spaghetti, and place them in a bowl. Add some interesting ingredients like olives and cheese.
Get your kid to explore and enjoy the contrasting colors and the slimy strands.
These simple activities for 8 month old baby will not just help improve your kid's motor and cognitive skills, but will also keep him busy and probably less cranky too!
Please do share with us some more similar 8 month old baby activities that you love to play!
Recommended Articles:
The following two tabs change content below.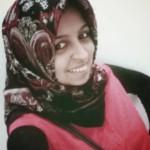 Latest posts by Enozia Vakil (see all)