Did you just have your home pregnancy test which appeared positive? And you have butterflies in your stomach, on how to share it with your husband? Are you looking for some cool and fun ways on how to tell your husband you are pregnant?
Well, then you are at the right place. We bring to you some naughty yet cool and fun ways to tell your husband you are pregnant. Just read this post.
1. Let Your Pet Help You:
If you have a pet, you can write a note "Mama's Pregnant" and tie it to your pet's collar, just before he's about to return from office. He's surely going to hug you for a sweet surprise.
2. Dessert Special:
You can share the news with him by saying – There is some sweet in the oven. And once he reaches and opens it – you could say it loud or put in a note saying "A bun in our oven." He's going to fly high on cloud nine.
3. Scrabble Does The Talking:
If you guys love playing scrabble, you can simply spell these words while playing. It would be fun to notice his reaction, when the game turns into a real happy event.
4. A Surprise Sweet:
Plan this after your lunch or dinner. For the dessert, you can excuse yourself for a moment. And return with a red bow around your tummy and some sugar babies in a bowl. Who knows he might turn to a kid craving for sugar babies?
5. Surprise In Parking Lot!
Many of the malls and shopping complexes have some reserved parking for expecting mothers. You could plan for an outing, but make sure you drive and part park the car. Your husband may take a while to understand, but who knows?he starts dancing, for his share of news. He may just start dancing once you share the good news with him!
6. Buying A Present:
You can buy a bib or a shirt saying "I love my daddy" and gift it to him. He would be elated with tears in his eyes awaiting his little angel's arrival!
7. Just Make Some Room:
Just before he is about to reach home, empty his drawer or shelf and stick a note in it which reads – "Make some room for me Daddy "or else you can stuff in some nappies. He would be thrilled and excited about sharing such great news.
8. Get Artistic:
If you are a bit artistic, you can draw a family picture with your husband, yourself and a newborn and gift it to him or either stick it onto a place, where he can notice it easily. He is surely going to be on his knees, to feel your tummy.
9. Sports Freak!
If your husband is a sports freak, you can buy a junior size shirt of his favorite game and gift it to him. He's surely going to be making some place for the new arrival.
10. A Slideshow or a Movie:
If you are good with power points or could shoot and edit a video, just capture photos and videos, since when your relationship started. And in the end post a picture or video of your positive pregnancy test. I'm sure he would be delighted with such great news.
11. Decorate Your Spare Room:
If you guys have a spare room, you can surprise him by decorating it with some baby stuff like a crib, toys or kids curtains. He would surely spend his daily time in that room. He would surely spend the day in that room , thinking about his little bundle from heaven!
12. Use Of Mobile Phone:
You can download any ultrasound picture of a newborn or send a video and message him. Let him call you to confirm the news. He is surely going to run back home early that day.
[ Read: How To Confirm Pregnancy Without Test ]
13. Use Feeding Bottle:
The next time he asks you for juice or water serve him in a feeding bottle. And as he looks at you with surprise, just smile and point to your tummy. He might go crazy, and lift you up in his arms with joy!
14. Dinner Reservation:
Book a table and text him – "Dinner at venue. Reservations made for three, you, me, and the one arriving after nine months."
15. Mirror Mirror On the Wall:
This is a traditional yet fun way to express good news. You can use your cherry berry lipstick and write on the mirror – Welcome Home Daddy! I'm sure he would be delighted.
Hope you liked our 15 creative ways to tell your husband you are pregnant. Do share your views in the comment section below:
Recommended Articles:
The following two tabs change content below.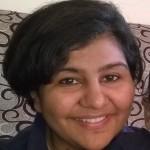 Latest posts by Samiksha Seth (see all)