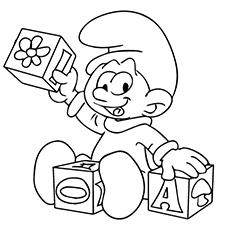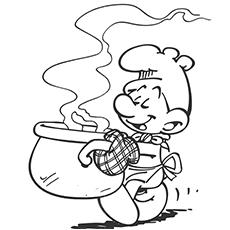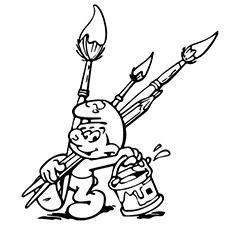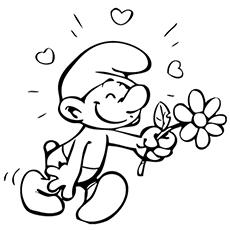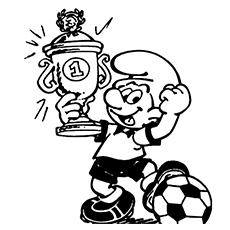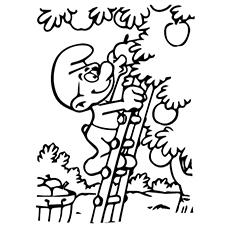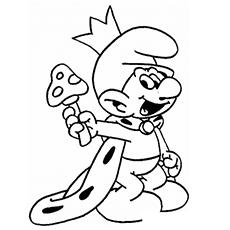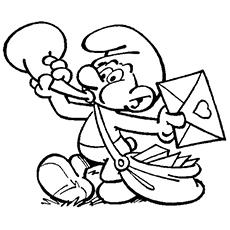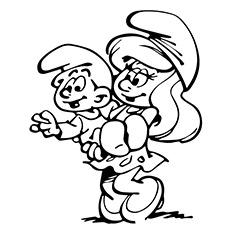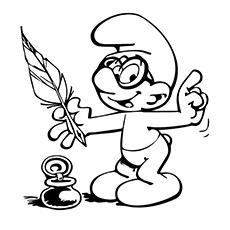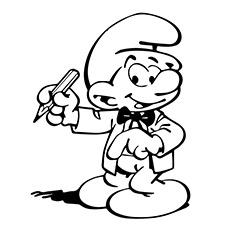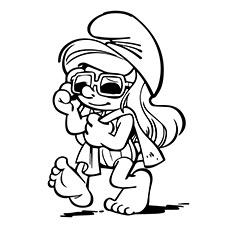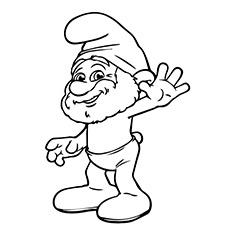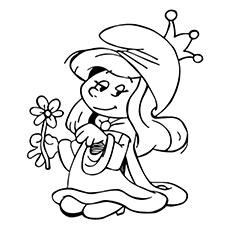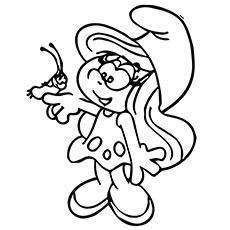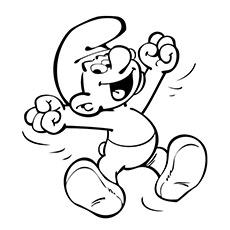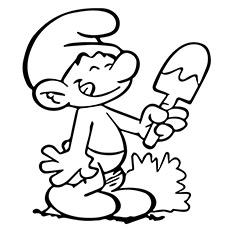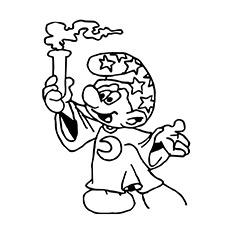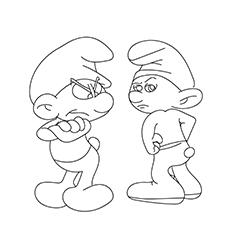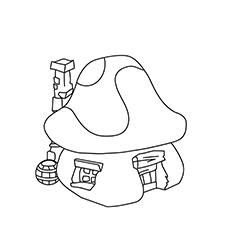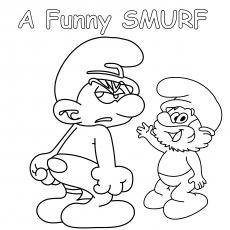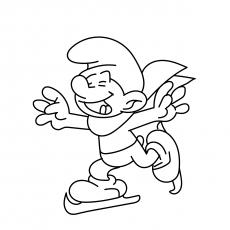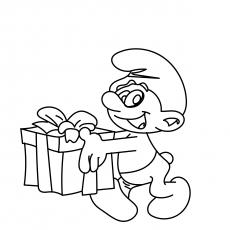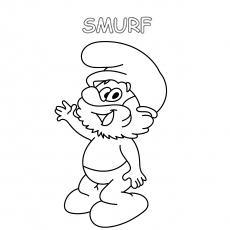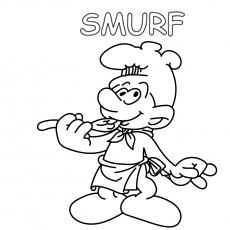 Recommended Articles:
Parents often find it tedious to keep their kids engaged indoors. You cannot really leave the little ones romping around the house always and getting their attention to something specific, especially at home, can be hard. While you may not want the kids to stay glued to the TV or gaming consoles at spare time, there are better alternatives. You can give them cartoon based coloring sheets and pages to keep their mind occupied.
There are so many cartoon and fictional characters to pick from. However, it will be a great idea to give the kids the Smurfs coloring pages to paint when they are free. The Smurfs, a group of fictional tiny blue creatures living in mushroom-shaped homes have a Belgian origin. Since they are a part and parcel of present generation video games, dolls, theme parks and TV series, kids of today's gen will love the task.
Top 15 Smurf Coloring Pages For Kids:

Here is a bunch of cute smurf coloring pages to print for your kid.
1. Smurf Boy Skating With Abandon:
This is a simple and nice image showing a young smurf boy skating happily. This is easy to paint as there are not many elements in the image. This is ideal when you introduce your young toddler to the concept of coloring pages.
2. Papa Smurf With Santa Like Cap:
This is another simple but nice image showing a grown up smurf figure with a cap on. The cap resembles that of Santa and it is clear that the character is in a jovial mood. Your kid is sure to like painting such coloring pages.
[ Read: Powerpuff Girls Coloring Pages ]
3. Smurf Boy Wins A Trophy For Football:
This image depicts a happy smurf boy with a love for football. He is keeping one leg on football and holding a trophy with one hand. It is also simple to paint as there are not several elements in the image.
4. Painter Smurf Boy In Action:
This is an image that may inspire your toddlers to get into painting for some time. The image shows a happy smurf kid about to paint a few pages. He holds a few brushes in his hand. The other hand holds the painting can.
[ Read: Snow White Coloring Pages ]
5. Smurf Boy Struck By Cupid:
This image shows that concept that it is not only grown up people who can be struck by cupid. The loveable cute smurf boy is apparently smitten by a smurfette and he is going to give her a flower as an emblem of love. The love icons around him look nice.
6. The Little Grumpy Faced Smurf:
This is an image showing a grumpy faced little smurf character who looks lovable despite the frown. Does not your kid sometimes make such faces? He or she will love painting this image and there are not many elements in it too.
[ Read: Rainbow Coloring Pages ]
7. Smurf Postman Announcing Arrival With A Trumpet:
This is one cute picture your kids will love to paint. The image shows a smurf postman who is distributing letters and announcing his presence using a trumpet.
[ Read: Toy Story Coloring Pages ]
8. Happy Smurf Boy In The Forest:
This image shows a happy smurf kid picking flowers in the forest. The natural setting with leaves, grass and flowers will make your kids want to paint the image.
 Read: Pokemon Coloring Pages ]
9. Cute Smurfette Walking In The Forest:
This image shows a cute smurfette in the forest. The natural backdrop makes it suitable for painting by younger kids who will not have to dabble with several elements.
10. Little Smurf Cooking:
In this image, there is a little and adorable smurf character who is cooking. The glasses and large pot make the image look funny and is bound to keep your kid occupied for sometime while you can complete your household chores.
[ Read: Mickey Mouse Coloring Pages ]
11. Smurf Home:
Smurfs live in toadstool houses, which doesn't look unique but are comfortable too.
Smurfs live in a part of the world called '"Le Pays Maudit" (French for "the Cursed Land")', it required magic or travelling through dense forests, deep marshes, a scorching desert and a high mountain range. The Smurfs used storks to travel long distances to the kingdom where Johan Et Pirlouit lived. In Johan Et Pirlouit the Smurf village comprises of mushroom like houses of different shape and sizes. However, houses shown in Smurf series are of same sizes located inside a deep forest with grass, river and vegetation. Humans named Gargamel live near the smurf village but they can only enter the enchanted smurf village if he is guided by a smurf.
If you have read Noddy written by Enid Blyton to your child he will be able to relate Big Ears house with the Smurf's house, since they both live in toadstools. If your child can really connect with the two houses, you appreciate his congeniality. It is a reflection of his super cognitive skill.
There is a small attic in the Smurf's house and it looks cozy and spacious from outside, so you can imagine how the interiors of the house will look like.
12. Baby Smurf Playing Building Blocks:
The baby smurf is playing building blocks, he is just learning to say and identify the alphabets. If your child is of the same age as that of the baby smurf then he can instantly relate to this picture.
Building blocks are children's favorite game; they spend hours building the blocks and breaking them and build it all over again. Just notice the excitement when your child colors the building blocks.
Building blocks and coloring tool can be used creatively and effectively as learning tools. The approach towards learning has to be innovative so that your child remembers whatever you taught him.
Learning was never so much fun, isn't it?
13. Smurf Bringing in the Birthday Gift:
This coloring page is a very apt Birthday greeting card, ask your children to color this page and transform it into a birthday card for his friend who is crazy about Smurfs.
In this picture we see a smurf carrying a birthday gift with a lighted fire cracker attached to it. After all,a birthday cannot be complete without presents, fire crackers, balloons, confetti and a huge cake.
Add glitters and other cut outs to make the birthday card look amazing, surely the Smurf's friend will be delighted to receive such a colorful handmade card on his birthday. Handmade cards help to express emotions better than a commercial one.
14. The Smurf King:
King Smurf (Le Schtroumpfissime) is the second comic book adventure of the Smurfs. It is the name of the fictional character who assumes power in the absence of Papa Smurf. The story was written by Peyo in collaboration with Yvan Delporte as a co-writer.
The King Smurf is looking like the English king and is a strict authoritarian, he assumed kingship when Papa Smurf left the village for a few days to collect euphorbia leaves (a fictional herb). He usurped power using demagogical tactics. He is arrogant and Smurfs don't like their King and wants Papa Smurf back as their leader. In this picture he is carrying a scepter looking like a toadstool, which is the symbol of the Smurf kingdom.
Smurfs may not like King Smurf but your child will definitely enjoy coloring this picture.
15. Smurf Goes Apple Picking:
In this picture we see little Smurf is picking apples from the apple tree using a wooden ladder. He is picking up the apples and placing in a huge wooden barrel. Maybe, it will be eaten by the Smurf community or made into cider or apple juice.
Let your child count the apples in the tree while the smurf picks it, it will teach your child how to count properly. Also notice if he is coloring the apples correctly and not just filling it with just any shade.
If you watched smurfs, you will know that every episode of the smurfs teaches a moral to young kids. So every time you give your kid a smurf page to color, also teach them a small moral that they will take forward with them!
With these free printable smurf coloring pages, take your child on an amazing adventure with the smurfs.
Please share your experience on smurf printable coloring pages with us!
If you watched smurfs, you will know that every episode of the smurfs teaches a moral to young kids. So every time you give your kid a smurf page to color, also teach them a small moral that they will take forward with them!
With these free printable smurf coloring pages, take your child on an amazing adventure with the smurfs.
Please share your experience on smurf printable coloring pages with us!
DISCLAIMER: All images found here are believed to be in the "public domain". We do not intend to infringe any legitimate intellectual right, artistic rights or copyright. All of the images displayed are of unknown origin. If you are the rightful owner of any of the pictures/wallpapers posted here, and you do not want it to be displayed or if you require a suitable credit, then please contact us and we will immediately do whatever is needed either for the image to be removed or provide credit where it is due. All the content of this site are free of charge and therefore we do not gain any financial benefit from the display or downloads of any images/wallpaper.
Comments are moderated by MomJunction editorial team to remove any personal, abusive, promotional, provocative or irrelevant observations. We may also remove the hyperlinks within comments.