As you get ready to welcome your little child, you're probably thinking of giving him/her a perfect name? Why don't you consider opting for a jewel-inspired name?
In the nascent stages of the 21st century, parents believed that naming their child after gemstones would bring prosperity and luck to their children. So, let your child's personality shine with our collection of 50 gemstone baby names .
Gem Names For Girls That Truly Shine:
1. Diamond:
Diamond, the stone that Marilyn Monroe's said " is a girl's best friend' is a go-to choice not just for engagement rings but also for a jewel inspired baby name. The name has been rapidly rising in terms of popularity. It has climbed 72 spots from the year 2012 to 2013.
[ Read: Baby Names Inspired By Colors ]
2. Bijou:
Bijou is a short, sweet and sassy term French term for 'jewel'. The name has a European flair to it, which makes us like it even more.
3. Emerald:
If you're looking for a unique name with a rich symbolism, Emerald could be the one for you. This deep green birthstone is believed to open one's heart to love and wisdom. And it's even believed to strengthen relationships.
4. Agate:
This gemstone is said to attract strength and protect against stress, bad dreams, and bad energy. Agatha could make a possible spelling variation of this name. You can consider the nickname Aggie for Agate.
5. Amber:
Do you want your daughter to develop a generous and warm character? Then calling her Amber could be a great start. The name entered the popularity chart in 1945 following the release of the novel, "Forever Amber".
6. Ruby:
Ruby is the most popular jewel or gemstone baby name for girls. This July birthstone baby name broke into the top 100 U.S baby name list in the year 2013, thanks to Tobey Maguire. And it holds the top spot in Australia. Even Rod Stewarts named her daughter Ruby.
7. Crystal:
This name is sure to have your little girl sparkle. The name is derived from the word 'krystallos' a clear glass that is cut into the shape of a gemstone. For the nickname, you can choose Chris.
8. Beryl:
Beryl is the name of the colorless crystal that attains shades like red, blue or yellow because of the impurities in it. The moniker had its run as a cool jewel name in the 80s and is expected to be back on the popularity charts soon.
9. Amethyst:
The beautiful, purple birthstone for the month of February has witnessed a sharp increase in popularity, perhaps because of the rapper Iggy Izalea, who was born as Amethyst Amelia Kelly. Amethyst is also the name of the protagonist of the kid's novel "The Ordinary Princess".
[ Read: Royal Baby Girl Names ]
10. Pearl:
This moniker of the birthstone of the month of June was considered old fashioned, but not anymore. This name entered the top 1000 list in the year 2010 and has risen 200 places to hit the #677 spot.
11. Coral:
The oceanic name Coral that is now slowly increasing in popularity was used for the first time in the Victorian era. It's not exactly a gem, but a hard substance made with skeletons of sea animals. It was also the name of Nemo's mother in "Finding Nemo".
12. Gemma:
After being a staple in Italy, Gemma, inspired by gem, has now become popular in France and the United Kingdom too. The name combines the best of classic and feminine Emma and fun and contemporary Jenna.
13. Iolite:
Do you like the name Violet, but cringe at the thought of it being too common? Then go with Iolite, which is the Greek word for violent and gemstone for cordierite. Iolite comes in all shades of blue. But the fascinating feature of this gem is that it can serve as a compass on cloudy days.
14. Sapphire:
Move over Ruby and Pearl; Sapphire is now dominating the baby name world. The 'fire' sound in this name gives it a bold and bright sound. And it's related to the Biblical Sapphira, who offended the God for lying.
15. Topaz:
Naming your child after this golden-hued gemstone would make her as rare as the gemstone itself. Besides, it's also the name of a species of hummingbird and a Hitchcock film.
14. Jewel:
Jewel is not exactly a gemstone per se, but a noun used a name. The popularity of the singer Jewel spurred the popularity of this name.
15. Carnelian:
Do you want a fascinating substitute for Caroline? Then use the name Carnelian for your daughter. It's a dark red stone but is slightly less precious than rubies. You can use it as a middle name too!
16. Lazuli:
Coming in an intense shade of blue, lapis lazuli was used to create a vibrant shade of blue paint. Lapis is Latin for snow and Lazuli is Persian for 'heaven'. Therefore, lapis lazuli is the stone of heaven.
[ Read: Fruit Baby Names ]
17. Olivine:
Olivine may sound like a member of the Olivia family or an elaboration of Olive. But it's actually another name of peridot. And it's a fresh alternative of Olive too!
18. Soraya:
Soraya is more popular for its association with the Pleiades, a constellation known as the Seven Sisters, but it also means 'jewel' in the Arabic language.
19. Esmeralda:
This Spanish variation of the name Emerald came into the forefront after appearing in Disney's movie "Hunchback of Notre Dame". It currently ranks #392.
20. Goldie:
This moniker will remind many of you of Goldie Hawn. It was recently chosen by Ione Skye, the famous actor and Ben Lee, the singer for their children.
21. Hyacinth:
Hyacinth is not just the name of the flower. It's also a gemstone that protects against malicious spirits, and nightmares.
22. Marit:
Marit is the Aramaic word for 'pearl'. It's a straightforward and unusual baby name with an attractive Scandinavian accent. Marit is also a royal name in Norway.
23. Ruri:
Naming children after precious gems as a protection against the malicious spirits is an ancient Japanese tradition. Ruri is the Japanese for 'lapis lazuli'.
24. Ula:
If unique is what you want your daughter to be, name her Ula, a Celtic name, meaning 'gem of the sea.' Ula is often used as a short form of Ursula or Eulalia.
25. Giada:
Giada, the Italian for Jade, sounds appropriate for girls more than guys. This stylish name has been used in the English-speaking countries for several years now. Giada De Laurentiis is the famous namesake.
[ Read: Food Baby Names ]
26. Esme:
Esme, the short form of emerald also nods to characters from "Twilight" and J.D. Salinger's "For Esme, With Love and Squalor". Michael J Fox chose this name for his daughter.
27. Penina:
This jewel inspired name sounds much more exotic and unusual than it original name Peal. This gem baby name has started to be polished up for the next generation of stylish children.
Gem Names For Boys
1. Jade:
The name Jade may be popular as a girl's name now in the United States, but in the olden times, it was used for boys. It's now used less as a standalone name and more as a short form for Jaden. As a birthstone for March, Jade is believed is bring forth courage and protection.
2. Sterling:
Sterling is used more like a surname that as a given name. The term sterling is used to describe a high-quality metal. Sterling Marlin, the NASCAR driver and Sterling Sharpe, the footballer player got this name in the limelight.
3. Stone:
This contemporary name is picked up directly from the term and has been in use since 1995. It started as a surname for someone living by a boulder or large rock. The name Stone evokes a tough and unbreakable nature.
4. Mica:
Mica, the diminutive of Michael is also the name of the mineral known for its ability to be separated into thin air. You can even choose its alternate spelling Micah to make it more appealing.
5. Jett:
The name Jett is inspired by the velvety black coal that is used for making jewelry. James Dean, the famous actor, played the character Jett Rink in the film 'Giant'. Even John Travolta chose this name for his son.
6. Slate:
This moniker oozes charm and confidence like no other thing. It is inspired by the fine-grained rock. You can even spell it Slater if you want. Remember Slater from "Saved by the Bell."
7. Jasper:
We credit the "Twilight" character Jasper Hale for the jump in this moniker. But it's also the name of an ornamental stone ranging from brown, to red to beige in color. The name is derived from an ancient Persian word and means 'lord of the treasure.'
[ Read: Flower Baby Names ]
8. Opal:
Opal, the name of the birthstone of the month of October is considered on par with Pearl and Ruby. Parents bestow this name on their children with the hopes of bestowing good fortune and luck.
9. Peridot:
Peridot, the birthstone for August is potential baby boy name as well. You can pronounce this name as 'PE-RI-doe', to make it sound slightly more name like.
10. Turquoise:
Turquoise is a rare, blue-green mineral prized for thousands of years for its unique color. And it also happens to be the gemstone of December. The name derives from the Middle English word for Turkey and came to England from Turkey.
11. Jacinth:
Jacinth is one of the rarely seen, reddish-orange gemstones belonging to the zircon family. Jacinda is the variation of Jacinth.
12. Onyx:
Onyx, the name of the precious black gemstone would make a lovely name for your son. As a name, Onyx is not much used, so it would make a unique name for your child.
13. Flint:
Flint is a hard rock, mostly gray or black in color and with a waxy or glassy appearance. It is used to produce a spark of fire when struck by steel. Flint would make an excellent choice for parents looking for a tough-guy name for their children.
14. Garnet:
The precious stone of the month of January has the unique ability to change the colors when exposed to sunlight, and that's what makes it different from others. It can turn from red to purple to shades of green and blue.
15. Apatite:
The term Apatite comes from the Greek work apate and means 'deceit.' Wondering how Apatite got this name? It's because of its similarity to several minerals. The only concern with this name is that it may lead to some ridicule because of its resemblance with 'appetite'.
16. Citrine:
Also the stone for the month of November, Citrine is a translucent and yellow variety of quartz. Nicknamed the 'Success Stone', Citrine is believed to bring good luck and positive energies. As a name, we think Citrine would suit boys more than girls.
[ Read: Royal Baby Boy Names ]
17. Galena:
Galena, the gray mineral with metallic luster is the principle ore of lead. It also includes silver. This name would appeal to parents looking for a truly unique and exotic baby name.
18. Pietersite:
Pietersite is a type of quartz composed of Tiger's Eye, Jasper and Hawk's Eye. Both Peitersite, and its alternate name Tempest Stone would make nice names for your boy. Shorten it to Peter for the nickname.
19. Silver:
This precious metal baby name is making a comeback after years of non-existence, probably because of Silver Surfer, the famous superhero.
20. Quartz:
Quartz, the mineral name, may sound slightly quirky to use Quartz as a name, especially as the first name. So you can try it in the middle.
21. Morganite:
Morganite is the orange-pink variety of beryl, a mineral including aquamarine and emerald. You can shorten it to Morgan for a proper name.
[ Read: Nature Inspired baby Names ]
22. Alexandrite:
Alexandrite, the rare, color changing gemstone belongs to the chrysoberyl mineral could also be taken as a baby name inspiration. Snip it to Alexander for a name for your son.
23. Ocean:
Ocean Jasper is a gemstone belonging to the quartz family. This name is rarely heard since the 60s and 70s, so your child will have a unique name. You can also opt for its variation Oceanus.
Which jewel or gemstone do you think would make a great baby name? Share your picks with us in the comment section below!
Recommended Articles:
The following two tabs change content below.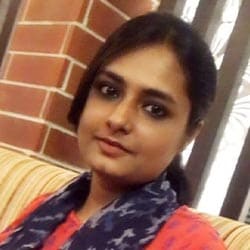 Arshi Ahmed
Arshi Ahmed did her graduation from Shri Shikshayatan College, Kolkata, and post graduation in English from Lovely Professional University. She specializes in writing baby names articles as she loves to help new parents find a name for their child. Arshi understands how important it is for a parent to find the right name because the name gives the baby an...
more