By the time your child is four-year-old, they become better at pretend play and love playing new games. They also have better communication skills, letting you know their likes and dislikes (1). You need to consider these attributes when exploring the best toys and gifts for 4-year-old boys.
Buying presents for a four-year-old boy requires you to be more thoughtful. In this post, we present a list of several exciting and interesting gift options that you may consider for a four-year-old boy.
38 Best Toys And Gifts For 4-Year-Old Boys In 2022
Tiny geeks who are tired of puzzles swear by a challenging game like Zingo that can exercise their intellect. This game can be played by seven players.
Features:
Promotes critical thinking skills in kids
Helps improve language and collaboration skills
Comes with an easy-to-understand instruction manual
If your boy has a collection of toy cars, he will need a carrier to transport them. This blue double-decker carrier can safely transfer his precious cars from one place to another.
Features:
Car carrier features two working ramps and three mini cars
Made of child-safe recycled plastic
Free of BPA, phthalates, and PVC
Easy to clean and dishwasher-safe
Strengthens motor skills
If your boy loves all things paleontological, then this dinosaur explorer kit is an excellent investment to make. The kit includes a pair of dinosaur binoculars, LED flashlight, magnifying glass, whistle, compass, dinosaur watch, and life-like Tyrannosaurus Rex in a carrying bag. This fun kit will help your kid make a dinosaur discovery while fueling their imagination.
Features:
Binoculars designed for small hands with adjustable eye pads and rubber grips
Contains a carrying bag of 14 inches wide and 16 inches high for easy storage
Suitable for kids of 3-8 years of age
An explorer kit ideal for camping, sleepovers, nighttime adventures, both indoors and outdoors
Sometimes your baby boy needs his cars to be ferried through a waterbody. This ferryboat will comfortably take his cars from one end of the bathtub to another. And if he does not want to take his cars anywhere, he can just play with the boat during bath time.
Features:
Two-storey ferry boat comes with two mini cars
Made from recycled milk jugs
Free of BPA, PVC, and phthalates
Helps strengthen motor skills
Easy to clean and dishwasher-safe
To help your kids excitingly learn more about dinosaurs, get them this dinosaur dig kit filled with 12 dino eggs, chisel tools, excavation cards, magnifying glass, and a torch. While matching hidden dinosaur fossil eggs with educational cards, kids will engage in a fascinating excavation journey.
Features:
A fun game to learn about dinosaurs and paleontology
Engaging activity with fun tools for excavation experience
Suitable for kids of 4 years and older
Ideal kit to help kids learn during playtime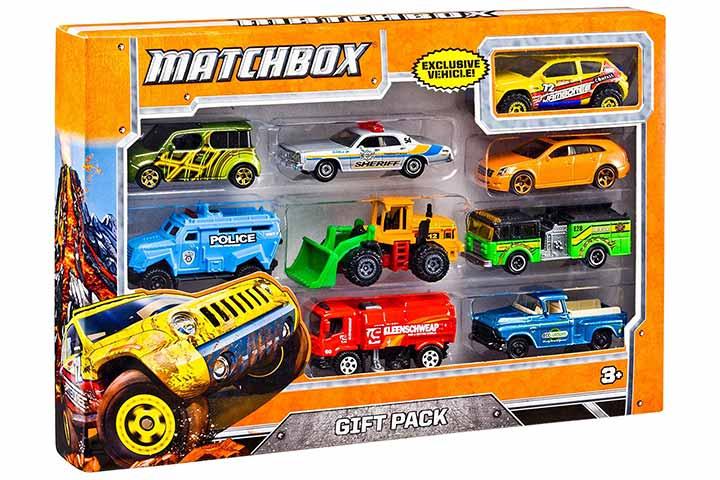 Boys who love collecting cars will love this assortment pack. It contains tiny, sturdy cars and trucks that boys love playing. We suggest you buy at least two sets as each vehicle in the entire Matchbox line is unique.
Features:
Each set includes nine different types of vehicles
Contains exclusive die-cast cars for your child's collection
This toddler educational toy is a fun way to engage your boy in learning to count and match colors and numbers from 1-12. Each egg replicates a life-like dinosaur egg to make the learning game more exciting and playful. It comes packed in a durable storage case made with child-safe materials.
Features:
Builds a child's math and number recognition skills
Helps recognize and match different colors
Comes in a child-safe, durable case for storage
Includes 12 dinosaur-like eggs
Nothing is more fun for a boy than creating something new and cool. Encourage creativity in your kid by gifting him this STEM Construction Engineering Building Blocks Learning set. It is a great toy for sleepovers as it allows up to four kids to play simultaneously.
Features:
Set includes 101 toy pieces as well as three wrenches and a screwdriver
Free of phthalates, lead, cadmium, and BPA
Comes with an instruction manual to create 42 designs
Promotes collaboration, creative thinking, and problem-solving skills in kids
Every town needs a good group of vigilant workers such as policemen and firefighters. Help your brave boy spot trouble and save the day with this PAW Patrol toy set.
Features:
Toy set includes a two-feet lookout tower and figurines of the PAW Patrol crew including Marshall, Chase, Skye, and Rubble
Comes with light and sound effects
Encourages role play and stirs imagination
Ideal toy for teaching bravery to your kid
This dinosaur egg kit comes with 12 eggs. Your kid needs to crack and open each egg to find a miniature dinosaur in it.
Features:
Set includes 12 illustrated information cards, with each card describing the history and characteristics of a dinosaur
Includes 12 chisels and 12 instruction cards to help the kid crack and open the eggs
Authenticated by STEM organization for meeting the highest standards of STEM learning
A good puzzle toy set is always a welcome addition to your child's toy collection. This puzzle involving letters, shapes, and sounds can build your boy's vocabulary and reading skills and help him gain proficiency in the language.
Features:
Toy set includes ten three-piece and ten four-piece self-correcting puzzle pieces
Helps improve letter recognition
Strengthens language and spelling skills.
Finding the correct combinations boosts the child's confidence
Helps improve focus and concentration
Basketball is a popular sport amongst most boys. It is a sport that can keep your child active and healthy. But if space is a constraint for you, try this mini basketball set. Designed like a regular basketball hoop, it is a few sizes smaller to suit little boys.
Features:
Adjustable basketball stand allows convenient play
Comes with three junior-sized basketballs
Helps develop balance, coordination, and gross motor skills
Playable outdoors as well as indoors
Encourage your child's artistic creativity with this skills activity book. It comes with a pair of child-safe scissors that encourage your boy to cut the pictures in the book safely.
Features:
Book features 20 pre-printed activity pages
Plastic scissors ensure safe play
Cutting the pre-printed pictures help develop fine motor skills
Animal art and sequencing activities encourage creative thinking
A four-year-old boy's curiosity leads him to dismantle and assemble his toys. This take-apart car set has been designed to awaken your child's interest. The car is easy to take apart and re-assemble.
Features:
Set includes five car parts, five modification parts, eight tires, and drill and screws
Sturdy build withstands rough handling
Car flashes headlights and makes engine sounds
Free of BPA and PVC
Camping is a fun activity. And it becomes even more fun with a cool camping set. This camping set contains essential tools such as a camping tent, compass, walkie-talkie, binoculars, and just about everything that your boy might need when spending time with nature.
Features:
Encourages kids to have fun camping and hiking
Teaches the kid to use camping equipment such as binoculars and walkie-talkie
Allows kids to navigate without much use of technology
Promotes communication with friends and family
These magnet building tiles give your boy the freedom to create simple as well as complex structures. The set includes 40 triangle-shaped tiles and 24 square-shaped tiles as well as an instructions booklet and a storage pouch.
Features:
Made of non-toxic ABS plastic
Blocks come with smooth edges for safe use
Building process encourages kids to be creative
Sharpens problem-solving skills and imagination
Helps teach kids colors and shapes
This PAW patrol themed tricycle enables your boy to maintain law and order in his city as he rides happily on it. It flashes light and is easy to pedal, so your little darling can catch up on the notorious beings.
Features:
Handlebars are designed for easy grip
Wide wheels give a firm and stable ride
Seat is adjustable up to three levels
Comes with a hidden storage compartment
Toy walkie-talkie makes some fun sounds
Easy to draw, easy to erase! This doodling board is simple and convenient to use. If your boy is fond of drawing, he can practice his future masterpieces on this doodling board without you having to spend extra on new books.
Features:
Allows kids to write, draw, and scribble countless times
Stencil toy aids in improving drawing skills
Digital board helps guide kids write their names and letters of the alphabet, and draw different objects
Encourages kids to progress from simple strokes to complex designs
Boys enjoy fixing things. And this toolbox is for those problem solvers who love to save your day with their magical fixing abilities.
Features:
Toy set includes two double-sided activity cards, an electronic tray, a drill, a hammer, a wrench, two nails, and two screws
Toy drill spins and grills the chunky screws into the box
Light-up buttons play songs and music
Drilling improves hand-eye coordination and focus
This 153-piece maple wood toy set lets your tiny builder build a nice old house. The logs come in a tin jar so your son can easily store the pieces back into it after playing.
Features:
Building process helps strengthen hand-eye coordination
Balancing and placing the logs help develop spatial awareness
Comes with an easy-to-understand instruction manual
Includes figurines of two cowboys and two horses to give that rustic feel
Allows kids to be creative
It is always fun to play with walkie talkies. This set of walkie talkies can help make any outing or even regular playtime interesting and exciting for your kid.
Features:
Three-mile long transmitting range in open field and 0.5-1 mile range in a residential area
Comes with an in-built flashlight and LCD backlight display
Durable body is drop resistant
Ergonomic design makes handling easy for tiny hands
Offers 22 channels
Includes an anti-interference function to reduce noise
This play kitchen is a cool role-play toy for your future chef. It comes with kitchen equipment to keep your kid engaged in pretend play for hours.
Features:
Stovetop makes realistic burner sounds
Flashes light for effective play
Features a built-in instant coffee machine
Large refrigerator doubles up as storage space for tiny accessories
Just like in the Transformers movie, this robot too transforms into a car. The rescue pet figures also transform into armor, a capture claw, and a projectile launcher for a fierce battle with the enemy.
Features:
Set comes with tiny parts designed to suit the little hands of young kids
Robot converts into a vehicle in one simple move
Car plays fun sounds and flashes lights
Your search for a cool tricycle stops right here with this Harley-Davidson Tough Trike. Designed to look like a branded bike, this trike with rugged tires is meant to stand out from the rest.
Features:
Handles designed for easy grip
Wide rugged tires ensure a smooth and stable ride
Large foot pedals make riding easy
Features a secret compartment to hold toys
Helps develop the kid's gross motor skills and balance
If you see an amateur artist in your little boy and needs something to let his creative juices flow, this digital scribbling pad can be his next gift. He can scribble and doodle all he wants.
Features:
Helps kids learn how to write numbers and the letters of the alphabet by tracing the digital lights
Guides kids to write in the correct manner
Provides audio feedback for better understanding
Comes with an easy-to-grip stylus
This dinosaur walks, roars, and flashes red-hot light. It is the closest thing to the real gigantic beast. It is a fun toy for a little boy who is fascinated by the world of dinosaurs.
Features:
Dinosaur opens its mouth to make a roaring sound
Eyes and tongue flash a red light
Spikes light up when the dinosaur moves
Set also includes two eggs and mini dinosaurs
For a little man who owns a fleet of stylish cars, a good parking garage is a basic necessity. This four-level garage allows your boy to park his cars safely and even take them out in style with the help of the launcher.
Features:
Comes with a gas pump, a crane, an elevator, and a spiral ramp to launch cars
Includes a car wash to clean tiny matchbox cars
Set contains a tow truck to tow cars for repairs
Want your son to improve his language skills? Have a look at this alphabet apple that makes learning letters and new words easy and simple.
Features:
Alphabet buttons light up to make learning more exciting
Toy plays songs to teach counting, spelling, and so on
Frequent play helps develop language skills
Offers eight modes of play with differing levels of complexity
There is no denying that dinosaurs are the most intriguing creatures for kids. This 106-piece STEM toy offers various parts of a dinosaur-like a puzzle that your boy will have to piece together to create the full creature.
Features:
Toy pieces ergonomically designed for little hands
Free of BPA, lead, and phthalates
Matching and attaching the pieces help enhance fine motor skills
Promotes problem-solving skills in kids
Based on Disney Pixar Car 3, this playset gives your son the perfect way to spend time creating car racing stories. This traveling mack vehicle comes with two service vehicles to ensure your child's car is serviced in record time.
Features:
Car door opens for easy and fun play
Large play area accommodates four cars
Lightweight truck is easy to push and play with
Your little future astronaut can explore the galaxy with this rocket ship tent. It is designed to capture the fantasy of young kids who love the night sky.
Features:
Made of non-toxic, polyester fabric
Durable fiberglass rod and waterproof body
Mesh windows allow good air ventilation
Colorful, vibrant illustrations make tent attractive for kids
Easy to assemble, clean, and pack
Prepare your boy to become a future ace racer with this speed launcher. All he has to do is place the car in the launcher and press 'go' to start the race.
Features:
Car comes in parts and has to be assembled by your child
Comes with a leaderboard, a starting ramp, and a launch function
Includes an easy-to-understand playing guide
This 68-piece kids toy workbench comes with toy tools and equipment that your son can use to fix anything around the house. It is a great role-play toy for your little handyman.
Features:
Set contains realistic tools such as a hammer, nuts, screws, and so on
Workbench can be folded and transformed into an easy-to-carry toolbox
Hammering and fixing things help strengthen motor skills
Fixing screws helps improve coordination and focus
Virtual reality games are always fun and exciting. This smart cycle enables your little racer to pedal frantically like a cyclist but within the safety of your house. Just download the free Smart Cycle Mission to Tech City app, and let your kid spend hours driving, gaming, or racing.
Features:
Cycle comes with a tablet screen for interactive play
Compatible with Bluetooth, thus enabling you to connect it to a TV screen
Adjustable seat ensures the kid is seated comfortably
Ideal for teaching letters of the alphabet, new words, spelling, and more
This set of interconnecting gears gives your boy the freedom to create anything he imagines. The STEM toy offers multiple benefits for a growing child.
Features:
Connecting the tiny gears helps develop fine motor skills
Adjusting the interlocking parts boosts reasoning and problem-solving skills
Creating structures or design encourages creative thinking
Toys come in a corrugated box for safe and convenient storage
Let your little hero lead the chase in his friction police car. Just pull the car back, release it, and it races forward.
Features:
Made of non-toxic ABS plastic
Comes with two movable doors for realistic play
Car flashes lights and plays siren sounds
Car works on pull-back mechanism
Ergonomically designed for small hands
Introduce your kid to photography with this PROGRACE digital camera for children. It is designed to suit little kids with tiny hands.
Features:
Allows the kid to take 5MP pictures and 108OP videos
Comes with a two-inch IPS HD screen
Supports burst shooting and time-lapse photography
Camera comes with built-in puzzle games
Sturdy sling works as a convenient neck attachment
This marble run construction kit is for kids who love challenges. If your boy seeks complexity and challenge in every game, this one might just win him over.
Features:
Made of non-toxic, child-safe birch and rubber wood
Building the perfect combination promotes spatial and logical thinking skills
Kids can come up with numerous layouts for effective play
Buying Guide
Here are a few tips to help you pick a good gift for your four-year-old boy.
At the age of four years, your boy is slowly developing his unique personality. He now has his own preferences, likes, and dislikes. When confused, buy a toy similar to the one he already owns and enjoys playing.
Your little boy is likely to get influenced by his friends and might ask you to him get the same toys that they possess. Pay attention to what he says, and you can make him happy by gifting him what he wants.
When gifting a toy to someone else's child, ask the boy's parents for his likes and dislikes to get an idea of what you can buy for him.
These are our favorite toys for four-year-old boys. Which of these would you consider buying for your little boy? Let us know your choice in the comments section below.
Why Trust MomJunction?
With her experience in writing about kid's products, toys, and gifts, Priti Bose ensures top-quality content to her readers through her extensive research and analysis. Based on genuine customer reviews on numerous websites, she has compiled the list of the best toys and gifts for 4-year-old boys. These toys are safe, long-lasting, and of high quality. She has incorporated a variety of playsets and toys, ranging from automobiles to educational toys, with detailed product descriptions. She also included a purchasing guide to assist you in selecting the finest toy gifts for your child.
References:
Recommended Articles