Every time I am invited to a kid's birthday party, I get uncomfortable. Don't get me wrong. I love parties and cake. But I have no clue about what to gift the kid. There are so many options to choose from, but so many questions and doubts about each option. The gifts we give should be age-appropriate, and the kids must like them. That is the difficult part, and probably the most challenging one too.
So, in this article, one of the many in a series, MomJunction has listed the best gifts for four-year-old girls.
15 Gift Ideas For A 4-Year-Old Girl
When we think of a gift for a child, we automatically think of toys. A doll, perhaps, is the first thing you want to buy for a four-year-old girl. But is that always the best gift? We believe not.
Here is our list of unique gifting options for a girl who has just turned four. These gifts link play with learning and cognitive development, making them a worthy investment.
1. Brain Flakes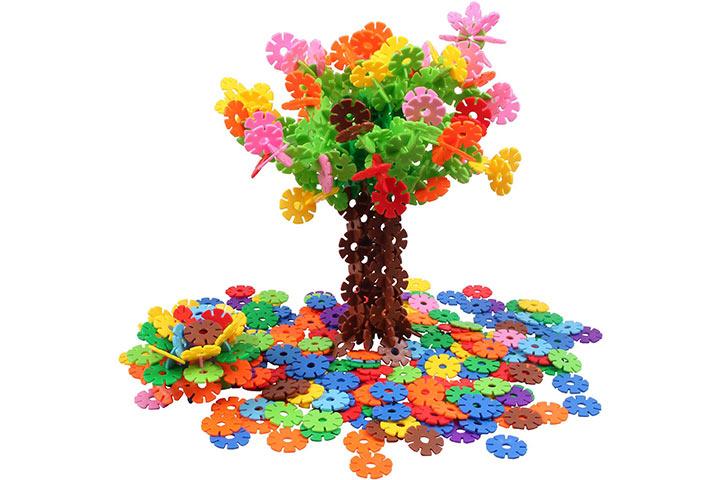 Brain Flakes? Sounds a tad bit complicated present for a four-year-old girl, but trust me it isn't. The kit by VIAHART has 500 interlocking discs that the girl can use to build anything and everything she wants. From a tree to an animal, a little human or a machine, the soft flakes let you create anything out of your imagination. A little supervision, however, is necessary at the beginning.
Why kids love it: Brain Flakes challenges the kids to create things that they have seen or imagined using nothing but these soft discs. Kids also enjoy interlocking these discs without any aim – you'll be amazed at what they can create like that!
What we like about it: Give a kid a jar of Brain Flakes, and you'll have their brain working for hours! The game, like LEGOs, encourages the girls to be imaginative and create something just by interlocking the discs. The ease of use is one of the best features of this activity kit.
[ Read: Best Gift Ideas For 5 Year Girls ]
2. Theme My Party Glow Sticks Bracelets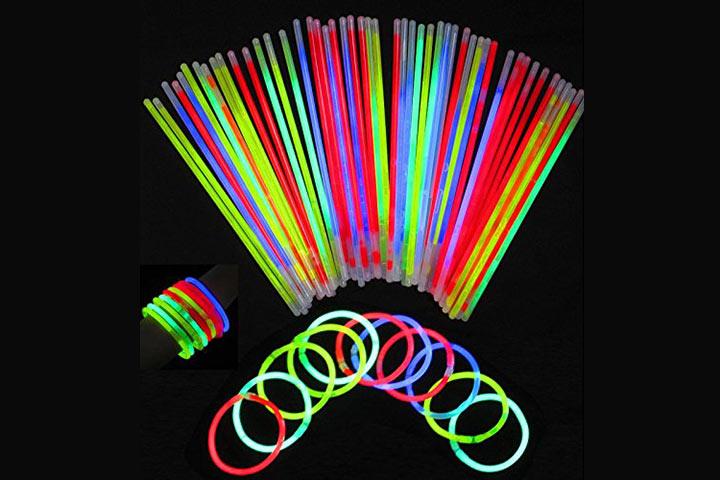 A can of glow sticks can be a cool gift for a four-year-old girl who loves to have fun. The kid can also use these glow sticks at a birthday party, during slumber parties, or even at playdates.
Why kids love it: The light, of course, is what kids love the most about these glow sticks. Also, the sticks are made of a flexible material and can be used to make bracelets, headbands, and even goggles that glow! That is fun, isn't it!
What we like about it: Glow sticks fascinate the young minds, maybe even making them wonder how they shine on their own. That is a good thing! These sticks are a hit with young girls, which makes them an appropriate gifting option.
Occasion: Birthdays, casual gifting


3. Melissa & Doug Cutting Fruit Set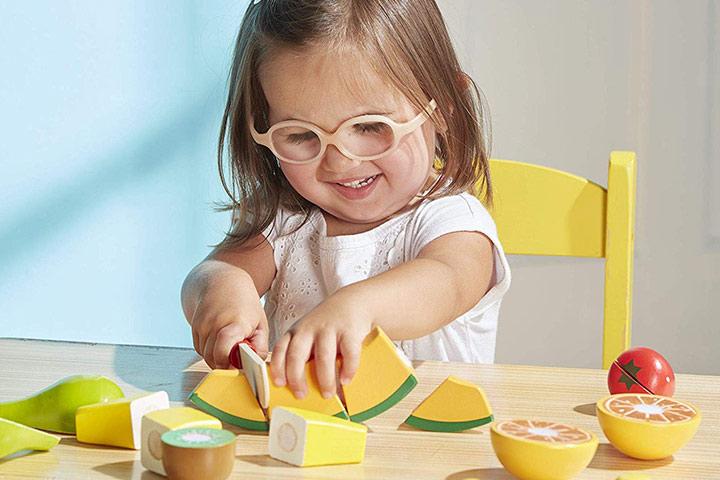 If your little girl is interested in cooking and asks you to give her some vegetables to cut, then you may buy this chopping set for her. The toy set comes with a wooden knife the child can use to chop vegetables without any risk of injury.
Why kids love it: The brightly colored wooden fruits and vegetables are attractive. The wooden knife is ergonomically designed for little hands to hold. The individual parts are stuck together with velcro to give that "crunch" sound you get on cutting fruits/vegetables.
What we like about it: No sharp parts and rough edges. It's a safe way for your child to pursue her interest. The toys come in a wooden crate, which helps keep the items organized.
Occasion: Holidays, family get-togethers


4. LEGO Duplo Disney Minnie Mouse Building Kit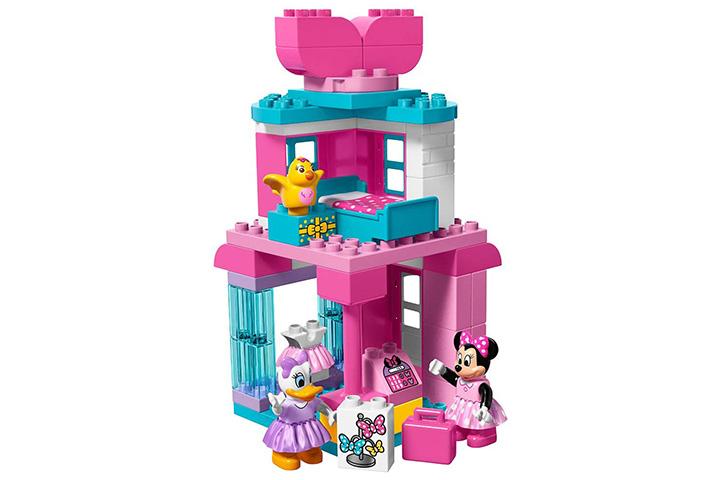 The toy comes with figurines of popular Disney characters Minnie Mouse and Daisy Duck. The toy showcases Minnie's boutique and Daisy happens to visit her. The child can rebuild the model in multiple designs, which means children can play any number of times.
Why kids love it: The two figurines of the Disney characters are adorable, and there is also a figurine of a bird. The bright color scheme is enticing and keeps your kid hooked with the toy for an extended duration.
What we like about it: It doesn't require detailed assembly. The parts are not too small thus there is no risk of the child swallowing them.
[ Read: Tips To Choose Safe Toys For Kids ]
5. Fisher-Price Magnetic Drawing Screen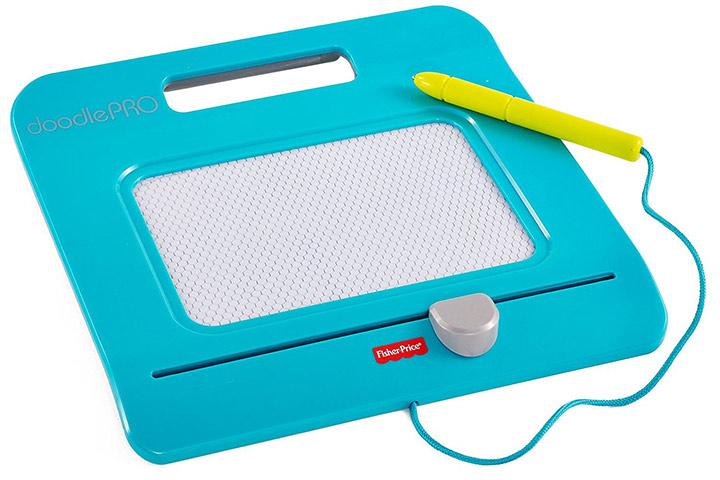 Gift a four-year-old girl a drawing book and she will fill it up in just a few days, or hours if she loves drawing. But if you give her a reusable drawing pad or screen, she is set for a long time! We recommend the Fisher-Price Magnetic Drawing Screen as a gift for your four-year-old girl.
Why kids love it: Kids can play with it for hours. They can draw anything they want and erase it if they don't like it or before they move on to their next masterpiece. They may not be able to save what they draw, but they can draw and redraw the same thing for practice, without wasting paper.
What we like about it: The magnetic drawing board comes with an attached stylus that can be used to draw or sketch on the board. A premium version of the drawing board also has stamps that the kid can use to create custom designs and backgrounds.
Occasion: Casual, Christmas, birthdays


6. Barbie Bubble Mermaid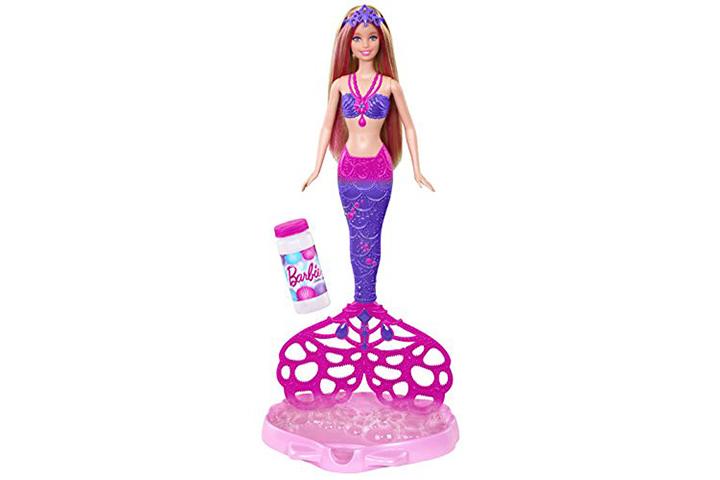 Among the many things that kids like to do outdoors, one is to blow bubbles! Bubbles are magical in their own way and make you feel like you are in a wonderland. A bubble gun may be a neat idea for a little boy. But for a girl, you should get the Barbie Bubble Mermaid, with a pull-string to release the bubbles.
Why kids love it: The Barbie Bubble Mermaid is a Barbie, so a lot of girls would love it. Moreover, the fins of the mermaid are designed like a bubble wand, turning the doll into a bubble maker. The doll comes in two attractive color options that most girls will like.
What we like about it: This is better than the regular bubble wand that you need to blow to create bubbles. The doll comes with an elastic string attached to the back of the mermaid, which needs to be pulled to release the bubbles. The bubble Barbie is also better than the other Barbie models, for it acts as a bubble wand and your little girl's favorite doll.
Occasion: Birthday, casual gifting


[ Read: Ben 10 Toys For Kids ]
7. Peachtree Playthings Frozen Elsa Coin Bank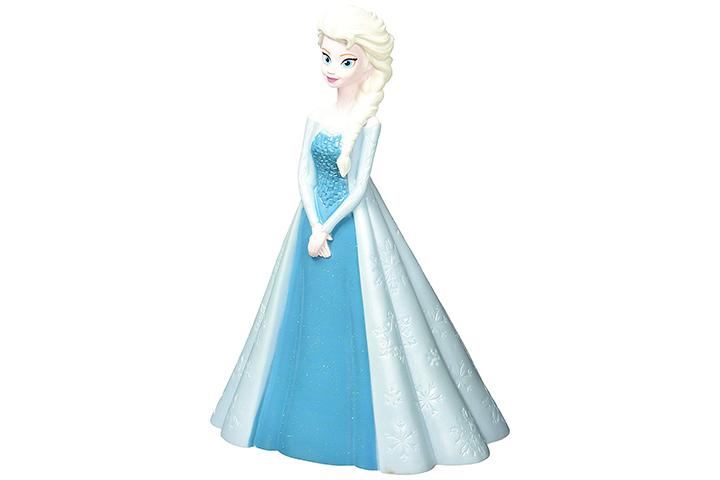 It's a doll and a coin bank. It means your little one can play with the doll while also keeping her pocket money safe. The coin bank is made of plastic, which means it is durable and won't break on fall.
Why kids love it: Your four-year-old girl will love the design of the doll and playing with her favorite Disney character.
What we like about it: It is easy for the kid to slide the coin inside and remove the money later by unscrewing the stopper at the bottom of the doll.
8. KidzLane Doctor's Kit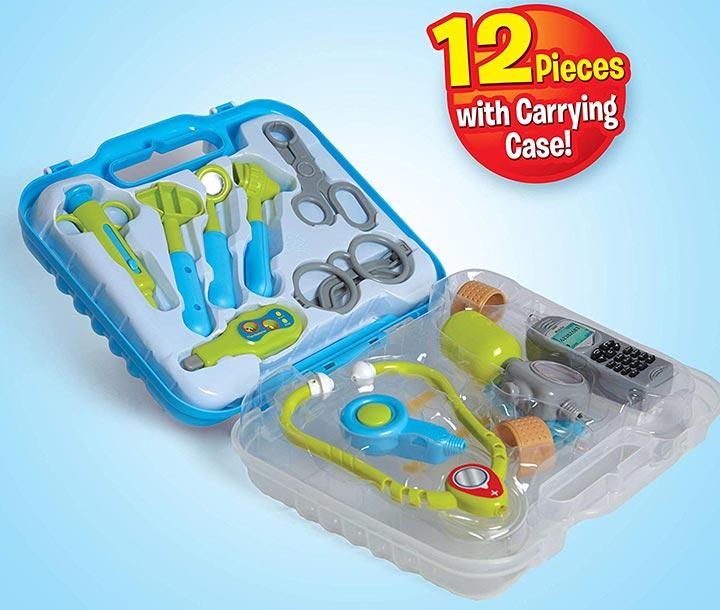 A doctor's kit has medical equipment made with durable plastic. Your four-year-old will enjoy role-playing with the toys while also being acquainted with medical instruments.
Why kids love it: The instruments are similar to the real equipment. There are adorable plastic bandages, a cell phone, and a plastic eyeglasses frame. The kid will certainly get excited to see these toys.
What we like about it: It is all plastic with round edges. Some of the toys also give out sound effects that add to the fun.
[ Read: Toys For 5, 6 And 7 Year Old Girls ]
9. Finger Painting Set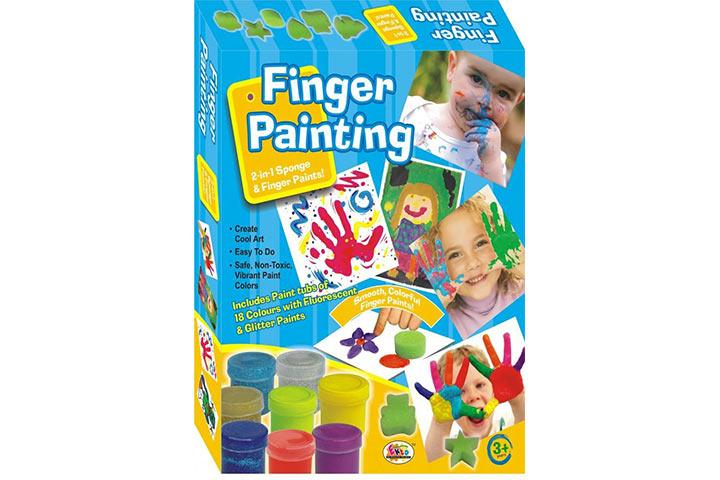 Give a child some paints, and she will create art! While your 4-year old may not be creating masterpieces every day, she can bring her imagination to life with finger painting. And the Ekta Finger painting set is just what she needs.
Why kids love it: Kids love to get messy. And when you can create something that you can show off while getting dirty, it is an achievement that your girl would be proud of!
What we like about it: The kit has 18 washable colors (non-toxic) sponges for creating stamps and fingerprints and eighteen printed sheets that can be used for coloring with the fingers. Even if you run out of the printed sheets, plain paper and sheets are enough to boost the child's creative instincts.
Occasion: Birthday, holidays, school projects


10. Sleeping Bag for Slumber Parties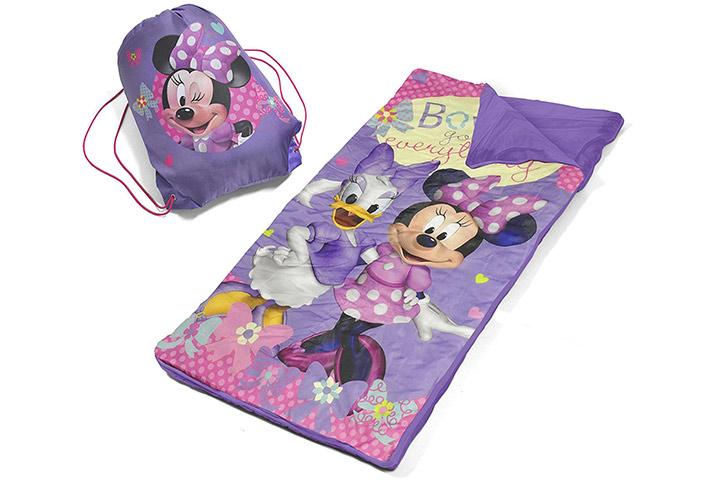 This is one of the best gift ideas as little girls and pajama parties go hand in hand. If your little daughter or niece has a night out planned at her friend's place, she needs a sleeping bag or bedding of her own. We recommend the Disney Minnie Mouse Slumber Bag set in a pleasant color.
Why kids love it: The sleeping bag has a child-size print of Minnie mouse, which makes it so attractive. The bag can be easily carried around in a sling backpack and will be the center of attention at the next slumber time.
What we like about it: The bag is made of polyester and light in weight, making it easy for the girl to carry it around by herself. Also, the bag is closed and keeps the child warm and cozy inside.
Occasion: Casual gifting, holidays


11. Audible Membership
Gifting a book is a good idea. But the better idea will be to gift a membership to a service that can provide her access to several books. Audible service by Amazon provides access to several audiobooks that can be heard using the Audible application, which works with several compatible devices (computers and smartphones).
Why kids love it: Your four-year-old girl can listen to books meant for kids, with audios of shorter duration. It can be fun for kids to hear the favorite books.
What we like about it: There are a plethora of audiobooks to choose from, and you can download them too. This subscription makes a good bedtime story session for children. Also, since the app would be on a parent's digital device, parents can sit with their children and pick a book to listen.
[ Read: Educational Toys For Kids ]
12. Kidkraft Vintage Kitchen in Pink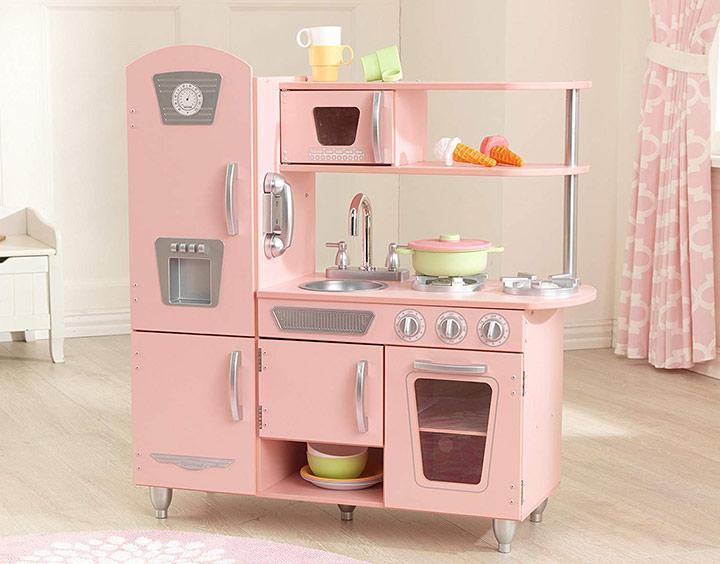 The vintage-style kitchen contains all the essentials. There is a stove, an oven, a sink, and other plastic food item props that take their respective place on the toy. It has the perfect height for your child to use.
Why kids love it: It looks like the real kitchen shelf! You even have a toy phone and a toy water dispenser that give a realistic look.
What we like about it: The toy can be disassembled to make storage easier. Your child can spend a lot of time in imaginative play with the toy.
13. Walkie Talkie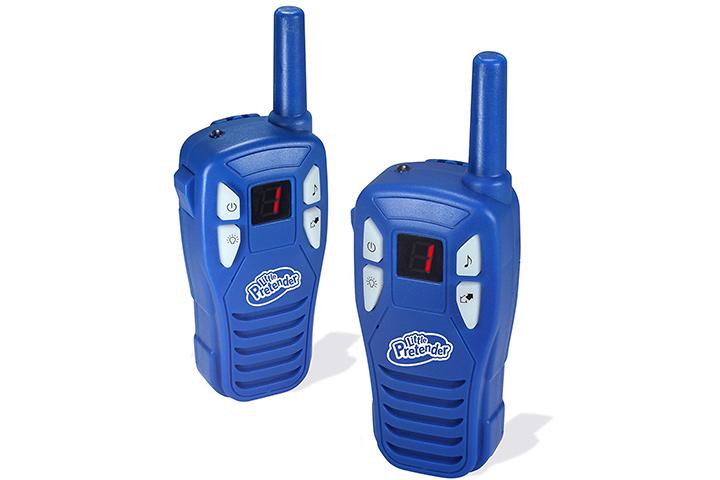 When the little girl likes to play I-spy, she needs the right tools. And a walkie-talkie is one of the tools. We recommend the Walkie Talkie set by Little Pretender, for the price and the talking range. This gift is perfect for the little tomboy in your house, who loves pretending to be a cop or a spy!
Why kids love it: A walkie talkie is unlike other toys, which makes it fascinating and fun to use. Kids love to pretend-play. Walkie Talkie is the best if they like playing police or military games.
What we like about it: It teaches children to concentrate and listen carefully to get the right message. It also tells them how important it is to be as quiet as a cat in some situations.
14. Play-Doh Modeling Compound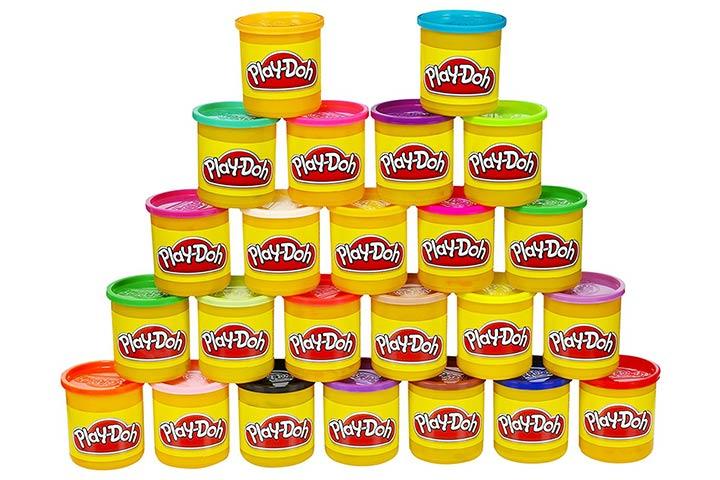 The Play-Doh clay is the best toy to keep your child busy. The set has 24 tubs of clay (different colors) to create various shapes and figures. There is no restriction on how to use the clay, and your little one can even mix some clay to make new colors.
Why kids love it: Playing with the doh is fun. You can beat it, twist it, fold it, roll it, or just do anything else you want with it and still not break it. They can reuse the clay as many times as they want to create new things each day.
What we like about it: Playing with clay can have a calming effect on children. It also enhances their sense of touch and strengthens the child's hand muscles. It increases their curiosity and imagination – just look at the different things your little girl creates with a ball of clay.
Occasion: Casual gifting or birthdays


[ Read: Laptop Toys For Kids ]
15. Teeter Popper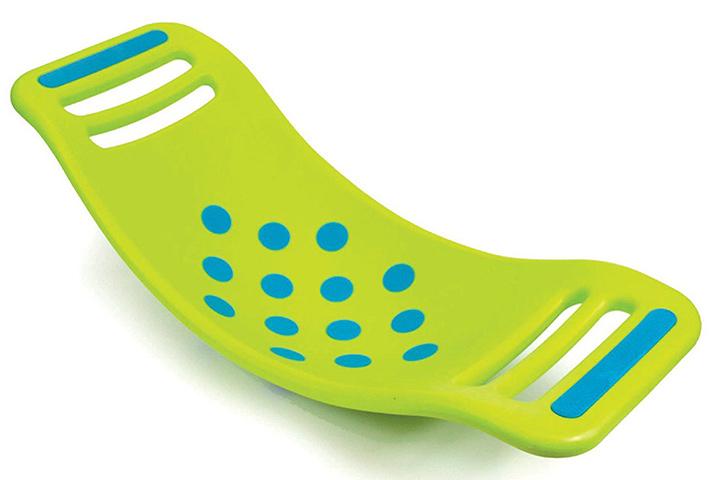 Teeter Popper is a fun toy that allows kids to be kids – silly and fun-loving. If you have a naughty 4-year-old daughter or granddaughter or niece, this fun balancing pad is just what you need to get. Read on to know why.
Why kids love it: Kids love the fact that they can stand, sit, tilt or sway using this cool board, without falling. They can wobble, rock, and even roll it or try to move it in a fun way. Kids can go wild with this amazing Fat Brain product!
What we like about it: The toy helps kids practice stability and balancing of the body, thus promoting gross motor skills.
Occasion: Birthday, Graduation



Disclaimer: MomJunction may earn a commission when products are purchased through affiliate links given in the article. However, this partnership does not influence the editorial content featuring in our list.
That's not all. You can also give your four-year-old niece, granddaughter or daughter STEM toys such as an Engineer's Kit, a play tent, a projector set, roller skates, pet care kits, Terrariums, planet models, play sand sets, paint-by-number kits (my favorite), and other artsy stuff that will heighten her creativity and thinking.
Hope you have discovered some top gifts for your four-year-old girl from our list. What do you think is the best present for your angel? Share your views here.
Recommended Articles
Comments are moderated by MomJunction editorial team to remove any personal, abusive, promotional, provocative or irrelevant observations. We may also remove the hyperlinks within comments.
The following two tabs change content below.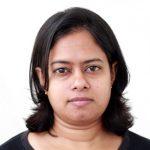 Latest posts by Sagari Gongala (see all)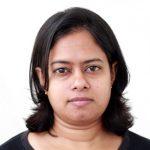 Sagari Gongala
Sagari is a math graduate and studied counseling psychology in postgraduate college, which she uses to understand people better. This skill also helps her write better articles about kids and their behavior. She is meticulous in her research and gives you information that could be the ultimate help you'll need in times of need. An animal lover, vegan, and coffee addict, Sagari puts her mind and soul into whatever she does. During her free time, you'll find her either rescuing a sick/injured animal with a friend, or glued to her couch watching Sons Of Anarchy on Netflix.