It's wonderful to see little girls growing up and their choices changing drastically. They start developing a penchant for everything nice, from their mother's pretty clothes in the closet to the dazzling ornaments and toys. When choosing the best gifts for 6-year-old girls, pay attention to their tastes and preferences. If you're lost on what to give to a young girl, we are here to assist you as we have listed some amazing gift ideas for you to choose from.
31 Best Toys And Gifts For 6-Year-Old Girls In 2022
Never limit your choices to regular toys when gifting something to a little girl. Instead, look for unique items that will suit the girls' preference and help her develop specific skills.
This kit gives your geeky girl the liberty to build anything. The colorful discs can bring to life whatever structure she imagines. Check this video to learn more about the product.
Features:
Consists of 500 interlocking discs made of safe polyethylene
Comes in a reusable plastic jar
Free of phthalate, lead, heavy metal, and BPA
Encourages kids to be creative and imaginative
Helps improve coordination and dexterity in kids
Suitable for single or multi-player games
This traffic jam logic game is the junior version of the actual advanced Rush Hour game. This STEM toy compels your girl to think hard and come up with a novel solution each time her ice cream car gets stuck in traffic. Check out this product review video to learn more.
Features:
Contains 40 challenges ranging from beginner to expert levels
Toy set includes a traffic grid, an ice cream truck, and 15 blocking vehicles
Comes with an easy-to-understand instruction manual
Strengthens logical reasoning and planning skills
3. Best For Developing Fine Motor Skills: Unicorn Slime Kit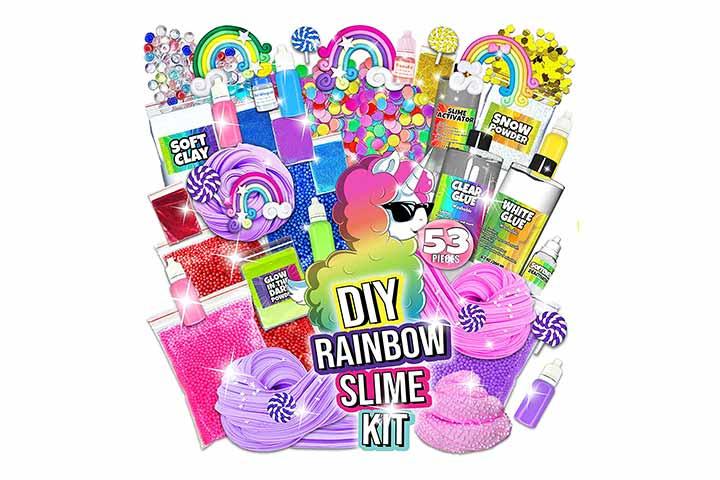 Unicorn Slime Kit includes snow powder, clear glue, soft clay, white glue, activator, deactivator, foam balls, bubble gum, candy scents, etc. It comes with a non-toxic slime activator. Add glitter to the slime to make it glow in the dark.
Features:
Has foam balls and pigments in different colors
Comes with perfect texture
Chemical-free
ASTM certified
Bright colors
Easy-to-use packs
Looking for a gift for your little fashionista? This dress designing kit might be the right gift for her. She can mix and match and create numerous new outfits with it.
Features:
Contains fashion plates, colored pencils, rubbing crayons, and other accessories
Comes with a fashionable and elegant carrying case
Idea guide helps kids create new outfits
Helps develop an interest in fashion and clothing
Meets the ASTM d 4236 safety standards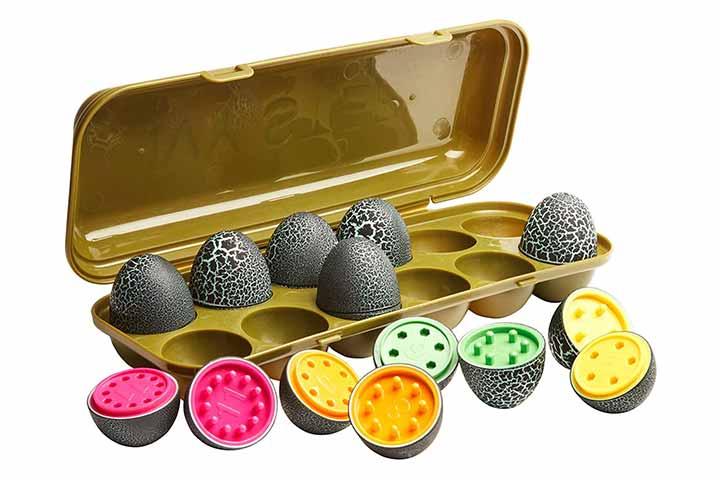 Ivy Step Toy Eggs for Toddlers is ideal for individual and interactive play. It builds logical thinking skills, hand-eye coordination, and fine motor skills in kids. The patterned shells stimulate young minds. These eggs help to count math numbers from 1 to 12 and match the colors, patterns. This gift set is ideal for preschoolers, toddlers, and early learning.
Features:
The eggs are made of plastic.
The storage case is convenient and durable.
The product has vibrant colors and patterned shells.
For girls with an extremely active imagination, this building kit can become an outlet for her creative building skills.
Features:
Building kit contains 213 colorful Lego pieces including wheels, bricks, eyes, and more
Toy pieces come housed in a bright yellow suitcase with neat compartments
Comes with easy-to-understand instructions
Compatible with other Lego toys
Most girls want to be a fairy or a princess at a costume party. But your darling can stand out by donning this hairstylist avatar. She can even go on to play with it after the party.
Features:
Comes with a smock and seven realistic accessories
Accessories include a hair dryer, a comb, pretend scissors, a headband, and a plastic mirror
Costume is easily washable in a machine
This 600-piece construction kit can help your girl create flowers, cars, sceneries, and anything that she imagines. It is like a magical jigsaw puzzle.
Features:
All the 600 bricks have the same shape but enable your girl to build several creations
Can create colorful mosaics as well as 3D figures
Encourages kids to be creative and imaginative
Develops fine-motor skills
If you can have your own study table, so can your little princess.
Features:
Sturdy plastic desk offers ample working space
Includes built-in bins and a raised storage shelf to hold books and other items
Tiny compartment in the front to hold other school supplies
Easy to wipe clean
Includes a working desk light that illuminates at the push of a button
Set also comes with a Step2 New Traditions Chair
This is not just a toy, but also an accessory for your girl to create and wear. It allows your girl to design her own necklaces and wear them too.
Features:
Consists of five character charms, 150 beads, and four silicone necklaces
Colorful beads easily slip through silicone necklaces
Includes a sturdy plastic carry case
Helps promote creativity and a sense of pattern in kids
Your future fashion icon can start making fashion statements from now itself. This fashion design activity kit allows kids to mix and match clothes and accessories to create a whole new fashion trend.
Features:
Includes nine double-sided fashion plates
Set also includes four pencils, a crayon, and a crayon holder
Portable storage case enables kids to play with this toy pieces anywhere
Unicorns are cute and pretty. And when they dance, they look even more adorable. This unicorn even has a glowing horn. It could become your little girl's favorite toy.
Features:
Interactive unicorn dances and plays music
Horn lights up in different colors
Personal brush included to comb its silky hair
Toy set includes a cupcake and an instruction manual
If playing with real horses is not an option, get your girl toy horses and a stable where she can take good care of her tiny creatures.
Features:
44-piece set includes a stable, horses, vegetables and fruits, and other tiny accessories
Removable roof to convert the stable into an open riding arena
Fences can be connected any way the kid wants
Do you see a young Adele or Taylor Swift in your girl? This karaoke microphone can become a means to showcase her singing talent.
Features:
Wireless microphone built with sturdy aluminum alloy
In-built Bluetooth enables connectivity with speakers, recorders, and most devices
Lightweight microphone is easy to hold
Available in various colors
Includes a micro USB cable and instruction manual
For a quirky girl, collecting gross play items from the Grossery gang can be a fun activity. What is usually a blind selection becomes planned as this packet reveals the items in it, so your girl can complete her collection of gross play items.
Features:
Packet contains ten grossery gang items
Includes two milk crates
Items can be stuck anywhere
Comes with a collector guide so you know how many more items you need for a complete collection
Drawing can become fun even for non-artsy girls. This light-up tracing pad helps girls draw perfect figures without much effort. It even glows in the dark.
Features:
Kit includes a graphite pencil, 12 colored pencils, ten tracing sheets, and ten blank sheets
Clearly lit pad makes tracing lines possible even in the dark
Kids can choose from 100 traceable images
Made of non-toxic material
We bet you have not seen an art kit as unique as Shrinky Dinks Jewelry Kit. The jewelry set comes with outlines for your girl to color. You can then place them in the toasting oven for the outlines to shrink in size. Your girl can then decorate them with strings and ribbons to create jewelry and other accessories. This activity should be performed under adult supervision only.
Features:
Set contains 42 shrinky dinks, eight color pencils, ten adhesive dots, and other accessories
Useful to make earrings, bracelets, charms, and so much more
Effective way to bond with kids
Includes easy-to-understand instructions
If your pretty little girl loves self-grooming, especially decorating her nails, giving her a regular nail polish may not be such a good idea. Instead, get her these peel-off, water-based, and safe nail paints.
Features:
Set comes with 15 different-colored nail paints, two nail separators, and a nail file
Formula is water-based, non-toxic, and bubble-gum scented
Polish peels off easily and does not require acetone or a nail polish remover
Comes in different shades, and hence, is ideal for mixing and matching
For an artsy girl who loves capturing those magic moments with her BFF, this scrapbook and art & craft supplies can come in handy.
Features:
Includes a 48-page hardcover book and 453 scrapbook decorating art supplies
Kit supplies include glues, stickers, gems, a marker, scissors, ribbons, and more
Simple to use and easy to store
If your girl hates repeating outfits and wants to wear something new every day, encourage her to create her own accessories. This headband craft kit enables her to design and create her own headbands so she can wear a new headband every day.
Features:
Set includes ten satin headbands and multiple accessories
Accessories include flowers, feathers, butterflies, ribbons, and more
Easy to hold with small hands
Promotes creativity, color awareness, and fine-motor skills
Most little girls wish to have a dollhouse. Your girl can have one of her own with this magnificent Belle Enchanted Dollhouse that is based on the Beauty and the Beast story.
Features:
Three-storey mansion consists of two balconies and three panels
Its golden plastic staircase and beautiful balconies give it a dreamy look and feel
Also contains 13 furniture pieces to complete the décor
Designed for 12-inch dolls
If simple, regular games do not interest your girl, this complex coding jam might be her thing. It is a virtual game that allows kids to play music or other games through a series of codes.
Features:
Kit contains 23 magnetic coding blocks along with a game app
Levels vary from easy to difficult
Enhances problem-solving skills while learning patterns of coding
Enables kids to code and play their own musical tune
A fairy costume has got to be the perfect gift for your pretty little girl who insists on playing fairy in every role-play game.
Features:
Fairy set consists of a tutu, a pair of wings, a wand, and a halo
Tutu is made of soft, glittery fabric, while halo is made of fabric ribbon
Designed to fit average-sized girls aged 3-9 years
Can be paired with leotards to add a special touch to the costume
Gardening offers therapeutic benefits. Inculcating a love of gardening in your girl will benefit her in the long run.
Features:
Toy includes a tree hollow, organic seeds, soil, watering can, willow fairy, and other related accessories
Comes with a fairy, a bunny, a chandelier, and doors to add a magical feel
It comes with an instruction leaflet to help kids understand the use and maintenance of the indoor garden
Helps teach kids the science behind germination and tree growth
Girls love emojis, and six-year-olds are no exception. Wearing an emoji bracelet can complete your girl's funky look for the day.
Features:
Set contains five gel strings, 30 emoji beads, and 40 colored spacer beads to create your own bracelet
Includes a kid-safe needle threader
Allows kids to create any kind of bracelet to suit their mood
Promotes creativity in children
Improves color coordination and fine-motor skills
Every girl carries her world in her handbag, doesn't she? Then wouldn't a smart shoulder purse be a good gift for your six-year-old girl?
Features:
Made of soft, eco-friendly PU leather
Cutely designed with cartoon cat style and tassel
Magnetic clasp closes the bag firmly
Adjustable shoulder strap
Ideal for holding coins and her funky accessories
This toy has surprise written all over it. Each blume doll comes hidden in a pot. All you need to do is water the pot to reveal the doll and other surprises.
Features:
Every doll in the collection is identified by its unique hairdo
Dolls come with fashionable clothes and other accessories
Includes ten surprises such as a mini friend and fashion accessories
If your little princess is hooked to her cellphone or the TV, one way to get her out of the house is this kids' camera. With this lightweight and simple-to-use camera, photography is likely to become your girl's favorite hobby.
Features:
Made of high-quality, sturdy material to withstand drops
Durable lanyard makes it easy to carry around
Includes a 32GB memory card
Features a two-inch IPS FHD screen
Enables multi-scene selection
Available in various colors
Your nerdy girl has barely entered school but may show qualities of a 'Spelling Bee' aspirant. This kit could be helpful in enhancing and perfecting her spelling and vocabulary skills.
Features:
Comes with over 80 words written on magnetic tiles
Magnets can be pinned anyway around the house to help kids memorize new words
Enables kids to learn to form simple phrases and sentences
Even a regular van may not offer the kind of amenities that this toy van does. It makes camping way too glamorous for your little girl's dolls.
Features:
Camper van opens up to hang out area, bunk beds, slide pool, and more
You could unbox more than 55 surprises
It also holds a fashion runway, BBQ patio, a D.J. booth, and a vanity with mirror
Detachable front area flashes lights and blows horn
Includes a free doll
A jeep looks like a very powerful rugged vehicle. And when that jeep is colored pink, it becomes the ultimate vehicle for an amazing, outgoing girl.
Features:
Comes with decorative stickers to make your jeep unique
Remote-controlled jeep is suitable for both indoor and outdoor plays
Adjustable seat can accommodate a tall Barbie
The variety of gifting options for little girls has no limit. These gifts can provide several hours of fun and excitement for a six-year-old girl. So which gift idea did you like the most? Do share with us your choice in the comments section below.
Why Trust MomJunction?
Priti Bose is a skilled product writer who focuses on toys and gifts. She conducts extensive research on user reviews and product listings before recommending products to ensure quality. In this list of the best gifts for six-year-old girls, she has included a diverse range of products that can be gifted to children according to their interests. A detailed description of the features of each product has also been included in the buying guide. These products are unique, durable, safe, and made of good-quality materials for long-lasting use.
Recommended Articles: