By the age of five, little boys become quite adept at grasping new concepts and ideas and demonstrating gross motor skills. When buying a gift for a boy this age, you can look for toys that can intrigue him, grab his attention, and spark his creativity.
If you are wondering what kind of toys we are talking about, read on as this MomJunction post recommends you some of the best toys and gifts for 5 year old boys.
38 Best Toys And Gifts For 5 Year Old Boys In 2021
Your boy can be imaginative, active, creative, or just about anything. These toy gifts are engaging and can enhance his innate talents and qualities.

When kids see their parents dusting and cleaning the house, they want to help too. You can teach your little boy the importance of cleanliness through this house cleaning set.
Features:
Contains an age-appropriate six-piece playset
Durable wooden handles give the cleaning tools a realistic look
Set comes with an organizing stand, and each tool comes with a hanging loop for easy storage
Improves coordination and fine motor skills
Helps strengthen child's sense of purpose

Let your boy role-play a perfect camping adventure with this pickup and caravan Lego toy. It is a perfect toy to keep him engaged during the weekends.
Features:
Comes with a detachable caravan trailer to build your own pickup truck
Includes three figurines — mom, dad, and son — including a crab figure and additional accessories for effective imaginative play
Removable roof and side opening
Compatible with other Lego toys

Ivy Step Dinosaur Explorer Kit encourages creativity, cognitive learning, and emotional social skills. The set allows your kid to spot dinosaurs with a binocular and continue dino adventure even in the dark with rechargeable flashlight.
Features:
Designed to stimulate young imagination
Comes with storage bag
Toys made of plastic material
3x magnification with magnifying glass
Watch for realistic time

Having an everyday use item perform extraordinary task is fascinating. And little boys often appreciate gifts that are unique and interesting. So, buying an invisible pen for your little sleuth can earn you some good points with him.
Features:
Can be used to write secret messages on skin, walls, and clothes
Magic ink becomes visible when you press the flash button of the UV light attached to the lid
Pack consists of six pairs of different colored pens
Pens come with batteries
Good option for playing spy games and conveying interesting messages
Perfect party gift

Ivy Step Dinosaur Fossil Dig Kit improves hand-eye coordination, fine motor skills, spatial relational skills, and imagination. Pick a fossil egg, dig, find the dino, and match the dino with the card.
Features:
Dino excavation cards to match the hidden dinos
Rechargeable flashlight for clear visibility to remove the dino
Fun-fact book for coloring and entertaining your kid

A little boy's creativity and imagination come to the fore when he is left alone with toys that can take any shape of his choice. This building blocks toy gives your boy the freedom to design any tool or machine that he imagines.
Features:
Designed to promote STEM skills in kids
Includes 101 pieces for up to four players
Toy pieces are non-toxic and free of phthalate, lead, cadmium, and BPA
Includes a book with 42 design ideas ranging from easy to advanced levels
Comes with a convenient storage box
Strengthens hand-eye coordination, improves motor skills, and encourages logical thinking and teamwork

Ivy Step Toy Eggs for Toddlers is a preschool activity that helps your little one to match the eggs with the texture and color and learn to count. This activity stimulates young minds by improving fine motor skills.
Features:
Convenient storage box
Easy-grip eggshells
Different patterns on eggshells

This toy set allows your kid to let his imagination go wild while role-playing a manager handling cargo shipment at a construction site.
Features:
Includes a heavy transport truck and toy helicopter
Tiny figurines and accessories enable imaginative play
Toys designed realistically for authentic feel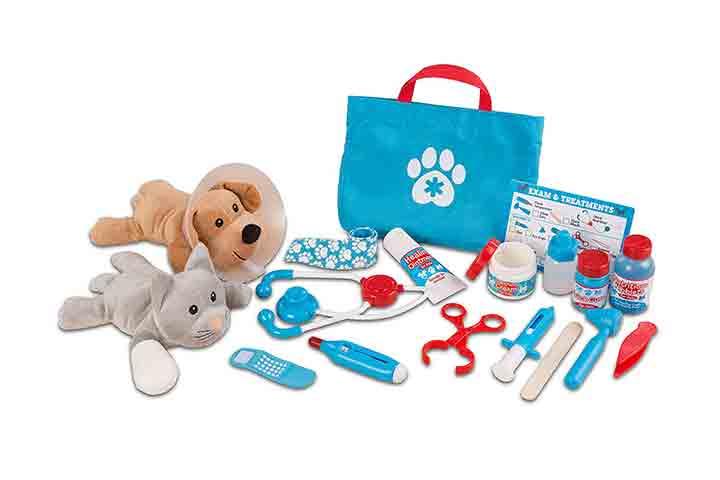 This vet playset is for boys who love animals or wish to become an animal doctor someday.  You couldn't wish for a better toy set than this to help your little boy develop empathy.
Features:
Includes 24-piece set with a fluffy dog and cat
Includes veterinary equipment such as stethoscope, thermometer, syringe, clamp, cast, and bandages
Comes with a handy tote bag for easy storage
We recommend you pair this toy set with the Melissa & Doug Veterinary Role Play Costume Dress up set

A ferocious dinosaur is on the loose ,and only your little boy can rescue it. With this toy set, your  boy can become a dinosaur trainer and rescue it just like Owen from Jurassic World.
Features:
Contains two figurines:  Owen and a tracker
Includes a buildable raptor figure and a truck with detachable cage
Features a tranquilizer gun, walkie-talkie, stick, and chicken leg
Guide book to help kids build and play easily
Toy pieces are easy to assemble and are compatible with all LEGO construction sets

If your boy loves dinosaurs, get him a lot of dinosaurs to play with. The dinosaur sound book will further add to the fun of playing with these fantastic creatures.
Features:
Contains 12 different dinosaur figures
Sound book helps kids learn about the sounds of each of the dinosaurs
Teaches kids about various types of dinosaurs
Life-like toys ideal for imaginative play
Made of phthalate-free, non-toxic plastic

Razor A2 Kick Scooter is undoubtedly a fun ride. Kids can try this scooter first before trying the advanced pedaled two-wheelers.
Features:
T-tube and deck made of aircraft-grade aluminum
Patented folding mechanism for easy storage and transport
Urethane wheels with springless shock system ensure a smooth and safe ride
Rear fender brake enables instant application of break
Adjustable handlebars

It is totally fine if you do not live near a pond or a lake. Your boy can still try fishing with this pretend fishing playset.
Features:
Fishing playset includes a tackle box, adjustable vest, fishing pole, three fish, three worms, fishing net, and activity guide
Activity guide book consists of six pages of different fishing-themed activities
Magnetic hook attracts fishes with embedded magnets
Helps improve hand-eye coordination and fine motor skills
Comes with store case to safely store toys in one place

Drawing is an art not every child possesses. But with a little help, this art too can be mastered. This drawing kit can help your boy improve his drawing skills.
Features:
Kit contains 20 plastic stencils with 370 outlines of various shapes, animals, and so much more
Also includes colored pencils, pencil sharpener, mechanical pencil, and a sketchbook
Lightweight, lockable carry case with easy-to-carry handles
Meets the U.S. Toy Safety Standards
Helps strengthen finger muscles, improves handwriting, and preps the kid for school

This kids' robot guarantees entertainment. It literally works on voice command, making it your kid's perfect singing and dancing partner
Features:
Robot can move in all four directions and even take a 360-degree turn
Follows voice command and moves according to it
Repeats spoken words and sentences
Made of high-quality plastic and is safe for young kids
Comes with touch sensor areas, a repeat & record button, and a voice receiver
Features LED eyes

Want a game that will rack your boy's genius brains? This mathlink cubes game might do what you want.
Features:
Contains 100 cubes in various colors and geometric shape cutouts for perfect linking
Includes 15 double-sided activity cards filled with 30 learning challenges
Cubes come in ten bright colors
Helps enhance shape, color, and pattern recognition
Improves counting and grouping skills
Boosts tactile senses and movement

Nothing can be more exciting for your kiddo than seeing two toy cars crash. And when it is four cars, it is double the fun.
Features:
Includes 16 feet of track with hairpin turns, motorized boosters, and a giant crash zone
Four-track crisscross set launches four cars in the same direction
Generates curiosity in the child's mind
Improves problem-solving skills
Simple to fold and easy to store

Sand digging becomes more fun and easy with this excavator crane. Your son can find the hidden treasure in a sand box with this digging tool.
Features:
Its 360-degree swivel action enables your little boy to dig without much effort
Digs up to 15-inch deep with its 33-inch reach
Encourages kids to step out of the house and play outdoors
Perfect toy for the beach or backyard
Develops fine-motor and problem-solving skills and encourages imaginative role-play

Learning to ride a bicycle can be tough for your kid. This beginner bicycle comes without pedal, so your boy can learn to balance the two-wheeler without hurting himself.
Features:
Foot-to-floor and step-thru design makes it easy to learn
Helps improve balance and coordination
Safe design reduces the chance of injury faced while trying to ride a regular bicycle
Available in different colors
Adjustable handlebars and seat post
Preps your kid to learn cycling

You may be a germaphobe, but that should not stop your boy from playing at the local garden. If germs bother you, buy him his own slide where he can play without you squirming in your seat.
Features:
Comes with climbing stairs, basketball hoop, crawl-thru space, smooth slide, and a multi-purpose ball
Clickable knobs make it simple to setup
Helps improve motor skills and encourages critical thinking
Suitable for solo and group play

Young boys often dream of becoming a superhero like Batman. But to become Batman, your boy will need his own Batmobile. This pedal go-kart has been designed just for that.
Features:
Made of sturdy steel
Comes with rubber wheels and three-point steering
Seat can be adjusted according to the child's height
Pedals enable it to move forward
Comes with handbrake for the rear wheels
Improve strength and stamina

This cash register will teach your tiny young man basic math and money skills. In the process, you could be doing your kid a big favor by teaching him how to spend his pocket money wisely
Features:
Comes with a cash register and solar-powered calculator with LCD screen
Includes pretend US dollar bills and coins, and credit card
Cash drawer makes a 'ting' sound like a real cash register
Includes an activity guide
Made of recyclable plastic

Your little artist likes to try his hand at creating a masterpiece, but you do not want his masterpiece on your walls. What could be the solution? Simple! Gift your boy this scribble board and writing tablet that could allow him to create innumerable designs without using actual paper and color pens.
Features:
Mess-free board enables kids to create endless drawings
Rainbow colors help create fascinating designs
Includes four stylus pens with different tip shapes and sizes
Includes nubs and knobs along the sides to create lines and textures
Makes teaching alphabets and numbers easy to kids
Features a grip case for easy handling
Meets the ASTM child safety standards

Drilling and hammering are for adults. But if your little master enjoys doing those too, this toy workbench can transform him into your reliable workman.
Features:
Comes with 100 pieces of accessories and a workbench
Contains shatterproof, plastic googles for the safety of eyes
Workbench made of ABS plastic is stable, strong, and sturdy
Toy drill comes with moderate speed to avoid accident
Comes with a tool case for easy storage

Why buy a regular video racing car when you can get a car, jet, and motorcycle all at once. This toy comes with an adjustable steer that transforms from car to jet and motorcycle.
Features:
Enables three-way play
Offers nine different racecourses
Gearshift activates various racing sounds
Vibrating controller allows for pretend play
Teaches letters, spelling, numbers, and shapes
Runs on batteries

This soccer ball does not come alone but with its team of cheerleaders and a friendly coach. It is an interactive toy that gives funny responses while your boy plays with it.
Features:
Comes with intelligent sensors that respond to certain actions
Plays different kinds of songs when shaken vigorously
Soft tear-free exterior
Outer cover is machine-washable
Suitable for indoor and outdoor play

Regular analog watches will someday become extinct because of the arrival of smart watches. Your little boy can not only see the time but also perform multiple tasks with this smartwatch.
Features:
Clicks and edit pictures and videos
In-built calendar, stopwatch, and calculator
Splash and sweat proof
Runs on rechargeable lithium ion battery
Battery lasts for up to two weeks on a single charge

What can be a better option to generate interest for soccer in your little boy than a Wilson soccer ball?
Features:
Comes with durable synthetic leather cover
Butyl rubber bladder provides effective air and shape retention
Classic black and white panel design
Suitable for outdoor play
Machine sewed

This car is controlled by not just any remote, but a steering-shaped remote control that can make your kid feel like driving a real car.
Features:
Comes with two channels: forward and reverse left
Steering wheel remote control makes realistic honking sounds
Car flashes headlights and plays music
Cars and remote run on batteries
Child-friendly buttons
Made of high-quality ABS plastic

Why store your boys' precious cars in a regular plastic box when there is this cool transport truck? A cool toy truck like this can make an awesome gift for boys who love to collect tiny cars.
Features:
Set includes transport truck, six racing cars, construction signs, cones, and blocks
Detachable and rotating front cabin
Comes with 28 car storage slots
Comes with a handle on the top

Boys who love to be the center of attention often look for ways to entertain people around them. And a magic set like this can bring the true entertainer that he is into the spotlight.
Features:
Contains good quality props to perform 25 magic tricks
Helps kids learn simple and interesting magic tricks
Includes a guide book with codes to unlock online videos
Improves social interaction skills

Golf is a game of patience. And your boy can learn both patience and mastery at this game with this ball set.
Features:
Comes with 15 balls, a golf club, two replaceable club heads, one ball feeder, and much more
Easy to carry
Strengthens muscles, joints, and ligaments
Enhances hand-eye coordination, cognitive skills, and patience
Suitable for indoor and outdoor play
Available in various colors

Boys who love building might adore this forts set. This plastic fort building set enables boys to create their own space.
Features:
Contains 69 geometrically precise balls and 44 sticks
Easy to connect balls and sticks to create a fort of any size
Durable and easily transferable
Promotes social interaction and collaborative play
Helps enhance motor skills and STEM problem-solving skills
Comes with an instruction manual

Make coding fun to learn for your future Mark Zuckerberg. This activity set helps develop coding skills in smart little boys.
Features:
77-piece set consists of 40 coding cards, six double-sided tiles, 27 obstacle building pieces, and guide
Robot moves on remote and does not require a phone or tablet to operate
Robot detects obstacles and moves to avoid them
Fun way to get kids acquainted to computer languages
Develops problem solving and critical thinking skills

This mind-boggling marble construction kit can challenge your boy like no other game.
Features:
Made of good quality, non-toxic material
German engineering design offers innumerable creative possibilities
Helps teach kids STEM principles
Enhances spatial thinking and problem solving skills
Contains spins, drops, and seesaws for more fun and excitement
Compatible with other Hape Quadrilla products

What can make a better gift for a 5-year-old boy than a cool kids' camera? Designed especially for young kids, this camera is easy and absolutely safe to use.
Features:
Comes with front and rear cameras that can click pictures and record videos
Enables multi-scene selection and automatic smile shooting
Includes a 16GB microSD card so kids can click hundreds of images
Outer silicone body is non-toxic and durable
Lightweight, shock-proof, anti-drop
Available in a variety of colors

Geography is not every child's favorite subject. But you can make it interesting for your son with this puzzle globe where he is required to fit every continent in its right location.
Features:
14-piece set includes a spinning globe, six continent puzzle pieces, six continent labels, and a sheet of blank label stickers
The globe measures 8-inch in its diameter
Solving puzzles improves fine-motor skills
Helps generate interest in geography
Teaches about various continents across the world
Toy pieces are thick and easy to grasp for little hands

Boys love smart robots that follow their orders and even spy for them. This remote-controlled robot performs multiple tasks with ease and is a brilliant prankster.
Features:
Includes a MiBro robot, remote control, tray, ball, instruction manual, etc.
Makes funny sounds and noises to make people laugh
Speaks certain phrases with funny sound effects
In-built microphone picks up sounds so it can eavesdrop on other people's conversations
Lightweight and easy to carry
Each of these toys can help develop a skill or talent in your growing boy. We loved all of the toys listed here. Which gift do you think would make a good choice for a five-year-old boy? Do share your answer in the comments section below.

Recommended Articles:
The following two tabs change content below.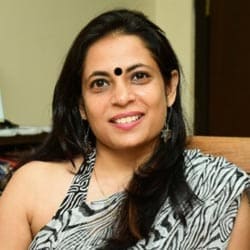 Priti Bose
Priti Bose is a poet, songwriter and blog writer. She did her masters in English, Public Relations and Advertising. Her creative skills and hunger for details make her do in-depth research on the topics she covers. For MomJunction, she writes on product analysis and reviews, especially for kids' products, toys and gifts. Before her association with MomJunction, Priti worked in the...
more