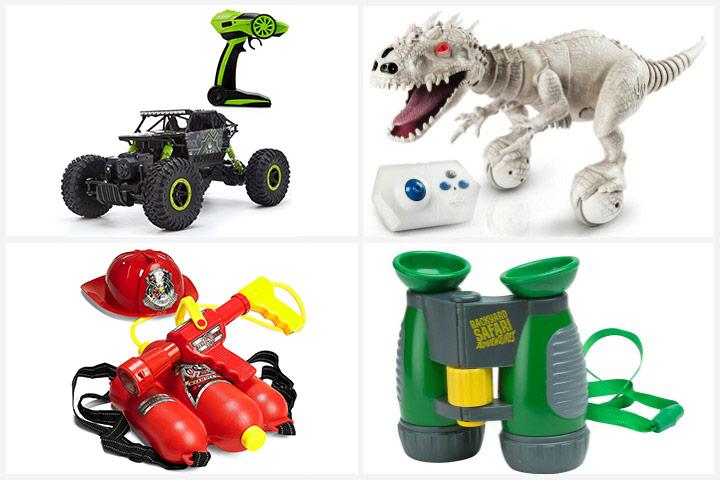 Five-year-olds enjoy singing, dancing, and acting. At five, a child has a greater sense of independence and a clear understanding of what is real and not. He also understands rules and their importance (1). So it is possible that your child is already showing a keen interest in group activities or playing board games with other kids.
Keeping the changing tastes and interests of growing kids in mind, MomJunction brings you a list of appropriate gifts for boys aged five.
Best Gifts For Five-Year-Old Boys
This is our list of best gifts for five-year-old boys you might want to buy. Note that these are just a few of the many options you have out there.
1. Crazy Forts Construction Toy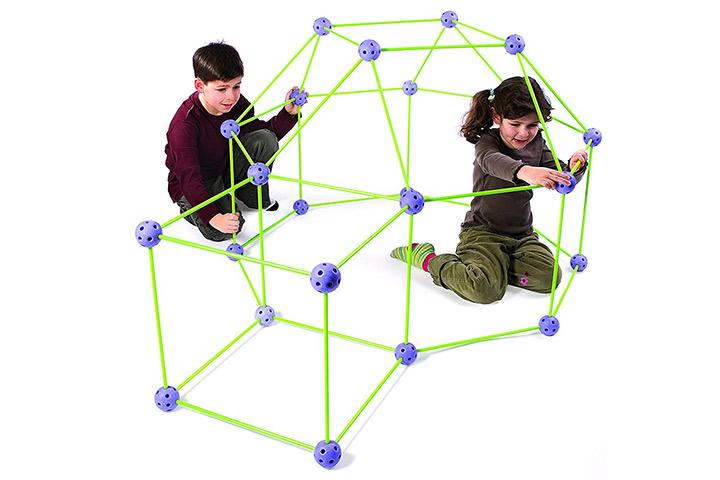 Your five-year-old boy can construct several structures out of the various sticks and joints in this construction set. Each ball-like joint has several attachment points for a stick. Attach the stick and create several shapes. You can create a large cube, a rocket, or even a small playhouse.
Cover the playhouse with sheets and your children can play inside the house. This is a toy your 5-year-old will love since he can make several things out of it.
The toy comes handy when your child's friends come over and you need an interactive activity to keep them busy.


2. RoyalBaby BMX Freestyle 16-inch Kid's Bike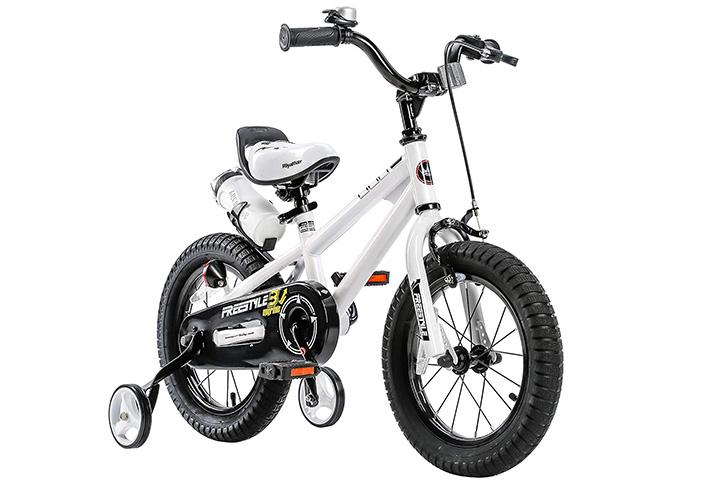 Cycling and swimming are two activities that exercise the legs and aid in the child's growth. Cycling is also fun and encourages the kid to be environmental-friendly!
The RoyalBaby BMX Freestyle Kid's Bike comes with 16-inch wheels with additional training wheels for safety. The seat is well-cushioned and features a holder for an adult to hold while moving the kid on the bicycle. There is also a bottle holder for added convenience.


3. Fireman Backpack Water Gun Blaster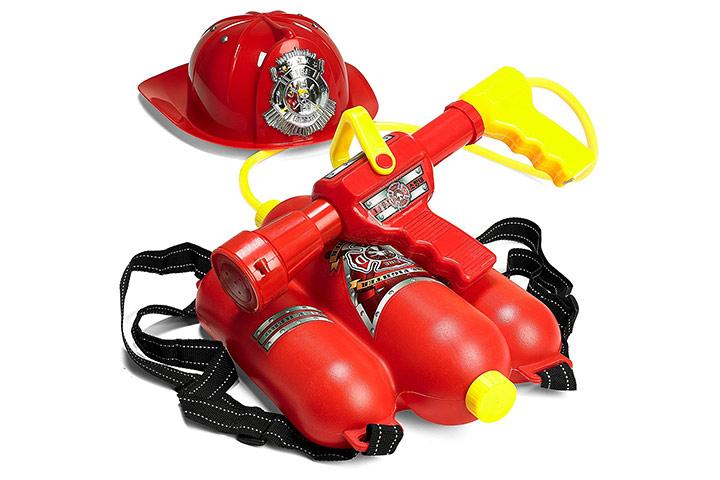 A gun is not really the first choice of gifts for kids, even if it is only a toy. But if the purpose of the gun is to save someone, by spraying water at them, it isn't really a bad idea. In fact, a gun that sprays water is fun!
So our first pick for this list is the Fireman Water Gun Blaster, which has a fireman's hat and a tank to hold the water. The toy is ideal for role play games and enactments where your five-year-old is the hero, putting out fires and saving puppies!
Make sure you have some ground rules in place when you get this for your child, or you could end up with a flood of water inside the house.


[ Read: Gift Ideas For 6 Year Old Boys ]
4. Zoomer Dino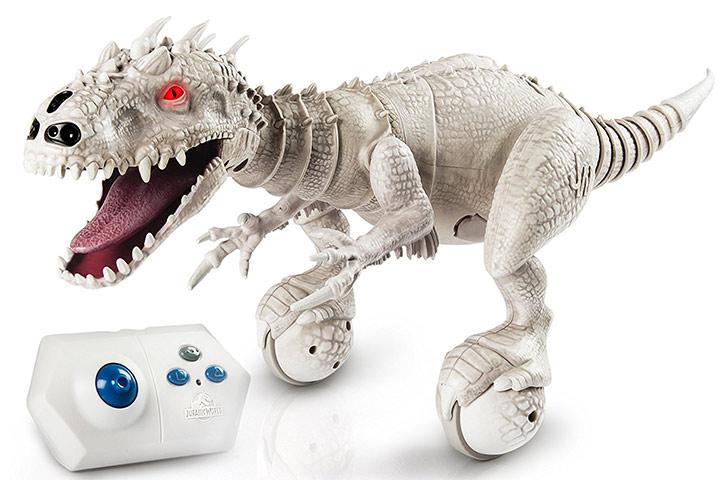 Cars and dinosaurs are perhaps the two things that boys will always be fascinated with. So if you do not mind spending a little to make the kid happy, you should consider getting the Zoomer Dino, robotic edition toy. The Indominus Rex collectible edition can be controlled using a remote control.
Manufactured by the Hammond Creative Labs, the robotic dinosaur has some fearsome moves. It has wheels or spheres attached to its feet, making it easier to move the toy around on a smooth surface. This will make one of the top gifts for a five-year old boy, and if your child loves dinosaurs, he'll love you for bringing this for him!


5. Kinetic Sand Build, Crash 'em Cars
The next on our list are cars, loved by all boys. But these aren't the usual cars you get at a toy store. These are cars made from a colorful Kinetic sand formula that lets the molds stay in shape for longer. The Sand Build play set contains two cars, molds to create the body and accessories of the car, a racing stadium with a scoreboard, and elevations to make the cars fly in the air!
Kinetic sand is an excellent toy that does not dry up, which means you can reuse it to make cars of different colors and shapes.


[ Read: Best Toys For 5, 6 And 7 Year Boys ]
6. Parafoil Kite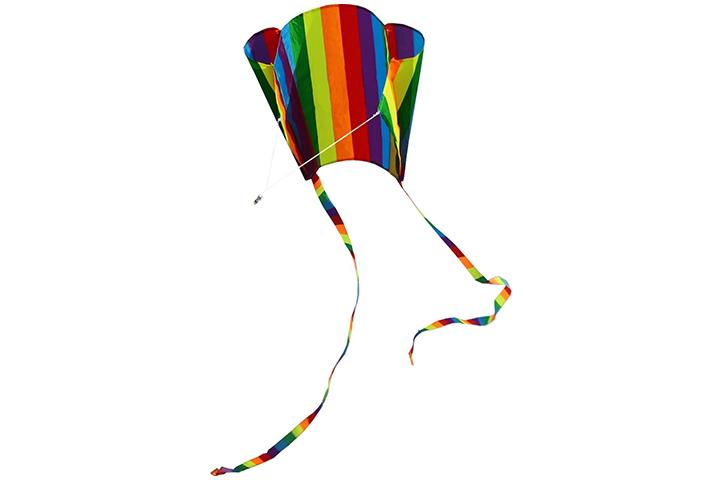 Need to get the child away from the TV or computer?
Then get him a kite! A kite is just what you need to get the child to spend more time outdoors. A parafoil kite is even better for it does not tear as quickly as a paper kite and is colorful too. The Rainbow Kite for kids by aGreatLife is one of the best gifts you can get for a five-year-old boy.
The kite is made from non-toxic, lightweight polyester fabric, is easy to fly, and fun to play with as well.


7. Jumping Jack — Pull Out a Carrot and Watch Jack Jump Game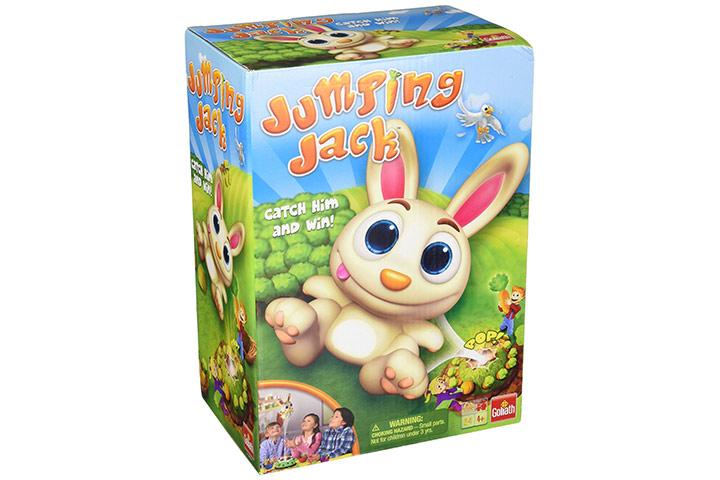 Jumping Jack is a nickname given to anyone who jumps a lot. So don't you think that the most deserving candidate for that name is a bunny?
Next on our list is the Jumping Jack, an interactive toy bunny that jumps up high when you pull the carrots from its burrow. A multiplayer game, Pull Out a Carrot and Watch Jack Jump is an excellent gifting idea for a five-year-old boy who is learning to abide by the rules and impress his friends!


8. Betus [Non-ticking] Robot Alarm Clock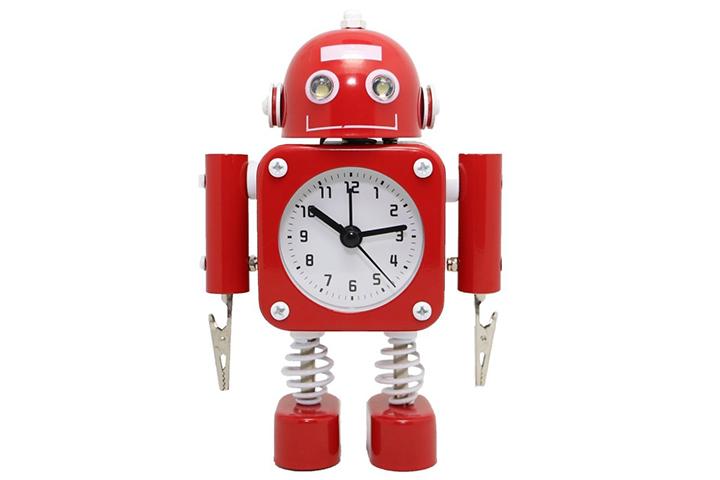 Not all gifts need to be toys. Gifting ideas could be unique too like the Betus Robot alarm clock, which is available in three bright colors. The robot clock is non-ticking, which means it will not keep your child up all night. But it does have a not-so-noisy alarm with flashing lights to wake the kid up each morning. The clock needs two AAA batteries and has a cute, wide smile that gives the robot a cute, naive look.


9. RC Bumper Cars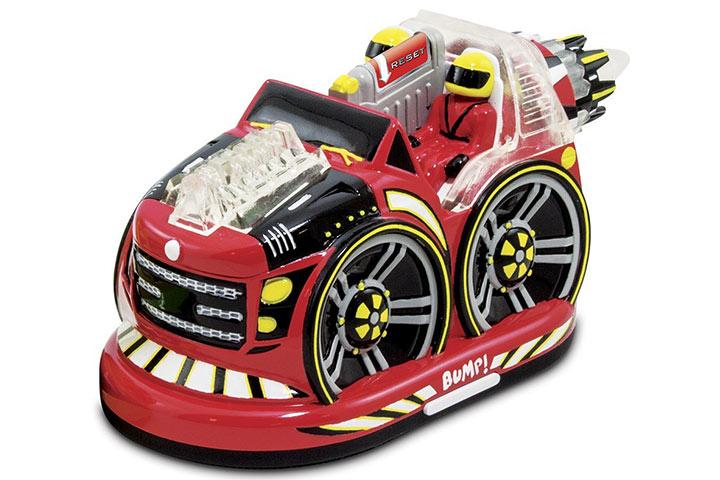 Pull-along cars or animal toys are for babies. For big boys who are five years old, you need to get an RC (remote control) toy. Our choice is the RC Bumper Cars by Kid Galaxy, which is a set of two cars with remote controls. That's right. This RC Bumper Cars set makes play dates and parent-son time all the more enjoyable.
The cars have realistic sounds to make the gameplay thrilling and lights that tell you what your score is. Your boy can learn to compete, cooperate, or just have fun with this RC car set.


[ Read: How To Choose Safe Toys For Kids ]
10. Yoyo King Custom Classic Natural Wooden Yo-yo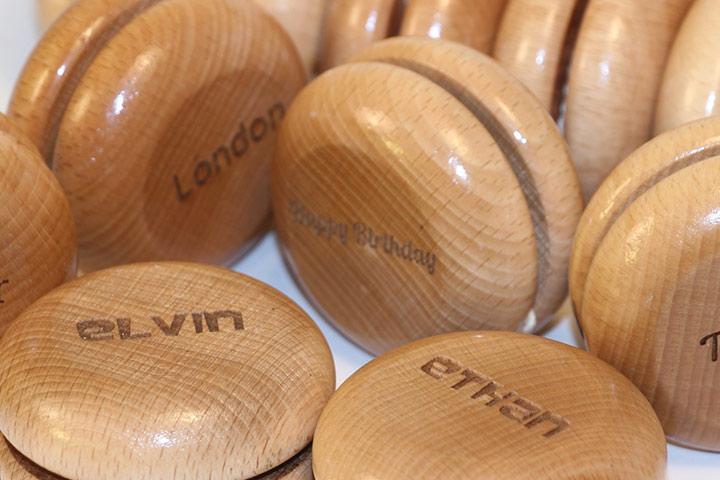 All it does is spin up and down the string you hold. But do you know what makes the yo-yos go up and down? Yo-yos work by converting potential energy (which exists when you hold it high above the ground) into kinetic energy (which is created when the yo-yo moves down the string.) So, when you give the child a yo-yo, you are also helping him understand a little bit of science.
The best part is that this yo-yo toy is made of wood and you can customize it with a name engraved on it.


11. Summit Backyard Safari Binoculars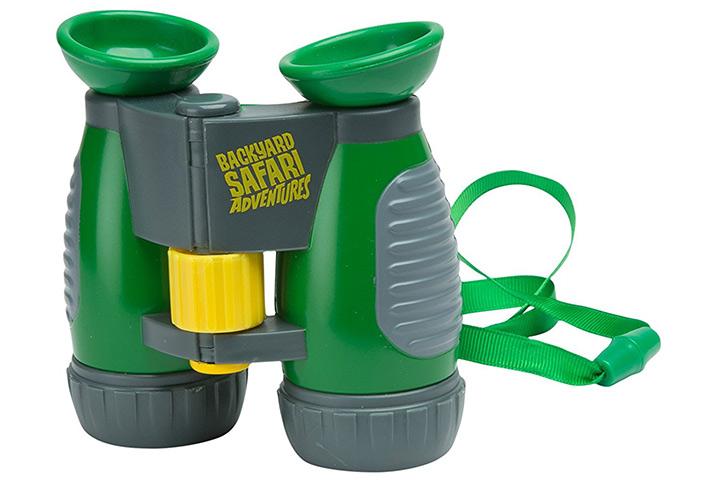 Children are vulnerable, especially at the age of five. So technology can easily sway a five-year-old into adopting a sedentary lifestyle. But you can encourage your boy to have an active way of life, and maybe get closer to nature and the wilderness.
You can start by getting your child something as simple as a pair or binoculars. The Backyard Safari Summit binoculars are designed especially for young kids and can make your little boy curious about nature. You could teach him to spot birds, watch distant objects such as planes or vehicles or hills and more. The lightweight binoculars can also be taken on vacations and camping trips.


12. Fisher-Price Harley-Davidson Tough Trike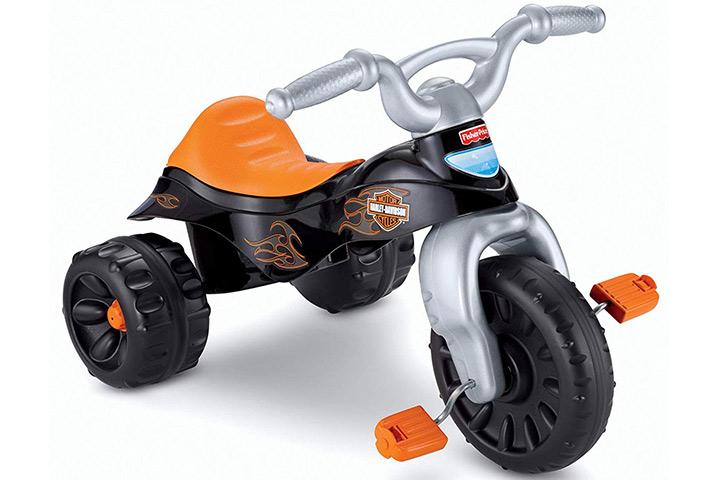 A trike gives boys a taste of biking. Here is a tricycle with official Harley-Davidson branding and a color scheme that is sporty. The front pedals are wide and the tires are rugged with a stable wheelbase. The handlebars are precise and sturdy so that your little one can maneuver his trike with ease. There is also an under seat storage to store items.


13. WolVol Transport Car Carrier Truck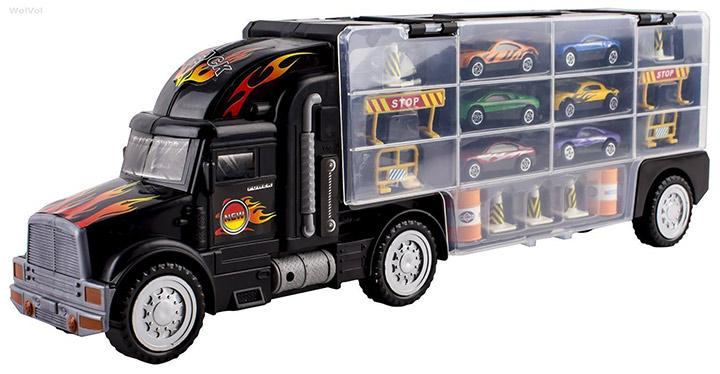 The large transport carrier truck comes with a set of six cars and can carry a total of 28 cars. You also get tiny parking and construction cones, which can be stored in the truck's cargo space. The front-end of the truck is detachable, and a handle on top allows easy carrying. The realistic look of the truck and the additional six cars make it a complete fun package for a five-year-old.


[ Read: Minecraft Toys For Kids ]
14. Hot Wheels Super Track Pack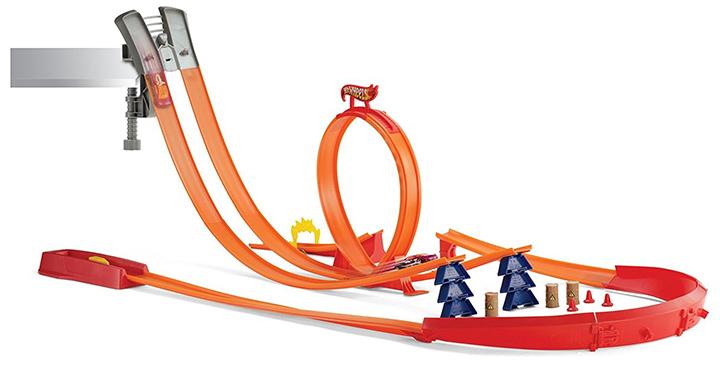 A five-year-old boy can never have too many cars. So your son, nephew, or grandson will always have space for more cars, especially if they're from a brand such as Hot Wheels. The Super Track Pack is a complete racing track set with 35 unique track pieces, gravity-racing clamps, and launchers. The set also contains two Hot Wheels cars.
You can also buy Hot Wheel car collections to add more cars to the track.
15. Hape Kid's Wooden Toy Ukulele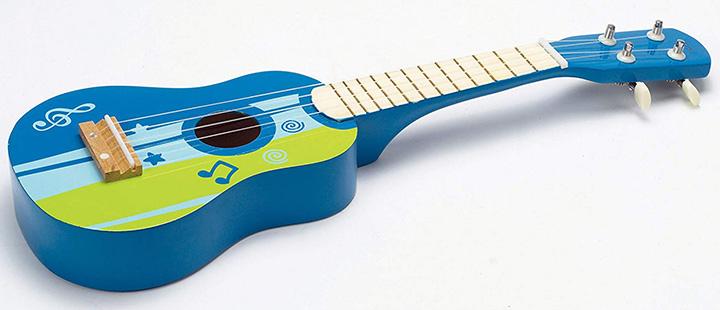 A ukulele designed to be played by small hands. This musical instrument is a good way to introduce them to music. It is made of wood, and the strings are made of nylon for child safety. The colors used are non-toxic, and the wood has a soft finish to prevent any splinter injury.
You can tune the instrument. So gift this toy to your child and see his inner musician come alive.


16. LEGO City Forest Tractor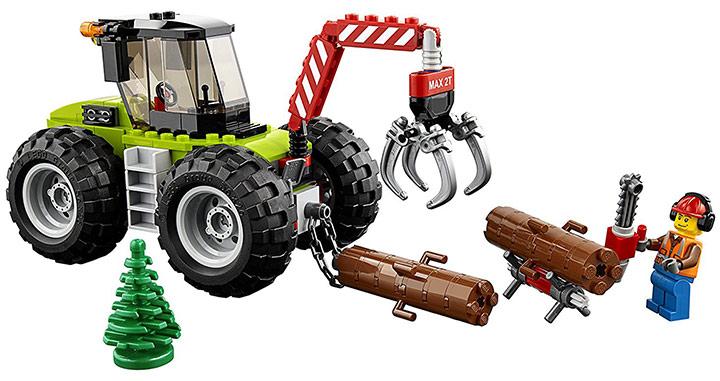 This Lego set has a scene straight out of a forest. There is a tractor, lumber, a lumberjack, and a small pine tree. The lumberjack comes with a chainsaw in hand and the log breaks into smaller pieces thus making it an excellent role-playing toy.
There is also a crane to haul the logs along with the tractor. The finishing of the toy is in typical Lego-style with smooth plastic and colors that last forever.


[ Read: Ben 10 Toys For Kids ]
17. Fisher-Price Imaginext Batcopter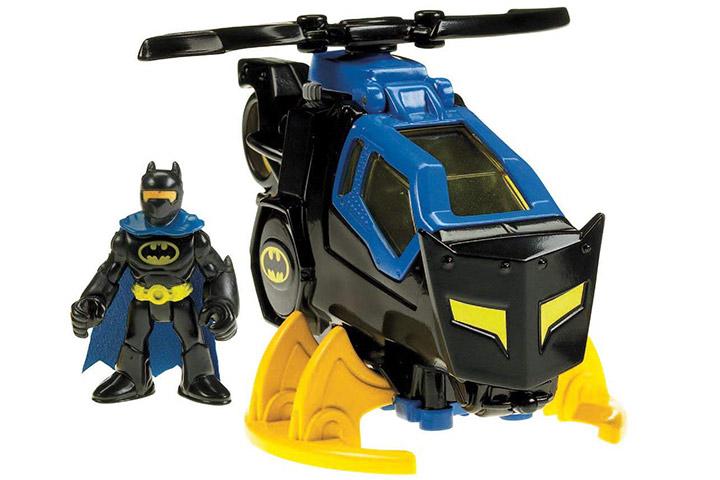 The batcopter is durable and comes with details like helicopter blades. The cockpit door also opens, and you can make the Batman figure sit inside it. Pressing a trigger at the tail wing causes the clamps at the bottom of the helicopter to close. The plastic used is durable, and the colors are non-toxic. It allows for some imaginative play.


18. Dancing Robot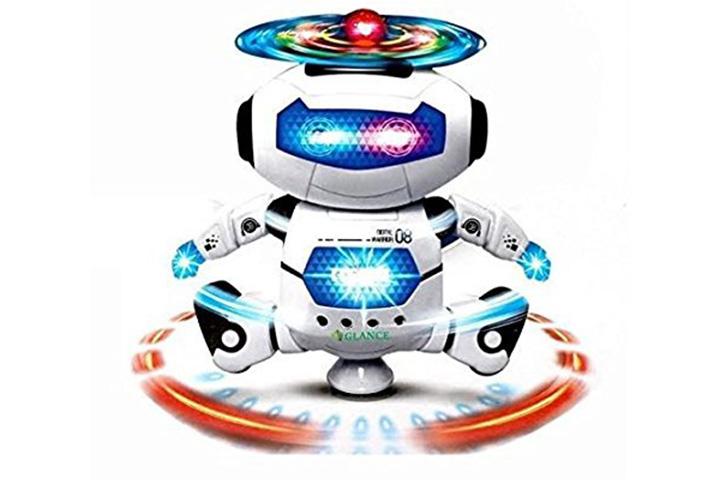 Toys can also be used to get a child interested in technology and science. For instance, getting the child a robotic toy can be a quick and exciting way to introduce him to the world of robotics. The Dancing Robot Toy by Glance is fun to watch. The robot has some really cool 3D dancing moves with flashing lights.
19. Click N' Play Remote Control Car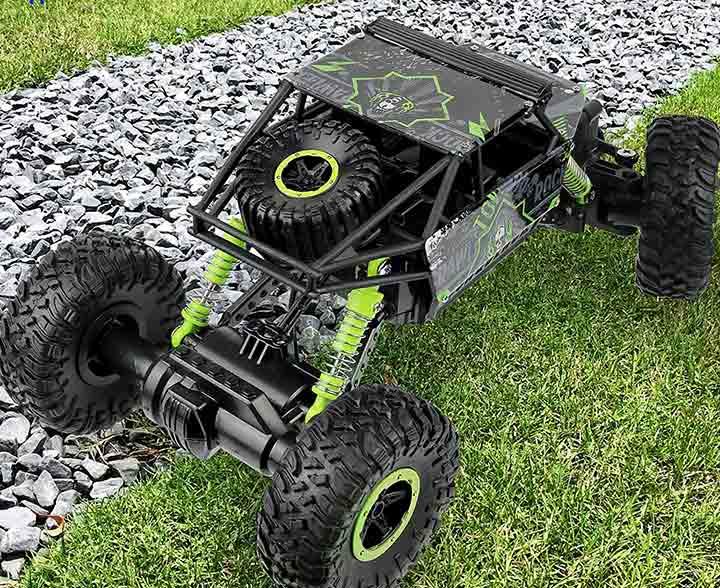 A toy that boys will love, the Click N' Play car is designed for flat terrains and also for harsh driving conditions. It has high durability. You can move the car in any direction and is easy to operate. The car and the remote work on batteries. The oversized tires and the design will surely appeal boys.


[ Read: Best Laptop Toys For Kids ]
Disclaimer: MomJunction may earn a commission when products are purchased through affiliate links given in the article. However, this partnership does not influence the editorial content featuring in our list.
Besides these, you can also purchase the kid build-your-own jeep kits, backyard safari jackets, stuffed toy chairs, or books. Whatever you choose, keep in mind the developmental milestones of the child. Also remember the child's interests – what he likes to do, how he spends time alone, or how he behaves when around people.
What's your idea of the best gift for a five-year-old boy? Let us know.
Recommended Articles: