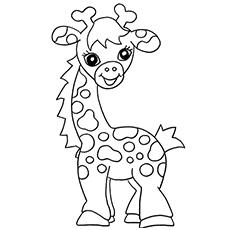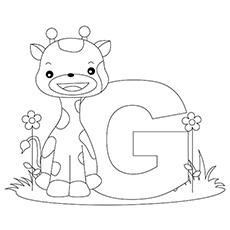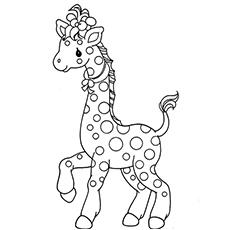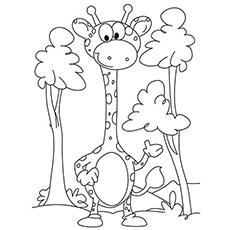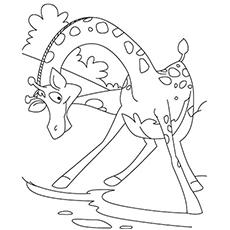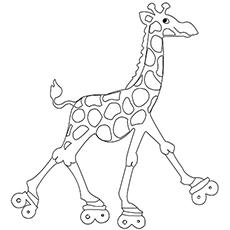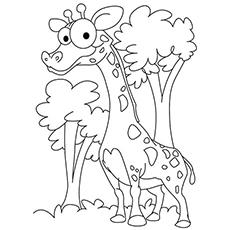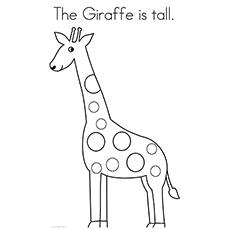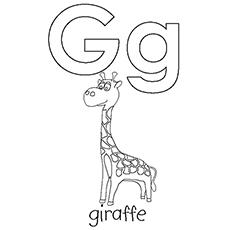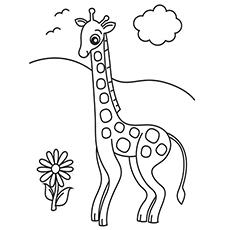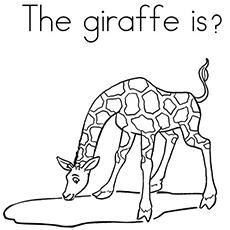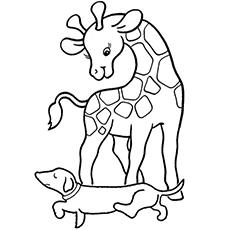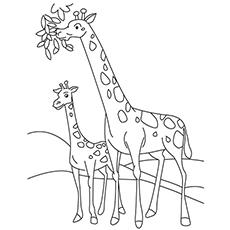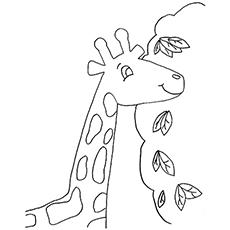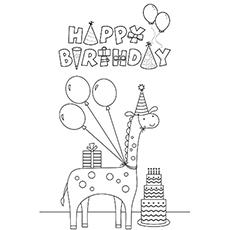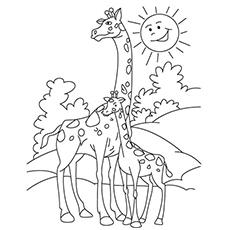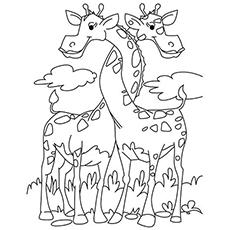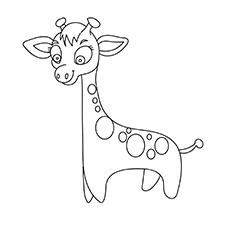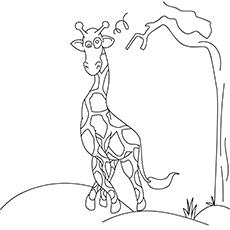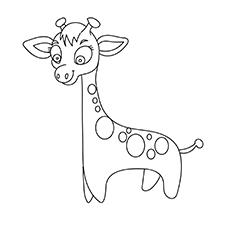 Recommended Articles:
The giraffe is among the most intelligent animals around, not to mention that its neck allows it to tower over other animals too. This majestic animal will definitely captivate your kid's imagination.
A whole set of coloring pages dedicated to the giraffe should occupy your kid's time productively. It will sure take her time to color each spot on the giraffe's body. Allow her the liberty to be creative when it comes to using bold hues during the coloring process. If she is new to coloring, the exercise will definitely make her more confident as she progresses.
The 20 Best Giraffe Coloring Pages For Kids
The giraffe coloring pages printable are very relatable because your kid might already enjoy the beauty of this animal. Some of the images can get quite complex owing to the number of elements in them, but let her take it as a challenge. Allow your kid to think creatively or to even stray from using crayons while opting for paint when coloring.
1. Cute Giraffe:
A cute giraffe is seen here in the first page.
This is a good picture to start things off with as it is relatively simple to color. The picture is well-outlined ensuring that your kid does not have problems when coloring.
Fact:The giraffe is the tallest mammal in the world and its offspring is taller than most human beings.
2. Baby Calf:
Here is an adorable baby calf greeting your kid in this next picture.
Your kid will learn that a giraffe's offspring is known as a calf.
Fact:A baby giraffe can stand within half an hour after being born and can run alongside their family members after a mere 10 hours.
[ Read: Zoo Animals Coloring Pages ]
3. Mother And Baby Giraffe Bonding:
This beautiful picture highlights a mother and baby giraffe bonding in the midst of nature.
This image is apt for children who have been coloring for quite some time as it includes a number of elements that merit attention.
Fact:Giraffe's spend a lot of their time standing; they even give birth while they stand.
3. Giraffe With Big Eyes:
The wide-eyed giraffe is seen in this picture staring directly at your little kid.
This picture should be fun to color because it will give your kid a chance to choose just the perfect hues when coloring.
Fact:A giraffe only need around 10 minutes to 2 hours of sleep per day.
5. Two Giraffes Entwined:
Best friends or lovers? These giraffes seem to be inseparable.
Your kid can use different colors for the spots on the giraffe's skin.
This picture, when colored, can be framed and hung in your kid's bathroom as it is an adorable representation of two friends bonding.
Fact:Male giraffes perform an action called 'necking' to gain the attention of their female counterparts. However, it does not last long.
6. Giraffe And Calf:
An adorable calf is seen here bonding with her mother while the latter chews on leaves.
This picture will teach your kid the importance of coloring within specified lines.
You can also spend some time bonding with your kid while coloring this one.
Fact:Your kid can learn a few good things from giraffes. For instance, giraffes are extremely sociable and do not fight.
7. The Giraffe Is Tall:
This image highlights the fact that the giraffe is a tall animal.
The closeness of the picture will ensure that your kid improves her hand-eye coordination.
Your kid can practice writing the line 'The Giraffe is Tall' on a separate blank piece of paper.
Fact:While the advantage of being the tallest mammal in the world is there, the animal has difficulty reaching down to chew on grass.
8. Giraffe Prancing:
A cute giraffe is seen here prancing around with glee.
Your kid can use bright hues to color the cute giraffe.
Fact: The giraffe, in the New Age religion, is a symbol of intuition and flexibility.
9. Mother And Calf Bonding:
Here again is a picture of motherly love. We see a mother giraffe and her offspring bonding in the midst of nature.
To really make the picture stand out, ask your kid to color each spot on the giraffe's skin with a different color.
This picture, once colored, can be used as a poster because of its funky nature.
Fact: You can also teach your child about the fact that most giraffes live in the wild.
[ Read: Wild Animals Coloring Pages ]
10. Baby Giraffe Among Trees:
This picture is quite beautiful with the baby giraffe standing between two trees.
Your kid will enjoy coloring this page because it includes a good deal of adventure.
You can also make up a story about how the baby giraffe had to find its way out from the forest after getting lost.
11. Giraffe On Roller Skates:
Here is fun picture of a giraffe on roller skates, seemingly enjoying his time.
Your kid will relate to this picture especially if she enjoys skating.
Your kid might require assistance when coloring this picture especially if she has just begun to learn how to color.
12. Giraffe And Flower:
A tall giraffe is seen here next to a flower which has bloomed in spring.
You can teach your kid about the seasons of the year – spring, summer, autumn and winter.
This picture will really stand out if your kid uses pastel color pencils as they add a certain gloss to the picture.
Fact:No two giraffes have the same spots, just like how no two human beings share the same fingerprint pattern.
[ Read: Leopard Coloring Pages ]
13. Baby Giraffe With Dog:
The picture highlights a baby giraffe bonding with a dog.
Your kid will learn the importance of bonding with people who are not necessarily alike in thought and action.
Fact:Baby giraffes usually interact with each other in nursery groups while their mothers forage in the distance. They are social animals.
14. 'G' For Giraffe:
The picture highlights the fact that G stands for Giraffe.
Your kid will learn to distinguish between upper and lower case alphabets.
You can teach your kid the names of other animals which begin with G, like gorilla and goat.
15. Giraffe Near A Tree:

The giraffe is so tall that it easily reaches the top branches of a tree.
Your kid can personalize this picture by adding his name to it at the top of the page.
The detailing in the background of the image will require some attention and your assistance too.
[ Read: Hunting Coloring Pages ]
16. Capital G:
Here is a baby giraffe, seen sitting near the alphabet G.
Your kid will learn that G stands for Giraffe.
Fact: It should be noted that the giraffe's tongue is also long. It is around 45 centimeters long and is equipped to avoid thorny branches. This easily allows them to chew on leaves from trees.
17. Giraffe Going Crazy:
This is one of the adorable giraffe coloring pictures that highlights a giraffe which is quite evidently going crazy.
This picture is apt for your kid if she is already comfortable when it comes to coloring because it can get quite challenging.
This picture is apt for kids who are between the ages of 5 to 6 years.
Fact:Do remember to explain to your kid that giraffes do not actually go crazy.
[ Read: Jungle Animals Coloring Pages ]
18. Giraffe Drinking Water:
The giraffe is seen here bending down in order to drink water.
The largeness of the picture will ensure that your kid does not have much difficulty when coloring the picture.
You can allow your kid to color with paints if she is confident enough.
Fact:Giraffes find it difficult to bend down and drink water because of their height.
19. The Giraffe Is?
What is the giraffe doing? This picture will make your kid guess the action the giraffe is performing.
Your kid will enjoy coloring this picture because it is relatively simple with no complex elements.
Your kid will have to guess that the action the giraffe is performing is that of drinking water.
20. Happy Birthday Giraffe:
In this picture you see the giraffe holding up a 'Happy Birthday' banner from his mouth in celebration.
Your kid might require extra assistance with this picture especially if she is not as adept at coloring.
This picture can be used for a birthday party once it is colored.
Your kid can accent the banner with glitter to really make it stand out.
The free printable giraffe coloring pages online are fun as they allow your kid to engage in a productive activity while also learning more about the finer art of coloring. You can also create your own giraffe coloring book.
Additionally, your kid will learn some useful information about the giraffe which may help her appreciate it even more. Therefore, encouraging her to engage in this activity will be a great way for her to remain occupied during a long vacation.
If your kid enjoyed these giraffe pictures to color, do let us know.

DISCLAIMER: All images found here are believed to be in the "public domain". We do not intend to infringe any legitimate intellectual right, artistic rights or copyright. All of the images displayed are of unknown origin. If you are the rightful owner of any of the pictures/wallpapers posted here, and you do not want it to be displayed or if you require a suitable credit, then please contact us and we will immediately do whatever is needed either for the image to be removed or provide credit where it is due. All the content of this site are free of charge and therefore we do not gain any financial benefit from the display or downloads of any images/wallpaper.
The following two tabs change content below.