In today's world, women are capable of doing anything and everything that they want. This post on girl empowerment quotes is a fitting response for those who believe otherwise. You can find them everywhere, from CEOs of multinational companies, sports, and fashion icons, to even ambassadors of countries. Such women are an inspiration to girls who aspire to follow the same path in the future. Women worldwide have made a place for themselves and reached the top in every field that they have trailed. Nothing is stopping them. Read on to find a list of quotes on women and girl empowerment and choose the one which resonates with you the most.
Read on!
55 Best Quotes About Girl Empowerment
"And one day she discovered that she was fierce and strong, and full of fire and that not even she could hold herself back because her passion burned brighter than her fears." Mark Anthony
"The woman who follows the crowd will usually go no further than the crowd. The woman who walks alone is likely to find herself in places no one has ever been before." Albert Einstein
"There are two ways of spreading light. To be the candle or the mirror that reflects it." Edith Wharton
"Don't be afraid to speak up for yourself. Keep fighting for your dreams". Gabby Douglas
"The most courageous act is still to think for yourself. Aloud." Coco Channel
"It's possible to climb to the top without stomping on other people." Taylor Swift
"Never let anyone try and make you tiny something that you're not. Remember what it is that you want, and always stay strong in that." Abigail Breslin
"Courage, sacrifice, determination, commitment, toughness, heart, talent, guts. That's what little girls are made of; the heck with sugar and spice." Bethany Hamilton
"Courage doesn't always roar. Sometimes courage is the quiet voice at the end of the day saying, 'I will try again tomorrow." Mary Anne Radmacher
"The only way to support a revolution is to make your own." Sophia Amoruso
"Life has got all those twists and turns. You've got to hold on tight and off you go." Nicole Kidman
"What you do makes a difference, and you have to decide what kind of difference you want to make." Jane Goodall
"Power is not given to you. You have to take it." Beyonce
"A smile is the best makeup, a girl can wear." Marilyn Monroe
"You have what it takes to be a victorious, independent, fearless woman." ­Tyra Banks
"When girls are educated, their countries become stronger and more prosperous." Michelle Obama 
"You need to find the power within to make things happen for yourself. When you realize this, you are unstoppable." Christina Aguilera
"Our greatest weakness lies in giving up. The most certain way to succeed is always to try just one more time." Thomas A. Edison
"I never dreamed about success. I worked for it." Estee Lauder
"We cannot all succeed when half of us are held back. We call upon our sisters around the world to be brave – to embrace the strength within themselves and realize their full potential." Malala Yousafzai
"The education of women is the best way to save the environment." E.O. Wilson
"And though she be but little, she is fierce." William Shakespeare
"Dreams are made of your potential." Lilly Singh
"Never be ashamed of what you feel. You have the right to feel any emotion that you want, and to do what makes you happy. That's my life motto." Demi Lovato
"If you don't like the road you're walking, start paving another one." Dolly Parton
"Smiling face of every little girl is the signature of God's presence." Amit Ray
"I always did something I was a little not ready to do. I think that's how you grow. When there's that moment of 'Wow, I'm not really sure I can do this,' and you push through those moments, that's when you have a breakthrough." Marissa Mayer
"Everyone has inside of her a piece of good news. The good news is that you don't know how great you can be, how much you can love, what you can accomplish, and what your potential is." Anne Frank
"My coach said I run like a girl. And I said if he ran a little fast he could too." Mia Hamm
"In life, there is no real safety except for self-belief." Madonna
"The power you have is to be the best version of yourself you can be, so you can create a better world." Ashley Rickards
"Think like a queen. A queen is not afraid to fail. Failure is another stepping stone to greatness." Oprah Winfrey
"When we do the best we can, we never know what miracle is wrought in our life, or in the life of another." Helen Keller 
"We do not need magic to transform our world. We carry all of the power we need inside ourselves already." J.K. Rowling
"No matter what you look like or think you look like, you're special and loved and perfect just the way you are." Ariel Winter
"Success, they taught me, is built on the foundation of courage, hard work, and individual responsibility. Despite what some would have us believe, success is not built on resentment and fears." Susana Martinez
"Your self-worth is determined by you. You don't have to depend on someone telling you who you are." Beyonce
"Courage is like a muscle. We strengthen it with use." Ruth Gordon
"Power can be taken, but not given. The process of the taking is empowerment in itself." Gloria Steinem
"The question isn't who is going to let me – it's who is going to stop me?" Ayn Rand
"A woman with a voice is, by definition, a strong woman." Melinda Gates
"I figure, if a girl wants to be a legend, she should go ahead and be one." Calamity Jane
"Forget about the fast lane. If you really want to fly, just harness your power to your passion." Oprah.
"If your dreams do not scare you, they are not big enough." Ellen Johnson Sirleaf
"Do you want to meet the love of your life? Look in the mirror." Bryon Katie
"Never dull your shine for somebody else." Tyra Banks
"Don't compromise yourself. You are all you've got. There is no yesterday, no tomorrow, it's all the same day." Janis Joplin
"Women are the real architects of society." Harriet Beecher Stowe
"The most common way people give up their power is by thinking they don't have any." Alice Walker
"Never give up hope. All things are working for your good. One day, you'll look back on everything you've been through and thank God for it." Germany Kent
"Life is like riding a bicycle, to keep your balance, you must keep moving." Albert Einstein
"Do not follow where the path may lead. Go instead where there is no path and leave a trail." Muriel Strode
"You just can't beat the person who never gives up." Babe Ruth
"The energy you'll expend focusing on someone else's life is better spent working on your own. Just be your own idol." Sophia Amoruso
"You are more powerful than you know; you are beautiful just as you are." Melissa Etheridge
[ Read: Pretty Girls Quotes ]
Frequently Asked Questions
1. What is the word for female empowerment?
There are many words describing female empowerment. The most popular word is "feminism." Other lesser-known versions of feminism are "women's movement," "female self-sureness," "women's rights," and "women's liberation."
2. What makes a woman empowered?
Many things could make a woman feel empowered. According to UNICEF, if a woman feels in control of her life, can exercise her choices, can live her rights, and can get away from gender violence, she is empowered (1).
3. Why is female empowerment important?
Women's empowerment is crucial for the well-being of society. Women can participate in worldly affairs and contribute to global development when they exercise their rights. Also, becoming empowered can boost a woman's confidence, which might enable her to face many adversities in her life.
These girl empowerment quotes are filled with positivity and motivation. Pick a quote that you resonate with the most and share it with friends and family. These quotes can help people understand that girls are powerful humans who can achieve whatever they want. What they need are equal and fair opportunities. You can also post these quotes on your social media or frame them. They will inspire you and other girls like you to be fearless, independent, self-aware, confident, and strong in every walk of life.
Infographic: Ways Girls Can Feel Empowered
"A girl should be allowed to be two things: who and what she wants."
Promoting girl empowerment is a prerequisite for improving the health of families, societies, and nations. Taking small steps to empower girls and women every day can have a tangible impact on their lives. This infographic talks about precise ways to empower girls for a stable, peaceful, and sustainable world.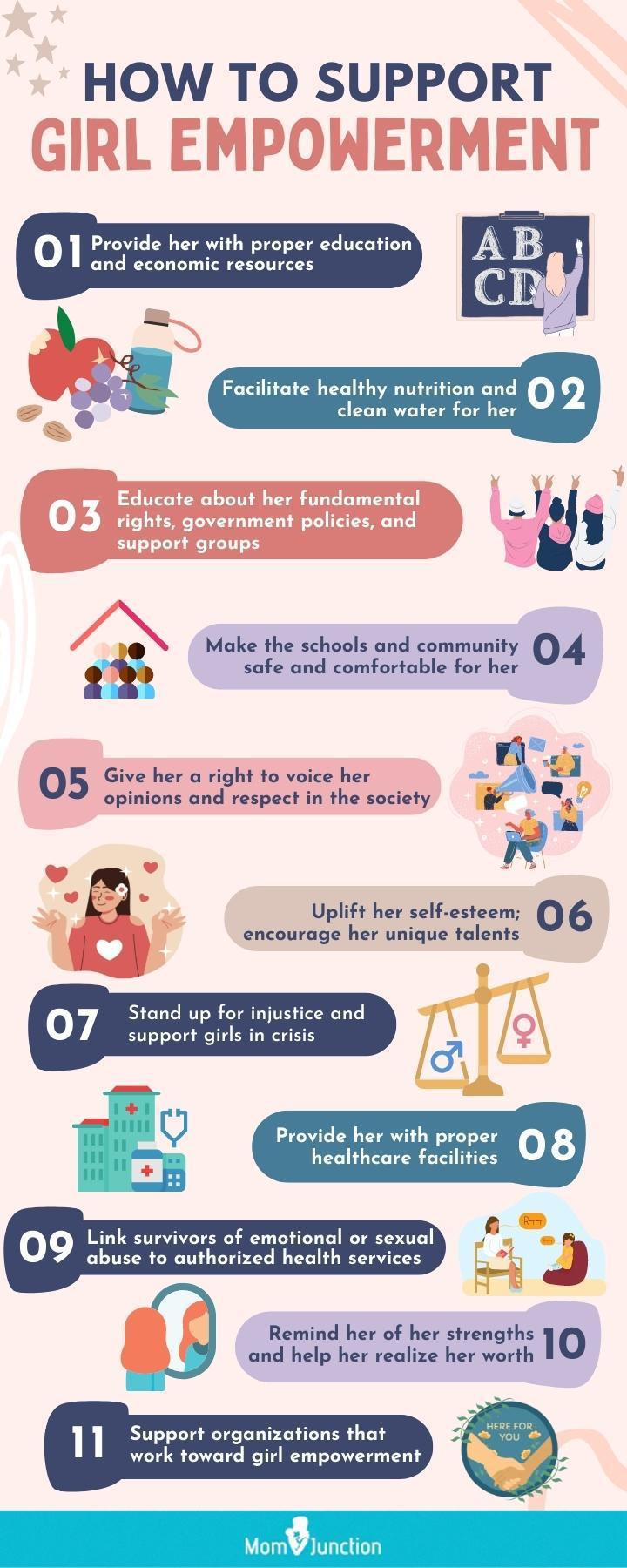 References:
MomJunction's articles are written after analyzing the research works of expert authors and institutions. Our references consist of resources established by authorities in their respective fields. You can learn more about the authenticity of the information we present in our
editorial policy
.
The following two tabs change content below.