Gluten allergies are one of the toughest to handle. Cooking or baking without wheat and flour may be a bit difficult, especially if you want to give something special to your child. However, try to think out of the box and you can come up with ideas. In this post, MomJunction has compiled a list of 15 gluten-free recipes for kids. Start with these and see how many more ideas you can come up with.
Gluten-free Breakfast Recipes For Kids
The first meal of the day is the most important. Here are a few gluten-free breakfast ideas for kids.
1. Banana oat pancakes
Most kids love pancakes. But how do you make pancakes without flour? Try this.
You will need:
½ cup rolled oats (pure oats)
2 bananas
2 eggs
½ tbsp baking powder
Salt to taste
Maple or agave syrup
Fresh fruits such as berries for topping
How to:
Make the pancake batter by combining the bananas, oats, eggs, salt, and baking powder in a blender. Blend until you get the desired consistency to make pancakes.
Heat a non-stick skillet or pan on medium flame.
Add a spoonful or two of batter on the pan and spread it into a thick circle.
Let the pancakes cook until they turn golden brown on either side.
Serve with chopped strawberries, blueberries, or any other fresh fruit and a drizzle of maple or agave syrup.
Preparation time: 5min
Cooking time: 15min
Servings: 2
[ Read: Fruit Salad Recipes For Kids ]
2. Sweet potato spice smoothie bowl
Sweet potato is not only filling but also healthy. Make a smoothie with this sweet vegetable and serve it as a breakfast to your kid.
You will need:
1 cup cow's milk (or almond milk)
1/4 cup sweet potato puree
¼ cup rolled oats
2tbsp powdered jaggery
½tsp vanilla extract
½tsp cinnamon powder
½tsp ginger powder
½tsp ground ginger powder
2 crushed cloves
How to:
Put all the ingredients in a blender and blend well till you get a smooth paste.
You can add more milk if the smoothie seems too thick.
For breakfast, pour the smoothie in a bowl and top it with granola.
Preparation time: 5min
Cooking time: 2min
Servings: 1
[ Read: Healthy Breakfast Ideas For Kids ]
3. Quinoa breakfast
Quinoa is a healthy replacement for wheat and other grains that contain gluten. Here is a quick gluten-free breakfast option with quinoa.
You will need:
1 cup quinoa
2 cups soy milk (you can also use rice or almond milk)
1 tbsp agave syrup
A pinch of cinnamon
A bowl of fresh berries or nuts
How to:
Boil the milk.
Add quinoa to the milk and boil again.
Simmer for ten minutes or until three-fourth of the milk is absorbed.
Stir in the cinnamon and the agave syrup and boil for another eight minutes or so. Take it off the heat and stir in the blueberries and nuts.
Serve warm.
Preparation time: 5min
Cooking time: 20min
Servings: 2 cups
4. Apple cheddar pizza
The apple cheddar pizza is not really a bread dish, but a healthy alternative to it! Check the recipe to know more.
You will need:
1 six-inch tortilla (gluten-free)
1 slice cheddar cheese (or 2 tablespoons Daiya vegan cheddar shreds)
½ apple washed, dried, and thinly sliced
Cinnamon, to sprinkle on top
How to:
Lightly grease a skillet and heat it on medium flame.
Place the tortilla on it and sprinkle the cheese on it.
Layer the apple slices on it immediately and sprinkle the cinnamon.
Let it be under medium heat until the cheese under the apple slices melts and the tortilla sizzles.
Once it is done, turn off the heat and move the pizza on to a plate.
Slice it using a pizza cutter and serve hot.
Preparation time: 5min
Cooking time: 3min
Servings: 1
Gluten-free Lunch And Dinner Recipes
Breakfast can be a fruit, smoothie, or granola bar. But what about lunch and dinner? Surely you cannot give the child just fruit for the main meals. What you can do is replace wheat and other grain-based ingredients with gluten-free alternatives and make a proper dish. In this section, we have select dishes that you can make for lunch or dinner.
5. Vegetarian Taco Salad
How are tacos healthy? They are when you make with this gluten-free taco recipe.
You will need:
2 ½ cups crumbled tortilla chips
4 tomatoes, chopped
1 ½ cups corn kernels
1 onion, chopped
1 ½ cups cooked brown rice (long grained or basmati)
1 15-oz can of kidney, black or pinto beans
For seasoning
1 ½ tbsp of dry oregano
2 tbsp extra virgin olive oil
1 tbsp chili powder
¼ tbsp salt
1/3 cup homemade salsa
½ cup fresh cilantro
1 cup shredded cheese
2 cups shredded iceberg lettuce
Lime wedges
How to:
Heat a large skillet on medium flame and add some oil to it.
Add the onions and let them cook for three minutes. Add a chopped tomato, beans, rice, 1 teaspoon of oregano, salt, and chili powder.
Let the veggies cook on medium flame, for at least five minutes. Keep stirring in between, and take them off the heat once cooked.
Add the remaining chopped tomatoes, half teaspoon oregano and cilantro in another bowl.
Add the lettuce and the bean mixture in a large bowl and toss it. To it, add half of the salsa mix and two-third cup of salsa.
Sprinkle the tortilla chips on the salsa and bean mixture, add in the remaining cheese, salsa, and garnish with lime wedges.
Preparation time: 40min
Cooking time: 10min
Servings: 6
6. Peanut Sesame Noodles and Veggies
Peanut and sesame noodles with vegetables are rich in calcium and protein. And, it is very tasty as well.
You will need:
1 pack rice noodles (16 oz.)
¼ cup soy sauce
3 tbsp peanut butter
1 tbsp sesame oil
2 cloves of garlic, minced
1 tbsp fresh ginger root, grated
1 tbsp honey
2 tbsp rice vinegar
1 ½ carrots, diced
1 red bell pepper, chopped
1 green onion (stalk)
¼ cup peanuts, chopped for garnishing
How to:
Boil the rice noodles for five minutes, as per the instructions on the pack. Drain the noodles and put the noodles back in the same pot. Do not rinse them.
In a bowl, combine the soy sauce, sesame oil, rice vinegar, honey, ginger, garlic, and chili paste. Whisk it until they are mixed properly.
Pour the sauce on the noodles and mix until the noodles are properly coated in the sauce.
Toss once and sprinkle the peanuts on top. Serve warm or cold.
Preparation time: 10min
Cooking time: 5min
Servings: 2
[ Read: Noodle Recipes For Kids ]
7. Chinese Stir Fry
Stir fried vegetables with chicken, or without it, can be eaten with rice. This is one of the simplest gluten-free foods for kids and adults.
You will need:
1 lb boneless chicken, cut into small pieces
2 tbsp canola oil
3 garlic cloves, chopped
2 cups frozen snap peas
1 tbsp ginger root, finely chopped
¾ cup gluten-free, low sodium chicken broth
2 carrots, cut into ¼-inch long slices
1 cup red bell pepper strips
2 tbsp soy sauce (gluten-free)
¼ tbsp pepper flakes
1 tbsp cornstarch
How to:
Add oil to a skillet and heat it on medium flame. Add the chicken pieces, garlic, and gingerroot. Let it cook for five minutes or until the chicken turns golden brown.
To this, add carrots, soy sauce, one-fourth cup chicken broth and pepper flakes. Cook for another three minutes on medium flame.
Add the bell pepper strips and frozen snap peas and cook for another four to six minutes or until the vegetables are crisp while stirring in between.
Add the cornstarch and the remaining chicken broth in a bowl. Stir in the chicken mixture and cook for one minute, or until the mix is bubbly.
Serve with hot brown or white rice.
Preparation time: 30min
Cooking time: 30min
Servings: 4
8. Gluten-free chicken parmesan casserole
This is a simple, five-ingredient recipe that can be prepared in less than an hour – one of our favorite gluten-free lunch ideas for kids.
You will need:
4 cups corn pasta
2 skinless chicken breasts, cooked and sliced into small pieces
2 ½ cups marinara sauce
1 cup parmesan cheese
1/3 cup gluten-free breadcrumbs or cornmeal
How to:
Preheat the oven to 350ºF.
Combine the cooked pasta, chicken, two-third cups of parmesan cheese and marinara sauce in a bowl. Mix properly.
Spread the mix in an 8×8 casserole or baking tray.
Spread the cornmeal or breadcrumbs over the pasta and cover the dish with a foil.
Bake for 30 minutes. Remove from the oven and top with the remaining parmesan cheese.
Bake for another ten minutes or until the cheese is melted.
Serve hot.
Preparation time: 10min
Cooking time: 40min
Servings: 8
[ Read: Chicken Recipes For Kids ]
9. Stuffed Sweet Potatoes
Baked sweet potatoes stuffed with vegetables and cheese are not just healthy, but yummy too!
You will need:
2 sweet potatoes, large ones
½ cup basil leaves, thinly sliced
1 cup pasta sauce
½ cup skimmed milk
1 onion, chopped
1 large tomato, chopped
½ cup grated cheese
½ tbsp garlic powder
1 tbsp dried oregano
Fresh basil, for garnish
How to:
Heat the oven to 220ºC.
Clean the sweet potatoes and pierce them with a sharp knife twice or thrice.
Line the baking paper in a baking tray, and place the potatoes in it. Cook in the microwave for nine or ten minutes, or until they become soft.
Let the potato cool, cut it in half and scoop some of the flesh out to make space for the stuffing.
Mix the basil leaves, milk, garlic powder, oregano, chopped tomatoes, mashed sweet potato, chopped onion, and three-fourth grated cheese.
Add salt and pepper and mix again. Divide this mixture between two sweet potatoes.
Sprinkle the remaining cheese on top and bake for ten to 15 minutes.
Transfer the potatoes to a plate, garnish with fresh basil and serve.
Preparation time: 5min
Cooking time: 20min
Servings: 2
10. Gluten-free Pizza
The many gluten-free flour options today make it possible for you to make pizzas and other baked dishes that even kids with gluten allergy can eat. Here is one such recipe.
You will need:
1 gluten-free pizza crust
1 cup pizza sauce
½ cup mozzarella cheese
¼ cup steamed and chopped broccoli florets
2 tbsp chopped bell peppers
1 tbsp pesto
1 tbsp chopped onion
2 tbsp minced garlic
How to:
Preheat the oven to 400ºF.
Spread the pizza sauce on the gluten-free pizza crust. Sprinkle a few drops of pesto sauce on it.
Top it with the onions, bell peppers, broccoli, and garlic. Sprinkle the cheese over them.
Bake for eight to ten minutes, or until the cheese melts and the crust turns light golden brown.
Preparation time: 15min
Cooking time: 10min
Servings: 2
[ Read: Pizza Recipes For Kids ]
11. Paleo Style Frittata With Bacon and Veggies
Frittata is something between an omelet and a pizza. The one we are going to make is tasty, healthy, and gluten-free.
You will need:
125g bacon, chopped
6 eggs, beaten lightly
2 tomatoes, chopped
1 leek, chopped
2 egg whites, lightly beaten
oil spray
50gm spinach, chopped
1 small avocado, chopped
Fresh parsley for garnish
How to:
Heat a non-stick pan and spray it with oil. Add bacon and leeks.
Let them cook for five minutes, or until they soften and add chopped tomatoes and spinach and cook until it is well cooked and mixed properly.
Whisk the egg and season them with salt and pepper.
Spray around the top of the frying pan and pour this over the cooked veggies.
Top it with chopped avocados and cover with lid. Let it cook for two to three minutes, until the frittata is cooked well in the middle.
Garnish with fresh parsley and serve hot.
Preparation time: 5min
Cooking time: 15min
Servings: 4
Gluten-Free Snacks For Kids
Children who are allergic to gluten often miss out on cakes, muffins, and other desserts at parties. But you can make gluten-free cookies, cakes, and brownies for them at home. Here are some gluten-free snacks and dessert recipes.
12. Choco-coconut Cookies
These cookies with chocolate and coconut are made with no flour at all, but taste like little chunks of heaven.
You will need:
2 cups walnuts
2 egg whites
1/4 cup coconut flakes
½ cup semi-sweet chocolate chips
½ tbsp ground cinnamon
1 tbsp vanilla extract
1/8 cup and 3 tablespoons honey
How to:
Preheat the oven to 350ºF.
Grease a cookie sheet and set it aside.
Blend the walnuts and cinnamon until you get a flour-like consistency. Whisk the egg whites and add them to the walnut mix.
Add in the honey and vanilla extract to the walnut mix to make a batter. Add in the coconut flakes, and once the batter thickens, add the chocolate chips.
Using a spoon, drop small, but equal-sized, portions of the mix on the greased cookie sheet.
Bake for 15 minutes or until the cookies become golden brown and dark brown on the edges.
Preparation time: 10min
Cooking time: 15min
Servings: 12
[ Read: Cookie Recipes For Kids ]
13. Flour less Almond-Honey Cake
Yes! You can also make cakes without flour. Read on to know how.
You will need:
1 ½ cups toasted almonds
4 eggs
½ cup honey
1 tbsp vanilla extract
½ tbsp salt
½ tbsp baking soda
¼ cup sliced almonds and 2 tablespoons honey for topping
How to:
Preheat the oven to 350ºF.
Take a nine-inch springform pan and coat it with cooking spray. Line a parchment sheet at the bottom of the tray and coat it with cooking spray.
Blend whole almonds until you get a flour like consistency. You should get around one and three-fourth cups of ground almonds.
In a large bowl, beat the egg yolks, honey, vanilla extract, salt, and baking soda. Use an electric mixture to blend them properly. Stir in the ground almonds and whisk until properly mixed.
In another bowl, add the egg whites and whisk them for one to two minutes or until they become foamy, white, and have double the volume.
Using a spatula, fold in the egg whites into the almond mix.
Spread the batter in the springform pan and bake for 25-28 minutes, or until the cake turns golden brown. Use a toothpick or skewer to check if it is done.
Transfer the cake on to a platter once it cools, drizzle the honey and almonds on top and serve.
Preparation time: 20min
Cooking time: 30min
Servings: 10
[ Read: Cake Pops Recipes For Kids ]
14. Homemade Banana Pudding
Banana pudding is healthy and an excellent dessert for younger kids with a gluten allergy.
You will need:
1 medium banana
2 tbsp honey
2 tbsp cornstarch
2 tbsp egg yolk
1 ¼ cups milk
¼ tbsp vanilla extract
A pinch of sea salt for taste
How to:
Peel the banana and place it on a greased baking sheet. Bake it at 350ºF for 30 minutes.
Let it cool, and then mash it.
In a pan, add honey, sea salt, and the cornstarch and whisk it. Stir in the milk and whisk until it is smooth.
Whisk in the egg whites and place the pan on medium heat. Cook it for ten to 15 minutes, while whisking it continuously.
Once it thickens and starts bubbling, reduce the heat and whisk it for a minute.
Take it off heat and let it cool. Add the mashed banana and the vanilla to this mixture.
Transfer it to a shallow dish and chill it in the refrigerator for an hour.
Serve cold.
Preparation time: 10min
Cooking time: 45min
Servings: 4
[ Read: Banana Recipes For Kids ]
15. Chocolate Brownies
Brownies are usually made of flour and eggs and chocolate. So are these, except we use gluten-free flour in our recipe.
You will need:
5 oz. bittersweet or semi-sweet chocolate
2 oz. Unsweetened chocolate
3 tbsp cocoa powder
3 eggs
8 tbsp unsalted butter
1 cup gluten-free flour
1 ¼ cups sugar
½ tbsp salt
2 tbsp vanilla extract
½ teaspoon Xantham gum (if the gluten-free flour does not already have it)
How to:
Preheat the oven to 350ºF.
Grease an eight-inch baking dish and set it aside.
To prepare the batter, add the two varieties of chocolate and the butter in a bowl and microwave for 20 seconds. Stir it once and microwave it again for another 20 seconds or until all the chocolate is melted. Stir in the cocoa powder in the melted chocolate and butter.
In another bowl, combine the sugar, eggs, vanilla, and salt and whisk for 15 seconds. Stir in the chocolate mix.
Stir the gluten-free flour and the Xantham gum into this batter and combine them properly.
Pour this brownie mix into the baking dish and bake for 35 minutes, or until it is firm and well done (use a toothpick to check).
Serve warm.
Preparation time: 10min
Cooking time: 45min
Servings: 10
Having gluten allergy doesn't mean the child has to miss out on the delicacies that others enjoy. You can always prepare healthy and tasty foods using gluten-free ingredients. Don't you agree that following a gluten-free diet for kids is easy with recipes like these? So how about trying one right now? Do let us know how they tasted, by commenting in the section below.

Recommended Articles:
The following two tabs change content below.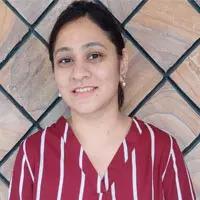 Swati Patwal
Swati Patwal is a clinical nutritionist and toddler mom with over eight years of experience in diverse fields of nutrition. She started her career as a CSR project coordinator for a healthy eating and active lifestyle project catering to school children. Then she worked as a nutrition faculty and clinical nutrition coach in different organizations. Her interest in scientific writing...
more