Are you pregnant and looking forward to lots of pampering and celebrations? Are you getting ready to celebrate your little one's arrival soon? Do you want to host a special party for him? Have you heard of the popular ceremony known as godh bharai that pregnant women take part in India?
If you simply want to know more about the ceremony or are looking for some Indian baby shower ideas, read our post.
Godh Bharai – The Traditional Indian Baby Shower Ceremony:
Godh bharai is the Indian form of the hugely popular baby shower ceremony. Women celebrate it during any month of your pregnancy. The process honors your unborn child, marks his arrival to the family. It is also a celebration in which the elders of the family will bless you and share your joy and happiness of becoming a mother.
The term 'godh bharai' is a Hindi term and means 'to fill the lap.' The celebration is done in many parts of India and is known by various names according to the region. In the north, it is known as godh bharai. In Bengal, it is known as 'shaad.' In Kerala, it is known as 'seemandham.' In Tamil Nadu, it is known as 'valakappu.'
Different regions have different traditions around the baby shower. Let us have a little understanding of how the different cultures perform 'Godh bharai'.
[ Read: Baby Shower Invitation Wordings ]
Shaad (Known in Bengal):
Shaad differs in a fact that it is not good to present gifts for the baby. It is similar to the Jewish view of pregnancy. There is a concern regarding it that gifts for the baby may attract the 'tempting fate' or 'evil eye'. However, it is a great time to fulfill pregnant mom's desires with favorite eatables and bring lovely wishes.
Seemandham (Known in Kerala):
In the modern era, this ritual is only done for the first born though it used to be performed for every pregnancy in the earlier days. It is either celebrated in the 7th or 9th month of pregnancy. It involves chanting some mantras for nearly one and a half hour, especially for baby's brain development. The pregnant mother should then take a bath in cold holy water.
Valai Kaapu (Known in Tamil Nadu):
The pregnant mom's family hosts the baby shower. It is celebrated to bless the mother and thus protect her and her baby against evil eye as she is suspected of many dangers this time. She should be in a black saree at the time of rituals so as to avoid the evil eye. She wears red and green bangles.
The pregnant mom should visit at least four temples and pray for a smooth delivery and healthy child. The four temples should include her ancestral temple as well.
When Does Godh Bharai Happen?
The exact time when godh bharai is celebrated depends on where you come from. In some parts of the country, godh bharai is celebrated when you complete the seventh month of your pregnancy. Many communities feel that once the mother has crosses her seventh month of pregnancy, both she and her baby will be in a safe phase. In some other communities, the godh bharai ceremony is performed once you complete your eighth month of pregnancy. There are still other communities who do not perform a godh bharai but instead have a special celebration once the baby is born.
[ Read: Baby Shower Etiquettes ]
How Is The Godh Bharai Rasam Performed?
The exact rituals followed in a godh bharai celebration will differ depending on the state and community you belong to. However, the main objective of the ceremony is the same. It is celebrated to bless your unborn baby and to welcome the new arrival, and also bless you in your new journey as a mother (even if it is a consecutive pregnancy).
Here are a few aspects of the godh bharai ceremony that you may find being celebrated in your custom:
As the mother-to-be, elderly women of the family will anoint you with special oils that are considered auspicious and good for you and your baby.
You will most likely have to wear a traditional saree and may also need to dress up using flowers. The style of saree worn and the flowers used for the ceremony tend to differ depending upon the cultural practices your family follows.
Before the formal festival begins, you and your partner need to sit for a small puja. Some communities allow the male partner to be present at the ceremonies while others do not any male relatives, even the father of the baby, to be present.
In most communities, the godh bharai ceremony is strictly a women's only celebration.
You may also have to dress up by wearing jewelry, especially ones that you wore in the wedding. In some communities, the godh bharai ceremony is celebrated with almost as much fanfare and dressing up as a wedding.
You may have to wear various pieces of traditional Indian jewelry, like bangles and necklaces. Once you are adorned, you will be made to sit in a space where other women can easily come up to you and bless you.
The women relatives from your family as well as any female friends will come up to you and fill your lap with various indian baby shower gifts, fruits, and other sweets. The women will ensure that your lap gets filled with all the gifts, referring to the name of the ceremony 'godh bharai' or 'filling up the lap.'
In most of the godh bharai celebrations, there will be a lot of singing and dancing along with a lot of teasing, and overall fun. The most common godh bharai gifts include bangles, clothes for the mother including dupattas or scarves or even cash. It is not the custom to give any gifts for the unborn baby during the godh bharai ceremony, as in most Indian families, gifts for the baby are bought only once the baby has been born.
Most women try and play games during the godh bharai ceremony. Some very popular godh bharai games that women generally play are like guessing the unborn baby's gender, recommending names for the unborn baby in a given time. All the Indian baby shower games are done in pure fun without the intention of offending anyone.
Tips To Have Fun At Your Godh Bharai And Be Safe:
Your godh bharai celebration will be a very special time for you as well as for your family. It is the time when you will be treated like the queen, and everyone will gather to wish you and shower you with their love. Your unborn baby will be officially welcomed into the family, and you will be loaded with gifts on being the proud mommy.
While all this is a lot of fun, a godh bharai ceremony can actually be very stressful, especially as it is celebrated in your final trimester. Before you go on for the ceremony or even during it, here are a few tips to stay healthy and enjoy properly:
1. Proper Rest:
Make sure you get proper rest and sleep before the ceremony begins.
2. Comfortable Outfit:
Choose an outfit that you will be able to carry during the ceremony. Whether you are wearing a saree, a salwar kameez or a lehenga, make sure you select something that is suitable as per the weather and the place where you will have the celebration. If you wear something that makes you feel too hot or too cold, it could cause potential health issues to both you and your baby.
If you are having the celebration during summers, avoid wearing anything that has heavy brocade work, heavy embroidery or is made of stiff silk. Wearing such garments during summers will make you feel very uncomfortable, and you may find it difficult to continue with the celebrations.
[ Read: Baby Shower Decoration Ideas ]
3. Take Proper Food:
In most traditions, a lavish feast is prepared in honor of the godh bharai ceremony. As is typical of most Indian foods, the dishes are often very spicy and very oily, with lots of fried and sweet dishes a main part of the meal. Eat only as much as you can and avoid eating foods that you are not comfortable eating. Make sure you do not eat anything that your doctor asks you to avoid; even if someone insists you have one bite. Refuse politely and tell the concerned person that you are already too full and do not want to eat anymore.
4. Fun And Enjoyment:
Your godh bharai ceremony will be the time when most female relatives and even your female friends will have a lot of fun and enjoy themselves. It is obvious that you too may want to join them. Do shake a leg or two and participate in the singing and dancing, but make sure you do not overexert yourself. A traditional feature in godh bharai ceremonies is to have traditional henna applied on the hands. You can book a henna artist for the occasion so that your female friends and relatives can go back with some beautiful henna tattoos on their hands.
5. Return Gifts:
As the godh bharai ceremony happens in your honor, it is a nice gesture to hand out thank you tokens to your guests when they are about to leave. To plan ahead, you can make a list of all the females who will attend the event. Try to request everyone to send you a confirmation beforehand, so that you know exactly how many gifts you need. Once you know the number of people who will be attending the event, you can buy small gifts for them that will show your thanks. As godh bharai is a very traditional celebration, you can buy traditional Indian gifts like dupattas, bindis, kumkum tikas, perfumes, bangles, scarves, stoles, potlis and even cosmetics.
[ Read: Family Rituals To Celebrate Pregnancy ]
Godh bharai celebration is a great way to bring your family and friends together. If you live in a city where you do not have any family present, it is a great way to build a support system. You can invite other young women from your network. Young mothers from work, from an older child's school, your neighbors, or any other females you may like to invent the event.
Once you have your list ready, the network of friends can help you during your final weeks of pregnancy, if you have any young mothers in the group and if you are having a baby for the first time, it will also help you learn from their experience.
Now you know what is baby shower in india and how it is celebrated. Did you have a godh bharai ceremony too? If you have any other godh bharai ideas, do share it with us.
Recommended Articles:
The following two tabs change content below.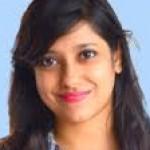 Latest posts by Debolina Raja (see all)