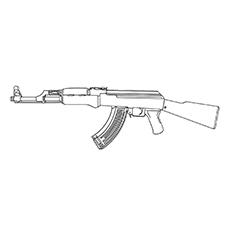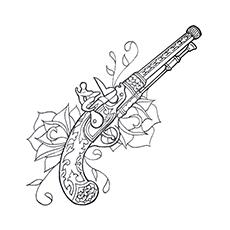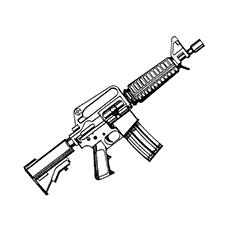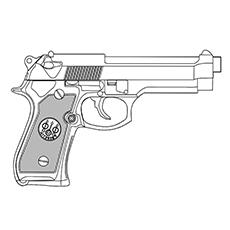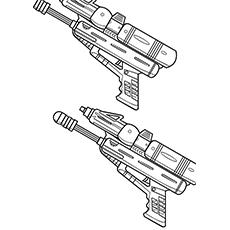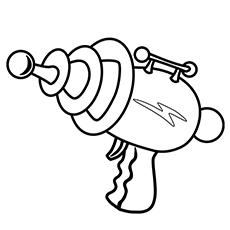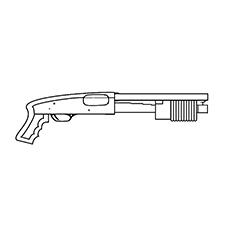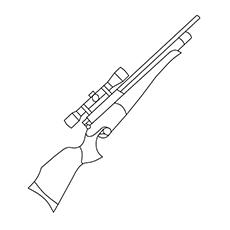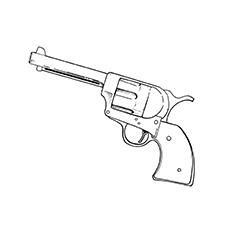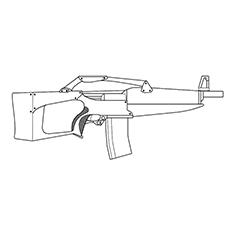 Recommended Articles:
There is no denying that kids, especially boys, have a strange fascination with guns. Children running around the backyard wielding toy guns and playing cowboys or cops and thieves are a familiar sight. They even make a beeline for swords and guns that moment they hit the toy store. But letting the boys play with guns all the time can have repercussions too: increasing aggressiveness is one of them.
Here are ten guns coloring pages for the little gun-lover in your house. Help give shape to his fascination for these objects in a non-violent and peaceful way with our collection below.
Popular Gun Coloring Pages
1. RPD Gun:
Here's a coloring image of RPD Machine gun, a handheld machine gun developed by Vasily Degtyaryov in the Soviet Union to replace the DP machine gun. This automatic weapon uses a long stroke piston and locking system recycled from small arms. RPD gun also comes with a non-removable barrel that control the performance of the gas system. The gun is best used in combination with Prototype Rifle or Sniper Rifle. Do you know what RPD stands for? RPD is the full form of Ruchnoy Pulemyot Degtyareva.
2. Ancient Gun:
Long before revolvers and rifle, our ancestors used badass guns for their drive-by shooting. China was the first country to produce guns, around four centuries after inventing gun powder. These weapons were later transmitted to Europe, Africa, and the Middle East. The gun you see on the coloring page is Spanish Percussion Lock Belt Pistol. It may not appear, but this gun was very thick. We like the floral pattern prints on the gun.
[ Read: Bowling Coloring Pages ]
3. Heckler & Koch MP5 Machine Gun:
The massive gun you see here is Heckler & Koch MP5, a 9mm submachine gun developed in the 1960 by German arms manufacturer Heckler and Koch GmbH. There are over a 100 varieties of the MP5 machine gun, including a semi-automatic version. The MP5 is one of the most used submachine guns in the world. It has been adopted by over 40 nations and hundreds of law enforcement, military, intelligence and security organization. The Heckler & Koch MP5 Machine Gun is also one of the most popular models for toy guns.
4. Service Pistol:
Here's a neat coloring image of Service pistol. A service pistol is a handgun issued to law enforcement officers and military personnel. These handguns are semi-automatic pistols issued to officers for self-defense. Service pistols are never issued to the front-line infantry. Let's get into a bit into the history of the service pistol. Before the introduction of cartridge-loading firearms, there were little to no standardization about the handguns carried by the military officers. Soldiers and officers usually carried a sword in combat and for protection. But the development of service pistols changed the way battles were fought in those days.
5. Water Gun:
Here's a cute coloring page of a water gun, the most favorite guns of kids. The water fight is the best way to beat the heat on a hot summer noon. After your children color the image, arm them with water guns and head to the backyard to play water fight. Did you know? In the ancient times, water guns were made entirely of metal and had rubber squeeze bulbs to propel and load the water through the nozzle.
[ Read: Boxing Coloring Pages ]
6. Ray Gun:
If your kid is a sci-fi fan, then he must be well aware of the ray gun coloring page. The ray gun is the weapon used in science fiction for causing damage or injury by emitting rays. These rays, when activated emit a lethal, visible radiation that can cause extreme destruction. These guns appear in the movies shooting pulses of energy and traveling slow enough for humans to see them emerge. These rays emitted by these guns can even cut through hard materials including blowtorch. And its effect is instantaneous.
7. Shotgun:
Here's a coloring image of a shotgun, also called pepper gun and scattergun. A shotgun is a firearm designed to be fired from the shoulder. A shotgun comes in a wide variety of sizes, types, forms, right from small up to massive guns. Shotguns are used widely in sports. It is also used widely for bird hunting.
8. Rifle:
Here's a realistic gun coloring page of a lever action rifle, a firearm designed to be fired from the shoulder. Rifles have a long, spirally grooved barrel that makes the bullet spin, thereby giving greater accuracy over long distances. In a lever action rifle, the lever is located around the trigger area to load the cartridges into the barrel chamber. Lever action rifles are mainly used in shooting sports and hunting. Earlier, these rifles were used for warfare also, but its popularity has gone down drastically. That's because it's hard to fire a lever-action from a prone position.
[ Read: Baseball Coloring Pages ]
9. Revolver:
A revolver or handgun is a firearm that has a revolving cylinder containing multiple chambers and a barrel for firing. A revolver contains six chambers in the cylinder, which gave rise to its nickname Six-shooter. The original name of the revolver is 'revolving gun', but 'revolver' is the universally used. Do you know what the revolver's specialty is? A revolver allows the user to fire several bullets without reloading. The first revolvers were made in the late 16th century in Europe. But it was not until 19th that these guns became a standard for nearly all uses. Eugene Lefaucheux produced the first cartridge revolvers. Today, these handguns are used by police and military officers. Some even use revolvers for sports and hunting.
10. Black Ops 2 Sniper:
Here's a gun coloring page of Black Ops 2 Sniper, a weapon from the famous video game "Call Of Duty". The Black Ops 2 Sniper is a powerful and pin-point accurate gun. This gun is hands down the best weapon in the "Call of Duty". This sniper is best used by marksman as it has an accuracy of a double-edged sword. If your kid is a fan of the game, then he must be well aware that Black Ops 2 Sniper is best used by players who want to shoot the enemy combatants.
So this was our small collection of gun coloring pages for kids of all ages. As your kid colors, you can explain to him the all the pros and cons associated with guns. And do not forget to tell us which of these coloring pages your kid liked coloring the most.
DISCLAIMER: All images found here are believed to be in the "public domain". We do not intend to infringe any legitimate intellectual right, artistic rights or copyright. All of the images displayed are of unknown origin. If you are the rightful owner of any of the pictures/wallpapers posted here, and you do not want it to be displayed or if you require a suitable credit, then please contact us and we will immediately do whatever is needed either for the image to be removed or provide credit where it is due. All the content of this site are free of charge and therefore we do not gain any financial benefit from the display or downloads of any images/wallpaper.
The following two tabs change content below.