Are you looking for simple, yet elegant ways to style your hair? Do you want your hair to look great with minimum fuss, without using all those tongs, hairsprays, and curlers? If you want to flaunt a new look, you have come to the right place.
Pregnancy is not the ideal time to use any styling products like tongs, hairsprays, gels and other cosmetics, as they can lead to unwarranted complications. If you are looking for some easy to do pregnancy hairstyles, look no further. Here is our compilation of some beautiful hairstyles for pregnant ladies that are easy to recreate, and guaranteed to make you look like million bucks on your special moment!
Best Pregnancy Hairstyles You Can Try:
1. Layered Bob:
Short hairstyles are easy-to-maintain, fuss-free, yet stylish. With the layered bob hairstyle, you look great while expecting. The layers add volume to your hairstyle. The uneven layers with choppy ends look amazing. To make this hairstyle for pregnant woman look extra special, use some hair gel on your palms and tousle your hair slowly when you head to the mall.
2. Wraparound Ponytail:
The wraparound ponytail is a great pregnancy hairstyle to prevent your hair from getting in your way, and it looks great at the same time. The hairstyle is quick and easy to do during pregnancy. Get your hair into a pony and leave some hair strands loose on one side of your head. Wrap the loose section around your pony and fasten with a bobby pin.
3. Tousled Waves:
The tousled waves hairstyle can help you have a stylish appearance while expecting. All you need to do is comb your hair, apply some hair gel on your palms, and run your fingers through your combed hair fluffing your hair as you move the fingers through your hair.
4. Donut Topknot:
Donut buns can help you look gorgeous while expecting. Donut topknot hairstyle during pregnancy makes your hair appear fuller in its neat and easy topknot. Also, the donut knot prevents your hair from entangling and fuss for a long time as your hair remains tied up in the donut bun.
[ Read: Is It Safe To Cut Hair While Pregnant ]
5. Straight And Sleek Hairstyle:
If you have straight, non-wavy hair, then flaunting your straight can be a great hairstyle while you are expecting. Go for an easy Bob, in which your hair falls just below your chin. You need not worry about hair knots and fuss with this kind of straight and sleek hairstyles during pregnancy.
6. Fringes With Side Parting:
Pregnancy tends to make your face look round and fuller than normal. Fringes look great on a fuller face than normal. So go for a side parting short hairstyle and layer your fringes to a length that is about two-third down your face. The hairstyle will be a stylish one during pregnancy.
[ Read: Beauty Tips During Pregnancy ]
7. Milkmaid:
The Milkmaid hairstyle is the classic look while expecting. You simply need to have milkmaid plaits and some bobby pins to flaunt the exquisite hairstyle. The hairstyle is an easy DIY hairstyle that requires just about 15 to 20 minutes.
8. Messy Side Bun:
The Messy side bun is one of the easiest, less time-consuming hairstyles for pregnant women maintaining long hair. All you need to do is get all your hair to one side of your head and tie-up a loose ponytail using an elastic band. Hold your pony at the top with one of your hands and work your ponytail around your hand twisting your hair in a circular motion as you go along. Deck your hair with an adorable bejeweled clip to add a glamorous look.
[ Read: Is Hair Rebonding Safe During Pregnancy ]
Did you try any easy yet adorable hairstyle during pregnancy? Do you have any personal favorites? Share some of the amazing hairstyles and your experiences with other moms-to-be. Leave a comment below.
Recommended Articles:
The following two tabs change content below.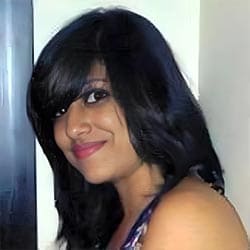 Debolina Raja
Debolina Raja came into the writing world while she was playing around with words and participating in various literary events. In the professional world, she found her writing interest in various genres such as health, wellness, parenting, relationship, and brand management. Having done a Masters degree in English literature from Delhi University, she loves reading, heading out on road trips,...
more