Are you expecting a bundle of joy? Does everyone tell you to abstain from eating your favorite food? Do you need some inspiration for yummy and nutritious meals? Then you will love our compilation of easy to make, healthy recipes for pregnant women.
During pregnancy, people often remind you of what you or should not eat. But eating healthy during pregnancy is not as easy as it sounds. You have crazy food cravings and meal schedules. So what can you eat that will taste good and be nutritious for you and the little one in your womb? To help you, we have come up with 15 delicious healthy pregnancy recipes to make a bit more palatable for you.
Top 15 Healthy Recipes For Pregnant Women:
1. Chicken And Tomato Pasta:
You Will Need:
350 grams of dried penne pasta
100 grams of snow peas
500 grams of chicken breast filets
1 Tbsp olive oil
1 Tbsp tomato pasta sauce
Salt
Pepper Powder
How To:
1. Cook the pasta by following the directions on the packet.
2. Add the snow peas in the pasta while cooking.
3. Brush chicken with oil and season with salt and pepper.
4. In a large frying pan cook the chicken filets until tender. Let them cool for ten minutes and then cut diagonally.
5. In another pan, heat the pasta sauce and add the pasta. Then add the chicken pieces and mix it well. Serve hot.
2. Peanut Butter And Chocolate Chip Energy Bars:
You Will Need:
1/2 Tbsp of vegetable oil
1 cup of peanuts (roasted)
1/2 cup of peanut butter
1 Tbsp of vanilla essence
1/2 cup of sunflower seeds
1/2 cup of chocolate chips
1 cup of oats
20 dates (pitted)
2 eggs
1 Tbsp of Kosher salt
How To:
1. Add oats, peanut butter, peanuts, sunflower seeds, oats, and dates in a blender and churn.
2. In a bowl, mix the eggs, vanilla essence, and salt.
3. Add the egg mixture to the peanut mixture and blend again to make a coarse paste.
4. Then fold in the chocolate chips. Grease a baking pan. Transfer the mixture to the baking pan and spread it evenly. Bake for 35 minutes at 200 degrees F. Let it cool before you cut it into bars.
[ Read: Energy Foods To Eat During Pregnancy ]
3. Apple And Lettuce Salad With Melon Dressing:
You Will Need:
For The Dressing:
1/2 cup of muskmelon purée
1/2 Tbsp cumin seeds (roasted)
3 Tbsp coriander (chopped)
Salt
Pepper Powder
For The Salad:
1 cup of lettuce
1/2 cup of cabbage
1/4thcup of grated carrot
1/4thcup of red and yellow peppers
1/2 cup of chopped apples
1/2 Tbsp of lemon juice
1/2 cup of bean sprouts
2 Tbsp of chopped grapes
1 Tbsp of chopped spring onions
Salt
How To:
1. Put cabbage, carrots, lettuce and pepper in ice-cold water for 30 minutes. Drain and refrigerate the vegetables.
2. Toss the apples in lemon juice and refrigerate. Combine lettuce, carrots, cabbage, peppers, bean sprouts, spring onions, grapes, salt in a bowl and mix gently. Blend the dressing ingredients and add them to the salad. Toss well and serve.
4. Banana Walnut Pancakes:
You Will Need:
¼ th cup of banana puree
1/2 cup of finely chopped walnuts
1 cup of whole-wheat flour
2 Tbsp of wheat bran
1/2 cup of milk
4 Tbsp of castor sugar
1/2 Tbsp of vanilla essence
1/2 Tbsp of baking powder
4 Tbsp of butter
To Serve:
How To:
1. In a bowl, combine all the ingredients and mix well. Add ½ a cup of water and mix well.
2. Melt butter in a frying pan over medium heat and add a ladle of the mix. Spread it evenly to make a pancake. Toss and cook it on both sides until golden brown.
3. Serve with banana slices and honey.
[ Read: Nutritional Foods To Eat During Pregnancy ]
5. Bean Soup:
You Will Need:
3/4thcup of kidney beans
1/2 cup of chopped onions
2 cups of chopped tomatoes
1 Tbsp finely of chopped garlic
1/2 Tbsp of chili powder
1 Tbsp lemon juice
1 Tbsp oil
Salt
For Serving:
Sliced spring onions
Chopped coriander
How To:
1. Soak the kidney beans in water and leave it overnight. In a pressure cooker, heat oil and add chopped onions. Cook until it turns transparent.
2. Then add garlic, tomatoes, salt, chili powder and sauté for a few minutes.
3. Add beans, water and pressure cook for 15 minutes.
4. Let the kidney beans cool then them to a blender and churn.
5. Heat the soup and add lemon juice. Garnish with coriander leaves and serve.

6. Broccoli And Baby Corn Stir-Fry:
You Will Need:
3/4 cup of broccoli
1/3rdcup of baby corn
1/3rdcup of capsicum
1/3rd cup of onions
2 Tbsp of French beans
8 toasted cashews
1 Tbsp of finely chopped garlic
1 Tbsp of corn flour
A pinch of sugar
½ Tbsp of Black Pepper Powder
2 Tbsp of oil
Salt
How To:
1. In a wok, heat oil over a high flame. Add garlic and cook for a minute.
2. Add and stir-fry the remaining vegetables.
3. Mix corn flour with ½ a cup of water and add to the vegetables.
4. Then add seasoning and cook for a minute. Serve hot with toasted cashews.
[ Read: Healthy Vegetarian Recipes During Pregnancy ]
7. Cabbage Rice:
You Will Need:
1 ½ cups of cooked rice
1 onion, finely chopped
½ cup of shredded cabbage
1 capsicum, sliced
½ Tbsp of Pepper Powder
2 Tbsp of butter
Salt to taste
2 Tbsp of grated processed cheese
How To:
1. Melt the butter in a wok, add the onions and sauté it.
2. Add capsicum and cabbage into the pan and cook until tender.
3. Add rice and seasoning. Mix well. Garnish with cheese and serve.
8. Cream Of Celery Soup:
You Will Need:
1 Tbsp of butter
½ cup of chopped onions
¼th cup of chopped potatoes
1 ¼th cups of finely chopped celery stalks
2 Tbsp of corn flour
½ cup of milk
Salt and pepper to taste
For The Garnish:
How To:
1. Heat the butter in a pan and add onions and potatoes. Saute for a few minutes.
2. Add and sauté the celery. Add two cups of water and let the mix come to a boil.
3. Remove the pan from the heat and let the mix cool.
4. Now add it to a blender and churn. Strain the contents. And transfer the soup to the pan and heat it.
5. Mix corn flour with ½ a cup of milk. Add it to the pan along with the seasoning. Let the simmer until it thickens. Garnish with cream and serve.
9. Date and Banana Shake:
You Will Need:
1/4thcup of dates
1/2 a banana
1 cup of milk
4 to 5 ice-cubes
How To:
1. Soak the dates in warm milk for 30 minutes.
2. Add all the ingredients into a blender and churn to make a yummy shake.
10. Chicken Salad Wraps:
You Will Need:
½ cup of lemon juice
1/3rdcup of Tabasco sauce
¼th cup of sugar
2 cloves of garlic, minced
¼th Tbsp of crushed red pepper
8 flour tortillas
4 cups of shredded romaine lettuce
3 cups of shredded cooked chicken
1 large ripe tomato sliced
1 cup of grated carrots
2/3rdcup of chopped scallions
2/3rdcup of slivered fresh mint
How To:
1. In a bowl add Tabasco sauce, sugar, garlic, lemon juice, red pepper and whisk until the sugar dissolves.
2. Wrap the tortillas in a foil and heat for ten minutes.
3. In a large bowl add chicken, lettuce, tomato, carrot, mint and scallions. Mix the ingredients well. Add the dressing to the chicken mixture.
4. Place the chicken mixture on the tortillas and serve.
11. Lemony Lentil Salad with Salmon:
You Will Need:
1/3rd cup of lemon juice
1/3rd cup of chopped fresh dill
2 Tbsps of Dijon mustard
¼th Tbsp of salt
Freshly ground pepper to taste
1/3rd cup of extra-virgin olive oil
1 medium red bell pepper, diced
1 cup of diced cucumber
½ cup of finely chopped red onion
3 cups of cooked brown lentils
1 ½ cup of cooked salmon
How To:
1. Whisk dill, mustard, salt, pepper, and lemon juice in a bowl. Then slowly add oil into the bowl.
2. Add cucumber, onion, lentils, salmon, and bell pepper. Toss the salad well.
[ Read: Vitamin A Rich Foods During Pregnancy ]
12. Yogurt Crunch:
You Will Need:
1 cup of rolled oats
1 Tbsp of light olive oil
2 Tbsp of maple syrup
1/3rdcup of blanched almonds, chopped
1/3rdcup of pecans, chopped
1/3rdcup of chopped dried apples
1/3rdcup of chopped dried apricots
1 Tbsp Butter
½ cup of yogurt
How To:
Add oats in a bowl and drizzle olive oil and maple syrup over it. Stir well. Grease a baking tray. Spread the oats over a baking tray and bake for five minutes. Sprinkle almonds and pecans over the oats mixture and bake for seven minutes. Transfer the mixture to a bowl and keep it aside to cool. Then add dried apricots and dried apples to the bowl. Add yogurt to the mix. Stir it well and serve. This is one of the healthy recipes for pregnant ladies.
13. Banana Yogurt Muffins:
You Will Need:
1 ¾ cup of flour
½ cup of caster sugar
1 cup of yogurt
1 egg
2/3rd cup of vegetable oil
2 large bananas, mashed
How To:
1. Sift the flour and sugar in a bowl.
2. Add egg, oil, yogurt, and banana puree in a bowl. Mix it well. Then gradually add the flour and sugar mix. Stir well.
3. Grease a muffin pan and add the mixture to it. Bake at 375 degrees F for 25 minutes.
14. Sprouts Cutlet:
You Will Need:
2 medium-sized potatoes, peeled and boiled
100 grams sprouts
½ cup of fresh coriander, chopped
Salt to taste
8-10 cashews, coarsely chopped
1 Tbsp of corn flour
100 grams of bread crumbs
Cooking oil
How To:
1. Mash the boiled potatoes in a bowl. Now add coriander, salt, cashew, corn flour and sprouts, into the bowl. Mix well.
2. Make small cutlets with the mix. Coat the cutlets with crumbs. Brush some oil on the cutlets and shallow fry until it turns golden brown.
15. Savory Omelet:
You Will Need:
½ packet of instant noodles
2 eggs
2 Tbsp of Mozzarella cheese
1 Tbsp of butter
30 grams of snow peas, thinly sliced
¼ small red pepper, thinly sliced
170 grams of cooked crab meat
20 grams of snow pea sprout
Brown bread toast
How To:
1. Cook noodles according to the directions on the packet. Drain and leave it aside.
2. In a bowl, whisk egg and then add noodles and cheese. Season with pepper and salt.
3. Melt butter in a frying pan and pour in the egg mixture. Cook until the base turns golden.
4. Add the remaining ingredients on top and cook for a minute. Serve with toast.
Make sure you consult your doctor before making any changes in your pregnancy diet.
Hope you liked our list of 15 healthy recipes during pregnancy. Did you try any of these healthy recipes for pregnancy to pamper your taste buds? Please share it with us here.

Recommended Articles:
The following two tabs change content below.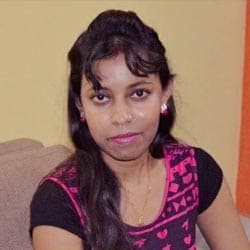 Ria Saha
Ria is a techie-turned-writer and writes articles on health, with special emphasis on nutrition. She did her B.Tech from West Bengal University of Technology and was previously associated with IBM as SAP ABAP technical consultant. She moved into freelance content writing in 2013 and worked for various websites including MomJunction, Brainpulse Technologies, and Emarketz India.