HELLP syndrome (Hemolysis, Elevated Liver Enzymes, and Low Platelet Count) is a rare disorder of the liver and blood. It could turn fatal if left untreated in pregnancy. The disorder affects around 0.1-0.2% of all pregnancies and usually occurs in the third trimester or postpartum.
HELLP syndrome affects your liver, causing pain in the chest and belly. The maternal mortality rate is around 0 to 24% of cases, while maternal morbidity is 25% of reported cases (1) (2).
Learn here the risk factors and challenges associated with HELLP syndrome and what you can do to manage it.
Common Symptoms Of HELLP Syndrome
The symptoms of HELLP syndrome might be prominent at night time, while they usually subside during the day; the symptoms include (1) (3):
Nausea and vomiting
Headache
Blurry vision
Chest pain
Weight gain and swelling
Nosebleed
Seizures or convulsions
Epigastric pain (upper abdominal pain right below the ribs)
Malaise, a feeling of severe discomfort with an unknown cause.
Causes And Risk Factors Of HELLP Syndrome
The clinical causes of HELLP syndrome during pregnancy are unknown. However, it is believed to occur following damage to the inner lining of blood capillaries and internal coagulation in blood vessels (4).
Some risk factors of HELLP syndrome are (1) (5) (6):
Studies suggest that having hypertension in pregnancy with conditions such as preeclampsia can lead to HELLP syndrome in 20% of the cases
Eclampsia (preeclampsia along with seizures), including mental and emotional disturbances
Maternal age
Previous pregnancy complications
Latino-American and Chinese populations with hypertensive pregnancies are more prone to HELLP syndrome than the East Indian population.
Classification And Diagnosis Of HELLP Syndrome
The HELLP syndrome is classified in two ways (3):
1. Tennessee classification system: It considers the number of symptoms of HELLP syndrome.
a. Partial HELLP syndrome: One or two abnormalities are visible.
b. Full HELLP syndrome: All the symptoms are present, and there is a significant risk of severe complications. Further, there is an increased risk of disseminated intravascular coagulation (DIC) and poor pregnancy outcomes.
2. Mississippi-triple class system: The system relies on the blood platelet count. It also considers the liver enzyme levels of aspartate aminotransferase (AST), alanine aminotransferase (ALT), and lactate dehydrogenase (LDH) in the serum. There are three ways to categorize patients.
a. Class I (severe): Pregnant women having platelets ≤ 50·109/L, AST/ALT ≥ 70 IU/L, and LDH ≥ 600 IU/L. It is the most severe form with the longest recovery time and highest mortality risk.
b. Class II (moderate): Pregnant women having platelets between 50·109/L and 100·109/L, AST/ALT ≥ 70 IU/L, and LDH ≥ 600 IU/L.
c. Class III (mild): Pregnant women having platelets between 100·109/L and 150·109/L, AST/ALT ≥ 40 IU/L, and LDH ≥ 600 IU/L.
The diagnostic criteria of HELLP syndrome are based on symptom identification and analysis of blood parameters. HELLP syndrome may be diagnosed with the following hematological parameters in the antenatal period (4) (7):
Decreased serum haptoglobin and elevated LDH suggest hemolysis, a condition commonly associated with HELLP syndrome.
Elevated serum transaminase levels
Platelet counts ≤ 6 × 109 per L
Plasma fibrinogen level of less than 300mg/dL
Increased uric acid concentration along with proteinuria
Abnormal blood coagulation studies
Treatment And Management Of HELLP Syndrome
HELLP syndrome can lead to severe complications if left untreated. On the diagnosis of HELLP syndrome, your doctor will suggest a management plan considering your age and the severity of the disease.
The treatment of HELLP syndrome is carefully weighed for risks and benefits (4).
Gestational age more than 34 weeks: Immediate delivery is suggested if you have passed 34 weeks of gestation. It will not be possible to wait for vaginal delivery, and an emergency C-section might be a viable option.
Gestation age between 32 and 34 weeks: Medication is advised, and the doctor will monitor your health for the next 48 hours. Depending on your health status, a doctor might ask your opinion to consider a cesarean mode of delivery or advise you to hold on for another two weeks. The extra time will help in fetal lung maturation.
Gestation age less than 32 weeks: Immediate medication is suggested, and the doctor monitors your health for another 48 hours. If your health is stable, staying at a tertiary care center attached to the neonatal intensive care unit is advisable.
Treatment measures for symptomatic management of HELLP syndrome include(4):
Corticosteroids treatment is effective in the management of health parameters during HELLP syndrome.
Dexamethasone and betamethasone help improve symptoms of HELLP syndrome and permit extra time for treatment. They also serves as fetal lung maturators.
Magnesium sulfate is administered as a prophylactic agent to control seizures and as a fetal neuroprotector.
Hydralazine, labetalol and nifedipine are given for high blood pressure management.
Platelets transfusion may be a necessity for patients with platelets less than 50·109/L.
Possible Complications Of HELLP Syndrome
Severe complications and lack of in-time treatment have been major causes of 1.1% maternal mortality. Some of the severe complications associated with HELLP syndrome are:
DIC
Adult respiratory distress syndrome
Renal failure
Pulmonary edema
Subcapsular hematoma
Hepatic rupture
Measures To Help Prevent HELLP Syndrome
Some ways that could help prevent HELLP syndrome are (8) (9) (10):
Regular prenatal checkups
Communication about your previous health issue can help your healthcare provider to note any signs of worry.
Prophylactic use of aspirin before the 16th week of gestation on risk population can help prevent gestational hypertensive disorders and it´s complications such as HELLP syndrome.
Long-Term Outlook For Women With HELLP Syndrome
If you had HELLP syndrome in your previous pregnancy, there is a high risk of recurrence in the subsequent pregnancy. According to the American Academy of Family Physicians (AAFP), the HELLP syndrome can reoccur in around 19-27% of the cases (4).
Preeclampsia can develop in around 43% of subsequent pregnancies.
Frequently Asked Questions
1. How does HELLP syndrome affect my baby?
HELP syndrome during pregnancy can affect your baby's health and neonatal morbidity. The extent of the impact would depend on the baby's gestational age at delivery. A premature baby born over two pounds of birthweight may not require a prolonged hospital stay and has no long-term outcomes.
However, there is a high risk of fetal mortality with early gestational age delivery. The incidence of stillbirth and neonatal death can range from 7.7% to 60% of the cases (8).
2. Is HELLP syndrome the same as preeclampsia?
Usually HELLP syndrome presents as a complicactios of preeclampsia-eclampsia. In preeclampsia, the loss of protein can cause coagulation abnormalities in the blood. The blood clot can reduce blood flow to blood vessels and may damage internal organs (11).
The symptoms of preeclampsia and HELLP syndrome can be similar; however, there may not be high blood pressure and proteinuria as in preeclampsia. The related symptoms might sometimes make it difficult to diagnose HELLP syndrome (8).
HELLP syndrome affects pregnant women in the later stage of pregnancy or days after delivery. It needs early medical attention, and any delay can complicate the health condition. The early diagnosis and treatment may help prevent maternal and fetal complications.
References:
MomJunction's articles are written after analyzing the research works of expert authors and institutions. Our references consist of resources established by authorities in their respective fields. You can learn more about the authenticity of the information we present in our
editorial policy
.
The following two tabs change content below.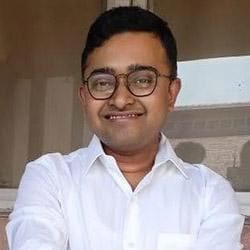 Anshuman Mohapatra
Anshuman Mohapatra is a biotechnology scientist with more than six years of research experience in analytical chemistry and biotechnology. He has submitted his Ph.D thesis at the Indian Institute of Technology Guwahati (IIT Guwahati) and served as a research fellow (JRF/SRF) during his Ph.D tenure. His research interest includes analytical chemistry, neurobiology and lipid disorder diseases. Three of his research...
more