A healthy and happy marriage thrives on commitment, patience, and, most importantly, happiness. Your wife is your soulmate and partner for life. She makes your life blissful by taking care of your needs and supporting you every step of the way. If you are wondering how to make your wife happy, this post offers some simple ways to bring back that spark in your relationship.
Make her fall in love with you all over again with these cute and thoughtful ways to make your wife happy.
How To Make Your Wife Happy: 24 Cute Ways
Making your wife happy is not an arduous task. You'd be surprised how simple changes can work magic in your relationship and keep her beaming all day.
1. Be a good listener
Sometimes, when your wife shares something with you, she is not expecting a solution but wants to unwind. Just listen to her without judgment, hug her, and tell her you're there for her.
2. Know what she wants/loves
Pay attention to what your wife likes – breakfast in bed, flowers, dessert at the end of the day, listening to a particular song to relax, or a cup of coffee in the evening. Or maybe she just wants you to put the toilet seat down or hang your towel. Doing such small acts can also make her feel like you understand her.
3. Hug her often
Be it when you leave for work or get back, ensure you hug her tight and show her your love and appreciation. Physical touch and gestures can go a long way, and kissing is the cherry on top!
4. Groom yourself
Do you hardly pay attention to your appearance now though you used to make efforts to look good for her before marriage? If yes, you should spend some time on yourself and impress her with your groomed appearance and some good fragrance. Let her know that she is still worth impressing.
5. Compliment her
Paying compliments is a great way to boost confidence. Compliment her on her achievements, looks, skills, and all that makes her special. Do it not only when you are alone with her but also in front of colleagues, friends, and relatives. It will show her that you are not afraid to let others know how much you love her.
6. Cook for her
Cooking a meal for your wife is a tried and tested way to make her feel special and happy. You can make her a romantic meal or a simple dish she loves. Your efforts and gesture will count more than the taste!
7. Trust her
False doubts and assumptions create unnecessary barriers in a relationship. Hence, avoid making irresponsible allegations when you don't have any evidence to prove them. Questioning her unnecessarily or checking her personal items will also frustrate her. Instead, trust her and make her feel valued.
8. Plan romantic dates and long drives
You may not realize it, but your wife spends most of her time juggling between family and work responsibilities. So give her a much-needed break by planning a romantic date or a long drive with just the two of you. This will also give you time to connect. You can also plan outdoor activities that you love doing together.
9. Surprise her with gifts
You don't need to wait for your anniversary to surprise her with gifts. She will be overjoyed to receive surprises from you, even if they are not expensive. Gift her something fun, quirky, or useful – you'd know best what to get her!
10. Be kind
Treat your wife with kindness, compassion, and grace. Don't use a harsh tone or unkind and judgmental language. Your kindness will make it easier for her to open up to you. Also, be chivalrous (open doors for her or pull up her chair) and be considerate of her time and commitments.
11. Don't take her for granted
In long-term relationships, couples often forget how important their partner is and start taking them for granted. Your wife sacrifices a lot for you and the family. Never forget the little things she does for you. Be thankful and express your gratitude with little thank you notes or gestures that show her contribution is valued.
12. Be patient
Do not make it a big deal if your wife forgets to turn off the tap or microwave or minor mishaps occur unintentionally or due to miscommunication. Instead, quietly take care of them without blaming her or stressing her out about it.
13. Stand up for her
If you notice somebody trying to bring her down or poke fun at her, don't ignore it but stand up for her. Defending her when she feels vulnerable will show her that you are still protective about her and will be there when she needs you the most.
14. Be honest and loyal
Loyalty and honesty work both ways: Be as loyal and honest to her as you'd expect her to be. Keep things transparent and communicate the everyday happenings in your life. She will appreciate being kept in the loop.
15. Thank her
Appreciate even the little things she does for you – making you a cup of tea or reminding you of important things. Don't assume that she already knows how much you appreciate her; hearing you say it goes a long way. She will appreciate that these small gestures don't go unseen.
16. Do your share of the household chores
Whether your wife is a homemaker or has a full-time job, household chores are not solely her responsibility. Be an equal partner in the marriage and divide the chores between you. For instance, if she takes care of the grocery shopping, you can do the laundry.
17. Buy her flowers
This kind gesture is far from a cliché and will surely be appreciated by her. However, you need not wait for a special occasion. Instead, when she least expects it, surprise her with a bouquet or a single rose – it's the gesture that counts.
18. Say the magic words
How often do you tell your wife that you love her? Even if you know that you do, there is no harm in expressing it as often as you can. Of course, you could also say these words with small gestures.
19. Accept your faults
Ego can harm any relationship. When you are wrong, put aside your ego and accept it. If you need to extend an apology, do not hesitate to do so as it will only strengthen your relationship. It will show her that your relationship is more important than your need to be right.
20. Be responsible
Be accountable and take on responsibilities as having a responsible partner makes life easier for her. Take up tasks and let her know when they are done. Also, keep her in the loop at all times. Even simple gestures like letting her know that you will be out late with friends will be appreciated.
21. Make her a part of your decisions
Your wife is your partner in everything – make her feel that way. Involve her in decisions related to the household and finances. Make her feel included and valued in the decisions. Ask her for her opinion, even in the small things, instead of keeping her in the dark.
22. Respect her family
Your wife left her home and parents to build a family with you. For her, life changed, and you became the priority. As she tries to keep both families happy, play your part and reciprocate what she does for your family. For instance, talk to your in-laws, take them out for a meal, or plan vacations together.
23. Give her space
Just like you, your wife also needs her "me" time or personal space. So when you notice that she is tired and needs to relax, give her space. Take over all her household responsibilities and encourage her to unwind with a day at a spa or by meeting her friends.
24. Be sensual and playful
Sexual connection plays an important role in any relationship or marriage. Be playful and try new things to excite your wife. Physical touches such as kisses, hugs, and cuddling can make her feel attractive and loved. Don't shy away, and keep your game up.
You may have the woman of your dreams, but you should also know how to keep her happy! You need not spend too much money to do so. Small, thoughtful gestures can go a long way in making her feel loved and valued. Try these tips and pave the way for a healthy, happy relationship!
The following two tabs change content below.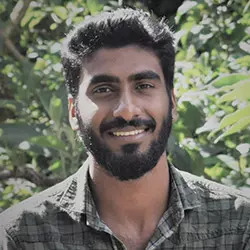 Akshay Nair
Akshay is an associate editor and former journalist with over three years of experience. A post graduate in Mass Communication and Journalism, he has strong professional and academic background in the field of content writing and editing. Akshay interned and worked with various newspapers and the Public Relations Department of the University of Calicut. At MomJunction, he ensures the articles...
more