Seeing them, you feel butterflies in the stomach and go weak in the knees. You like to be around them, stare at them secretly, and dream of your life with them. You are hit by the Cupid, but does that special someone feel the same for you?
If you want them to fall in love with you, keep reading. Here are some fun ways to make your crush fall in love with you.
How To Make Your Crush Fall In Love With You: 21 Ways
You can't expect your crush to figure out on their own that you have fallen in love with them. Try these easy tips and tricks to make your crush fall for you.
1. Start conversing
Starting a conversation will help you to create a positive image. Random conversations are the best. Don't be nervous; stay relaxed and make your conversation as interesting as possible. You can probably start with topics that you are sure about, having deep and long conversations.
2. Don't be afraid to express
You will not know your crush's feelings for you until you express yours. Be brave enough when your feelings are genuine. Don't let your fears stop you from expressing them because you might be losing time. Have the courage to follow your heart.
3. Be yourself
Don't pretend. Try to be as natural and simple as you are in real life. Embrace who you are rather than trying to be to somebody else. That's the real key.
4. Use your body language
Body language can convey signals to your crush that you love her. For example, leaning forward slightly gives an impression that you are interested in them. Greet with a smile and talk openly. These gestures can help you win their heart.
5. Look into their eyes
Every time you talk to your crush, make eye contact with them. It can help in triggering the feeling of love. Someone very wise said souls catch fire when eye contact is made. Go, try!
6. Be friendly
The base of a relationship starts with friendship. It would also help you in getting to know them better. Friendships always bond people faster than a relationship of love. Offer some help if needed. Make your crush feel that you're someone who can be trusted.
7. Give them space
Give them some space to miss you. Let their feelings catch up to yours. Let your relationship grow with time. Giving them space will also allow freedom to process their feelings and figure out what's that they really want.
8. Hang out together
Participate in some fun activities together or take them on a surprise date. Hanging out is a fun way to get to know your crush better. Enjoy each other's company. If the both of you are comfortable, maybe hold hands and feel the warmth.
9. Show interest in their hobbies
When you start showing interest in some common hobbies, it will create liking towards each other. It also gives you an opportunity to spend more time together.
10. Dress well
Impress your crush with your fine sense of dressing. Do remember grooming is an essential element to attract anyone. Comb or brush your hair neatly and show up tidy.
11. Smell good
Smell clean, smell fresh. A pleasing fragrance makes you more sociable. It increases the chances of your crush getting closer to you. You may use mint for oral hygiene and a nice fragrance for the body.
12. Make them feel happy
With a little bit of planning and understanding of what your crush likes and dislikes, you can make them feel loved and happy. Show with your actions that you care for them; this will add to their happiness.
13. Have a good sense of humor
Show off your funny side by cracking jokes. If you can make your crush laugh, they are likely to spend more time with you.
14. Talk about your flaws
You are not superhuman. You make mistakes, but more importantly, you keep learning from your mistakes. Share your flaws and vulnerabilities with your crush to build a relationship of trust. Be humble and open up. But make sure it is mutual and not one-sided. This can help you have a strong emotional connection.
15. Watch a movie together
Watch a romantic movie that has an interesting storyline. This can help you know more about each other choices and preferences. Grab some tasty snacks and set the mood with good lighting to make it more romantic.
16. Talk about future
Let your crush know about the choices you are making and how you feel for them. But don't sound desperate as it can damage the current relationship.
17. Listen attentively
Try to respond with meaningful follow-up questions that demonstrate you are actively listening. This is crucial to have healthy communication. Give useful suggestions to give the impression that you are genuinely interested.
18. Put your phone away
When you are together, it's better to put your phone away. If you keep checking your phone too often, it can break the flow of your conversation.
19. Compliment them
Be generous in giving compliments to your crush. Appreciate the little things that make them happy. If you like how they dress, pay a compliment. Be genuine but don't fake your feelings.
20. Be empathetic
Thinking from their perspective and putting yourself in their shoes can make your crush realize that you are giving importance to their thoughts and value their feelings. This helps the relationship go to the next level.
21. Respond to their texts
A text conversation can go stale when you don't respond to your crush's message. Don't make them wait too long after you check the message. Adding some funny memes or emojis can add a spark to the conversation.
Love can only be felt, not forced. There is no magic. It takes time for the seed of love to grow in your crush's heart. Make the right efforts by choosing the best idea on how to make your crush fall in love with you. Choose the one that works for you and go with the flow.
The following two tabs change content below.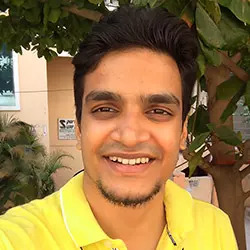 Siddharth Kesiraju
Siddharth holds a master's degree in communication and journalism from the University of Hyderabad. He has around six years of experience in various fields of writing and editing. As an associate editor at MomJunction, Siddharth edits and ensures the articles are aligned with the website's editorial standards. Having done a certification course in Relationship Coaching, he also writes on Relationships....
more