Cloth diapers are popular among moms because they are eco-friendly, cost-effective, and can be tailored to your baby's specific requirements. However, when using cloth diapers, you must also know the ways to wash cloth diapers.
Washing baby diapers is similar to washing baby clothing, but there are a few extra procedures and measures to take. Also, cloth diapers must be washed more frequently.
In this post, we will show you how to properly wash baby diapers, so that they stay clean and germ-free.
How To Wash Baby's Diapers?
Washing a baby's diapers is a multi-step process. It involves:
1. Pre-washing:
Use a bucket exclusively for storing soiled diapers. You can then soak the diapers straight away in this bucket.
If your baby is exclusively breastfed, then it is highly unlikely there will be too many solids in the diaper to dispose of in the toilet. However, if your baby is on solids, then there is going to be solid poop in the diaper. Make sure to drop it into the toilet before you wash the cloth.
Use a hand shower or spray water on the diaper to remove any fecal remains on it.
Soak the diapers in cold water for about ten minutes. It will help eliminate the remaining solids stuck to the cloth and get rid of the initial stench that emanates when you remove the diaper.
Don't accumulate too many diapers for washing at once. Wash a few at a time to ensure that they are cleaned properly.
It is essential to clean the diapers with plain water before washing them with a detergent. Once they are free of any fecal material, you can wash them by hand or machine.
2. Machine wash process
Toss the diapers into the machine, set the desired water level, and pour a baby-safe detergent.
It is best to wash diapers separately from other clothes. It prevents color or chemicals from other garments getting transferred to the baby's diapers.
Once they are clean, put the diapers in the dryer, and then hang-dry them under the sun to kill disinfect it.
Do not use warm or hot setting since it may affect the quality of the cotton, which is used in making infant diapers.
3. Hand wash process
Pour warm water into a bucket or a washing tub. Add baby-safe detergent. Build foam and soak the diapers in the water for about two to three minutes.
Rinse the diapers in the soapy water and rub the stained portion of the fabric together to get rid of the marks.
Gently wring the diaper to remove the excess water. Transfer it to an empty bucket.
Pour clean water into the other bucket and rinse the diapers to get rid of the soap completely. Gently wring the diapers to remove the water.
4. Drying process
If the machine's dryer completely dries the clothes, then you can fold and store away the washed diapers. But if the diapers are damp even after machine-drying, then hang them to dry under the sun.
Drying under direct sunlight is the best way to rid the diapers of moisture and also disinfect them naturally. Choose a spot that gets direct sunlight and hang-dry the diapers on a line, side-by-side, so that they get dried quickly.
Washing cloth baby diapers is easy and does not require a lot of effort. But you may want to know about the frequency of washing reusable diapers.
How Often Should You Wash The Baby's Diapers?
It is best to wash the baby's diapers every day. Wash a soiled diaper soon after you change the baby. Otherwise, store the soiled diapers in a bucket and wash them at the end of the day or in the morning. Some parents like washing the diapers once in a couple of days, but it can get messy since the stored soiled diapers can cause quite a stench.
Can You Use Baking Soda To Disinfect The Diapers?
Yes. Baking soda can be used for disinfecting cloth diapers (1). About half a cup of baking soda will be enough for a bucket full of baby diapers.
Soaking time varies depending on how soiled the diapers are. You can soak the diaper for any time between half-an-hour and an hour.
Baking soda helps remove foul odours and pathogens. It can be particularly useful when your baby's poop is fetid. It is best to soak the baby's diapers in baking soda water before washing them with detergent, to remove any baking soda residue on the clothes.
Can You Use Vinegar To Wash Baby's Diapers?
Vinegar makes an excellent household disinfectant and can remove germs from clothes. However, it is acidic and may cause skin irritation. Vinegar also has a pungent smell that may cling to the clothes even after washing them. If you intend to use vinegar, then use edible white vinegar for a pre-wash soak.
Make sure you rinse the diapers thoroughly at the end of the wash to remove the vinegar odor.
Remember, never use vinegar and baking soda together for disinfecting diapers. Baking soda is a base and vinegar is an acid. Combining the two leads to an acid-base reaction, which can cause the water to become uncontrollably frothy due to the release of carbon dioxide (2).
Should You Use Bleach After Washing The Baby's Diapers?
It is good to avoid bleach since it contains several chemicals that can stay on the fabric even after rinsing. The baby's skin is very sensitive, and the use of bleach may cause irritation. If there are tough stains on your baby's nappies, then you can consider soaking the diapers in detergent water for longer. You can pour the detergent directly on the stain and scrub it lightly with a brush to remove the stain.
Frequently Asked Questions
1. How often should I wash cloth diapers before using them for the first time?
If you use diapers made of natural fibers such as cotton, hemp, or bamboo, you should wash and dry them seven to eight times before using them. This will make them softer and more absorbent.
However, if the cloth diapers are made of synthetic fibers, such as fleece or microfleece, you may wash and dry them once before use (3).
2. When should I start cloth diapering?
There's no right age to start cloth diapering. You may start it whenever you feel ready for it. Also, it is not a rule to use cloth diapers exclusively. You may use cloth and disposable diapers as per your convenience.
3. Are cloth diapers better for overnight use?
Cloth diapers may be used overnight; however, to ensure your babies' sleep is uninterrupted, you may require extra protection to prevent leakage. Creating more absorbency by adding an extra insert may prevent the cloth diapers from leaking for a long time.
4. Can I use fabric softener for my babies' cloth diapers?
You should avoid adding fabric softeners to your babies' cloth diapers because they may get deposited on the diapers and reduce absorbency (3). Moreover, they may also cause allergic reactions in some babies.
If you are using cloth diapers for your baby, then these tips and instructions about how to wash cloth diapers will come in handy. The process is simple and can be carried out easily. All you need is to be consistent with the washing to prevent it from stinking or causing a reaction on your baby's sensitive skin. In addition, remember to avoid using the same cloth diaper for more than a period of six months and change it in intervals or when they start showing a change in color or texture.
References:
MomJunction's articles are written after analyzing the research works of expert authors and institutions. Our references consist of resources established by authorities in their respective fields. You can learn more about the authenticity of the information we present in our
editorial policy
.
The following two tabs change content below.

Rohit Garoo did MBA from Osmania University and holds a certificate in Developmental Psychology from The University of Queensland. The zoologist-botanist turned writer-editor has over 8 years of experience in content writing, content marketing, and copywriting. He has also done an MBA in marketing and human resources and worked in the domains of market research and e-commerce. Rohit writes topics...
more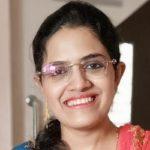 Dr. Umera Zakiahmed Saiyed
(BHMS)
Dr. Umera Zakiahmed Saiyed is a homoeopathic consultant and runs her own clinic Noor. She pursued her BHMS from Yerela Medical College in Kharghar, Mumbai and worked as an assistant doctor under a gynaecologist in Surat, Gujarat. With more than 5 years of experience in gyneacpcods, assisting many labor and caesarean deliveries, she holds expertise in cases related to infertility,...
more