Cinquain poems for kids were first introduced in the early 20th century by a poet from America, Adelaide Crapsey. These five-lined poems are popular among children because they have just a few words that do not have to rhyme in every line, making them easy and fun to remember. Cinquain poems have been inspired by Japanese poems, haiku, and tanka. It also resembles limericks because of the five-line structure.
Learn more about children's cinquain poems in this post.
What Is A Cinquain Poem?
Cinquain, pronounced as sin-cane, is an easy-to-write poetry style as it has only five lines, with few words in each line. The first and the last lines have only two syllables, whereas the middle verses have a few more words. This writing style gives a diamond shape or a tree-like shape to the poem. It is usually written in iambic meter.
The most common type of cinquain is the American cinquain. A variant of the American cinquain, known as didactic cinquain. These poems can be used to teach or introduce poetry to kindergarten or primary school students.
Though they are only five lines long, cinquains tell us a story. Not just description words, they also have action words or conclusions.
How To Write Cinquain Poems?
There are different methods of writing a cinquain. Here we share the traditional style as defined by Crapsey. While writing a cinquain poem, there are a few basic rules to follow.
Cinquains should have five lines.
They should have two syllables in the first line, four syllables in the second line, six syllables in the third, eight syllables in the fourth, and two syllables in the last line.
Cinquains need not necessarily have rhyming words. It is up to the writer to include them or not.

Did you know?
There are six major types of Cinquains. These include didactic, reverse, mirror, butterfly, crown, and garland cinquain.
Let your children follow these simple and easy steps to learn how to write cinquain poems.
Set your imagination free and then choose or decide the topic you want to write about.
Brainstorm for some words and phrases that are apt and suit your topic.
Think about the suitable short story you want to tell using those words.
While making sure that your syllable count matches the cinquain form of writing, jot down the words and phrases you have decided for forming a cinquain poem.
10 Examples Of Cinquain Poems For Kids
Listed below are a few examples of some simple cinquain poems. Make learning literature fun for your children and let them read these to get some inspiration.
1. Life
Life
A journey
Enjoy it today
Like there's no tomorrow
Precious
– Kavya
2. The Days Of School
School Days
Crazy, boring
Work! Work! Work! Too much work!
The last days are always the best
All done.
– David Kulczyk
3. Water
Water
To drink
And to clean
An ambrosia for life
Paramount
– Chandra Thiagarajan
4. Drifting Clouds
Clouds
Slowly drifting
Across the horizon
Looking for a dry
Place
– Heather Burns
5. Existence
Existence
Joyous, melancholy
Creating, flowing, demolishing,
Energy that is life and death
Vitality
– Anita Sehgal
6. Seal Pup
Seal pup
Color of snow
Camouflage will not be
Enough to fool the nose of great
White bear
– Kim Barney


Point to consider
Cinquain poems are ideal for teaching vocabulary to kids because they're short and crisp.
7. Ice Cream
Ice cream
I love ice cream
I could eat it all-day
But it always gives me toothache
Not fair
– David Wood
8. Rainbows
Rainbows
Span endless sky
Through distant lands and seas
Colors connecting you and I
With peace.
– Cynthia Buhain-Baello
9. The Sky
The sky
Grows light and pink
As the sun rises and
Warms the sleepy mountains with a
Soft kiss
– Maria Herron


Do remember
The subject of a cinquain poem is commonly a noun. It's challenging to compose a cinquain about an adjective or adverb. So it's best for words that are nouns.
10. Backtrack
Backtrack
As you try to take back harsh words
Spoken far too quickly;
It's hard to say
Sorry.
– C Richard Miles
Frequently Asked Questions
1. What are cinquains usually about?
Cinquain poems can be used to give a vivid image of anything, be it a person, place, food, or scenery.
2. Where do cinquain poems come from?
The origin of cinquain poems dates back to medieval French poetry and has examples in the European languages book (1).
3. Why is it called cinquain?
The term "cinquain" is derived from French, where the word "cinq" means five. These poems or stanzas are therefore composed of five lines.
Like acrostic, ode, and ballad, cinquain poems for kids are fun and easy to write. You just have to remember a few basic rules, such as it should have five lines, the first and the last lines should have two syllables, and the second, third, and fourth lines have four, six, and eight syllables, respectively. Your children may pick up any topic of their choice and create a cinquain poem based on it. So, let them read the poems provided here and understand the concept. Then, they can be imaginative and start creating their own verses. They may also try their hands on other poetry types such as acrostic, ballad, ode, couplets, and sonnets.
Infographic: Rules And Steps To Follow When Writing A Cinquain Poem
Cinquain poems are a beautiful style of poetry writing, with limited phrases, which makes it interesting yet challenging to write. So, if you are thinking of introducing your child(ren) to these poems, check out the infographic below for some rules and steps to follow when writing a cinquain poem.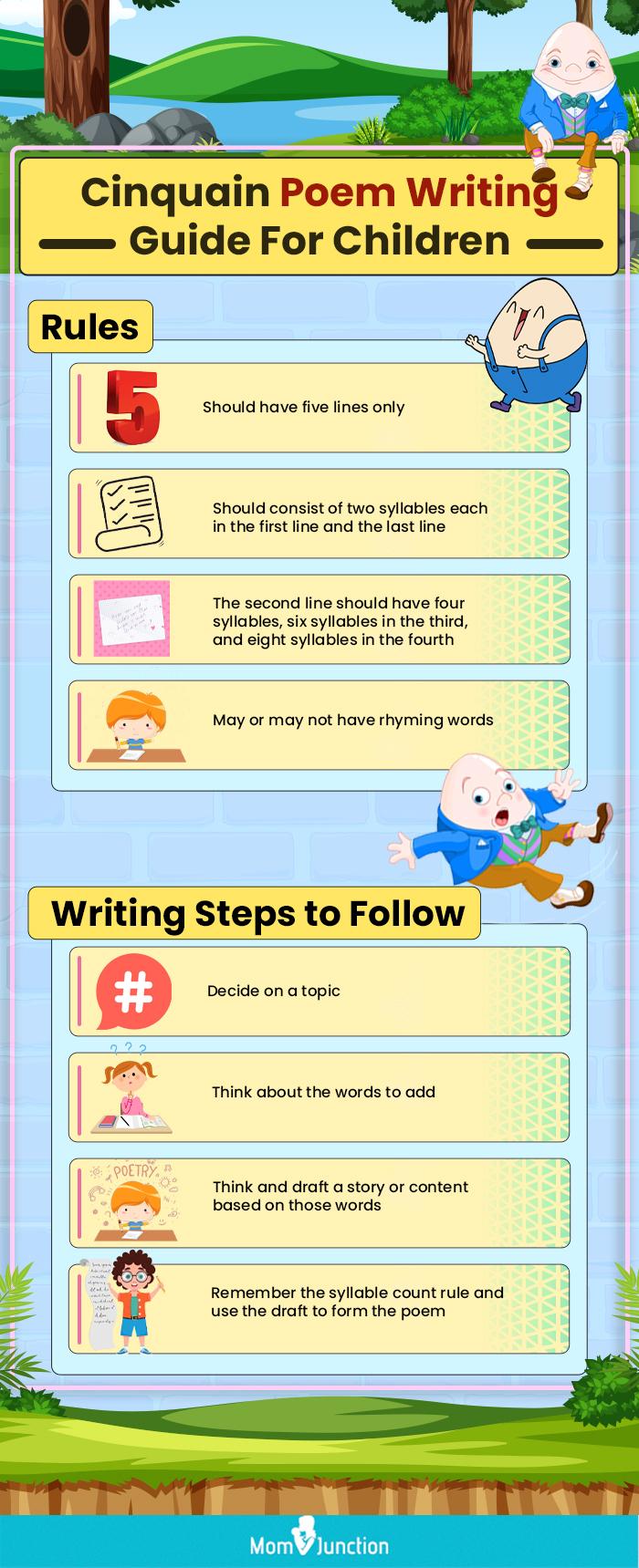 Poems are a great medium to introduce a variety of emotions, human experiences and imaginations in children. Teach your child how to write cinquain poems through this video.

References:
MomJunction's articles are written after analyzing the research works of expert authors and institutions. Our references consist of resources established by authorities in their respective fields. You can learn more about the authenticity of the information we present in our
editorial policy
.
The following two tabs change content below.