Your friends are your world. So if you want to show the world how blessed you are to have a crazy bunch of buddies, posting pictures from your hangouts with the best Instagram captions for friends on social media is the best way to do it. Picking the right words can perfectly describe the good time you spent with your gang and let everyone know how much your friends mean to you. We have combined some amazing Instagram captions that can go with the incredible photos of your hangouts in this post.
Choose an Instagram caption that strikes a chord with you from this list and make your profile stand out.
Here are some unique Instagram captions for best friends that beautifully celebrate your friendship.
1. I am with you forever and ever.
2. You and me, we make the best duo in the world.
3. You are my crazy best friend, and I love you.
4. Life is so much better with a friend like you.
5. A best friend is someone who can make you laugh until your cheeks hurt.
6. You are my companion for this life.
7. My life is incomplete without you.
8. We will remain friends until we get old and weird.
9. My best buddy for life and me!
10. Every moment spent with you is a beautiful memory.
11. Friends like you are precious pearls.
12. We are like wine. We get better with age.
13. We are best friends because we match each other's craziness levels.
14. The best moments are the ones that cannot be expressed in words.
15. My best friend knows how to bring out the best in me.
16. Together we can conquer this world.
17. Time spent with my bestie is the best time of the day.
18. We are meant to be together. Rest does not matter.
19. We will be there where there is an adventure.
20. Life is sorted with a best friend like you.
21. These are the moments we live for.
22. Having you by my side is a blessing.
23. Both of us look perfect together.
24. We may be troublesome together, but we don't care.
25. Together we can do impossible things. And this picture is the proof!
26. We complement each other in our weirdness.
27. Those who listen to our conversations think we are crazy. But, that's okay!
28. I swear to be there for you.
29. Best friends don't come with an expiry date.
30. We may look strange when alone, but we are perfect when we are together.
31. I have nothing to fear when you are here.
32. I am blessed with the most amazing friend in this world.
33. You are the best thing that has ever happened to me.
34. You are my key to happiness and smiles.
35. Our friendship is beyond words.
36. Enjoyed the moment to the fullest! Thanks for being with me.
37. Being with you always brings a smile to my face.
38. My best friend is my biggest strength.
39. Living life on our terms.
40. You and I make life fabulous. Don't you agree?
These funny Instagram captions for friends will put a smile on every face. Post these hilarious captions for Instagram pictures that add fun to your friendship.
41. We are 3 am buddies! That means we can talk and sleep together!
42. You have to be crazier to be my friend. And you proved that you are the craziest!
43. We complete each other as we finish each other's meals.
44. Drunk and disastrous—that is how we are when we are together.
45. A real friend will always be a part of your stupid plans.
46. We are friends for life because we are comfortable farting in each other's company.
47. I don't mind sharing my ugly pictures with you—it proves that we are true friends.
48. You are my true friend because you always pay my food bills.
49. What did I do to deserve a friend like you?
50. When we are together, it is double the trouble.
51. The best thing about being around you is that I don't have to be at the best of my behavior.
52. There was a time when you were shy and timid, and now you are a monster. I love your change, buddy!
53. True friends don't hesitate to ask weird questions to each other. We prove it!
54. We promise to annoy each other for the rest of our lives.
55. There is no one else in the world who can tolerate me like you.
56. I wish I could train you, but it seems impossible.
57. True friends always stick around, even when you are a social embarrassment.
58. Seeing you fall always makes me laugh.
59. Our friendship is so old that I cannot remember which one of us should be called 'a bad influence.'
60. I would love to fall. Laughing at you.
61. Together, we can be the worst entertainers.
62. A good laugh with my best friend is all I need for a happy stomach ache.
63. We are born to do stupid things together.
64. Introducing a friend who always eats all my food.
65. I was always innocent until I met my best friend.
66. We don't believe in judging each other because we believe in judging people around us.
67. You are my biggest source of entertainment.
68. It is strange to find someone as stupid as me. Lucky me, I found you.
69. I hope we are friends forever to scare people even as ghosts after we die.
70. If you cannot learn to laugh at yourself, I can laugh at you.
71. True friends never leave you alone. They are always there to disturb you.
72. Only my best friend knows how insane I am. But less than her!
73. This is my friend who does not know how to talk softly. Bless my ears.
74. Friends never knock on the door. They just walk in.
75. Friendship is about finding someone with whom you can be your weird self.
76. We are friends because our levels of stupidity match.
77. True friends never miss a chance to laugh at you, but they never let anyone else do the same.
Post these cute captions for friends on Instagram that highlight different shades of friendship you share with your pals.
78. You are my sunshine on a dull day.
79. Friends are the siblings we choose.
80. You are indeed my kind.
81. You always drive me crazy, but I have no complaints.
82. You are weird, and so am I.
83. You always make me smile brighter and laugh louder.
84. You are my best friend, and I am glad you are mine.
85. Strangely, you know me so well and still love me.
86. You are my favorite person in the whole wide world.
87. Your friendship always refreshes my soul.
88. You are the pill that makes me happy and alive.
89. If I am the cupcake, then you are my frosting.
90. You are the angel God has sent into my life.
91. We are friends till the end of our lives.
92. I am so blessed to find my kind.
93. I don't need anything else if I have my friend and a pizza.
94. We make the best combination, like jelly and peanut butter.
95. You know how to make me smile.
96. Friends are the blessings that I count twice.
97. We are two bodies but one soul.
98. Friendship is accepting each other with open arms.
99. A friend like you makes each day a beautiful one.
100. Good friends don't come easy in life. I guess I got lucky.
101. You are the friend who has added life to my years.
102. Your friendship is my good luck charm.
103. You are the chili flake to my pizza.
104. You and I are meant to be together forever.
105. Friends are lifelines. You are my most important one.
106. True friends stay through thick and thin.
107. Real friends never leave you alone.
108. Unconditional love and support define our friendship.
109. You bring me joy and smiles.
Use these short and expressive best friend captions for Instagram and get more attention to your pictures.
110. Smiles all the way!
111. We bond the best.
112. Forever and ever.
113. Loved and blessed!
114. Perfect partners in crime.
115. Happy souls.
116. Complementing and completing each other.
117. Best weirdo duos.
118. Equally crazy.
119. Friends for life.
120. Having good times together.
121. Creating the best memories.
122. Non-biological siblings.
123. Happy together.
124. My bestie is the best.
125. Inseparable souls.
126. Different but alike.
127. We rock when we are together.
128. Exploring life together.
129. Life is better with you.
130. We make a crazy bunch.
131. Life is impossible without you.
132. You are my mirror image.
133. Wandering together.
134. Happy and cheerful.
135. The unstoppable bunch.
136. Daring and caring.
137. Crazy beyond words.
138. We make the best gang.
139. The twinkling stars.
Every friendship deserves the right words to define it, and with a collection of good captions for Instagram with friends, you don't have to look anywhere else.
140. Our friendship goes beyond time.
141. Here begins the adventure.
142. My friends are the best buddies in the world.
143. We are friends for life because our frequencies match to perfection.
144. I found myself when I found my friend.
145. Nothing in this world can replace my friends.
146. You can make me laugh even when I don't want to laugh.
147. We like each other, and nothing else matters.
148. Creating memories together is the most beautiful thing.
149. Friends are like the family that we get to choose.
150. Love may be beautiful, but our friendship is the best.
151. If you do not have friends, life is a dull journey.
152. Friends are the ones who make life cheerful.
153. Friendship is the glue that holds the world together.
154. Where there are friends, there are smiles.
155. Not everyone is lucky enough to have good friends.
156. Friends fill our life with beautiful colors.
157. Friends that party together stay together.
158. Having a squad that will always stand by you is a blessing.
159. You don't need any medicine if you have your friends with you.
160. We share an unbreakable bond.
161. Friends know the magic to kill our blues.
162. You are my partner in every secret of my life.
163. Good times with great friends create great memories.
164. When we are together, it is a happy day!
165. My friends are the reasons for the pain in my cheeks.
166. A selfie with friends is always perfect.
167. I am a serious person for the world but a crazy one for my friends.
168. It is priceless to find friends with the same mental disorder.
169. Cheers to all the stories that we have created together!
170. When you are with me, fortune is on my side.
171. Friends and coffee make the perfect combination.
172. You are the therapy I need.
173. Real friends are no less than a family.
174. Friends are irreplaceable.
175. Friends are gifts from God.
Instagram is not just about posting pictures. It is also about sharing your beautiful memories. Make every click with your friends a special one using the right Instagram captions for friends. With these incredible Instagram captions about friends and friendship, you don't have to struggle to find the right words.
The following two tabs change content below.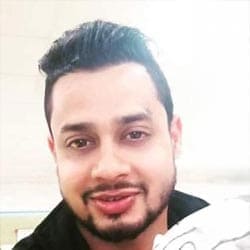 Shivank Joshi
Shivank is an experienced professional with a passion for writing, editing, and research. With a bachelor's degree in Mass Communication, he previously worked as a production editor. Shivank transitioned into a writer/editor, contributing to various publications as a freelancer. He writes literature, including quotes, poems and wishes, for MomJunction. He has a special interest in music and relationships. During his...
more