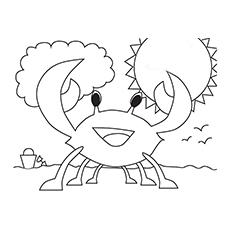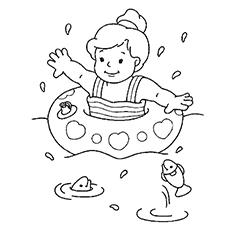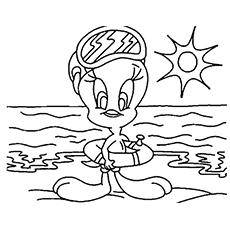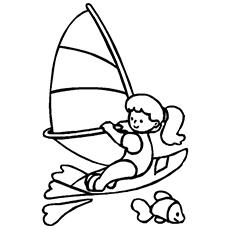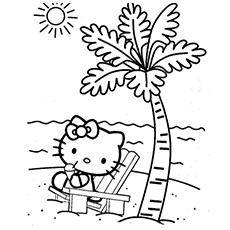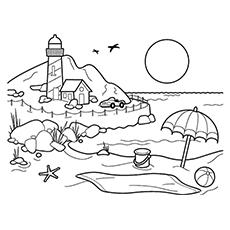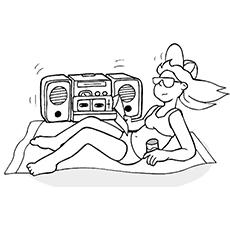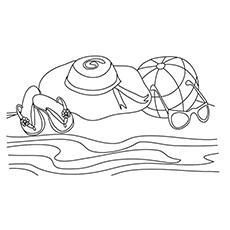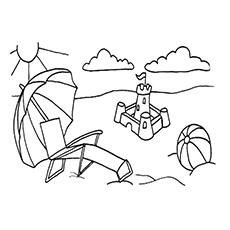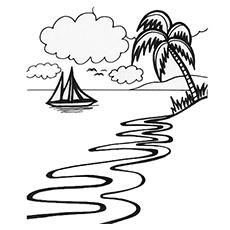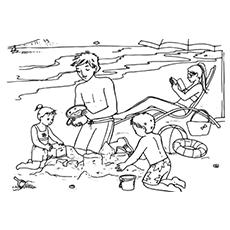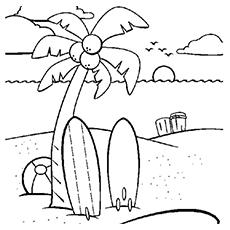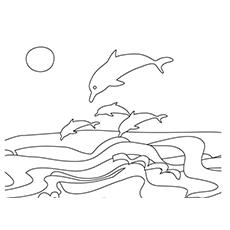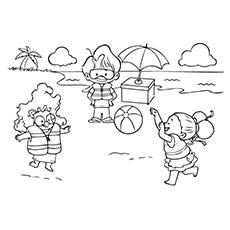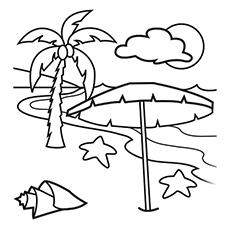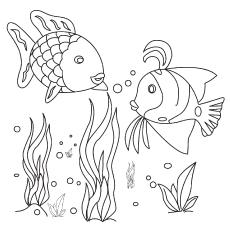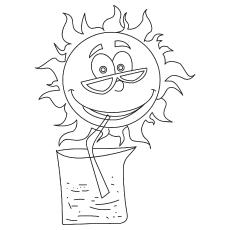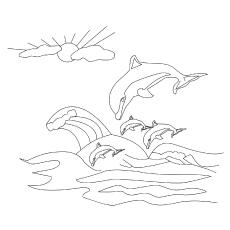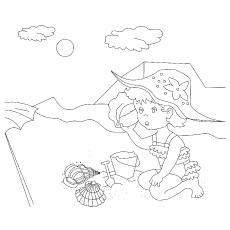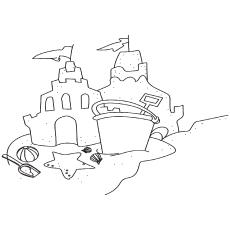 Recommended Articles:
Are you looking for ways and means to keep your child creatively occupied? Fret not! Try using coloring pages to keep your child busy.
Your toddler is always looking for something interesting to do. It is in this quest that he or she ends up creating a ruckus in and around the house! Coloring is a great way to help your child to learn how to use the right colors for the right objects.
Coloring pages can be made interesting. Choose a set that utilizes a lot of colors, is interesting and helps your child to learn things in a fun way!
Top 20 Beach Coloring Pages For Kids
A beach is full of lot of activity and fun. There is the sea with its waves, sea animals and plants and a lot of activities on the beach with sand-castles and sea-shells.
These cool coloring pages of the beach bring to your child these very elements of the sea.
Try taking your child to a sea beach before or after coloring these pages to make the exercise a learning experience. Making your toddler relate the objects he or she colored with the real thing is a great way to educate your kid.
Here are 10 very interesting beach coloring sheets for you to try:
1. The Beach Umbrella and Beach Ball:
This simple coloring page depicts a beach scene where there are the different elements that are related to beach activities. There is big beach umbrella, a beach ball and a spade and bucket. Get your little one to color them according to his or her fancy and watch him or her create a masterpiece!
2. The Fabled Sand-Castle:
This sand-castle, complete with a little flag on top and a star fish is a fun coloring exercise. After your child finishes coloring it, take him to a nearby beach for some real castle-building!
[ Read: Dora Coloring Pages ]
3. The Serene Beach:
It is a quiet beach scene, which your kids will love to fill in with colors. This beach coloring page features palm trees and small flower bushes alongside the beautiful sea. Let your toddler color and create a beautifully colorful picture out of this page.
4. The Hello Kitty Beach Scene:
This is the perfect coloring page for the Hello Kitty fan-girl in your daughter! Watch your kid's face light up as she sets on the task to create a colorful picture featuring her favorite cat.
[ Read: Hello Kitty Coloring Pages ]
5. The Adventurous Beach-Girl:
This coloring page has an adventure scene related to the beach. This fun coloring page features a young girl surfing the waves. Tell your child about the adventure sport of surfing while he or she colors this page, helping him or her to learn something new and interesting!
6. It's A Busy Beach:
This beach coloring page has a lot of elements to color and is bound to keep your kid busy for a long time. Help your child to color the elements correctly, letting them first take a chance at choosing the correct color. This makes this exercise a very fun learning activity.
[ Read: Ninja Turtles Coloring Pages ]
7. This Sun Is Cool:
This is a very funny take on the sun. This coloring page features the sun wearing trendy beach style sunshades. It is bound to make your kid roll with laughter as he or she chooses the right color of the glasses that would so with the colors of the sun!
[ Read: Smurf Coloring Pages ]
8. Tweety Goes For A Swim:
Combine your kid's love for cartoons with coloring. This beach scene features the adorable Tweety, the cartoon canary bird, ready to go for a swim. Have fun coloring it with your child.
[ Read: Sleeping Beauty Coloring Pages ]
9. Calm Beach With Sailing Boat:
This is a beautiful coloring page which has a boat sailing at sea. Teach your child about how a boat floats on water as they color the page.
10. The Friendly Crab:
This smiling crab is bound to intrigue your child! Once the coloring is done, take your child to the nearby beach or aquarium and help them spot a live one!
[ Read: Pokemon Coloring Pages ]
11. Listening to the Conch Shell:
There is a popular folk myth that if one holds a seashell, particularly a conch shell to one's ear, one can hear the sound of the ocean. The rushing sound one hears is actually the sound of the surrounding environment, resonating within the cavity of the conch shell. You will get the similar sound if you place an empty cup over your ears, since there is a similarity between ocean movements and airflow. The resonator is just amplifying certain frequencies of the ambient noise in the environment, like the sound of air flowing within the resonator.
This little child discovered a huge conch shell; she is trying to hear the sounds of the ocean. She is amazed to hear the noises, which she actually thinks to be the sounds of the ocean. She is like your child exploring the surroundings and gathering knowledge by experience.
12. Family at a Beach:
Did you take your child on a family outing at the beach already? If yes, then your kid will instantly connect with this picture. The picture shows a man helping out his children to make a sandcastle on the beach. The children are enjoying their father's company as they make a sandcastle. The mother takes a break from parenting, and we see her reading a book while basking on the sundeck. Beside the sundeck, there is big ball and a life buoy.
Your child will take care in coloring the details. This shows that he is learning to observe things closely. Notice, how happy he is while coloring this picture; it shows that he enjoyed the family outing. Children love the company of their family and you should arrange for such family outings. It can be a picnic or a visit to the zoo. All he wants is your constant attention since they are small.
13. Seashells:
Hobbies can be really interesting. Gathering seashells is one such hobby. Many children use a big tub to collect different colored shells. Different shapes and sizes of shells raise your child's curiosity. They must be thinking where these beautiful seashells come from.
Seashells are the exoskeletons of mollusks such as snails, clams, oysters and many others. Such shells have three distinct layers and are composed of calcium carbonate. However, a small amount of protein is also present in the sea shells. These shells are not made up of cells present in other living creatures. Nature has bestowed them with unique colors and patterns that make them worth collecting. Little girls make garlands, earrings and bracelets with these seashells.
Share your childhood memories with your little one as she colors the sea shells. She loves to hear about your adventures on the beach as a child.
14. A Perfect Beach:
This is a picture perfect beach with a coconut tree laden with coconuts. Two surfing boards are placed on the sand. Children love to color sceneries and this picture is just suitable for your little one. Don't forget to pin it up in his room, since this picture will become a wonderful poster once your child has finished coloring it. His creative touch will make this scenery even more beautiful.
15. Basking in the Sun:
Sunbathing is very good for health. It helps the body to synthesize natural vitamin D in the body, which is essential for building strong bones. Beach is the best place to enjoy the warm sun.
In this picture, we see a girl enjoying some music while reading a book. She is relaxing on a mat on the beach. This is the best way to enjoy a vacation on a beach.
16. Playing Beach Ball:
The best game on the beach is perhaps playing with a beach ball. In this picture we see three little children enjoying a game of beach ball. They seem to have a great time. The beach balls are multi-colored and your child will definitely like coloring it with his favorite colors.
Since these children are small they are throwing the ball at each other. Many other games can be played with this beach ball like volley ball using a net in the middle.
17. Playful Dolphins:
Dolphins are sea mammals that can leap into the air and spray water from their nostril just like whales. It is fun to watch dolphins playing; many go for dolphin spotting on speedboats. This beautiful scenery with sun shining and dolphins playing in the sparkling blue sea is just picture perfect!
You can guide your child to research more about dolphins and other sea creatures. This will make the coloring session an enriching learning experience.
18. Swimming in the Sea:
A visit to a beach remains incomplete without a swim in the sea. Make sure you have a lifebuoy along with you, just like this little girl. Since, safety is very important.
In this picture, we see this cute little girl in her bathing suit enjoying a swim in the cool waters. She is also interacting with the tiny fishes swimming beside her. Your child will enjoying coloring this little girl and the life buoy, for this no guidance will be required. Her imagination will be her guide.  Through this picture teach your child to respect and love all living creatures, since they are the gifts of Mother Nature to mankind. You can take him to zoos and aquariums to show him how these little creatures thrive in their respective environments.
19. Beach Buddies:
Can you imagine hitting the beach without a sun hat, sunscreen and a pair of flip flops?It is true, that you will have a company of excellent friends at beach, and you will be playing volley ball. But, these objects will protect your body from the harsh sun. At the same time it will make you look stylish.
These familiar objects are presented in the form of doodle art. Your child will like coloring all the minute details, and it will improve his observation skills. When somebody sketches a picture absent-mindedly it is called a doodle.Your child will need your guidance to color these details or shapes on the hat, ball, towel, flip-flops and goggles.
20. Tropical Fishes in the Ocean:
Your child must have watched the film 'Little Mermaid'? If yes, then he can recollect the multi-colored fishes that he saw under the ocean. In reality too, there are different type fishes under the ocean and they have different colors and stripes. Each fish looks unique, and it will make you think where did all the colors come from? Yes, that is the magic of Mother Nature!
Your child will enjoy coloring these fishes with different shades and make them look bright. Guide him while he colors this picture, you can ask him to add sparkles to make the ocean look sparkling blue. This blue background will make the fishes stand out.
Just don't restrict your child to pastel crayons, encourage him to use water colors and glitter tubes effectively. Try to notice whether your child has a natural knack for drawing or painting, if he does, then try to nurture his innate skills and give him as many coloring pages as possible. Make a collage of these beach coloring pages and pin it up on the soft board in your child's room. This will boost your child's confidence and he will learn to take pride in his artwork.
These are some of our collections of free printable beach coloring pages. You can create your very own set and share them with us. We would love to see them here!
These are some of our collections of free printable beach coloring pages. You can create your very own set and share them with us. We would love to see them here!
DISCLAIMER: All images found here are believed to be in the "public domain". We do not intend to infringe any legitimate intellectual right, artistic rights or copyright. All of the images displayed are of unknown origin. If you are the rightful owner of any of the pictures/wallpapers posted here, and you do not want it to be displayed or if you require a suitable credit, then please contact us and we will immediately do whatever is needed either for the image to be removed or provide credit where it is due. All the content of this site are free of charge and therefore we do not gain any financial benefit from the display or downloads of any images/wallpaper.
The following two tabs change content below.