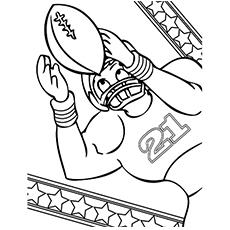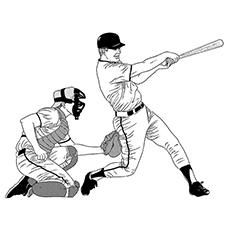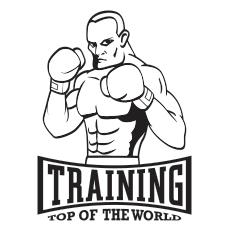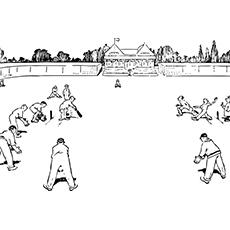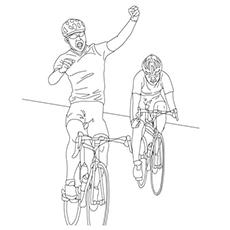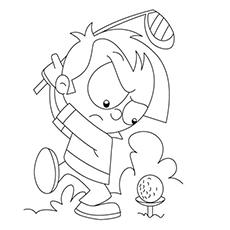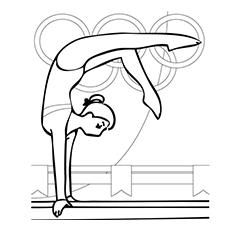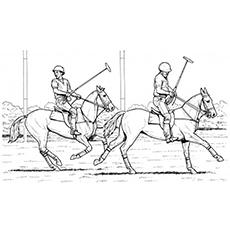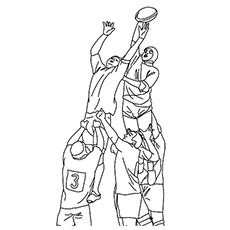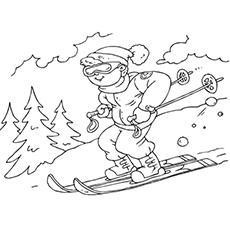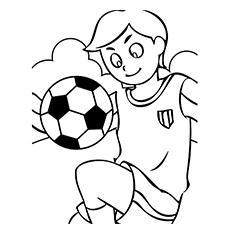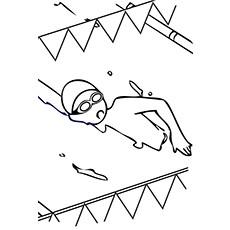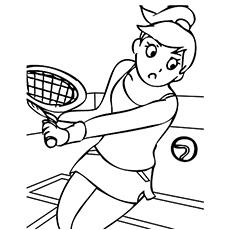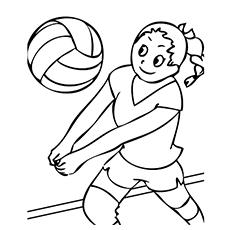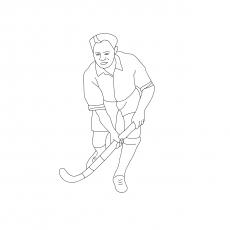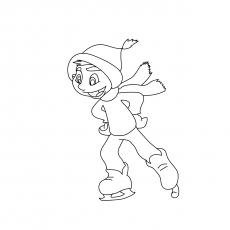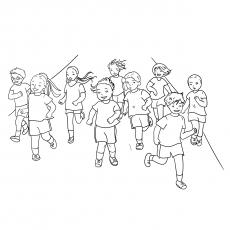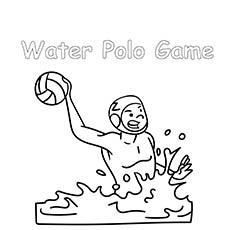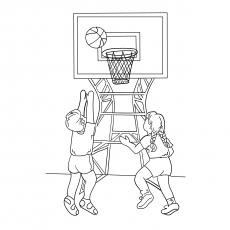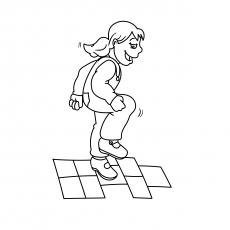 Recommended Articles:
If your child likes playing outside a lot, it may be time to introduce them to sports. Let your child play various kinds of sports… or take them to sports events. The next best alternative, let us confide in you, is to get him to work on sports-related indoor activities!
Think of it… it is a safe activity, since your child will be indoors, and it will also occupy him for a good hour. To nurture your child's interest in sports further, here are some free sports coloring pages printable, choose the one you want to color and enjoy!!
1. Tennis:
This image depicts a young girl about to deliver a back volley on the tennis ball, her face set in concentration.
This picture correctly depicts the intensity of the game of the constant back and forth.
If your child likes action packed games, they will love coloring this one.
[ Read: Transformers Coloring Pages ]
2. Volleyball:
This is a vibrant image which shows a girl giving the ball a toss with her joined wrists.
The image is pretty straightforward. But the background is left blank, so your child can sketch in their own version of beach or a court or field even.
The expression of the girl's face in the coloring picture sums up the happy vibe of the sport that your kid may like.
3. Hockey:
Hockey, more accurately field hockey, is depicted in this picture where a man tackles the ball with his hockey stick.
The background is blank, so your child can fill in a flat, green surface usually associated with hockey fields.
[ Read: Ben 10 Coloring Pages ]
4. Soccer:
Most kids have been exposed to soccer from their early childhood.
If your child has an interest in this sport, they would like to fill in this picture depicting a boy bouncing a football on his knee.
The background shows billowy clouds and lush green field.
[ Read: Spiderman Coloring Pages ]
5. Cricket:
Although practiced in a handful of countries, it is becoming more and more popular across the world.
If your child has shown interest in the game, let them color this descriptive picture of cricket field with all the players in position.
6. American Football:
American football, or just football in America, is depicted in this kind of cute picture of a player catching (or fumbling) with the ball.
There are stripes of stars on either side of the player in the background.
[ Read: Toy Story Coloring Pages ]
7. Basketball:
This is an outline image of a boy and a girl shooting hoops.
It is not an action packed basketball game, true; but the keen interest and the joy of the kids playing it will translate through to your child.
It may very well wake the Michael Jordan in your kid.
[ Read: Superman Coloring Pages ]
8. Boxing:
This is a favorite of the boys and quite a few girls too. This is another action packed image that sums up the game.
If your child loves to watch the players hit away at each other with padded gloves, they would love to color this picture of two boxes- one clubbed behind the other's ear.
The background of the image is blank, so your child can fill in a lonely gym or a stadium packed with crowd.
9. Baseball:
This image shows a player swinging his bat away while the catcher prepares to catch it. This image has a lot more detail than basic outlines.
Your child can also fill in the jersey details of his favorite team. The background of the image is completely blank.
Again- it can be sketched in as a net or practice ground or stands filled with fans or simply left blank.
[ Read: Power Rangers Coloring Pages ]
10. Rugby:
This image shows a cluster of five players, jumping skywards to reach the ball.
The usual aggression of the sport is visible in the image where the highest jumping players are being pulled down by the opponent team mates.
This image has small spaces with the players very close to each other, so coloring is appropriate for slightly older children.
11. Gymnastics:
Gymnastics is a complex competition involving the performance of exercises requiring physical strength, flexibility, power, agility, grace, balance and control. Competitive artistic gymnastics is the best known of the gymnastic events. Gymnastics evolved from exercises used by the ancient Greeks that included skills for mounting and dismounting a horse and circus performance skills. Some gymnastic disciplines include- rhythmic gymnastics, trampolining, team gym, tumbling, aerobic gymnastics, and acrobatic gymnastics. The participants can be as young as 20 months old kinder gym and children's gymnastics.
In this picture we see a young girl performing a graceful gymnastic move on a bar. It is a visual treat to watch gymnastics on television. On the background we see the famous Olympic Games' logo. Young children from different countries vie with each other to get the coveted title.
12. Swimming:
Swimming is a full body exercise that helps you to keep fit. It is a great summer sport that not only cools down your body but tones it up too! Many schools and colleges also organize swimming competitions as a part of their extra-curricular activity.
There are different types of strokes that once need to learn to become a proficient swimmer; the back stroke and the butterfly stroke are the most popular. It is best to learn swimming from a young age when the body is most flexible, but there is no age bar to practice this sport.
13. Polo Match:
Polo is a team sport played on a horseback in which the objective is to score goals against an opposing team. Players score by driving a small white plastic or wooden ball into the opposing team's goal using a long handed mallet. The traditional sport of polo is played at a great speed on a large grass fields measuring 300 yards long and 160 yards wide.
Each polo team consists of four riders and their mounts. The modern game lasts for two hours and it is divided into periods called "Chukkas." Polo is played professionally in 16 countries, but it is not considered as an Olympic game. It is a very sophisticated game like Golf.
14. Water Polo:
Water Polo is a team water sport. The game consists of 4 quarters in which the two teams attempt to score goals by throwing ball into their opposition's goal. The team that scores most goals wins the game. The team comprises of six players and one goal keeper. Water Polo is played in a deep pool, at least 1.8m deep. The players need considerable stamina and endurance to play this game. This game is aggressive but enjoyable when you play with friends.
15. Golf:
Golf needs a lot of practice and concentration. One has to learn golf well before participating in the game. It is a very sophisticated game like Polo. You must have heard about Golf clubs and championships?
Golf is a precision club and ball sport in which golfers use different types of clubs to hit the balls into a series of holes on a course using the fewest number of strokes. This game doesn't require a standardized playing area unlike Polo. This game is played in an open area known as a golf course, this open field consists an arranged progression of nine to eighteen holes. Each hole contains a tee box to start from and a putting green containing the actual hole.
To understand the nuances of the game, one has to play golf. Many golf games are broadcasted on television. This elite game is slowly gaining popularity and moving beyond the realm of clubhouses. Many youngsters are learning this game and participating in national and International Golf competitions, and becoming star players.
16. Hopscotch:
Your little one must be enjoying a game of hopscotch every now and then. They draw the grid on the floor and hop on one leg to complete the entire course of the game. If you lose balance and put your leg down by mistake you are disqualified from the game. This game needs concentration, no doubt, but it is very enjoyable. It can be played anywhere. All you need is just a chalk to draw the number grid on the ground and you are good to go.
In this picture, we see a little girl playing hopscotch. Your child will instantly connect with this picture and enjoy coloring it too.
17. Cycling:
Cycling increases your stamina and keeps you really fit. Do you remember the cycling competition you had with your friends on your little bicycle? Children love riding cycles and enjoy friendly cycling competitions.
However cycles used by professionals have a different design. It needs great stamina and endurance to learn professional cycling. In this picture, we see professional cyclists throwing his fist in the air as a sign of victory over his opponents in a race. Cyclists have to practice on rough terrains to achieve this feat.
Helmet and knee pads are needed to provide protection from any injury, since cycling can be very risky too! But enjoying a cycle ride is always fun, both girls and boys can practice cycling.It is a great way to stay in shape.
18. Skating:
Skating is a very cool or happening sport. There are different types of skating, but ice skating is most popular. Ice skating is played on the ground covered with a thick layer of ice. There are sharp steel blades that help to cut through the ice and maintain balance. Have you watched the graceful ballet moves on the ice, often broadcasted on television? It is very beautiful performing art too; generally this art is performed by couples.
Here we see a little girl balancing herself while practicing ice skating. She wears her winter clothes and skating shoes. Girls will especially love coloring this picture.
Other than ice skating, there is roller skating that you can perform on plane ground. You need to wear a helmet, knee pads and your roller skates to enjoy this sport. You can also use skateboards to practice roller skating. Then there is vertical skating, where players perform dare-devil stunts on ramps with their skate boards. Vertical skating is becoming a popular sport amongst teenagers, who love to take high risks! Since vertical skating needs expertise and is very challenging.
19. Skiing:
Skiing is a recreational activity and competitive sport in which the participant uses skis to glide on snow. Different types of skiing events are recognized by the International Olympic Committee and International Ski Federation.
In mid 1880s skiing was primarily used for transport, and gradually it was adopted as a recreation and as a sport. There is evidence that it played by the primitive man. The word ski comes from the Old Norse word "skíð" which means "split piece of wood or firewood".
There is Alpine skiing also known as downhill skiing, which usually takes place in a skiing resort. The sub genres of the game include freestyle and ice skating. Nordic or cross-country skiing was developed in Scandinavia as a way of travelling over the snow. Skiing without snow is primarily a winter sport that can be practiced indoors without snow or outdoors on grass, on dry ski slopes using ski stimulators or with roller skis.
20. Running:
This picture will instantly bring a smile on your child's face, to see little children like him taking part in a marathon. Your child must have participated in a running completion in his pre-school. Such races are fun and it inculcates in children the spirit of healthy competition.Practicing racing can make your child a star athlete someday!
Running is very safe and also helps to keep the body fit. Children who run every day have a strong skeletal system and become more flexible. Running and jogging keeps all diseases at bay, and it paves way for a healthy future.
Sports should an integral part of school curriculum. Parents should also encourage their child to play a sport. Sports not only help you to stay fit, but it teaches lessons for life. It helps your child to adjust with others in a team, fosters leadership qualities and moulds personality. It makes your child strong both mentally and physically. Children also enjoy playing, so coloring these sport pages will make them happy too!!
If you have a son or daughter who is young or even growing up, he or she is sure to love these free printable sports coloring pages. There is a high level of detailing in these pictures, that your child can spend hours together coloring! So happy coloring!
Don't forget to share with us your choices.
DISCLAIMER: All images found here are believed to be in the "public domain". We do not intend to infringe any legitimate intellectual right, artistic rights or copyright. All of the images displayed are of unknown origin. If you are the rightful owner of any of the pictures/wallpapers posted here, and you do not want it to be displayed or if you require a suitable credit, then please contact us and we will immediately do whatever is needed either for the image to be removed or provide credit where it is due. All the content of this site are free of charge and therefore we do not gain any financial benefit from the display or downloads of any images/wallpaper.
Comments are moderated by MomJunction editorial team to remove any personal, abusive, promotional, provocative or irrelevant observations. We may also remove the hyperlinks within comments.
The following two tabs change content below.