When two babies are born from the same pregnancy, they are called twins. Irish twins refer to siblings born no less than 12 months apart. A woman who has given birth to a child can conceive as early as three weeks after the delivery, even when she is breastfeeding and her periods have not occurred yet (1).
The word 'Irish twins' had negative connotations in the past. It referred to the Irish immigrant population in America who were devout catholic Christians and did not use birth control measures as it was believed to be a sin. Furthermore, owing to poor knowledge of contraception, they bore many children of similar age groups. Hence, the term misrepresented the idea that Irish people were poor, uneducated, and lacked self-discipline. Read through this post to learn more about Irish twins and the benefits and challenges of having them.
Did you know?
Contraception was deemed illegal by the Irish government from 1935 to 1979 (
2
).
How Common Are Irish Twins?
Though there are no official statistics on the prevalence of Irish twins, it is safe to say that they are relatively common even today. However, expecting mothers tend to avoid having Irish twins, as medical experts associate it with higher risks of maternal health complications and infant mortality rates (3).
Is It Safe To Have Irish Twins?
The World Health Organization (WHO) recommends a minimum interval of 24 months between two pregnancies to prevent severe maternal, perinatal, and infant health complications (4). Apart from the health risk, several factors must be considered before planning a child immediately after the delivery. For example, social conditions, economic security, and mental well-being are significant before opting for pregnancy. Moreover, pregnant mothers of Irish twins must take extra care and seek the help of medical experts to avoid any problems.
Trivia
Irish triplet is a term for three children from the same mother born within three years.
Risks Of Having Children Less Than A Year Apart
Having children less than a year apart poses threat to the mother and the baby. Pregnancy immediately after the delivery can take a toll on the mother, who needs nourishment and rest to heal her body and ensure that she is healthy. As per the WHO, having Irish twins poses some health risks such as:
Infant, neonatal, and perinatal mortality (4).
Low body weight at birth and disproportionate smaller body size.
Premature delivery.
Although many Irish twins have no health complications and grow up as healthy adults, consult your health provider if you conceive within three months after delivery.
Challenges Of Having Irish Twins
Having Irish twins can be a challenge for many first-timers. In most cases, it means double the time and effort required to manage them. In addition, these children may have different temperaments and react differently.
Rise in living expenses since parents have to take care of two children.
It can be difficult for first-time parents who are still learning to care for their first child.
Double parenting means less sleep and rest, and difficulty juggling between work and life.
Possible scarcity of breast milk.
Possible Benefits Of Irish Twins
Though some work is required to raise Irish twins, they bring immense joy to our lives. Irish twins growing up together have many benefits as they tend to stick and grow together as both friends and siblings. They become irreplaceable and form a life-long bond.
Schooling becomes easier for them as they study and learn together.
They don't get bored or feel left out while growing up.
Parents can save time in the kitchen by preparing similar meals.
They often share toys, books, and other items as they do things together.
They protect and care for each other.
10 Parenting Tips For Raising Irish Twins
The burden of parenting Irish twins can be mitigated with the right approach and attitude. The following tips will ensure you are on the right track toward raising your children while having some quality time for yourself.
Make sure you set a feeding and sleeping schedule for your babies. This will ensure that they develop a healthy routine and save you time and effort.
Take turns looking after the children with your partner or nanny. Remember, taking care of yourself and your career is equally important.
Limit your screen time to get your much-needed sleep. Your body needs adequate rest to function correctly.
Be patient and impartial while dealing with the children. They tend to observe your actions, and getting biased treatment can make them insecure.
Point to consider
Don't project your frustration on your little ones. Creating a happy and harmonious environment in your home is vital for your children's healthy development.
Reach out to friends and family when you need help to take care of children. Taking a break and doing what you enjoy can help when you are stressed out.
Try to give individual attention to your children. Spend enough time with your children to cater to their physical, mental, and emotional needs.
Set the ground rules for your children to follow strictly. Be it dining, homework, or bedtime, make sure they stick to the rules. Following this will develop a sense of responsibility and encourage good behavior in them.
Do not make unhealthy and unrealistic comparisons, as they may lead to jealousy and resentment in your children. Competition and comparison are healthy as long as children take it positive and enjoy it. Remember, they are supposed to encourage them and not make them insecure.
Sort out and make two lists of items your children can and cannot share to help reduce unnecessary expenditure. Many parents of Irish twins buy similar items that burn a hole in their pockets. Making a list of such things will help manage the finance.
Lastly, acknowledge that your twins are two different and unique individuals. So understand and appreciate their uniqueness and be supportive.
Frequently Asked Questions
1. Is the term Irish twins offensive?
Irish twins was a disparaging term used to describe the children of Irish immigrants with many children of similar age. Though it is no longer considered offensive, use the term with caution while speaking in the presence of Irish communities.
2. Can Irish twins have different dads?
Yes, Irish twins can have different fathers as long as the mother is the same person.
Having twins is a fulfilling experience. Since they are born with less time apart, they tend to forge a strong bond that lasts for a lifetime. They may go to the same school, belong to the same friends' circle, and even share the same clothes. So naturally, they look out for one another and be friends for life. However, raising Irish twins can often get overwhelming for parents. You can make your parenting journey easy and rewarding with the proper methods and patience. Also, remember parenting is a continuous process, and you need to evolve with your children.
Infographic: Interesting Games For Irish Twins
Managing Irish twins or siblings of similar age can sometimes be a hassle. However, introducing them to exciting games can solve the problem. These games keep the children engaged while improving their health by keeping them fit and active. Here, we list six fun games for Irish twins that will provide your children with unlimited fun.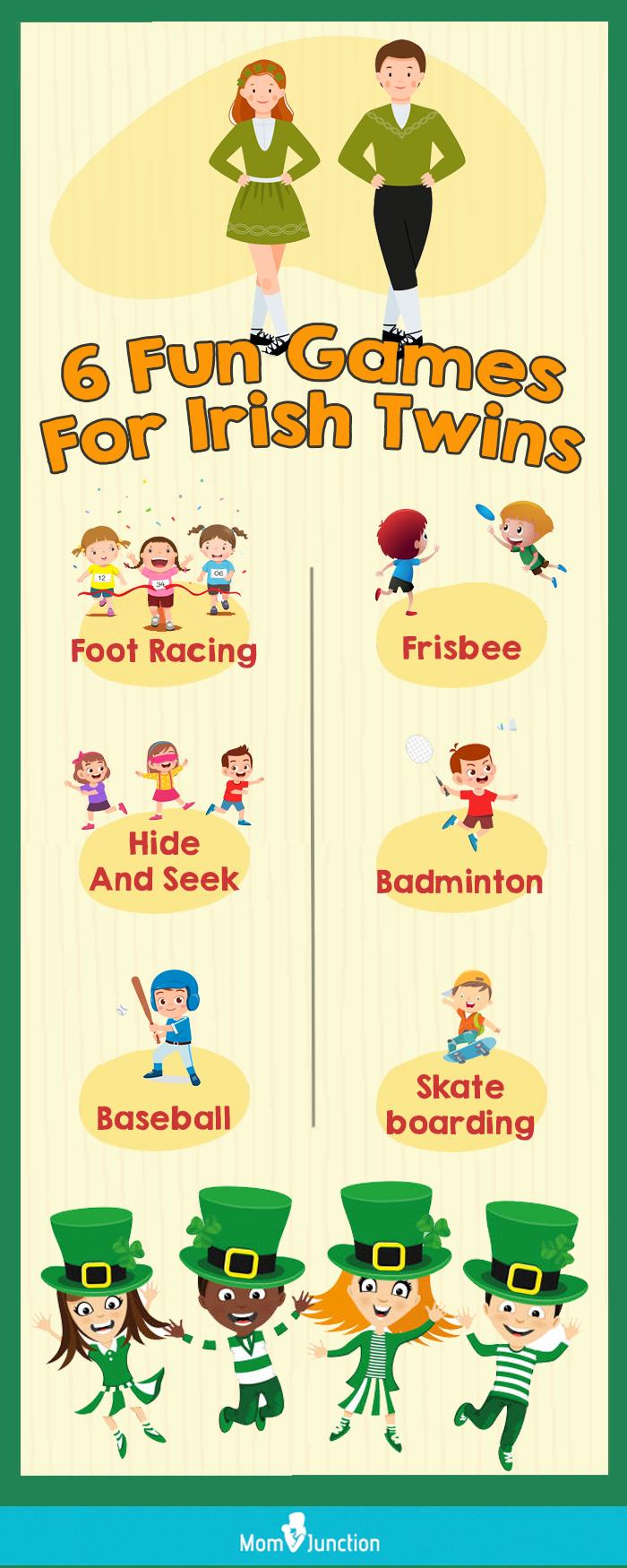 Key Pointers
Irish twins are siblings with less age gap.
WHO recommends a minimum of 24 months between two pregnancies to ensure the optimum health of the baby and the mother.
Raising Irish twins can often get overwhelming for parents.
With valuable tips and guidance, parenting Irish twins can be an enjoyable experience
References:
MomJunction's articles are written after analyzing the research works of expert authors and institutions. Our references consist of resources established by authorities in their respective fields. You can learn more about the authenticity of the information we present in our
editorial policy
.
The following two tabs change content below.