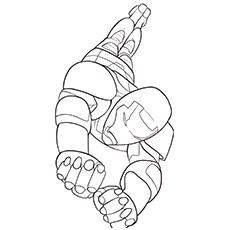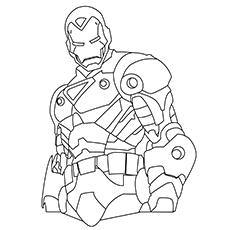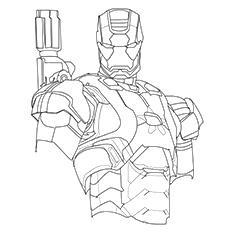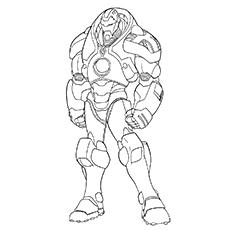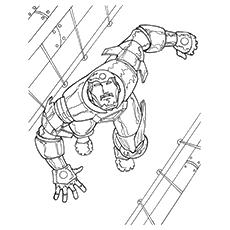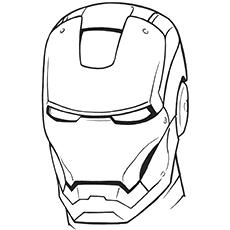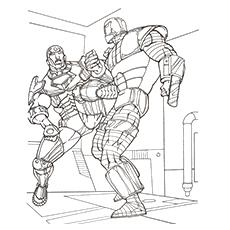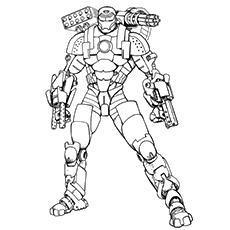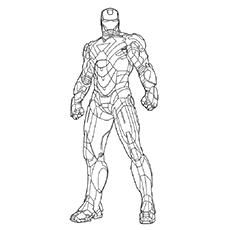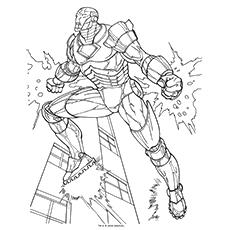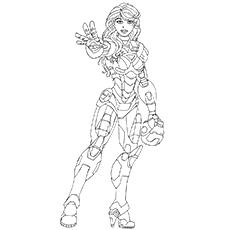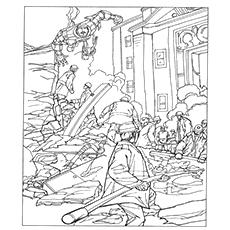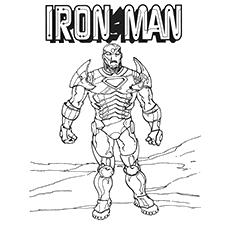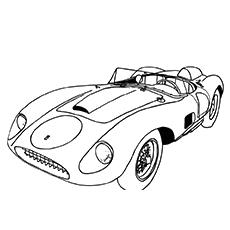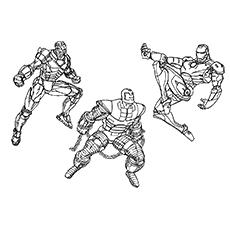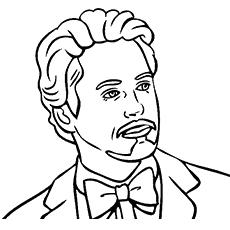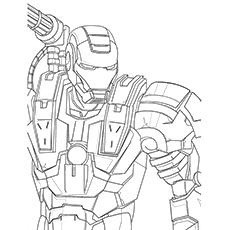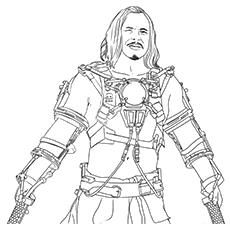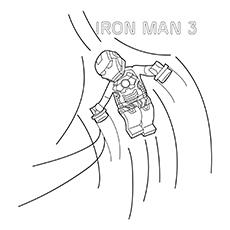 Recommended Articles:
Superheroes are always a hit with kids, especially boys. Every child aspires to become a hero and fight against the evil forces. Iron Man is one of the most popular superhero series amongst kids of all ages.
Iron man originally appeared in a comic series produced by Marvel Comics. The Superhero in his red and gold armor inspired many animated series, films, and video games.
You can introduce your child to the world of colors with the help of his favorite animated character. Watch your toddler as he enjoys brushing up his motor skills coloring his dashing superhero.
Top 20 Iron Man Coloring Pages
Ironman coloring pages are the best way to teach your child to differentiate between good and evil. Iron man teaches us that no matter how tough the situation is you have to stay firm and strong against the evil forces. Iron Man coloring sheets can help your child understand and appreciate the character better. Here are 20 amazing iron man pictures to color:
1. Iron Man:

Here is a coloring sheet of Iron Man in action.
Iron Man is the name of the armor developed by Tony Stark with the help of Yinsen.
Iron Man first appeared in the comic book titled "Tales of Suspense" in 1963.
2. Tony Stark:

Here is a coloring sheet of Tony Stark, alias the Iron Man for you to print for your children.
Tony Stark is a multi-billionaire who struggles to find purpose in his life.
He decides to fight against the evil forces in society.
3. War Machine:

War Machine or JRXL-1000 Variable Threat Response Battle Suit is a solar charged armor.
War Machine is the modified ark 2 armor for Iron Man 2.
The hi-tech battle suit grants Iron Man extraordinary strength and combat mechanism to ward off the enemy.
4. Iron Patriot:

Iron Patriot is the other version of James Rhode's War Machine armor. After his battle in New York, Rhode got his armor painted in red, silver and blue design. Iron Patriot is the war machine in its new avatar.
Iron Patriot is also the most important weapon for the US Army to fight battles overseas.
The Iron Patriot is vulnerable to extreme heat despite its powerful processor.
5. Whiplash:

Here is a coloring sheet of Whiplash an Iron Man style armor built by Ivan Vanko.
Just like the Iron Man armor an arc reactor powers Whiplash.
The motive of Ivan Vanko was to create a replica of the arc reactor created by Tony Stark.
6. Iron Man Helmet:

Here is a coloring sheet of Iron Man's helmet for your child to color. The helmet has a fierce expression, which terrorizes the wrongdoers.
The helmet is red and yellow in color, but your child can use any shade he likes to color this page.
You can use this coloring sheet to make a mask and dress your child up as a superhero.
Alternatively, you can print this coloring sheet to make a cover for an Iron Man coloring book.
7. Pepper Potts:
Meet Pepper Potts, the assistant of Tony Stark and later the CEO of the Stark Industries in this series.
Pepper is the driving force behind Iron Man. She is a kind and empathetic person and totally loves her job as Tony's assistant.
Pepper has strawberry blonde hair and a pale complexion. She is always shown wearing white and black outfits when at work.
8. Mark 1:

The armor you see here is Mark 1, the first Iron Man suit built and created by Tony Stark. Tony and Yinsen create its design during an attempt to escape from captivity.
The suit has a crude appearance, due to the limited tools and resources that were available to them.
Mark 1 comes with a hi-tech fight mechanism including a Manually Deployed Rocket Launcher and a Miniature Arc Reactor. It also has an Internal system attached at the back.
Ask your child to make this armor more powerful and appealing by adding some colors to it.
9. Mark 2:

Here is a coloring sheet of Mark 2, the second armor of Iron Man. Mark 2 is a prototype created to emphasize and explore the fighting potential of Iron Man.
Rhodey later takes the suit to equip it with powerful weapons.
The Mark 2 armor has steel flaps that help in flying and increasing flight stability.
10. Mark 3:

Mark 3 the third suit created by Tony Stark in the film, features in this coloring sheet. It is the first armor to have a gold and red color design.
Many consider Mark 3 to be the strongest armor. The armor is replete with several enhancements and upgrades.
Iron Monger damages this suit at the end of the film.
The Mark 3 also appears in Iron Man 3 along with six other armors.
11. Iron Monger:

Here is a coloring sheet on Iron Monger Armor for your little superhero fanatics. Mark 1 is the inspiration behind the armor of Iron Monger. Obadiah Stane builds it.
The armor is thrice its original size and has more weapons. The large, circular Arc Reactor is located in the middle of the chest as you can see on the coloring sheet.
The Iron Monger is blue in color, just like the original Iron Man suits. Ask your child to use any color he likes for coloring it.
12. Avengers:

This coloring sheet shows Iron Man involved in a duel with the Hulk.
"The Avengers" is an American film based on the super hero team of Marvel Comics. The Iron Man is the founding member of the Avengers.
The mightiest heroes from the world of Marvel comics come together to stop Loki and his alien army from enslaving humanity.
13. Iron Man Flying:

This coloring sheet shows Iron Man flying at full speed.
The diagram depicts one of the several features of the Iron Man's armor- i.e. its ability to fly.
It is a perfect coloring sheet if you are introducing Iron Man to your kids for the first time.
14. Iron Man In Combat:

Here is a coloring sheet of Iron Man fighting his enemy.
The power of the Iron Man is evident in this coloring sheet.
The fierce look on his face shows that the Iron Man is in no mood to spare his enemy. Tell your child to color within the lines to make a beautiful picture.
15. Iron Man 2:

Here is a coloring page depicting a scene from the film "Iron Man 2". The timeline of the film is six months after the events of "Iron Man".
With the world now aware of Tony Stark's reality, the United States government asks him to hand over the technology.
Watch this film this weekend with your kid to help him understand the story better.
16. Iron Man 3:

The coloring page here depicts a scene from the movie Iron Man 3.
In Iron Man 3 Tony fights Mandarin, a known businessperson. Rhodey as Iron Patriot and Pepper Potts join him in this combat.
In the film, Iron Man tries to recover from a post-traumatic stress disorder caused by the events in "The Avengers."
17. The Saleen S7:

Here is a coloring sheet for your young sports car enthusiasts. Tell your child to color this racecar before it zooms off the page.
The car you see here is Tony Stark's favorite car. The Saleen S7 is a famous sports car model.
The Iron Man parks his favorite car in his Malibu house along with his fleet of other cars.
18. Three Iron Men:

Here are three black and white images of Iron Man for your children to color and enjoy. Your child will have triple fun while coloring this sheet.
Tony Stark had integrated many military weapons and other technological devices to fight crime.
You can print this coloring sheet so that your kids can have fun coloring with their friends. They will feel like superheroes while coloring this sheet.
19. The Fierce Iron Man:

The coloring sheet shows Iron Man in his aggressive form. Iron Man is the disguised form of Tony Stark, a wealthy American industrialist who suffers a chest injury during a kidnapping.
His captors then force him to create a weapon of mass destruction but instead he creates a suit of armor to save his life and escape from captivity.
Stark then enhances his suits with other technological devices to protect the world as Iron Man.
20. Rescuing The City:

This is one of the adventurous iron man colouring pages, that shows Iron Man trying to save a ravaged city.
This detailed coloring sheet will boost your child's fine motor skills.
It will also allow the children to experiment with various colors.
These free printable iron man coloring pages online will surely take your child on a virtual adventure where they can fight the bad men along with Iron Man, their favorite superhero.
Allow your child to display their artistic abilities while having fun with these iron man coloring pictures. Make sure that they color within the lines to produce beautiful pictures. You can also create your own iron man coloring book. Do not forget to share their works with us.
DISCLAIMER: All images found here are believed to be in the "public domain". We do not intend to infringe any legitimate intellectual right, artistic rights or copyright. All of the images displayed are of unknown origin. If you are the rightful owner of any of the pictures/wallpapers posted here, and you do not want it to be displayed or if you require a suitable credit, then please contact us and we will immediately do whatever is needed either for the image to be removed or provide credit where it is due. All the content of this site are free of charge and therefore we do not gain any financial benefit from the display or downloads of any images/wallpaper.
The following two tabs change content below.