It is advisable not to use Benadryl for babies without checking with a pediatrician. Moreover, the US Food and Drug Administration (FDA) does not recommend cough and cold medications for children below two years old. These include products containing decongestant drugs such as ephedrine, phenylephrine, and antihistamines, which include diphenhydramine (an ingredient of Benadryl) and chlorpheniramine (1).
In addition, you should not use formulations meant for older children in babies by reducing the dose. Read this post to know why Benadryl may be harmful to your baby and why you should not use the medication to induce sleep in them.
What is Benadryl?
Benadryl is an antihistamine with a sedative effect intended to treat allergies. The popular allergy brand is known to help relieve itchiness, hives, common cold, cough, and induce sleep. However, it may or may not relieve the cold or cough (2) (3).
There are different formulations for Benadryl, including pediatric and adult, and it comes in the form of tablets, cream, chewable, and liquid.
The active ingredient present in the various forms is diphenhydramine hydrochloride. The oral medication contains phenylephrine (decongestant) as an additional active ingredient. The topical form (cream and spray) contains zinc acetate (anti-itch agent) as an additional active ingredient. Non-active ingredients vary widely depending on the form of Benadryl.
What Are The Uses Of Benadryl For Babies?
Benadryl may be used to treat allergies such as hives, itching, and nasal allergies (4). However, Benadryl, in any form, should not be used in infants below two years of age and should be given to children under six years only on a doctor's advice (5) (6). Parents should never use Benadryl to induce sleep in children (7).
Is Benadryl Safe For Babies?
Benadryl is not considered safe for babies. Diphenhydramine found in Benadryl is a first-generation antihistamine drug, which may have several side effects. Drowsiness is the primary side effect, and it can make infants sleepy. It may also lead to lingering confusion that may be detrimental to a baby's learning abilities and gross motor skills. Some infants may show the opposite effects, such as experiencing excitability and hyperactivity (2).
Possible Side Effects Of Benadryl In Babies
Some other side effects of Benadryl in infants may include (3) (8):
irregular heart rate
dry mouth
Increased congestion as bronchial secretions may thicken
stomach upset
vomiting
seizures
Benadryl For Babies Dosage Chart
Benadryl is not recommended for babies below two years of age. Children older than two years may have a dose based on their body weight, as mentioned in the chart below. However, consult a doctor before giving Benadryl to your child (4) (5).
| | | |
| --- | --- | --- |
| Average Body Weight | 9 to 10 kilograms | 11 to 16 kilograms |
| Children's liquid diphenhydramine (12.5mg/5ml) | 4 milliliters or ¾ teaspoon | 5 milliliters or 1 teaspoon |
| Children's diphenhydramine chewable tablets (12.5mg) | – | 1 tablet |
| Diphenhydramine tablet (25mg) | – | ½ tablet |
A maximum of four doses may be given in 24 hours. Ensure that your child is not taking any other medication that contains diphenhydramine to avoid an overdose.
Alternatives For Benadryl For Babies
Second-generation antihistamine drugs are considered to be safer compared to first-generation drugs. The second-generation antihistamines are also less sedating and cause fewer side effects. Examples include cetirizine, levocetirizine, loratadine, desloratadine, and fexofenadine.
These may be safe alternatives to Benadryl in babies, but it is still important to consult a doctor before giving your baby any over-the-counter medication containing antihistamines (4) (9).
Can You Use Benadryl To Make The Baby Sleep?
Some parents may use over-the-counter medications to create drowsiness in their babies, especially when they are traveling. However, this should never be done (7).
You may try the following alternative measures to make your baby comfortable.
Get your baby accustomed to long rides, carry some healthy snacks during long journeys and take along your darling's favorite toys or books. You may also take breaks every two hours to give some rest to the baby.
If your little one has sleep issues, try a bedtime routine. You may also consider sleep training. If your baby goes to a daycare center or is under a caretaker, make sure they do not give Benadryl to put them to sleep. It may have serious side effects, and the risks are just not worth a few hours of sleep.
When To Talk To Your Doctor About Benadryl?
Speak to a doctor if you wish to give Benadryl or diphenhydramine to your child to manage their allergies, including skin allergies. The doctor can prescribe the appropriate dosage based on the child's condition and age. You may also ask for safer alternatives to Benadryl that will cause fewer and less severe side effects.
If your baby has an allergy or a cold, it's best not to offer any over-the-counter drugs, such as Benadryl, until you contact a doctor. While no research on the effects of Benadryl on babies is available, doctors believe it might increase hyperactivity in babies, making them irritable and unhappy. Therefore, try some alternative home remedies for treating an allergy or a cold in newborns, but only after consulting with your doctor. Some parents take Benadryl as a sedative to make their newborns sleepy, but this is not recommended.
Key Pointers
Benadryl is unsuitable for babies younger than two years and should be given only under medical supervision to children below six years.
It contains a first-generation antihistamine, diphenhydramine, which can make your baby drowsy.
Benadryl is not meant to treat sleep problems in babies, and an overdose may have serious adverse effects.
References:
MomJunction's articles are written after analyzing the research works of expert authors and institutions. Our references consist of resources established by authorities in their respective fields. You can learn more about the authenticity of the information we present in our
editorial policy
.
The following two tabs change content below.

Dr. Joyani Das did her post-graduation from Birla Institute of Technology, Mesra and PhD in Pharmacology. Previously, she worked as an associate professor, faculty of Pharmacology, for two years. With her research background in preclinical studies and a zeal for scientific writing, she joined MomJunction as a health writer. Her research work was published in international journals and publications, such...
more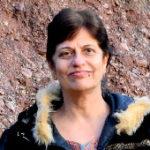 Dr. Mubina Agboatwalla
(MBBS, DCH, MCPS)
Dr. Mubina Agboatwalla is a well-known pediatrician, practicing paediatrics since the last 20 years in Karachi Pakistan. She is the head of the department of Pediatrics in Karachi Liaquat Hospital, as well as her private practice in three specialist clinics in Pediatrics. She is also a Public Health Specialist specializing in preventive health including nutrition, breastfeeding and infectious diseases especially...
more