The 9 month long pregnancy period can be a bit surprising and unexpected for first time moms – from diet changes to restrictions on several activities – there are many changes during this beautiful period. As an expecting mom, you'll probably have a ton of questions buzzing around in your mind – can I eat this, can I do this?
Here's everything you need to know about one of those questions – can you bleach your teeth while pregnant? Keep reading to know more.
What Is Teeth Bleaching?

As the term suggests, teeth bleaching is basically a technique that is used to make the teeth appear shinier and brighter. There are 2 different teeth bleaching options – you can choose to get your teeth bleached at a dentist, or do it at home by using whitening toothpastes.
Both these techniques generally make use of peroxide (in different concentrations) to whiten the teeth. While these techniques do make your teeth appear whiter, they may also dehydrate the tooth and increase tooth sensitivity if left for a long time(1).
[ Read: Is It Safe To Go To The Dentist While Pregnant ]
Is It Safe to Bleach Your Teeth While Pregnant?

To put it simply, it is not safe to bleach your teeth while you are pregnant (2). Pregnancy is a very delicate stage of life for both the mother and the baby, and it is best to avoid trying out activities that could be associated with certain health risks.
While there is no study to confirm the harmful effects of teeth whitening while pregnant on the baby, it has been found that peroxide, which is a component of teeth bleaching products, if found in concentrations above 10 percent in the body, could be linked to tissue damage (3).
What's more, if you do use whitening toothpastes (which have a lower peroxide content), there is always a risk of swallowing it, which could possibly pose health risks for your baby(4).
[ Read: Teeth Care During Pregnancy ]
How To Bleach Teeth Safely While Pregnant:

Still want to flaunt off a pearly white smile? Who says cosmetic procedures and whitening toothpastes are only effective? You can actually brighten up your teeth visibly by using certain foods that are natural and safe for use during pregnancy. Here's what you can do when going for teeth whitening when pregnant:
Apple cider vinegar is known to remove stubborn stains on the teeth like those that occur due to consumption of coffee and nicotine. Since apple cider vinegar contains certain acids which can cause your tooth enamel to get weaker, it is best to brush your teeth after your rinse your mouth with it, and then rinse your mouth well with lots of water (5).
Mash a ripe strawberry and mix it with ½ tsp of baking soda. Using this pulp to apply to your teeth using your index finger or a toothbrush, and leave it there for 5 minutes. Now wash off the mixture thoroughly and brush and floss your teeth to remove any bits and pieces of the pulp that may have stuck.
Create a mixture using three parts of lemon juice and one part of salt, and rinse your mouth with this solution. Avoid using this solution if you have sensitive teeth, or if you are on a low salt and low acid diet. Gargle twice with water.
Rub your teeth with the inside of an orange peel from side to side around 5 times. Rinse your mouth with water. The calcium and vitamin C content of orange is believed to be great for the teeth, and it also visibly lightens your teeth.
[ Read: Is It Safe To Take Apple Cider Vinegar During Pregnancy ]
It is best to have a talk with your dentist about trying out different at-home teeth bleaching solutions.
Did this article help you know more about bleaching teeth while pregnant? Did you try any of these natural bleaching techniques? Let us know in the comments box below.
Recommended Articles:
The following two tabs change content below.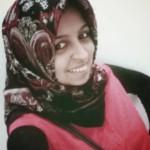 Latest posts by Enozia Vakil (see all)