Are you pregnant or planning to conceive? Are you concerned about the various medications, supplements or food that could potentially harm your baby? Well, if you can relate to the above situations reading this post is a good idea!
Vitamins and minerals are especially important during pregnancy to keep diseases and infections at bay. Have you heard about chromium? This article tells you more about the metal and how intake of chromium during pregnancy can work wonders for you . Also, find out about its food sources so that you can include them in your meal plans today! Want to know more? Go ahead with your read!
What Is Chromium?

Chromium is a trace metal. You need very small traces of chromium in your body for your overall health. [1]
How Does Chromium Help The Body?

Chromium helps improve your blood sugar levels. Intake of Chromium is beneficial for people who have pre-diabetes [2], type 1 or type 2 diabetes. In certain cases, doctors may recommend chromium to help treat patients suffering from depression and polycystic ovary syndrome (PCOS). Chromium also helps increase the good cholesterol in the body. Consuming it is a must for people who are on beta blockers, a medication for treating various heart diseases. In certain cases, chromium also helps manage weight, increase muscle mass and decrease body fat. Many sports enthusiast include it in their diet to increase their energy levels.
[ Read: Diabetes During Pregnancy ]
Is Chromium Safe During Pregnancy?

Intake of Chromium is safe during pregnancy if you follow the correct dosage. The National Academy of Sciences recommends the following limits [3]:
Pregnant girls in the age group of 14 to 18 years should have 29 mcg of chromium per day.
Pregnant women in the age group of 19 to 50 years should have 30 mcg of chromium per day.
Every pregnancy is unique, so it is essential your doctor examines and advises you about the chromium consumption.
Food Sources Of Chromium:

The following food sources contain chromium in them. Check with your doctor before including it in your diet:
Broccoli
Tomatoes
Green beans
Potatoes
Lettuce
Barley
Oats
Chicken
Beef
Bananas
Apples
Eggs
Cow's milk
Brown rice
Black pepper
[ Read: Oats During Pregnancy ]
Side Effects Of Chromium During Pregnancy:

While it is safe to consume chromium within limits, a higher dosage can cause side effects and complications. Hence, it is extremely important for you to check with your doctor about how much chromium you need. When you are pregnant, you should completely avoid taking any chromium supplement [4].
Side effects of excessive intake of chromium while pregnant include:
Irregular heart beat
Sleep disorders
Frequent headaches
Mood Swings
Allergic reactions, which vary from person to person
Increase in the risk of kidney or liver damage. If you already suffer from kidney or liver problems, speak with your doctor about chromium intake.
Fluctuations in blood sugar levels
Can cause reactions if you are taking –pain killers, beta blockers, corticosteroids, antacids, etc.
Increase in the risk of developing cancer.
[ Read: Mood Swings During Pregnancy ]
Remember, if you suffer from diabetes or take insulin medication, you should only take chromium under the supervision of your doctor. Like any other food or supplement you take during pregnancy, it is important you first check with your doctor. Small amounts of chromium are good for you and your developing baby. In fact, a regulated amount of chromium improves your body's functioning.
If your doctor discussed with you about consumption of chromium during pregnancy, do share the tips and suggestions here.
Recommended Articles:
The following two tabs change content below.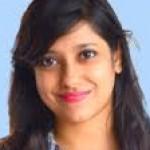 Latest posts by Debolina Raja (see all)