It is very important for you to have fruits when you are pregnant. Fruits help you to stay healthy as they provide essential nutrients. Let us have a look on one such beneficial fruit – Cranberry. But, is cranberry juice during pregnancy good?
Cranberries are rich, tasty and nourishing fruit that come loaded with vitamin C, unless otherwise stated by your doctor, there is no reason not to eat these berries during pregnancy. Cranberries can be eaten as a whole or taken in the form of juices. Some pregnant women also love the taste of dried cranberries. They are a great choice to include in the diet as a food supplement for their many healing and protecting properties.
In countries where cranberries are not grown and readily available as a crop, the juices are quite popular in the departmental stores. Stock up on the cranberry juice to sip and enjoy the taste of it, while you battle minor pregnancy related complaints. The best part is that cranberry comes to your rescue and helps you settle down with a better health.
[ Read: Raspberries During Pregnancy ]
Benefits Of Cranberries And Cranberry Juice During Pregnancy:

Because of their rich vitamin C content, cranberries are extremely helpful in battling many illnesses during the three trimesters of your pregnancy. They also benefit your growing baby inside the uterus. Cranberries are also rich in folate, Vitamin A, B12, E, K, Calcium and Selenium – All required for healthy development of your baby.
Below are some major benefits of consuming cranberry during pregnancy:
1. Fights Urinary Tract Infections (UTI):

Urinary tract infection or UTI is quite common in most women in the first trimester of pregnancy.
Cranberries are an excellent option to fight against this infection while you are suggested other medications by your doctor.
The acids present in cranberries fight and prevent the bacteria from growing or re-entering the urinary tract.
Having these berries acts like a speedy catalyst to rid of the infection faster.
2. Natural Anti-inflammatory Food Source:

Cranberries have great anti-inflammatory and antibiotic properties.
Consuming these berries in your daily diet keeps you away from minor illnesses like cold, flu and viral fever.
Cranberries practically keep the contaminants at bay from your body.
[ Read: Strawberry During Pregnancy ]
3. Battles Tooth Infections:

Eating cranberries is super good for your oral hygiene.
You are less likely to face those pesky tooth decays and plaque formation with cranberries in the diet.
Most times, tooth decays can get serious that have direct implications on your labor.
It is important to maintain great oral hygiene while pregnant.
Cranberries help you to achieve just that.
You are less likely to visit your dentist with cranberries in your food chain.
4. Reduces Constipation:

Eating cranberries or drinking juice everyday helps tackle the inevitable constipation problems during pregnancy.
The fiber and vitamin C present in the berries help maintain a healthy digestive tract, paving way for easy and painless delivery.
[ Read: Home Remedies Constipation During Pregnancy ]
5. Necessary Hydration:

Staying hydrated is very crucial during pregnancy.
Cranberries give you great nourishment as well as hydration with their fluid content.
Eating cranberries is a healthy way to maintain a good body weight during pregnancy.
You are assured of high nutritional intake and less calories eating cranberries.
6. Weight Management:

The calorie count of cranberries is low and can manage your healthy weight while warding off that unwanted fat.
Including cranberries in other food forms like salads and puddings help achieve more results.
[ Read: Blueberries During Pregnancy ]
Nutritional Values Of Cranberries:

Here is the detailed break up of nutrients and their values:
Energy – 46 Kcal
Carbohydrates – 12.2 gms
Protein – 0.4 gms
Fat – 0.13 gms
Dietary Fiber – 4.6 gms
Folates – 1 ug
Niacin – 0.101 mg
Pantothenic Acid – 0.295 mg
Pyridoxine – 0.057 mg
Riboflavin – 0.020 mg
Thiamine – 0.012 mg
Vitamin A – 60 IU
Vitamin C – 13.3 mg
Vitamin E – 1.2 mg
Vitamin K – 5.1 ug
Sodium – 2 mg
Potassium – 85 mg
Calcium – 8 mg
Magnesium – 6 mg
Phosphorus – 13 mg
Selenium – 0.1 mg
Zinc – 0.10 mg
Carotene – B 36ug
Lutein – zeaxanthin 91 ug
[ Read: Grapefruit During Pregnancy ]
Forms Of Serving Cranberries:

Cranberries can be served in many delicious forms like fresh snacks, tarts, fruit cocktails, sorbets, muffins, pies, breads, ice creams, sauce, jams, etc.
In case you are planning to buy dried cranberries off the counter, make sure you check the details on the bottle. Checking the expiration date and other ingredients is vital during pregnancy. If you have access to fresh and delicious cranberries, feel free to grab a bowl of them while enjoying being pregnant.
Have more benefits of cranberry juice during pregnancy to share with us? Do not forget to leave a comment.
Recommended Articles:
The following two tabs change content below.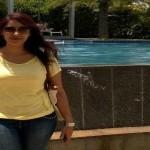 Latest posts by Deepa Balasubramanian (see all)